product applications
Enabling technologies for military and aerospace electronics designers
Sep 1st, 2001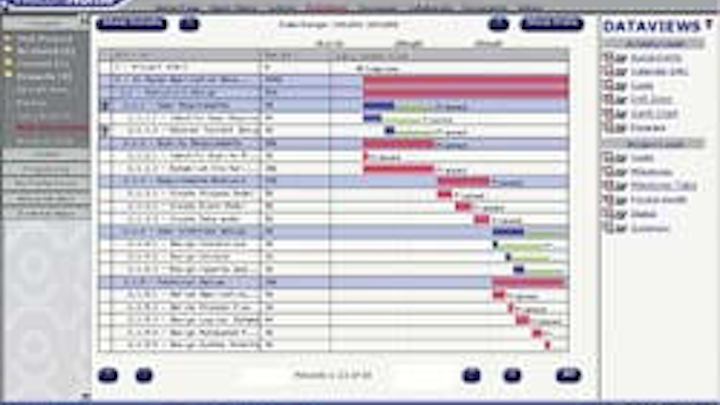 Enabling technologies for military and aerospace electronics designers
Design and development tools
BAE Systems looks to Welcom for project-collaboration software
Program managers at BAE Systems of Australia and the Australian department of defense needed software tools to help with their project collaboration needs. They found their solution in the WelcomHome 2.0 tool from Welcom in Houston.
WelcomHome 2.0 enables organizations to use the Internet to help them manage distributed project teams. The tool offers controlled document management and access to centralized project information via the World Wide Web. Access to real-time schedule data helps project managers control projects closely and deal with potential problems quickly, Welcom officials say.

"WelcomHome met our requirements for a cost effective, flexible, and customizable portal which facilitated project communication and collaboration as well as provided a secure framework for the development of a specific monthly reporting process," says Andrew Saywell at BAE Systems Australia.
"The resulting web portal gives BAE the ability to manage as well as gauge the health status of many projects at once, including finance, schedule, risk and customer satisfaction using a methodology which is consistent across all projects," Saywell says.
Another Australian user of WelcomHome is the country's defense department in Canberra, Australia. The Electronic Systems Division within the department's defense material organization uses the tool to improve schedule management and status reporting.
WelcomHome 2.0 is a web-based collaboration tool that provides a common interface for all project information in several different roles in the project team, Welcom officials say. Graphical and tabular views such as Gantt charts and project health, keep executives abreast of the status of all their projects, company officials say. — J.K.
For more information contact Welcom by phone at 281-558-0514, by fax at 281-584-7828, by e-mail at sales@welcom.com, by file transfer protocol at ftp://meta.welcom.com/, by post at 15990 North Barkers Landing Road , Suite 350, Houston, Texas 77079, or on the World Wide Web at http://www.welcom.com/.
---
Sensors
Army chooses BAE Systems to develop new landmine-hunting system
U.S. Army specialists needed industry help to design the Ground Stand-off Minefield Detection System Block I system — better known as GSTAMIDS. Engineers from the BAE Systems, Integrated Defense Solutions division in Austin, Texas, met their needs.
Officials of the Army Communications-Electronics Command (CECOM) at Fort Monmouth, N.J., awarded a $3.3 million 18-month contract to BAE Systems on behalf of the Army's Program Manager for Mines, Countermines, and Demolitions for the program definition and risk-reduction phase of the GSTAMIDS project.
This system is to integrate mine detection and neutralization into a system that spans several different platforms — one of which is a remotely operated vehicle with ground-penetrating radar, metal detection, and infrared sensors, as well as a way to neutralize land mines. The second platform is an armored crew vehicle that remotely controls the countermine detection from standoff distance.
BAE engineers will develop a model of GSTAMIDS Block I, and enable Army experts to vary system requirements and the mix of system elements. BAE Systems will then develop a virtual prototype.
"BAE Systems recently completed the Mine Hunter/Killer Advanced Technology Demonstration," says Dan Harris, who manages the Army Mine Hunter/Killer and GSTAMIDS Block I programs. "Producing a working prototype of a system very similar to GSTAMIDS. We will be leveraging the integration skills, as well as the system specific knowledge we developed in the Mine Hunter/Killer program to the challenges of GSTAMIDS Block I." — J.K.
For more information contact BAE Systems Integrated Defense Solutions by phone at 512-929-2884, by fax at 512-929-2312, by post at 6500 Tracor Lane, Austin, Texas 78725-2070, or on the World Wide Web at http://www.baeSystems.com/.
---
Displays
Sweden chooses CAE Maxvue image generator for C-130H aircraft simulator
Officials of the Swedish Defence Materiel Administration (FMV) in Stockholm, Sweden, needed a new visual system for the Swedish air force's C-130H utility turboprop aircraft flight simulator.
The Maxvue Plus image generator from CAE in Toronto met their needs. CAE officials signed a $2.3 million contract with FMV for the Maxvue Plus visual system.
CAE will integrate its Maxvue Plus visual system with the C-130H simulator at the Swedish F7 Air Force Base in Satenas, Sweden. The upgraded C-130H simulator with new visual system will be ready for training in fall 2002, CAE officials say.
"This upgrade will allow us to extend the life of the simulator and provide for tactical training of our aircrews, while providing overall cost savings," said Tommy Westerberg, Program Manager FMV.
Since its introduction in 1992, CAE's Maxvue visual system has been designed into research and development systems, defense, and commercial pilot training, CAE officials say. Maxvue offers high-resolution display, color texture, comprehensive weather simulation, and dynamic airport environments, company officials say.
In addition to the visual system upgrade for the Swedish Air Force C-130H, CAE is designing C-130H flight simulators for the Royal Australian Air Force (RAAF) and the People's Republic of China air force (ROCAF).
The company has also designed and manufactured all the C-130J training devices in service, including systems for the Royal Air Force (RAF) and the RAAF. Other C-130 programs currently in production at CAE include programs for the U.S. Air Force, the Italian Air Force (Aeronautica Militare Italiana), and U.S. Marine Corps. — J.K.
For more information contact CAE by phone at 416-865-0070, by e-mail at info@cae.com, by post at Suite 3060, P.O. Box 30, Royal Bank Plaza, Toronto, Ontario, Canada M5J 2J1, or on the World Wide Web at http://www.cae.com/.
---
Components
Parker Hannifin to provide fuel-monitoring sensors and software for Airbus A380 jetliner
Electronics designers at Airbus based in Toulouse, France, needed electronic sensors and software for the fuel-management system aboard the new Airbus A380 jumbo jetliner. They found their solution from the Electronic Systems Division of Parker Hannifin Corp in Smithtown, N.Y.
Airbus chose Parker to provide the A380's fuel measurement and management systems. The program has a potential revenue value of $200 million, including original equipment sales to Airbus and aftermarket spares and services to the airlines over 20 years, Parker officials say.
"Parker is one of hundreds of U.S. companies with which Airbus does business already, and we are very pleased to expand that relationship via the A380," says Allan McArtor, chairman of Airbus North America. "This new aircraft could generate more than 20,000 American aerospace jobs."
The fuel measurement system gauges the fuel quantity in the tanks located in the aircraft wings, fuselage, and horizontal stabilizer, Park officials say. The aircraft integrated modular avionics (IMA) suite computes this information. The IMA controls the fuel management system, which monitors the distribution of fuel while commanding pumps and valves of the aircraft's fuel system to provide the functions of fuel transfer, center of gravity (CG) control, and refuel.
Parker engineers will design and produce all the in-tank sensors and harnesses, associated avionics, and measurement and management software for the A380. Parker's Electronic System Division also supplies the fuel measurement and management system for the Airbus A340-600, currently in flight test.
The widebody, double-deck A380 will seat 555 passengers in three classes, and has a range of 8,000 nautical miles. — J.K.
For more information contact Parker Electronic Systems by phone at 631-231-3737, by fax at 631-434-8152, by post at 300 Marcus Blvd., P.O. Box 9400, Smithtown, N.Y. 11787-9400, or on the World Wide Web at http://www.parker.com/.
---
Board products
BAE Systems chooses Primagraphics for VME-based video replay system
Engineers from BAE Systems in Edinburgh, Scotland, needed video systems to replay mission-critical data from British Royal Navy Westland Sea King helicopter flights. They found their solution from Primagraphics Ltd. in Litlington, England.
Primagraphics won a BAE contract to supply commercial-off-the-shelf (COTS) VME-based ground video replay systems for use with the Royal Navy Sea Kings. BAE Systems won the Sea King mark 7 upgrade contract in March 2000 and the program is scheduled for completion in 2001.
Engineers at BAE Systems' facility at Edinburgh, Scotland, will integrate Primagraphics' ground-based equipment into other electronic systems within the ground station.
"We needed a cost-effective way of replaying dual high resolution screen images recorded on an airborne VCR during Sea king sorties," says David Nicolson, a project manager at BAE Systems in Edinburgh.
"For the past 10 years, Primagraphics has consistently proven it can deliver on time and to budget. Its ability to respond quickly to minor design modifications coupled with a dynamic team approach, makes Primagraphics a first choice partner in development projects with increasingly shorter timescales."
The Primagraphics system has a video capture card to digitize recorded data from the ground-based replay VCR unit. Primagraphics' CAT processor then decodes the recorded data before displaying the resulting high-resolution images via a Panther dual-screen display controller. —J.K.
For more information contact Primagraphics by phone at 802-362-4655, by fax at 603-908-6122, by post at Webster House, 30 Boltwood Walk, Amherst, Mass. 01002, by e-mail at sales@primagraphics.net, or on the World Wide Web at http://www.primagraphics.net/.
---
Software
Veridian chooses Ixiasoft's TEXTML Server for Air Force documentation project
Information systems integrators at Veridian in Arlington, Va., needed software development tools to help them build extensible markup language (XML) applications for the U.S. Air Force. They found their solution from Ixiasoft in Outremont, Quebec.
Veridian is converting all data from Air Force paper technical manuals to electronic format. They are using Ixiasoft's TEXTML Server, an embeddable XML content server for developers of XML applications. TEXTML enables a wide variety of applications lots of documents such as government public records, Ixiasoft officials say.
Veridian's new web-based system is to make more than 150,000 pages of 275 Airborne Warning and Control Systems (AWACS) technical orders web-enabled by the end of 2002. TEXTML Server will carry 300 technical books that are all published in XML. When complete, the entire digitization process and web delivery is expected to save more than $500,000 per year, company officials say.
"Ixiasoft technology allowed us and our end users like the Air Force to more efficiently and cost effectively, make the transition from paper to electronic," says Joe Alt, a program manager for Veridian Systems Division Information Systems Sector. "The implementation process was simple and the outcome is exceptional in terms of its functionality, real time access and the savings that the U.S. Air Force is deriving from its installation." — J.K.
For more information about Ixiasoft, contact the company by phone at 514-279-4942, by fax at 514-279-3947, by post at 825 Querbes Ave., suite 200, Outremont, Quebec H2V 3X1, Canada, by e-mail at info@ixiasoft.com, or on the World Wide Web at http://www.ixiasoft.com/.
For more information on Veridian, contact the company by phone at 703-575-3100, by post at 1200 South Hayes Street, Suite 1100, Arlington, Va. 22202, by e-mail at info@veridian.com, or on the World Wide Web at http://www.veridian.com.
---
Computers
TRW chooses Sun servers for Air Force satellite-control center
Systems integrators at TRW Space Systems in Redondo Beach, Calif., needed powerful computer servers for the U.S. Air Force Space and Missile Systems Center's satellite control program. They found their solution from Sun Microsystems Inc. of Palo Alto, Calif.
The Command and Control System-Consolidated (CCS-C), formerly MILSATCOM Integrated Satellite Control System (MISCS), will track and control orbiting military satellite communications satellites on orbit. TRW chose Sun Microsystems to provide computers for the CCS-C, Sun officials announced.
Sun Microsystems is providing various mid-range enterprise servers and UltraSPARC workstations. The Sun Microsystems hardware will perform data collection, storage, and calculation for tracking, monitoring, and positioning satellites.
TRW is the prime contractor for the Phase I, CCS-C demonstration program. After a demonstration later this year, one contractor will win the job for Phase II, an eight-year program to replace the Air Force Space Command's aging satellite command-and-control segment. — J.K.
For more information contact Sun Microsystems by phone at 650-960-1300, by fax at 650-969-9131, by post at 901 San Antonio Road, Palo Alto, Calif. 94303, or on the World Wide Web at http://www.sun.com/.
---
Communications equipment
L-3 designers look to DRS for secure adapters
Systems designers at the L-3 Communications Systems-East unit in Camden, N.J., needed secure voice and data communications subsystems for U.S. government information security (INFOSEC) program applications. They found their solution from the DRS Communications Co. in Wyndmoor, Pa.
DRS engineers will provide adapter modules for Secure Terminal Equipment (STE) that will allow STE gear to communicate over public service telephone and military tactical networks, DRS officials say. DRS is working under terms of a $5.3 million contract.
The STE is the U.S. government's primary device for secure telephone communications, and replaces STU-III and KY-68 devices, DRS officials say.
STE systems are the next-generation secure voice and data equipment for advanced digital communications networks, according to DRS. They consist of a host terminal, which provides the application hardware and software, and a removable security core, which provides all of the encryption features and other security services. — J.K.
For more information contact DRS Communications Company LLC by phone at 215-233-4100, by fax at 215-233-9947, by post at 1200 East Mermaid Lane, Wyndmoor, Pa. 19038-7695, or on the World Wide Web at http://www.drs.com/.
---
Computer peripherals
Seakr Engineering's solid-state memory units to be designed into C-17 cargo jet avionics
Avionics subsystems designers at BAE Systems Controls of Johnson City, N.Y., needed solid-state bulk memory units for in-flight monitoring and collision-avoidance subsystems aboard the U.S. Air Force C-17 Globemaster III cargo jet. They found their solution in the NV-VME memory family from Seakr Engineering Inc. of Englewood, Colo.
BAE designers will use Seakr's NV-VME memory units in the Core Integrated Processor (CIP) and the Video Integrated Processor (VIP) programs for the C-17.
First, they will use Seakr's two-gigabyte unit for the C-17's CIP systems, which perform in-flight functions from load analysis to mission planning activities. Second, they will use Seakr's six-gigabyte unit to store mapping and collision avoidance data to support the VIP Terrain Awareness Warning System (TAWS) mission.
The NV-VME family is a 6U VME architecture based upon an existing and flight-proven architecture, which has been modified for use in military, industrial, and other rugged applications, Seakr officials say.
The 500-megabyte to 12-gigabyte NV-VME family has an 8 bit proprietary Error Detection And Correction (EDAC) algorithm, traditional memory mapping functions, and optional power strobing circuits to allow powering down the flash memory devices when not engaged in a record, erase, or playback operation. The NV-VME Product Family offers capacities ranging from 500 Mbytes to 12 gigabytes and delivery from four to six months after receipt of order. — J.K.
For more information contact Seakr by phone at 303-790-8499, 303-790-8720, by post at 12847 East Peakview Ave., Englewood, Colo. 80111, or on the World Wide Web at http://www.seakr.com/.