Industry veterans advance SBC technologies for aerospace applications
Embedded computing companies such as General Micro Systems Inc. (GMS) in Rancho Cucamonga, Calif., and Aitech Defense Systems Inc. in Chatsworth, Calif., continue to design and develop single-board computers (SBCs) with an eye toward aerospace environments and applications.
Mar 1st, 2008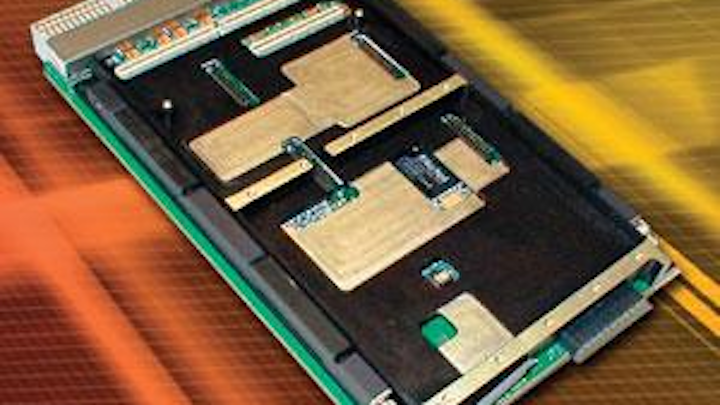 By Courtney E. Howard
RANCHO CUCAMONGA, Calif.—Embedded computing companies such as General Micro Systems Inc. (GMS) in Rancho Cucamonga, Calif., and Aitech Defense Systems Inc. in Chatsworth, Calif., continue to design and develop single-board computers (SBCs) with an eye toward aerospace environments and applications.
Product engineers at GMS, a designer and manufacturer of embedded computing products for defense, aerospace, and compute-intensive applications, have unveiled a fifth-generation dual-processor, rugged SBC targeted at such applications as unmanned aerial vehicles (UAVs) and the U.S. Army's Future Combat Systems (FCS) program.
The company's CC279 "Premonition" is a 6U 4HP conduction-cooled CompactPCI board equipped with some of the latest technologies. Among them is a unique conduction-cooled design, as well as multicore processors, independent memory banks, and the ability to withstand operating temperatures of 40 to 85 degrees Celsius.
The CC279, supporting Intel's ultra-fast Virtualization Technology, is available powered by two Quad Core Xeon processors, operating as fast as 1.6 GHz, or two Dual Core Xeon processors, operating at up to 2.33 GHz. The SBC, able to accommodate as many as eight independent processors on the single-slot board, delivers high performance in a 100-watt, conduction-cooled design.
The SBC also features Intel's highest-performance Server Class 5000 series controller chip with two front side busses, each operating at 1333 mega transfers per second (MTS). Each of the two 8-gigabyte, 144-bit ECC (error-correcting code), DDR-2 (double data rate) memory banks transfer data at 10.6 gigabytes per second, providing an effective memory transfer rate of 21.6 gigabytes per second.
Engineers crafted a conduction-cooling technique to remove the heat dissipated by the 100 watts of power. This single-slot SBC employs a hybrid plate design with heat pipes and a copper/aluminum frame. A rolled edge increases the transfer of heat from the processing engine which is dissipated through the pipes, opposed to conventionally via the frame.
The new SBC also has high-performance graphics capabilities. A 4HP Special Application Module (SAM-III) mezzanine card can be mounted on the backside of Premonition, boosting visual productivity and delivering impressive video quality. These features combine, making the CC279 well suited for demanding, compute-intensive applications, such as processing multiple data sources for UAV collision avoidance using array processing or digital signal processing.
Standard I/O features include: Quad gigabit Ethernet ports with a TCP/IP offloading engine, six USB 2.0 ports, one Com port with RS232/422, 20 GPI/O lines, six SATA-2 ports with RAID support, and one PATA port. The CC279 supports Windows Vista/XP/2000, VxWorks, and Linux operating systems, and PICMG 2.16 and PICMG 2.9. The Premonition is offered in conduction-cooled and convection-cooled versions for full extended temperature (-40 to 85 degrees C); VME and VPX versions are in development.
Aitech Defense Systems Inc., an independent manufacturer of open-architecture board and subsystem-level products for harsh-environment defense, aerospace, and astronautics applications, introduced a single-slot SBC with power-saving options that can be configured to meet application requirements.
Aitech engineers designed the radiation-tolerant 3U CompactPCI SBC, the S950, specifically for mission-critical space environments.
The high-performance SBC can function using just 13.5 watts in full operation, fewer than 8 watts in nap mode, and less than 10 watts with limited performance for less intense processing requirements—all with a core processor speed of 733 MHz.
The S950, which protects against single event upsets, is for low Earth orbit, Mars terrestrial, and geocentric orbit applications, such as redundant mission computers, guidance and navigation computers, command and data-handling computers, solid-state recorders, and video controllers.
Aitech engineers also designed the SBC with a low-power PowerPC 750FX processor having a maximum power dissipation of less than 8 watts. Its 128 megabytes of SDRAM are arranged in a bit-wise triple voting architecture, and 1 megabyte of dual-redundant boot Flash memory harbors the system's onboard Boot firmware. Additionally, 32 kilobytes of L1 cache includes a parity check for tags and data, whereas 512 kilobytes of L2 cache delivers a parity check on tags and ECC protection for data.
A radiation-tolerant, anti-fuse field-programmable gate array (FPGA) maintains the memory controller, ensuring data integrity and security even in harsh space environments. ECC protection is also provided for the board's 64 megabytes of Flash memory. Additional features of the S950 include: two standard serial ports, four independent 32-bit counters/timers, an onboard hardware watchdog timer, a 32-bit conduction-cooled PMC site, and a 32-bit CompactPCI interface operating at 33.333 MHz.
For additional information, visit General Micro Systems and Aitech Defense Systems Inc. online at www.gms2sbc.com and www.rugged.com.