Product Applications
Oct 1st, 2003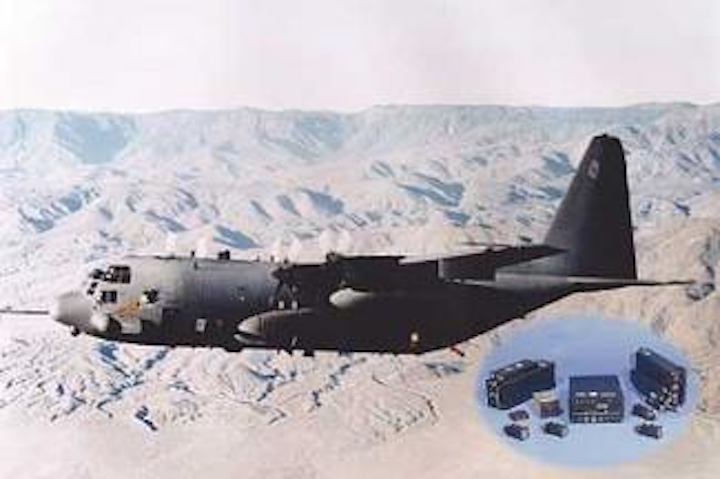 COMPONENTS
Air Force chooses electronic warfare components from BAE Systems to protect special operations aircr
Aircraft systems integrators at the Boeing Co. in Seattle needed electronic warfare components to help safeguard U.S. Air Force Special Operations Command aircraft from hostile radar-guided missiles. They found their solution from BAE Systems in Nashua, N.H.
Officials of Boeing's Special Operations Forces Aerospace Support Center in Fort Walton Beach, Fla., awarded BAE Systems a potential $80 million five-year contract to provide the AN/ALQ-196 low-band jammer for special operations aircraft such as the MC-130H Talon II and AC-130U gunship aircraft.
Performing the work is BAE Information & Electronic Warfare Systems, a business unit of the Information and Electronic Systems Integration Sector within BAE Systems North America.
null
The ALQ-196, which has been in operation on Air Force MC-130E Talon I aircraft since 1994, defends aircraft from current and future radio frequency missile threats — particularly radar-guided missiles — BAE officials say.
MC-130 aircrews work closely with Army, Navy, and Air Force Special Operations forces during day and night operations in all weather conditions. Among the missions of these aircraft are inserting and removing fighting forces covertly, as well as re-supplying special operations forces.
The AC-130 aircraft, meanwhile, is for close air support, armed reconnaissance, and air interdiction.
For more information contact BAE Systems Information & Electronic Warfare Systems by phone at 603-885-3653, by post at P.O. Box 868, 65 Spit Brook Road, Nashua, N.H. 03061-0868, or on the World Wide Web at http://www.iews.na.baesystems.com/.
TEST AND MEASUREMENT EQUIPMENT
Air Force logistics center picks Qualtech for bus-monitoring system research
Officials of the U.S. Air Force Ogden Air Logistics Center at Hill Air Force Base, Utah, needed new ideas for monitoring and pinpointing problems in avionics databuses. They found their solution from Qualtech Systems Inc. in Wethersfield, Conn.
The Air Logistics Center awarded Qualtech a 2-year small business innovation research phase II contract to develop a prototype active bus monitoring and failure forecasting system. Qualtech experts will develop equipment for active bus monitoring and testing, as well as software for diagnostic and prognostic analysis and data management.
Sophisticated avionics, weapons-delivery, and cockpit display systems in modern fighter aircraft rely extensively on digital bus networks for onboard communications and control, Qualtech officials say.
The complexity of these bus networks often makes it difficult to resolve reported discrepancies or problems between the physical bus network and the separate components.
Yet a monitoring and data analysis system that helps technicians observe the operational performance of bus networks can substantially help detect problems, and aid with failure forecasting and maintenance planning, company officials say.
Qualtech engineers say they expect that moving technology from this research project to the active Air Force maintenance personnel can help reduce operational and support costs and improve aircraft availability.
For more information contact Qualtech Systems by phone at 860-257-8014, by fax at 860-257-8312, by e-mail at info@teamqsi.com, by post at 100 Great Meadow Road, Suite 501, Wethersfield, Conn. 06109, or on the World Wide Web at http://www.teamqsi.com/.
COMPUTER PERIPHERALS
Northrop Grumman chooses sensor management units from Vista Controls
Avionics designers needed airborne computers for the Global Hawk unmanned aerial vehicle (UAV) to connect the UAV's sensors with satellite and ground communications systems, as well as interface with existing mission computers. They found their solution from Vista Controls Corp. in Santa Clarita, Calif.
Engineers at the Northrop Grumman Integrated Systems group in El Segundo, Calif., are awarding Vista a $4 million contract to design, develop, and build seven integrated sensor management units (SMUs),
The SMUs interconnect Global Hawk sensors, satellite, and ground communications subsystems with the existing dual-redundant integrated mission management computer aboard the UAV. .
Global Hawk is a high-altitude, long-endurance UAV that provides U.S. Air Force and joint battlefield commanders with near-real-time imagery of large geographical areas.
For more information contact Edee Hathaway at Vista Controls by phone at 661-257-4430, by fax at 661-257-4782, by e-mail at sales@vistacontrols.com, by post at 28965 Avenue Penn, Santa Clarita, Calif. 91355, or on the World Wide Web at http://www.vistacontrols.com/.
COMMUNICATIONS EQUIPMENT
DARPA works with Rockwell Collins on experimental targeting network
Researchers at the U.S. Defense Advanced Research Projects Agency (DARPA) in Arlington, Va., are working with Rockwell Collins of Cedar Rapids, Iowa, to develop a high-speed dynamic ad hoc network designed to help U.S. military forces create a rapid retargeting capability that be crucial across vital military operations.
The network that Rockwell is developing under DARPA supervision is called the Tactical Targeting Network Technology project — otherwise known as TTNT. Rockwell received a $22.1 million phase 3 contract for the program.
This network is to support more than 200 users for secure jam-resistant transmission at Internet speeds, and to enable reception of four or more streams simultaneously.
DARPA scientists are supervising TTNT for their own work, as well as for use at U.S. Air Force research laboratories, Rockwell Collins officials say.
To date, Rockwell Collins engineers have developed TTNT requirements, crafted a preliminary design, built a complete hardware design, as well as a full-scale network simulation, and performed an air-to-ground demonstration to verify the ability to transmit data at distances farther than 100 nautical miles.
Now Rockwell Collins experts are setting their sights on building 20 prototype terminals, and will validate the previously built ad hoc network demonstrations.
TTNT's network formation is simple, Rockwell Collins officials say. Automatic network organization and key exchanges can take place any time, even while terminals are en-route.
For more information contact Rockwell Collins by phone at 319-295-1000, by post at 400 Collins Road, N.E., Cedar Rapids, Iowa, 52498, or on the World Wide Web at http://www.rockwellcollins.com/.
SENSORS
Taiwan airline looks to CMC Electronics for satellite antennas
Officials of Taiwan's airline EVA Air needed new satellite communications antennas for their fleet of Boeing 747-400 commercial jetliners. They found their solution from CMC Electronics in Ville Saint-Laurent, Quebec.
CMC Electronics will supply the company's CMA-2102 high-gain satellite communications antenna systems for eight Taiwanese 747s, with options for an additional four aircraft.
CMC's high-gain satellite communications antenna is top mounted and virtually eliminates multipath interference, CMC officials say. The CMA-2102 supports Swift64 high-speed data service without modification, and enables applications ranging from intranet virtual private network access for crews, to multi-channel voice services and fast electronic mail for passengers.
For more information contact CMC Electronics by phone at 514-748-3113, by fax at 514-748-3100, by post at 600 Dr. Frederik Philips Blvd., Ville Saint-Laurent, Quebec, Canada H4M 2S9, or on the World Wide Web at http://www.cmcelectronics.ca/.