VME and the military:An enduring love affair
Military electronic system designers often are bombarded with the latest and greatest technologies promising all sorts of improvements to take them into the next century of performance.
Feb 1st, 2003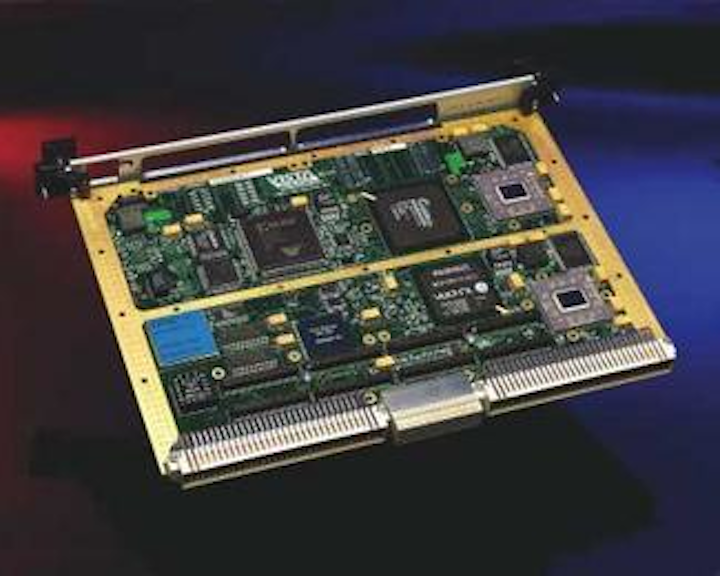 By John Mchale
Military designers continue to embrace VMEbus technology despite the impact CompactPCI has had on the commercial world. Meanwhile the COTS procurement trend takes a value-added approach.
Military electronic system designers often are bombarded with the latest and greatest technologies promising all sorts of improvements to take them into the next century of performance. However, one technology — VMEbus — has stood by the designer's side for the last 20 years despite the lure of new fashionable sexy neighbors like CompactPCI.
The love affair also looks like it will continue for at least another decade due to a woeful commercial market that has derailed much of the momentum of CompactPCI and the military culture's inherent resistant to change. VME is reliable, it is what they know, and it is what works.
null
VME is not just the majority of the military market, it is the military market. The military has become more and more the main customer for VME, says Ray Alderman, executive director of the VME International Trade Association (VITA) in Fountain Hills, Ariz. Of the approximately $860 million of VME boards shipped last year, about $400 million were for military applications.
CompactPCI has received some attention in new military programs especially in the 3U form factor, Alderman says. CompactPCI vendors are starting to look more at the military market because they were heavily vested in the telecommunications industry, which has tanked and still has not seen its bottom, he continues.
However, they will have a tough time breaking into the military due to the initial high cost of the investment, the long design-in times, and the low volume orders, Alderman says.
Meanwhile board manufacturers that have sold exclusively to the military have found steady growth over the last few years and expect to see more especially with a Republican administration that has demonstrated a willingness to spend money on defense. "We grew 18 percent last year and expect it to continue," says Peter Cavill, managing director of Radstone Technology in Towcester, England. Radstone supplies computer technology primarily to the military; the U.S. military is its biggest customer, Cavill adds.
Other companies that supported military and commercial applications have seen their military technology go from one-third to more than one-half of their current business. Officials at Motorola Computer Group in Scottsdale, Ariz., have seen their military business grow to more than 60 percent of their sales due to the downturn in telecommunications, their new VME products, and their roadmap for extending the life of VME called VME Renaissance, says Jerry Gipper, director of marketing at Motorola Computer Group.
VME and CompactPCI suppliers also see new opportunities in the nascent homeland security market. The target areas for board suppliers will be in signal-processing systems such as baggage scanners and biometric systems, which require intensive signal processing power. Rugged requirements for homeland security applications also will not be so strenuous as they are in military applications.
Multi-system processing companies Sky Computers and Mercury Computer Systems, both in Chelmsford, Mass., already play in the baggage-scanning arena. However, the introduction of the AltiVec microprocessor for the PowerPC has opened the doors for mainstream single-board computer suppliers to enter high-level digital signal processing applications.
Value-added COTS
VME suppliers, in supporting their biggest customer, also embraced the U.S. Department of Defense's famous procurement mandate from 1994 — that the military should whenever and wherever possible use commercial-off-the-shelf technology, better known as the COTS initiative.
Rugged board suppliers sell their products as COTS, yet most products do not actually come right off the shelf. "COTS is what we need to get us in the door, but most customers will want us to modify or customize the product for their specific application," says Roy Keeler, national sales manager at Radstone Technology.
When COTS was first introduced, many companies created marketing synonyms such as MOTS (military-off-the-shelf), ROTS (rugged-off-the-shelf), and GOTS (government-off-the-shelf). This was mostly marketing mumbo jumbo and all the terms were basically COTS. A more accurate term did emerge at VITA's Bus and Board conference last month — custom off the shelf — but the best description of military board procurement today would be value-added COTS.
Products are listed in a catalog as a COTS product much the way a car sits in a showroom; customers can decide if they want to add a sunroof or leather seats. Customers buy boards on a similar basic level; a customer chooses connectors, processors, and even software application code.
Many systems integrators today do not want to spend time programming or ruggedizing boards, so they shift that responsibility onto the suppliers, explains Doug Patterson, director of marketing at Vista Controls Corp. in Santa Clarita, Calif. Vista Controls engineers not only supply the single-board computer and the rugged enclosure, but they also are writing software application code for some customers, Patterson adds.
Companies that are traditional hardware suppliers increasingly find that they employ more software engineers than hardware engineers. For example the engineering team at Mercury Computer Systems is about 70 percent software engineers, says Richard Jaenicke, director of marketing at Mercury.
Board suppliers tend to have very similar basic products so the only way they can differentiate themselves is by providing added value, Alderman says. Board technology is in a transition — PCI is phasing out and switched fabric architectures are beginning to be adapted, he explains. However, how these transitions will shape the commercial market for boards let alone the military market is still unclear so suppliers continue to look for ways to separate themselves from the pack, Alderman says.
Many of these customers also do not need the latest and greatest inventions. The key to success in today's board industry is to leverage existing technology for use in hot markets such as the military and even homeland security, says Ben Sharfi, president of General Micro Systems in Rancho Cucamonga, Calif.
3U CompactPCI
Demand among military systems designers for 3U CompactPCI continues to grow, Radstone's Cavill says. Radstone recently joined competitors such as Dy 4 in Kanata, Ontario, and SBS in Raleigh, N.C., in the 3U embedded game with their ImPact family of 3U Compact PCI products. ImPact is Radstone's response "to our customer's request for a small form factor option to fit into tight corners," says Richard Kirk, product marketing manager of Radstone's Processor Group.
Radstone engineers are targeting their 3U devices for embedded military applications where space is tight such as main battle tanks and unmanned aerial vehicles. The first members of the ImPact family are the IMP1A single-board computer and its companion PMC carrier card, the IMPCC1. The devices support PMCs on a standard CompactPCI backplane of as many as eight slots, featuring single or multiprocessor solutions.
3U technology, still concentrated in Germany and serving the industrial control industry, has found fans among military systems designers because of 3U's rugged size and performance advantages over 3U VME. 3U CompactPCI can generate more I/O out of the backplane than 3U VME, Alderman says.
The main advantage that 3U CompactPCI has over 3U VME involves bandwidth and processing power. It has all the processing capability of 6U CompactPCI while VME loses bus bandwidth when it shrinks from 6U to 3U, industry experts say.
The main competitor for 3U CompactPCI military COTS applications is not VME but PC/104 which is cheaper because it only uses Pentium processors, Alderman says. However, supporters of 3U CompactPCI claim their advantage is that the form factor can use RISC processors while PC/104 cannot, he adds.
Board offerings
Experts at Vista Controls claim to have broken the 30-watt conduction-cooled power-dissipation limit with their new GD4 PowerPC single-board computer. The Vista board uses a thermal plane cooling design that company officials claim doubles the board's conduction surface area. It accomplishes this by cutting the thermal impedances in half without breaking any of the 6U by 160-millimeter Eurocard design standards and specifications, Vista officials say.
Experts at Raytheon in Lexington, Mass., are using the System Technology Enhancement Program (STEP) from Dy 4 Systems to assist in the technology upgrade of Raytheon's SeaVue family of surveillance radar.
Dy 4's STEP program will help Raytheon reduce capital expenditures in SeaVue technology upgrades, while using existing COTS technology to provide processing speed and system performance. Dy 4's STEP program, an enhanced version of the company's lifecycle management capabilities, leverages current open-architecture COTS product technology to cost-effectively embrace the growth potential and technology insertion benefits that result from today's open systems approach.
System performance enhancements to Raytheon's SeaVue radars were made possible by Dy 4's dual processor board based on the company's CHAMP segmented architecture, designed in a custom form factor to fit SeaVue's existing physical and mechanical parameters. The board incorporates two 400 MHz AltiVec G4 PowerPCs and custom interfaces.
"By incorporating existing technologies into our SeaVue radars, we were able to overcome difficult obsolescence issues and, at the same time, save significant amounts of time and money," says Craig Thompson, Raytheon's International Surveillance Radar senior manager.
Officials at General Micro Systems recently announced their new Equinox C269 Dual Pentium IV single-board computer. The device has dual video graphics engines for analog and digital displays, 512K of on-die L2 cache for each processor, a processor speed as fast as 2.6 GHz, and 533 MHz front side bus.
The latest offering from DNA Computing Solutions in Richardson, Texas, is the VQCG4, a Quad PowerPC G4/Altivec conduction-cooled single-board computer for harsh military environments. Its interfaces include VME, Ethernet, PMC, RACE ++, discrete I/O, and P0. The DNA device also has as much as 512 megabytes of SDRAM with ECC and 32-megabyte flash pool. The board's operating temperature range is -40 to 75 degrees Celsius.
SBS Technologies officials offer the CM4 PowerPC 3U CompactPCI single-board computer for new and legacy commercial and government COTS applications operating in harsh environments. Rugged and military needs are addressed with optional conduction cooling, extended temperature range of — 40 to 85 degrees C, stiffener bars, and wedge locks that increase shock and vibration immunity. Conformal coating is available for enhanced protection against dust and other contaminants.
"With master/slave functionality, an on-board PMC site, and optional conduction cooling, the CM4 fills a unique space in the 3U CompactPCI PowerPC-based product sector," says Clarence Peckham, president of the SBS Technologies Commercial and Government Group.
Officials at TEWS Technologies in Reno, Nev., recently released IndustryPack Carrier board. The TEWS IndustryPack Carrier is a modular I/O solution for applications in process control, medical systems, aerospace/defense, telecommunications, and traffic control. The 6U VMEbus Carrier TVME220 holds four single-sized or two double-sized Industry Pack modules.
---
Board conference finds success in tough economy
Most conferences and trade shows are falling on tough times due to the rough economy. However, officials at the Bus and Board Conference, sponsored by the VME International Trade Association (VITA) in Fountain Hills, Ariz., and the PCI Industrial Computers Manufacturers Group — better known as PICMG — in Wakefield, Mass., find they have to turn people away,
The latest event held last month in Long Beach, Calif., "was sold out," says Ray Alderman, executive director of VITA. "We had 350 attendees and I had to turn away 25 to 30. We had a limit of 350 due to fire regulations."
Bus and Board is successful because "it targets a niche industry — single-board computers — it is not very broad," Alderman says. "It also has very focused content and we make sure to treat the attendees, exhibitors, and editors like gold."
The format is unique. Alderman sells sponsorships to the conference, which enables companies to have a tabletop exhibit and meetings with editors of various technology publications.
The access to press and the focused content motivates board companies going through tough times — such as many CompactPCI suppliers to the telecommunications industry — to fork out $725 for a two day pass and a few thousand for a sponsorship, Alderman says. "I've had attendees say they pulled out of shows like Embedded Systems but still attend Bus and Board."
The conference gives them a chance to meet their competitors and network with editors and potential customers from the military and other markets, Alderman says. About 70 percent of the consumers of single-board computers had some type of representation at Bus and Board, he claims.
VITA is a non profit organization, therefore the conference does not incur a profit, but is successful every year despite the recession and redistributes any revenues back into the organization for other projects, Alderman says.
For more information on the Bus and Board conference go to the World Wide Web at http://www.busandboard.com.
---
M1A2 Abrams main battle tank uses Radstone technology
General Dynamics Land Systems in Sterling Heights, Mich., recently chose commercial-off-the-shelf (COTS) computer technology from Radstone Technology in Towcester, England, for the U.S. Army's Abrams Battle Tank M1A2 Continuous Electronics Enhancement Program (CEEP).
CEEP is part of the Abrams M1A2 System Enhancement Package (SEP) and will integrate new technologies that will reduce future obsolescence issues and take advantage of improved processing and display capabilities, Radstone officials say.
Radstone engineers are integrating their latest generation of rugged COTS PowerPC processor, graphics, and communications products, enabling General Dynamics to take advantage of microprocessor and display technologies and performance benefits that have occurred since the original M1A2 effort. The system will also address obsolescence issues and provide reductions in life-cycle costs, Radstone officials say. The new general-purpose processor and on-board mezzanines will allow for improved capabilities in crew operations and vehicle diagnostics.
This initial order will cover the upgrade of approximately 50 Abrams M1A2 tanks. More than 2,000 tanks are currently in service with the U.S. Army and other nations. Work is to be completed on the CEEP program by 2006.
"The Abrams continuous electronics enhancement program will sustain the US Army's main battle tank core electronics architecture well into the next decade," says John F. Rank, director of material acquisition at General Dynamics Land Systems. Radstone's "general purpose processors were chosen on a best value and technical performance criteria."
The Abrams is the Army's main battle tank. The M1A2 program provides the Abrams tank with several improvements including a commander's independent thermal viewer, improved weapon station, position navigation equipment, a distributed data and power architecture, embedded diagnostic system, and improved fire control system. A radio interface unit enables the rapid transfer of digital situational data and overlays to compatible systems anywhere on the battlefield, Radstone officials say.
---
Boeing to use Thales boards for test flight event reporting system
Experts at Boeing in Seattle are choosing single-board computer and PMC carriers from Thales Computers in Raleigh, N.C., for a new system from Boeing Integrated Defense Systems to record and report events during test flights of the C-17 Globemaster III transport aircraft.
The new system, known as AWODS (Advanced Work Order Distribution System), is designed to record all operational data from the nine 1553 data busses aboard the C-17 during test flights, Thales officials say. In addition, AWODS will transmit data on predefined events in real time to ground stations for analysis. AWODS has been developed to reduce or eliminate costly test reflights, which have been necessary in the past because of the inability to capture adequate information about transient events that occur during flight, company officials say.
"We are pleased that Thales Computers is partnering with Boeing in the development of this important system," says Mark Talbot, principal engineer at Boeing. "They have provided high-quality products and have worked interactively with our other contractors to deliver a prototype system for evaluation."

Thales Computers will provide a Ruggedizer-equipped, conduction-cooled version of its high-end VMPC6d single board computer, which employs dual Motorola PowerPC 7410 chips, running at 450 MHz, augmented by the AltiVec vector-processing unit. For the AWODS application, the VMPC6d is equipped with 256 MB SDRAM arranged in a shared memory architecture that facilitates real-time memory access with low latency. Thales will also supply PMC carriers for the AWODS system. The VMPC6d and the PMC carriers are designed to operate from -45 to 85 degrees Celsius and meets shock and vibration specifications.
null