Military to see a new spin on Iridium for updated satellite communications
The Orb'Phone Exchange will use patent-pending technology from Eagle for a 10-pound, 9-by-6-by-4-inch repeater, which can receive as many as 100 separate .....
Feb 1st, 2003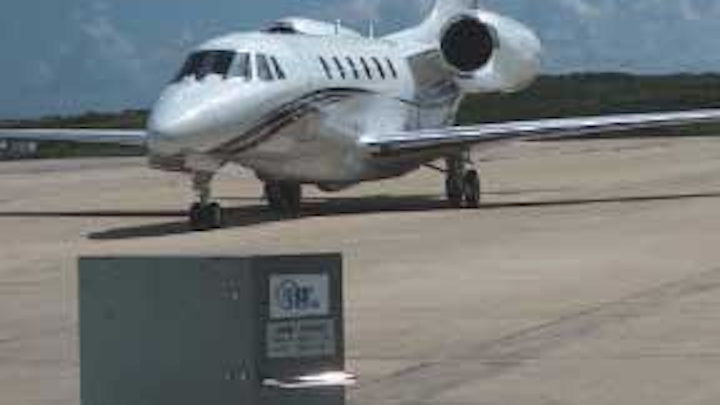 by J.R. Wilson
LEAGUE CITY, Texas — Eagle Broadband Inc. and Euro-GSM are developing a way to access the Iridium low Earth orbit (LEO) satellite constellation with handsets the size of conventional pocket cellular telephones for military and commercial aviation applications.
The Orb'Phone Exchange will use patent-pending technology from Eagle for a 10-pound, 9-by-6-by-4-inch repeater, which can receive as many as 100 separate non-line-of-sight signals, amplify the signals, and relay them to the global satellite network that U.S. military leaders use under contract.
Belgium-based Euro-GSM already provides communications equipment to the U.S. military and has been producing an Orb'Phone to work with the Iridium system for some time. The partnership will contract with companies already providing secure phone systems to the Pentagon for low-power, short-range handsets to work with the Exchange repeater. The same system also is available for commercial and business aviation applications.
"The users do not have to be within line-of-sight of the repeater, but do need to be within a reasonable range of the (handset's) internal antenna, which we're currently testing at about 200 feet," says Dr. H. Dean Cubley, Eagle's chairman and chief executive officer.
"Right now the handheld is in the 10-to-200-milliwatt range, similar to a cell phone output, and about the size of a standard pocket cell phone. The original Iridium phone is a 5 watt output and considerably larger and heavier," Cubley says.
"In a commercial aircraft, the repeater would become the base station for all the passengers on board to talk through, allowing them to communicate on any route, whether over open ocean, the poles, or any other part of the world, without the limits of current conventional systems," Cubley says.
"For military applications, it could be carried in a backpack or dropped in by parachute to otherwise inaccessible locations and could operate for a reasonable period of time without recharging," Cubley continues. "It also could be put into a UAV [unmanned aerial vehicle] and operated overhead, with the only limit being the range and slightly higher power for the handset antennas."
Manufacturing of the repeater began in January, with the first test sets to be delivered for testing on commercial aircraft by March. Full production is scheduled for this spring for the military and commercial aircraft versions. The fully ruggedized ground-based "micro-cell" version will be about 90 days behind the aviation version, but should be ready for fielding by mid-year, Cubley says.
"We're strictly in a demonstration mode with the military at the moment and no contracts are in place," he adds. "In the commercial aeronautical application, it is being offered universally. We definitely will offer it to the U.S. military first, then decide if it is appropriate to go beyond that."
null
Euro-GSM president Yves Hendrickx, whose company already has extensive involvement in commercial aviation communications, says the potential for commercial and military applications is considerable.
"Every commercial airliner is a candidate for the Exchange, since the system's software and hardware are much more effective and substantially less expensive than communication systems currently available to the aviation industry," he says. "Plus, the enhanced service can be offered to airline passengers at a greatly reduced rate. We estimate the total worldwide sales for the Exchange system could reach thousands of units in the next three to five years."
Using Eagle's experience in filtering RF (radio frequency) transmissions, the Exchange will provide "all-passenger," gate-to-gate communications capabilities from inside commercial or business aircraft without interference to aviation navigation equipment.
For the military, it would produce the equivalent of a domestic communications environment in non-line-of-sight situations in any remotely deployed communications center anywhere in the world. It also could be used as part of the emergency communications network being established for homeland security.
"The Exchange's total global communications coverage is possible because our system uses the Iridium Satellite LLC voice and data network — a constellation of 66 operational low Earth orbit satellites deployed on six polar planes," Cubley says.
"Each orbit plane has 11 satellites, ensuring that every region on the Earth is covered by at least one satellite at all times," Cubley says. "The existing constellation is designed to stay fully active without additional units for at least five years and spare satellites have just been launched by Boeing to ensure full Earth coverage and spares until 2011."
The current design calls for the repeater to handle anywhere from 2 to 100 signals; going beyond that number is possible, but would involve power and battery life factors. Rechargeable batteries will provide power, and designers are emphasizing batteries already common to military systems.
Noting the patent is still pending, Cubley declined to provide specifics on the system's components, but says the key is "ultralinear bi-directional amplification, not totally unlike some of the new cellular systems now in operation around the world."
---
Transmeta introduces Crusoe SE processors for x86, panless embedded applications
by J.R. Wilson
SANTA CLARA, Calif. — Officials of Transmeta Corp. of Santa Clara, Calif., are announcing an embedded version of their energy-efficient Crusoe processors to target a wide range of x86 embedded applications, along with an embedded partners program for leading BIOS/firmware, embedded operating system, and silicon component suppliers.
The chips are designed to meet requirements combining x86-compatibility, high performance, power efficiency, low heat dissipation, and chipset integration to create compact, passively cooled embedded systems.
The Crusoe Special Embedded (SE) processors use LongRun, an advanced power management technology, to optimize processor frequency and voltage dynamically while monitoring chip temperature. This can keep power use and heat at minimum levels without a cooling fan.
The chips have been tested to date at temperatures as hot as 100 degrees Celsius, with future versions planned for extreme embedded applications requiring even wider temperature ranges.
Crusoe SE processor specifications include:
667 MHz, 800 MHz, or 933 MHz;
standard or low-power versions;
reduced operating temperatures enabling fanless system designs;
LongRun power and thermal management;
upgraded Code Morphing Software (CMS) enhanced to maximize real-time performance while maintaining complete x86-compatibility;
integrated Northbridge reduces board space use, allowing compact designs;
reliable 24/7 operations at full-rated speed and temperature to meet the high-reliability requirements of mission-critical embedded designs;
extended Crusoe SE availability program to support long-term embedded product life cycles;
immediate availability; and
cost of less than $50 per unit in volume.
Transmeta's partners for Crusoe SE military and aerospace applications include General Software Inc. of Bellevue, Wash., LynuxWorks of San Jose, Calif., Microsoft of Redmond, Wash., Wind River Systems of Alameda, Calif., IBASE in Taiwan, and Tri-M Systems in Port Coquitlam, British Columbia.