Radstone COTS boards successful component of MLRS upgrade
Commercial-off-the-shelf (COTS) PowerPC single-board computers from Radstone Technology have been a major part of the U.S. Army's Multiple Launch Rocket System (MLRS) since 1997.
Aug 1st, 2003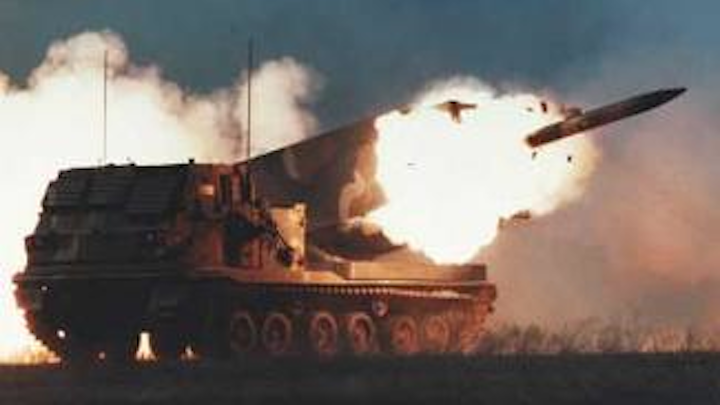 By John McHale
TOWCESTER, England — Commercial-off-the-shelf (COTS) PowerPC single-board computers from Radstone Technology have been a major part of the U.S. Army's Multiple Launch Rocket System (MLRS) since 1997.
At that time Intel and its x486 processors, which were the electronic "brain" of the system's fire control, stopped supporting military applications and forced MLRS program engineers to redo their approach to component obsolescence.
The MLRS is capable of firing almost 8,000 M77 munitions in less than 60 seconds over 30 kilometers. A 1992 upgrade added the Improved Fire Control System (IFCS), which enabled the use of advanced mission software to enhance the launcher's capability to handle complex munitions, Radstone officials say. The computerized system also provided improved video displays, on-board GPS (Global Positioning System) navigation, and signal processing algorithms.
null
However, six years ago, with the IFCS about to go into production, Intel dropped its bomb. Engineers at the IFCS upgrade's system integrator, Harris Corp. in Melbourne, Fla., and the MLRS prime contractor, Lockheed Martin Missiles and Fire Control in Dallas, immediately had to cope with the dirty little secret of COTS — component obsolescence.
"In the past, contracts were placed on a 'build to print' basis where the U.S. government owned the entire design and the supplier's job was to manufacture to that design as many times as required," says Arnold FitzGerald, proposal manager for the MLRS program at Lockheed Martin.
"Approaching the production phase of the IFCS we moved to performance-based acquisition, where it is our job to get the launcher working regardless of any issues or changes we hit," he says. "It carries more risk but also gives us more freedom to decide how to do the job."
For the next upgrade program, known as M270A1, "we gave Harris a requirement to upgrade three of the key boxes within the IFCS, and indicated that we were prepared to move to the PowerPC," Fitzgerald says. "Harris would be providing the hardware on which the software we would write would be running. This was one of the few occasions where we would be intimately interested in the activities associated with one of our major suppliers' subcontractors."
Lockheed Martin engineers identified Motorola's PowerPC as potentially the "chip of choice" due to its combination of performance, reduced power requirements, and its increasing use in military systems.
Harris engineers evaluated five different vendors of military-standard COTS processor boards for the upgrade and chose Radstone, which already had some involvement with the program, having won a development contract in 1985 for the Bulk Storage Memory Unit from Norden Data Systems.
Military-rated Intel x486 33MHz processors designed and built by Harris and running the VADS operating system provided the computing power of the original IFCS. Radstone would have to design a hardware and software replacement for the previous devices. With the move to the PowerPC the application would switch from the unsupported VADS operating system, to VxWorks from Wind River in Alameda, Calif., with Radstone's Board Support Package (BSP) sitting between it and the hardware, Radstone officials say.
Together with a new processor, the new upgraded IFCS boards would have to match existing pin-outs, support 1553 and 10Base2 Ethernet interfaces, and be capable of not only working within the MLRS environment envelope, but meeting a nuclear hardness requirement as well, Radstone officials say.
"We looked closely at a wide range of issues and asked a lot of questions, always mindful of our own schedules," says John Valori, a senior hardware engineer at Harris. "For example, our boards had a 9 by 9 inch form factor, which we preferred to maintain, rather than a vendor introducing extensions to a standard 9 by 6 inch COTS card.
"Environmental issues were very important and we needed to understand how issues such as temperature and vibration would be dealt with," Valori continues. "The software [BSP] was also critical as we wanted to ensure that the IFCS software would not only run on the new board without requiring major re-programming, but that the same would be true of subsequent processor upgrades."
Radstone experts proposed integrating two of their COTS products onto a new 9-by-9-inch board. The company's PPC2A processor board and a PMC1553 interface card had been available for 18 months and were being integrated into aircraft, missile, and torpedo systems. "During the evaluation we purchased one of Radstone's PPC2A boards and subjected it to temperature cycling with absolutely no problems whatsoever," Valori says.
Another key to Radstone's success with the MLRS contract was the company's Whole Program Life COTS philosophy, which provides an integrated approach fighting the main reason behind this latest MLRS upgrade — component obsolescence. Radstone's Program Life Management team performs a quarterly, proactive component audit health check, which has already alerted the program of components becoming obsolete and enabled last time buys.
"We expect the M270A1 to be in the field until 2015 and its wheel-variant the High Mobility Artillery Rocket System (HIMARS), to be operational until 2025," FitzGerald explains. "Obsolescence is a fact of life and in the long term can't be countered by last time buys - besides which you want the system to grow as the technology becomes available. Working with Radstone we are confident of meeting that challenge."
The success of the upgrade saw Radstone awarded a contract in 1999 to upgrade 55 MLRS systems, and the following year a further five-year contract to insert the new technology in the remaining MLRS Launchers to be upgraded to the M270A1 configuration for the Army.
For more information contact Radstone on the World Wide Web at http://www.radstone.com.