Products
ACT/Technico in Fremont, Calif., is offering Interface Concept's managed IPv4/IPv6 ComEth4300a 10 Gigabit Ethernet (GigE) switches for unmanned vehicle applications.
Jul 1st, 2009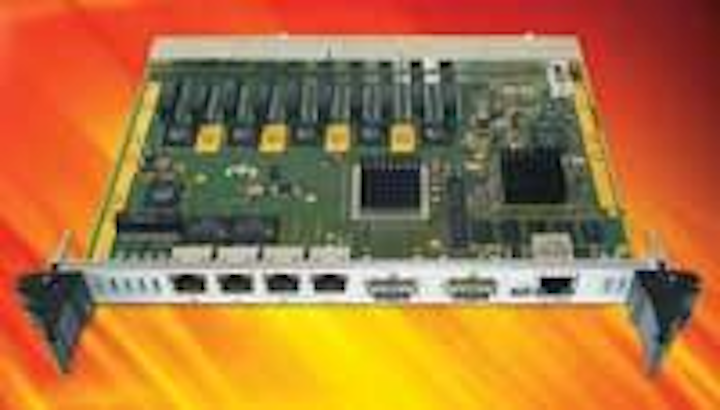 ACT/Technico offers Gigabit Ethernet switches
ACT/Technico in Fremont, Calif., is offering Interface Concept's managed IPv4/IPv6 ComEth4300a 10 Gigabit Ethernet (GigE) switches for unmanned vehicle applications. The ComEth4300 family of switches supports jumbo frames, full-wire speed Layer 2 bridging, as well as Layer 3 unicast and multicast engine forwarding. In addition, the switch supports Layer 2 through Layer 4 advanced traffic classification, filtering, and prioritization. This makes them well suited for data security services that require strict priority data trafficking, as found in time-sensitive or critical applications. The family of Gigabit Ethernet switches ranges from 24 to 28 ports, up to four of which can be 10 Gigabit. The automatic MAC address management, auto-negotiation, auto-polarity, and auto-crossover on each port make the ComEth4300 family plug-and-play. The ComEth4300 family provides a routing capacity of 125 million packets per second (Mpps). For more information, visit Act/Technico online at ww3.acttechnico.com.
Adimec offers 2-megapixel camera for unmanned vehicle applications
Adimec in Eindhoven, The Netherlands, is offering the OPAL-2000 progressive scan CCD camera for unmanned vehicles that uses the Kodak KAI-02150 sensor with a resolution of 1920-by-1080 (HDTV) and 5.5-micron square pixels. This camera can deliver as many as 64 full-resolution images per second with linearity over the dynamic range of 62 dB. Other features include global shutter, channel matching to below noise level, automatic black and shading, and defect pixel correction. This camera has the option of being ruggedized for military environments to MIL-STD-810F. Several interfaces are available, including Camera Link, GigE, RS-170, and HD-SDI. Surveillance and tracking options are also available, including automatic exposure control (AGC and AIC), programmable ROI, and peak and average detection. A variety of outlines can be offered to fit your needs, such as a remote head, board level, and several lens mount options. The cameras are tested for surveillance and targeting pods, ground vehicles, UAVs, UGVs, border surveillance, and traffic monitoring devices. For more information, visit Adimec online at www.adimec.com.
Aitech introduces Core 2 Duo-based single-board computer for use aboard UAVs
Aitech Defense Systems Inc. in Chatsworth, Calif., is releasing the 6U VME C160 single-board computer (SBC) using Intel T7400Merom Core 2 Duo dual-core processors, for mobile applications requiring low power and high processing throughput. The rugged, single-slot C160 also uses Intel's Virtualization Technology (VT), so the board can run different applications simultaneously using several virtual partitions. The featured C160 draws 25 watts and incorporates a custom metal thermal management frame supporting stiffeners for resistance against shock and vibration, making the board suitable for rugged and harsh military environments, including radar and sonar communications processors, autonomous vehicle IED and RPG protection subsystems, mission management computers, and heads-up display controllers. The C160 offers 2eSST and 2eVME functionality as well as VME and PCI legacy support via a Tundra Tsi148 bridge. The bridge's decoupled architecture can handle simultaneous transactions and the large FIFOs (first in first out) to prevent PCI/X to VME deadlock conditions. The board's large memory arrays provide as much as 2 gigabytes fast DDR2 SDRAM operating at 667 MHz and as much as 8 gigabytes of onboard Flash disk (NAND Flash) with IDE controller. For more information, visit Aitech online at www.rugged.com.
BittWare offers radar-processing board that combines FPGAs and DSPs
BittWare Inc. in Concord, N.H., is offering the single-board processor for radar applications in unmanned aerial vehicles and ground-based threat detection, which can satisfy processing requirements in a lightweight, small form-factor solution. BittWare uses a hybrid signal processing design that incorporates FPGAs and DSPs, allowing the number of total processing units per board to decrease, enabling a small form-factor to be used. Deployed in a lightweight radar system for unmanned aerial vehicles, this radar system provides situational awareness and target coordination, while also satisfying the challenges of high-end, floating-point processing and low power. The GT3U is based on BittWare's rugged, conductive-cooled GT-3U-cPCI hybrid signal processing board. The on-board FPGA provides all front-end processing, analyzing all incoming data, and only passing along the "desired" data to the DSPs. FPGAs are more suited to this type of repetitive processing, enabling the on-board DSPs to do what they are best–extremely complex data analysis in real time. The combination of the two created a solution requiring less on-board processing units compared to using only DSPs, saving space and allowing for a smaller form-factor solution. The board is conduction-cooled, supporting temperatures of -40 to 85 degrees Celius. For more information, visit BittWare online at www.bittware.com.
Curtiss-Wright offers VPX embedded computer for rugged mobile military applications
Curtiss-Wright Controls Embedded Computing in Leesburg, Va., is offering the VPX3-1100 Atomic low-power, high-performance, small-factor board for rugged deployed aerospace and defense applications that require secure computing. Based on the Intel Atom processor, the card brings low-power processing, netcentric battlefield communications connectivity, graphics, and next-generation security options to a rugged, small form-factor 3U VPX architecture for space-, weight-, and power-constrained applications, such as embedded security systems, rugged-mobile Internet devices, secure radios, manpacks, wearable electronics, vetronics, in-vehicle networking, telematics, situational awareness systems, graphics systems, embedded robotics, electronic vehicle health monitoring systems, and general-purpose, low-power rugged or secure computing. The VPX3-1100 Atomic provides a 1.6 GHz Intel ATOM processor and as much as 512 megabytes of DDR2 SDRAM, 1 gigabyte of NAND Flash, a BIOS Firmware Hub (FWH), and a trusted platform module for trusted boot. The VPX3-1100 Atomic backplane input/output includes two PCIe (x1) fabrics, 2x Gigabit Ethernet interfaces, 2x RS232 Serial interfaces, 8x GPIO, 2x USB 2.0, DVI, Audio (Mic, L/R), and XMC I/O. For more information, visit Curtiss-Wright Controls Embedded Computing online at www.cwcembedded.com.
DDC offers multi-channel solid-state power controllers for UAV and UGV applications
Data Device Corp. (DDC) in Bohemia, N.Y., is offering the 16-channel EDGE RP-26100 power controller series to protect against electrical faults and provide smart power management for next-generation unmanned vehicles and system upgrades. The cards meet Mil-Std-704F and Mil-Std-1275D power standards. EDGE power controllers continuously monitor and report load currents, voltage, and temperature with 5 percent accuracy, enabling diagnostics and prognostics. Channels are independently programmable with precise set points ranging from 0.3 to 25 amps. System designers can match over-current set points with wire sizes, loads, and locations to minimize wire length and weight. Channels can be paralleled for higher currents or controlled and monitored in groups. Mission-critical vs. flight-critical loads can be protected and controlled separately. EDGE power controllers communicate with the system controller over a CANbus or an Ethernet interface. EDGE power controller technology provides I2T over-current protection with high inrush current capability, instant trip, and thermal memory. Controlled on/off time reduces EMI and eliminates nuisance and sympathetic tripping. EDGE power controllers offer programmed and real-time load control, BIT, reduced weight, and low power dissipation. Standard and tailored versions of EDGE power controller cards and point-of-load modules communicate using a common interface. For more information, visit DDC online at www.ddc-web.com.
Digital-Logic offers PC/104 CPU board with PCI/104-Express extension bus
Digital-Logic in Luterbach, Switzerland, is offering the Microspace MSM945 CPU board in PC/104 standard format. The board is based on the COMexpress module SMX945-xxx with different Intel processors, a memory capacity of as much as 4 gigabytes, two clock rates of 1.6 GHz, and the i945GME chipset. Equipped with the Intel Core 2 Duo L7400 CPU, the MSM945 has as many as six USB v2.0, one PS2, two COM, one LPT, and one 10/100Baste-T LAN port. In addition, it has optional DVI and CRT/LCD interfaces (dual screen) and one AC97-7.1/HAD sound controller. For connecting mass storages, one P-ATA and two S-ATA interfaces are available. For displays, the MSM945 board uses the graphic controller of the i945GME chipset with as much as 224MB video memory. The PCI/104-Express bus (PCI & PCI Express) and the USB interfaces are available as functional extensions. For more information, visit Digital-Logic online at www.digitallogic.com.
Digital Systems Engineering offers 8.4-Inch, flat-panel LCD with built-in DVR
Digital Systems Engineering Inc. (DSE) in Scottsdale, Ariz., is offering the MSM08G-LUR32 flat-panel, digital liquid crystal display (LCD) for military UAV applications. This 8.4-inch rugged LCD is for strategic UAV surveillance and reconnaissance missions. The MSM08G-LUR32 has been integrated into portable UAV ground control stations (GSCs) to display real-time, high-resolution video images and data captured from various EO/IR sensors installed on fixed-wing UAVs. A critical design feature of the MSM08G-LUR32 is a built-in digital video recorder (DVR). The internal DVR provides real-time recording of high frame-rate, 16-bit, high-resolution imagery. The DVR offers several memory options and data compression for optimal storage. Instantaneous playback and access to data and high-resolution image output gives field commanders advantages for immediate image analysis and processing during video playback and debriefing. In addition, the MSM08G-LUR32 is sunlight readable and offers DSE's optional integrated NVIS (MIL-STD-3009 Class B compliance), which allows the display to be viewable under any lighting scenario during daytime or night-time operation. For more information, visit Digital Systems Engineering online at www.digitalsys.com.
DME Corp. offers compact test system for unmanned vehicles
DME Corp. in Orlando, Fla., offers the ATS3000P synthetic technology to help test unmanned vehicles in either an automated or manual mode. This battery-operated system includes a ruggedized laptop, while maintaining an overall weight of less than 18 pounds. The ATS3000P provides the ability to test communication system performance along with analog and digital parameters. DME's advanced architecture is a software-defined platform that can generate or receive modulated RF signals (analog or digital) from 500kHz to 3GHz. RF tools include spectrum analyzer, power meter, RSSI, EVM, constellation diagram, AM modulation, FM deviation, RF frequency/error meter, and distance to fault measurements. For testing analog interfaces integrated into the vehicle, the ATS-3000P provides a 20 MHz, two-channel DSO, a DMM, a two-channel audio analyzer, two audio outputs, and a 16:1 and 8:1 relay mux. DME's design also provides a complement of digital I/O, including Ethernet, USB, TTL, RS-232, and programmable voltage level digital interfaces. Automated testing is delivered via DME's TestEZ software suite. This software package provides the user an intuitive and easy-to-use interface that allows the user to execute or create test programs, provide IETM access, picture probe, and archive/search the test results. DME can also provide ancillary equipment to test optical or mechanical parameters. For more information, visit DME Corp. online at www.dmecorp.com.
Fischer offers rugged electronic connectors for unmanned vehicle applications
Fischer Connectors SA in Saint-Prex, Switzerland, is offering rugged connectors for military equipment, such as unmanned aerial vehicles and remotely operated vehicles. Examples of mission-critical applications for which Fischer supplies rugged electronic connectors include special forces equipment, surveillance equipment, night-vision systems, communication systems, Navy video equipment, rugged computers, personal role radios, intrusion detectors, and missile systems. The Fischer AluLite series is compact and designed for unmanned aerial vehicles, surveillance systems, field computers, and handheld devices. Aluminium-engineered with an alloy specifically chosen for its anticorrosion property, flexible color-coding system, and ability to withstand frequent connect/disconnect operations and blind mating, the Fischer AluLite is the solution to an ultra light product design, according to a company representative. For more information, visit Fischer online at www.fischerconnectors.com.
L3 IEC offers video exploitation and management system
L3 Interstate Electronics Corp. in San Diego is offering the VideoScout-MC commercial off-the-shelf (COTS) video exploitation and management system for use with unmanned vehicles. The new solution enables military personnel to create and share intelligent video for mission planning, mission execution, battle damage assessment, targeting, and situational awareness. VideoScout-MC provides mobile and intelligence personnel with an all-in-one system to receive, exploit, archive, search, retrieve, and disseminate critical video data across the battle space. The VideoScout-MC is a lightweight (8.5 pounds), ruggedized laptop with integrated L, S, and Full-C band receivers and antennas. Video and metadata can be captured directly from manned and unmanned intelligence, surveillance, and reconnaissance systems, unmanned aerial vehicles, data-link receivers, common sensors, and Intel feeds. Warfighters can easily add knowledge to video assets by annotating, making clips, and extracting images to create intelligent video that is timely, actionable, and relevant to their mission. For more information, visit L3 IEC online at www.iechome.com.
Phoenix offers solid-state disk VME storage blades for rugged, unmanned applications
Phoenix International in Orange, Calif., is offering the conduction-cooled VC1-250-SSD and convection-cooled VS1-250-SSD for high-capacity, high-performance data storage for military, aerospace, and industrial applications, such as unmanned vehicles that require rugged, secure, and durable mass data storage. The 6U, single-slot modules house one or two 2.5-inch SAS or SATA SSDs, delivering as much as 256 gigabytes per device. The high-speed module will sustain read/write data rates of 120 megabytes per second with an access time of 0.5 milliseconds. The V(C/S)1-250-SSD has an operating temperature range from -40 to 85 degrees Celsius and functions at an altitude greater than 80,000 feet. For more information, visit Phoenix International online at www.phenxint.com.