Steady as she goes
Single-board computer designers forecast steady growth in demand for military embedded computers despite the current economic recession.
Mar 1st, 2009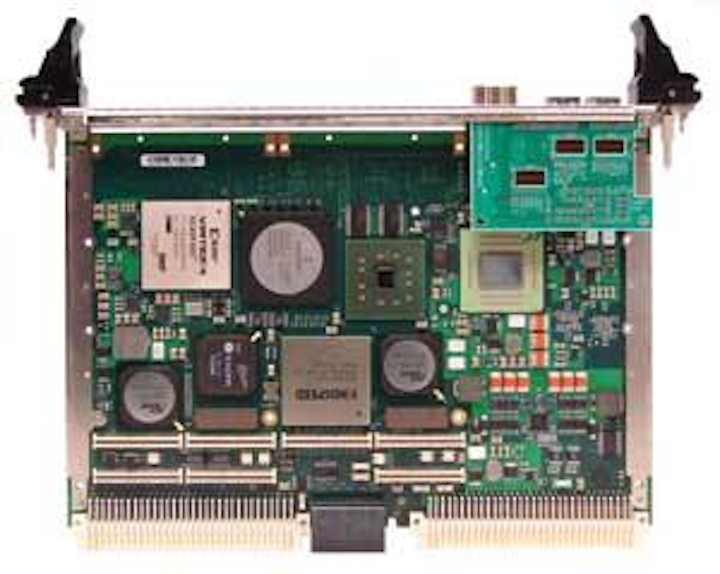 Single-board computer designers forecast steady growth in demand for military embedded computers despite the current economic recession. The most promising applications for these companies continue to be legacy defense VME technology, a common choice among military electronics system integrators.
By John McHale
The economic news is bad, and experts and pundits worldwide claim it is only going to get worse. Well, almost everyone.
Suppliers in defense embedded military electronics applications say business has never been better and they foresee little change for the next year or two, despite a Democrat President who says he wants to reduce the U.S. military presence in Iraq.
A common axiom has it that Republican administrations increase defense spending while Democrats shrink the defense budget. However, President Obama may be loathe to implement spending cuts that result in job loss or even more importantly weaken U.S. forces in the field.
"We have general indications of what effect an Obama administration will have on military spending," says Doug Patterson, vice president of sales and marketing at Aitech Defense Systems in Chatsworth, Calif. "The administration will be preoccupied for some time with the economy; with attempting to stabilize the financial system, healthcare, unemployment; with the housing/mortgage crisis, leaving the defense budget largely intact."
Patterson says he sees Obama making decisions on some of the major programs such as the Army's Future Combat Systems program elements, possibly eliminating some of them. Yet Obama's cabinet, including Secretary of Defense Robert Gates, "is a decent mix of doves and hawks, so I don't expect any major shifts away from our military."
"I see a reduction in troop deployments, but an increase in signals intelligence funding to compensate, which means more opportunities for military commercial off-the shelf (COTS) vendors," says Ray Alderman, executive director of the VITA open standards and open markets trade organization in Fountain Hills, Ariz.
"The money will continue to be spent on upgrading (refreshing) existing tactical platforms and weapons systems will increase as the funding on strategic platforms is reduced, giving a small net reduction in the total military budget," Patterson says. Unmanned platforms, advanced radar, and sonar, and tactical communications funding also will rise, he adds.
Defense COTS hardware applications represent the only bright light out there for embedded electronics, Alderman continues. VITA members with a military electronics systems integrator base say the requests for proposals (RFPs) just keep coming in, he adds.
The big concern, when the rest of the economy is tanking, is for non-military suppliers who will try to break into these applications and offer products at low prices with little reliability, Patterson says. The military electronics systems integrator has been educated on these potential mine fields, so hopefully it will not be a major issue, he adds.
Economic conditions also may influence how prime contractors approach suppliers, Alderman says. They may focus on just a few suppliers who can provide several levels of support from one board to an entire system. Such a scenario benefits system providers with integrated product lines, says Frank Willis, director of military and aerospace product management at GE Fanuc Intelligent Platforms in Charlottesville, Va. "With the acquisitions GE Fanuc made over the last few years, we feel we are well-positioned" to be a one-stop provider for prime contractors.
Smaller companies like Pentek may have to work harder but the opportunities are there, Alderman says. "However, if you sleep with an elephant, don't be shocked when that elephant rolls over on you," he cautions. "Bigger companies do run over smaller companies because it's the nature of the business."
"Business is good, but we will have to work even harder to get orders, make sure tools and products are up to customer expectations. and reduce their risk," says Rodger Hosking, vice president of Pentek in Upper Saddle River, N.J. Persistency in tracking orders and opportunities will make the difference, he adds.
Business in 2008 has been strong, and 2009 is looking even better, says Bret Farnum, vice president of sales and marketing for Extreme Engineering in Middleton, Wis., "I'm forecasting $26 million next year in sales after $20 million this past year," Farnum says.
Legacy VME
A good chunk of the orders coming in and for recurring business are for legacy technology such as VME 32 and VME 64, says GE Fanuc's Willis. "Legacy VME makes up about half of our single-board computer business. Seriously, many military programs need VME products today and will for years to come," he adds. Willis says GE Fanuc is supplying VME military board products to the U.S. Army M1 Abrams main battle tank program and says he sees that as a serious revenue producer for many years to come.
For at least the next five years, legacy VME will generate a lot of revenue, says Mike Slonosky, product marketing manger for PowerPC single-board computers at Curtiss-Wright Controls Embedded Computing in Leesburg, Va. Maybe five to eight years down the road many engineers who use VME will migrate to VPX, he says, adding "I still have customers come to me and ask, 'you still do VME, right?'" If system integrators do not need access to high-speed fabrics, but want COTS processors on a rugged board, legacy VME will continue to be the answer, he adds.
"Legacy VME is the main stay of our business," Patterson says. It makes up about one third with the other two thirds being CompactPCI and custom designs, he adds.
Aitech's latest VME 64 board is the 6U VME C160, which uses Intel T7400 low-power MeromCore 2 Duo dual core processors for radar, sonar, rocket-propelled grenade protection subsystems, mission management computers, and heads-up display controllers. The device draws 25 watts and incorporates a custom metal thermal-management frame supporting stiffeners to resist shock and vibration. Thermal efficiency is important because "high heat means low liability," Patterson says.
Typically boards use either PowerPC chips from Freescale or Intel devices, says David Pepper, product manager/technologist for single-board computers at GE Fanuc. They both have equal power efficiency, but Intel is getting a lot of attention with its roadmap that maintains consistency in price and performance per watt, he says.
GE Fanuc's latest Intel VME board is the V7875, which comes in a 6U format and uses the Intel Core 2 Duo T9400 processor for mobile applications. The device runs at 2.53 gigahertz and provides as much as 6 megabytes of L2 cache.
Intel and Freescale are taking advantage of the disappearance of PA Semi as a defense embedded computing supplier, says Jason Smith, product marketing manager for Intel single-board computers at Curtiss-Wright. Less than a year ago, the most talked about processor was PA Semi's PWRFficient high-performance processor, that had the low-power attributes needed for rugged military embedded applications, and was seen as the low-power alternative to the PowerPC and Intel chips. However, last spring Apple bought the company for its engineering talent and abandoned military embedded applications. Many companies designed product lines around the PA Semi device.
Extreme Engineering had a line of products based on the PA Semi chip and several engineers lined up to use them, Farnum says. "We've been told that Apple will support for four more years, then end of life the chips," Farnum says. Extreme Engineering will continue to sell the products and support buyers who invested in the PA Semi-based products, he adds. If the military electronics systems integrator wants to take a different path, "we will help him migrate to another processor technology."
"We never had had a product base for PA Semi chips, but did have plans," Willis says. He says not having an investment in the technology enabled them to provide alternate solutions more quickly and efficiently than those who did have a heavy investment in the technology.
3U CompactPCI
While legacy 6U VME is still the main choice for many military programs, 3U CompactPCI does well in embedded electronic applications in unmanned systems and missile guidance, where size is limited, Willis says.
The business for "3U is quite sweet," GE Fanuc's Pepper says. "We are getting quite a few inquiries and requests for proposals." GE Fanuc offers CompactPCI products in the 6U format also, but it is 3U that has really become popular in the embedded space for its smaller size, he adds.
About 20 to 25 percent of Curtiss-Wright's embedded board business is 3U CompactPCI (cPCI), Slonosky says. Military systems integrators like the high-speed I/O in a small rugged package.
Kontron Modular Computing in Poway, Calif., is also shipping a good deal of 3U CompactPCI product, says Joe Eicher, Kontron military, aerospace, and government director of sales. He declined to name specific buyers, but says Kontron has seen a lot of interest in sonar and radar applications. Kontron's latest 3U device is the ITC-320 3U CPU board, which is based on the Intel Core 2 Duo processor. The ITC-320 is available in air-cooled and rugged conduction-cooled versions.
3U CompactPCI always had an advantage over 3U VME because it maintained its bandwidth when it went from 6U to 3U. 3U VME only maintains one connector on the bottom of the card, reducing bandwidth from 32 bits to 16 bits, Willis says.
VPX
VITA's Alderman says he sees 3U's hold on small form factor embedded applications will end soon. VPX, which is also available in 6U, promises near-supercomputer performance in small embedded form factors, he adds. The standard provides military VME bus-based systems with support for switched fabrics over a high-speed connector.
VPX signals more than just an evolution in performance but an evolution in how VME companies see themselves, Alderman says. "They are transitioning from single-board computer suppliers to system providers," he says. "VPX guarantees the future of our industry."
It is the system interoperability potential in a small form factor that will make 3U VPX so attractive to military system integrators, says Tom Roberts, product marketing manager at Mercury Computer Systems in Chelmsford, Mass.
When someone wants greater system performance the choice will be 3U VPX, Pepper says. If VME is needed it can still run on VPX designs, he adds.
Currently VPX makes up about 10 percent of GE Fanuc's board business, but as the technology matures and it will grow at a much faster pace, Willis says.
Anticipation is high for VPX for the performance benefits, Pepper says. "There is a lot more interest in VPX and yet still a lot of work to be done with different parts of the specification," he adds.
More and more people want to have system interoperability for VPX, Roberts says. So Mercury is leading an industry working group outside of VITA called the OpenVPX Industry Working Group, which will publish a system design guide intended to improve interoperability of COTS 3U and 6U VPX-based systems. Roberts says the group will follow VITA procedures and rules as it develops the document then bring it back into VITA to be approved by the VITA Standards Organization before the year is out.
While there are still a multitude of specifications to be dealt with, companies are already shipping VPX product to defense integrators.
Curtiss-Wright's win on the Marine Corps Ground/Air Task Oriented Radar program was the first publicly announced military contract for VPX technology. They will supply Northrop Grumman Electronic Systems with a rugged air-flow-through radar processing subsystem, which uses VPX single-board computers and other open-architecture standards and software for the G/ATOR processor. Deliveries will be in 2010.
Curtiss-Wright is supplying its VPX computer processor modules to General Dynamics C4 Systems in Phoenix, and Rockwell Collins in Cedar Rapids, Iowa, for the integrated computer system (ICS) of FCS.
Curtiss-Wright's latest 3U VPX product, the VPX3-127, uses the Freescale 8640D Power Architecture processor. Its high-speed backplane and PMC/XMC connectivity allows for multi-gigabit per second data flows from board to board through the backplane interface and from the backplane to PMC/XMC site supporting the acquisition, processing, and distribution of sensor data.
Extreme Engineering is already shipping VPX cards because "we didn't wait for the spec to be finished" but came out with a design we could get in the field to the military electronics systems integrator, Farnum says. Extreme's XPedite7170, a low-power 3U VPX-REDI single-board computer based on the Intel Core 2 Duo processor, has two x4 PCI Express Fat Pipe P1 interconnects and as many as two Gigabit Ethernet ports. The XPedite7170 is for mission computers and high-bandwidth data processing.
---

VXS relegated to niche applications?
VITA 41 or VXS (VME Switched Serial), once the next revolution in VME technology, is relegated o role-player status in product lines dominated by work horse VME 64 products and the promising comer VPX.
"VXS was really a stepping stone till we got VPX," letting designers combine VME and VXS single-board computers in the same chassis, to experiment with fabrics such as StarFabric, PCI Express, and RapidIO, says Ray Alderman, executive director of the VITA open standards and open markets trade organization in Fountain Hills, Ariz. "In other words it is a bridge between the VME and VPX, yet without the supercomputing bells and whistles of VPX."
VXS is more of a niche product, says David Pepper, product manager/technologist for single board computers at GE Fanuc Intelligent Platforms. "It allowed us to mix and match fabrics and see how they would work," yet maintain compatibility with VME. However, officials at Mercury Computer Systems in Chelmsford, Mass., say they believe VXS represents demand. "We don't see VXS as a niche market," says Anne Mascarin, at Mercury. "We've seen quite a bit of growth."
One of the reasons "we've had success with VXS is the use of the RapidIO serial fabric in our products," says Tom Roberts, product marketing manager at Mercury. The company's Race ++ crossbar architecture on its VME products was software compatible with RapidIO, "enabling effortless migration," he adds.
Mercury's VXS products are still getting selected for high-bandwidth military applications, Roberts says. One military electronics systems integrator, "a defense prime contractor, is building a complex shipboard system that will give end users the ability to access a variety of sensor data–including electronic imaging, video, and weapons systems–from several visual display subsystems linked together by a 10-gigabit Ethernet network," Roberts says. Mercury is delivering components in the networked sensor processing system, including its VPA-200 Dual 7448 single-board computer, he adds.
Mercury's latest VXS release is the VXS-220P Dual 8641D dual-core processing module, which combines Power Architecture processing technology with balanced I/O from dual PMC/XMC sites and the scalable serial RapidIO interconnect. The VXS-220P can function as a one-board computer or as part of an embedded processing cluster for high-end digital signal processing. It uses the Freescale MPC8641D dual-core processor, which integrates two standard e600 processor cores, two DDR2 memory controllers, 1 megabyte of L2 cache, and a flexible system-on-chip I/O subsystem. The dual e600 cores that make up the heart of the chip are inherited from the 7448 processor, and each retains the AltiVec vector processing unit.
Pentek in Upper Saddle River, N.J., is seeing success with VXS products in high-bandwidth applications, says Rodger Hosking, vice president of Pentek. VXS is a flexible extension to VME and works well for signal processing, he says. The company's Model 4207 PowerPC VME/VXS I/O Processor board targets embedded applications that require high-performance I/O and processing. It uses the Freescale MPC8641 processor to perform parallel processing of several data elements with 128-bit operations. The 4207 also has a zero-latency fabric-transparent crossbar switch that bridges various board interfaces and resources via gigabit serial data paths, according to the Pentek data sheet. The same switch also provides connectivity to the optional Fibre Channel controller and front panel optical gigabit serial interface.
The VITA Standards Organization (VSO) is working on specifications to bring this connectivity to the back plane on VPX applications for harsh environments, Hosking says. Connector companies such as Amphenol Industrial Operations in Sidney, N.Y., and Tyco Electronics in Harrisburg, Pa., are designing a connector that can provide this functionality on the backplane, he adds.
The Fibre Channel specification is Vita 46.13, Alderman says. There are also specifications for optical connectors (VITA 46.12) and radio frequency (VITA 46.14) in progress, he adds.
The goal is to create a standard that enables a high-quality signal on modules for software-defined radio applications, Hosking says.