Product Applications
Enabling technologies for military and aerospace electronics designers
Nov 1st, 2001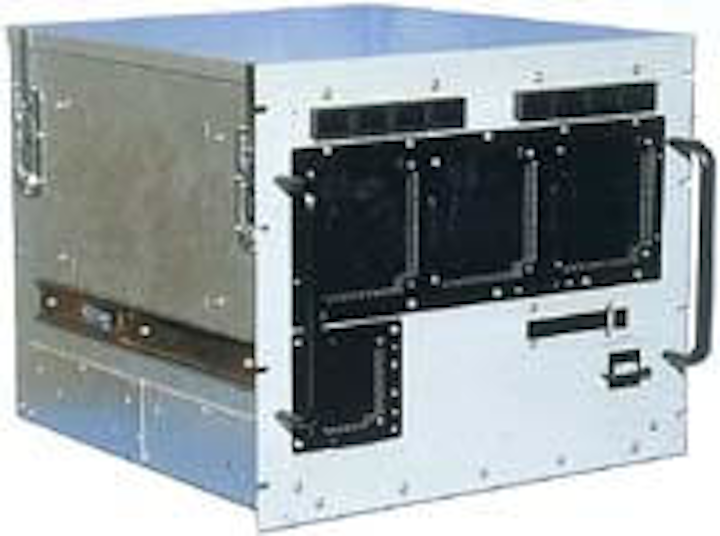 Enabling technologies for military and aerospace electronics designers


---
Spotlight
Enclosures
Tracewell Systems seeks to commercialize tuned-airflow circuit card cages
Electronics enclosure designers at Raytheon Corp. in Marlborough, Mass., needed a manufacturer to produce special printed circuit card enclosures with high-efficiency cooling. They found their solution from Tracewell Systems in Westerville, Ohio.
Tracewell engineers, who specialized in custom packaging for commercial-off-the-shelf electronics components, are set to begin manufacturing enclosures using the Raytheon-patented Advanced Vector Controlled Air Flow (AVCAF) design.

AVCAF uses conventional forced-air cooling, yet increases airflow across hot electronic components with tuned airflow. plates and baffles. This increases airflow where it is most necessary, and improves cooling efficiency, Tracewell officials say.
The original technology that has become AVCAF was developed several years ago at what was then E-Systems in Greenville, Texas. E-Systems since has become part of Raytheon, explains Mark White, patent engineer in charge of intellectual property and licensing at the Raytheon corporate office in Dallas.
"We have the ability to take air and take vectors coming off the tube axial fans, and gently manipulate those to increase volumetric air flow across circuit cards," White explains. "This is done across a series of perforated panels, with perforations that have specific diameters."
The idea is to channel non-uniform flow from cooling fans and produce uniform air flow throughout a chassis by compensating for air dams and eddies caused by circuit card placement.
"This technology takes out low volumetric areas and balances them with high volumetric areas without dropping the air pressure," White explains. "In our military applications we want to plug in high-performance processors or low-performance I/O cards. Manipulating air flow through the perforated panels can balance the air flow."
Tracewell experts are commercializing the AFCAF technology and should have a line of products available by the end of the year, says Tracewell president Matt Tracewell.
"We chose Tracewell because they are a good match," Raytheon's White says. "We met with Tracewell over a year ago, and chose them based on their level of expertise."
For more information contact Tracewell Systems by phone at 614-846-6175, by fax at 614-846-4450, by post at 567 Enterprise Drive, Westerville, Ohio 43081, or on the World Wide Web at http://www.tracewellsystems.com.
---
Integrated circuits
Boeing-designed ASICs to help power future broadband communications satellite
Integrated circuit experts from Boeing Satellite Systems in El Segundo, Calif., designed nine application-specific integrated circuits (ASICs) that will perform digital signal processing (DSP) aboard the future Spaceway broadband satellite.
Designers from IBM Corp. in Fishkill, N.Y., will use the Boeing ASIC designs to build multimillion-gate ASICs that consume half as much power per function while delivering four times the processing capability of current-generation chips, Boeing officials say.
The Spaceway broadband satellite system will have on-board DSP chips, packet switching, and active phased-array antennas. Boeing is building the spacecraft, which is to begin North American service in 2003, for Hughes Network Systems in El Segundo, Calif. Boeing is building three Spaceway satellites — two for the North America segment plus a spare.
The Boeing-designed ASICs will perform signal demodulation/modulation, fast packet switching, antenna control, and other payload support functions, company officials say. Boeing experts performed the logic design, floor planning, and timing for these ASICs. IBM experts have translated those designs into a transistor-level netlist (schematic) and have already begun fabrication.
The Spaceway ASICs range in size from 136,000 to more than eight million gates, and use 0.16-micron SA 27 copper ASIC technology.
A crucial part of the DSP is an autonomous 10-gigabit-per-second packet switch, which will enable Spaceway users to download data as quickly as 30 megabits per second, and uplink data at speeds between 512 kilobits per second to tens of megabits per second, Boeing officials say.
Integral to the DSP are two powerful computers that are based on the IBM PowerPC 750 microprocessor. The computers will also enable Spaceway to transmit video, voice, audio, and multimedia.
For more information contact Boeing Satellite Systems by phone at 310-662-9000, by post at 2260 E. Imperial Highway, El Segundo, Calif. 90245-3501, or on the World Wide Web at http://www.hsc.com/ about/orders.html.
---
Test and measurement equipment
Navy SPAWAR turns to Promia for network-security software
Computer scientists at the U.S. Space and Naval Warfare Systems Command (SPAWAR) in San Diego needed advanced Internet security software. They found their solution from Promia Inc. in San Francisco.
SPAWAR officials awarded a $7 million contract to Promia to test and deliver 20 Advanced Internet Security systems, Promia officials announced.
The Internet security system to be delivered to the U.S. Navy is code-named the "Intelligent Agent Security Module" (IASM) and is to be deployed as a primary means of providing information analysis and protection on ships and shore-based facilities.
This procurement represents Phase III of a U.S. Navy Small Business Innovation Research (SBIR) Program and compliments a multi-year research and development effort by Promia and the U.S. Navy to design and build the systems, Promia officials say.
IASM addresses known problems in intrusion-detection devices such as false alarms and the inability to detect new types of attacks.
Navy experts "will be working closely with the community of interest in this area to ensure a conclusive, easily displayed and understood, highly interactive system," says Lt. Frank Ottaviano, the SPAWAR information assurance project engineer.
IASM is a supercomputer-based system that uses a secure component architecture based on the Common Object Request Broker Architecture — better known as CORBA. The IASM manages how network-security software detects and validates internally and externally generated network incidents, Promia officials say.
It system detects known attacks using various techniques to correlate single and multiple events, while it detects novel attacks using analytic techniques to identify aberrant behaviors.
Beowulf cluster machines, which are supercomputers developed at NASA, support the analytic modules of IASM. "This makes it feasible to expose aberrant behaviors even within the sea of normal traffic," says Promia Principal Analyst Dr. Stephen Neville. "Traditionally hackers have had the luxury of hiding their actions within the large volumes of network messages. The combination of advanced analytic techniques with low-cost scalable supercomputers seriously hinders the attackers ability to hide."
Promia's work "is significant because it is based on a reusable framework for automatically assessing large amounts of sensor data, simultaneously, across multiple networks, providing pattern matching and novel attack detection," says John Mullen, Promia's president and chief executive officer.
Mullen notes the importance of applying emerging technologies such as fuzzy logic and neural networks to cyber attacks. Fuzzy logic refers to a branch of artificial intelligence that focuses on reasoning amid uncertainty or incomplete data.
For more information contact Promia by phone at 415-536-1600, by fax at 415-536-1616, by e-mail at info@promia.com, by post at 160 Spear St., Suite 320, San Francisco, Calif. 94105, or on the World Wide Web at http://www.promia.com.
---
Components
Lockheed Martin set to build cable television satellites for GE Americom
Spacecraft designers at Lockheed Martin Commercial Space Systems in Sunnyvale, Calif., are building three A2100 geosynchronous satellites for GE American Communications Inc. (GE Americom) of Princeton, N.J.
The next-generation cable television satellites, designated GE-10, GE-11, and GE-18, will distribute cable programming across North America.
All three spacecraft will carry 24 36 MHz C-band transponders. GE-10 will take the place of GE Satcom C-4 and GE-11 will replace GE Satcom C-3, which currently operate from their orbital locations at 135 degrees west and 131 degrees west longitude, respectively.
GE-18 is a ground spare that could operate from either 131 or 135 degrees west longitude. The satellites will expand GE Americom's global fleet of satellites, which provide global distribution of cable, broadcast television and radio, telecommunications services, business television and broadband data.
"These next generation spacecraft will feature more power and redundancy than their predecessors ... We have every confidence that these will be as robust and high performing as the other eight A2100 spacecraft providing service in our fleet today," says John F. Connelly, chairman and chief executive officer of GE Americom.
The new satellites will be the ninth, tenth and eleventh A2100 series spacecraft designed and built for GE Americom by Lockheed Martin Commercial Space Systems. The A2100 geosynchronous spacecraft is designed to meet a wide variety of telecommunications needs ranging from Ka band/Broadband services, fixed satellite services in a hybrid Ku- and C-band payload configuration, to high-power direct broadcast services using the Ku-band frequency spectrum.
The A2100's modular design features a reduction in parts, simplifying construction, increasing on-orbit reliability and reducing weight and cost. The A2100 bus is produced entirely from composite materials.
For more information contact Lockheed Martin Commercial Space Systems by phone at 408-743-4800, by post at 1272 Borregas Ave., Sunnyvale, Calif. 94089, or on the World Wide Web at http://www.lockheedmartin.com/.
---
Design & development tools
Sikorsky chooses Western Data Systems for aircraft overhaul process software
Engineers from Sikorsky Aircraft Co. in Stratford, Conn., needed process-management software tools to improve operations in their Overhaul and Repair (O&R) business unit. They found their solution in the CompassENTERPRISE software from Western Data Systems (WDS) in Calabasas, Calif.
The Sikorsky Worldwide Customer Service organization is using CompassENTERPRISE as the foundation of a new generation operational management system, WDS officials say.
"We selected the WDS system because it will provide us with real-time reporting and much improved visibility to support our ultimate goal of reducing turn-around times and costs," says Larry Goldman, chief information officer of Helicopter Support Inc. in Orange, Conn. "We also selected the WDS solution because it is a demonstrable and proven system — we saw it in use in both commercial and military facilities performing repair and overhaul of aircraft, engines, and a variety of aeronautical components."
Helicopter support provides authorized services for Sikorsky Aircraft's S-61, S-70, S-92 and S-76 helicopters.
The WDS CompassENTERPRISE will replace several different old systems with one integrated solution to support the overhaul and repair cycle from asset induction to teardown & dispositioning, remanufacturing, customer delivery, and billing, WDS officials say.
The new system will run on a Sun Microsystems UNIX server, the Oracle relational database management system, and network of Windows PCs. It will initially support as many as 80 concurrent users.
For more information contact Western Data Systems by phone at 818-880-0800, by fax at 818-880-1424, by post at 26707 Agoura Road, Calabasas, Calif. 91302-2966, or on the World Wide Web at http://www.westdata.com/.
---
Board products
RACE++ hardware selected for U.S. Air Force Research Laboratory program
Experts at Integrated Sensors Inc. in Utica, N.Y., needed digital signal processing technology for surveillance and tactical mission support for the U.S. Air Force's Information Directorate Electronic Intelligence development program. They found their answer with the RACE ++ series of multicomputers from Mercury Computer Systems.
"We selected Mercury's RACE++TM Series multicomputers for their superior digital signal processing performance and their potential to be easily upgraded in later stages of the program development," says Steven Mercurio, manager of Systems Development Engineering for Integrated Sensors. "These systems will be employed to develop statistical signal processing algorithms that will improve electronic intelligence data correlation and emitter identification processes."
RACE++ systems, using "G4" PowerPC processors with AltiVec technology, will be used in conjunction with Integrated Sensors' RTExpress software environment to rapidly convert MATLAB script files into parallel C language programming code that takes advantage of Mercury's optimized Scientific Algorithm Libraries, Mercury officials say. RTExpress is a software development tool for real-time parallel computing systems that converts uniprocessor MATLAB code to a format that can be used with multiprocessor architectures such as Mercury's RACE++.
Converting MATLAB files eases the burden of real-time implementation by en-abling programmers to implement without recoding from scratch, Mercury officials say. Furthermore, the algorithm developer can perform a real-time test of the algorithm running on a multicomputer system before handing it off to the real-time programmer for further optimization.
"Several of the major programs in which we are deployed began with our systems being used for research, such as this effort with Integrated Sensors and the Air Force Research Laboratory," says Vince Mancuso, vice president and general manager of Mercury's Government Electronics Group.
Additional information about Integrated Sensors and RTExpress is available on the World Wide Web at http://www.sensors.com.
For more information on Mercury Computer Systems RACE technology contact the company by phone at 978-256-1300, by mail at 199 Riverneck Road, Chelmsford, Mass. 01824, by e-mail at webinfo@mc.com, or on the World Wide Web at http://www.mc.com/.