RGB video technology provides battlefield communications for Army
ALAMEDA, Calif. — Experts at the U.S. Navy's Force Combat Systems office and the U.S. Army III Corps in Fort Hood, Texas, are improving situational awareness for commanders at sea on aircraft carriers and on the battlefield with video processors from RGB Spectrum in Alameda, Calif.
Nov 1st, 2002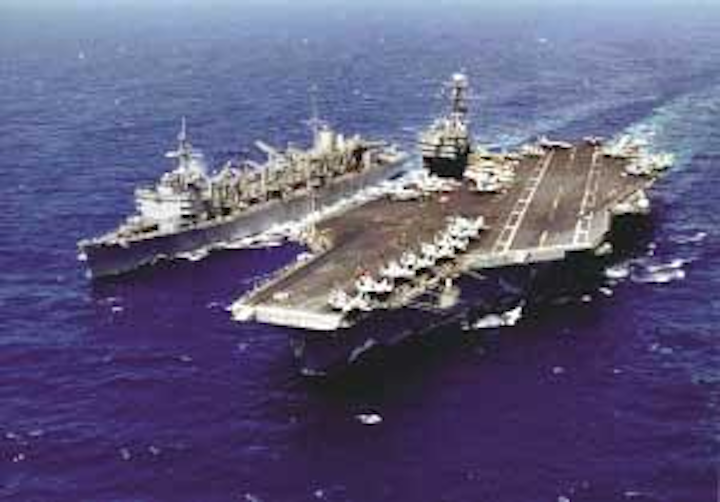 by John McHale
ALAMEDA, Calif. — Experts at the U.S. Navy's Force Combat Systems office and the U.S. Army III Corps in Fort Hood, Texas, are improving situational awareness for commanders at sea on aircraft carriers and on the battlefield with video processors from RGB Spectrum in Alameda, Calif.
The USS John F. Kennedy is the first carrier in the Navy's fleet to be outfitted with this new technology, RGB Spectrum officials say. The U.S. Navy is upgrading the entire Atlantic carrier fleet with the SuperView-based bridge console. The USS George Washington is the next carrier scheduled for installation.
A critical element of this project is the renovation of the captain's command-and-control console on the bridge of the carriers. Officials at the Navy's Force Combat Systems office enlisted the services of systems integrator and maritime audio-visual technology specialist, AMSEC LLC in Virginia Beach, Va., to develop and install the Atlantic carrier fleet's new Situational Awareness Bridge Display System (SABDS). AMSEC selected RGB Spectrum's SuperView multiple window display processor as a primary display component.
Previously, the carriers' command-and-control displays were comprised of 13 different monitors located throughout the bridge, company officials say. To maximize situational awareness and improve control efficiency, the Navy needed to consolidate the bridge's display capabilities, providing the captain with full view of all the ship's systems in one centrally located console, RGB Spectrum officials say. To accomplish this, AMSEC used the company's SuperView processor to handle the wide variety of video and computer data inputs required.
"The SuperView is driving this whole new visualization system," says Joe Gallagher, AMSEC's AIT division manager. "It is doing all the work behind the scenes. The SuperView offers the incomparable capability to display up to 10 different inputs simultaneously. SuperView can manipulate any of these inputs individually for maximum flexibility and enhancement of the overall situation awareness picture."
"The new SuperView-equipped SABDS system has received a great response from our carrier crews," says Joe Shuetz, Assistant Combat Systems Maintenance Officer for the Navy's COMNAVAIRLANT group. The SuperView works very well. We are very pleased with it."
The new consoles are equipped with two SuperView processors with video inputs that include two Pilot Landing Aid Television (PLAT) NTSC signals from a video camera embedded in the carrier deck to ensure that aircraft are in proper alignment for landing and from a video camera mounted in the carrier command "island" which monitors landing aircraft, track wire deployment, and landing zone clearances, RGB Spectrum officials say. The SuperView processors also receive ARPA radar (Automatic Radar Plotting Aid) signals in 648 by 480 resolution with a 49.5Hz refresh rate.
Each SuperView processor outputs the selected visuals to a separate 21-inch flat panel monitor recessed into the console. The captain operates the system using a Crestron touch panel controller, company officials say.
"The ARPA vertical refresh rate is unusual," Gallagher says. "Since it is below the 50Hz VGA standard, other devices will not process this signal. The SuperView handles this challenging signal superbly". Other video inputs include an assortment of secure TV transmissions comprised of secure Naval communications and briefings downlinked from satellites, RGB Spectrum officials say.
Analog RGB inputs include a Close-In Navigation Radar in 1280 x 1024 resolution, a computer-generated Automatic Status Board (ASB) that tracks airborne aircrafts' position, fuel status and updated alternate landing locations, plus images from the shipboard classified and non-classified computers, and the "Mr. Hands" aircraft control systems.
---
Army application
Army personnel at Fort Hood use the RGB equipment in their Tactical Command Post (TAC CP), which is a mobile, early entry, deployable system for battlefield operations. RGB Spectrum's View and SuperView processors receive inputs from every feed in the corps: the battlefield Video Teleconferencing systems, unmanned aerial vehicles (UAVs), remote digital feeds, plus PowerPoint presentations, RGB Spectrum officials say.
The III Corps has already deployed this unit in South Korea, says Michael Callahan, product marketing manager at RGB Spectrum. The TAC CP is an example of U.S. Secretary of Defense Donald Rumsfeld's plan to have a highly mobile force deployed anywhere in the world within hours, he explains. The TAC CPs can deploy on an Army truck loaded into a C-130 cargo aircraft, fly to their destinations, and be operational as soon as they hit the ground, Callahan says.
"The View display processors are the heart of the critical information presented for command and control," says Lt. Col. Barry Crum, III Corps automation management officer at Fort Hood. "What makes the RGB Spectrum View family so unique is that it enables us to do video teleconferencing with other divisions and brigades while simultaneously displaying every other command and control feed in the Corps. The View family products have eliminated a number of CRT monitors, providing dramatic cost savings and also eliminating several thousand pounds of equipment and a significant amount of cargo space that we would have to transport."
Prior to using the View video processors, Army personnel had a less efficient system that accepted video camera images on one display and imagery from UAVs and other surveillance equipment on another, Callahan explains. They were not able to correlate troop movements, UAVs, and other data together in real-time on one screen, he adds.
Now with RGB Spectrum's devices they can view 10 different images on one screen and handle various refresh rates simultaneously, Callahan claims. One image might have refresh rate that is less than another the screen, but it will not affect the other images, Callahan explains.
The View processors display these inputs in several different windows on two plasma screens and a 100-inch rear-projection screen, RGB Spectrum officials say. Multi-image displays include simultaneous views of surveillance images, visuals tracking incoming missiles, and graphics displaying information on equipment, personnel, and ordnance, company officials say.
RGB Spectrum's View family of products was chosen because "they provide far superior functionality, flexibility, and image quality than other products on the market," says Billy Azbell, owner of Billy Azbell Electronics in Waco, Texas, the audio-visual integrator for the Army. "This is a mission-critical application. The View products provide sharp, crisp detail of the Army's crucial information and delivered all the capabilities the Army needed.
The latest RGB Spectrum SuperView video processor, the SuperView 3000, accepts as many as 12 real-time inputs and displays for combined output on one high-resolution monitor or projector, RGB spectrum officials say. The window inputs can be NTSC or PAL, Composite and S-Video, and high-resolution analog RGB, with resolution as fine as 1,280 by 1,024 pixels. Each window can be independently positioned anywhere on screen, scaled to any size, overlaid with computer graphics, or overlapped with other windows, company officials say.
The TAC CP is based at Fort Hood, Texas, home to the III U.S. Corps, consisting of the 1st Cavalry and 4th Infantry divisions. III U.S. Corps is the largest tactical war fighting organization in the Army.
For more information on View technology from RGB Spectrum contact the company by phone at 510-814-7000 or on the World Wide Web at http://www. rgb.com/.
---
International Rectifier doubles business at hi-rel power division
by John McHale
LEOMINSTER, Mass. — During the last two years officials at International Rectifier have seen their high-reliability power integrated circuit (IC) business nearly double, mostly due to acquisitions and new product development.
International Rectifier's chief executive officer, Alex Lidow, "asked me to aggressively grow the hi-rel business through acquisitions and new product development," says John Catrambone, vice president of the Hi-Rel group at International Rectifier in Leominster, Mass.
"It's mostly been through acquisitions so far with new products just getting ready to come out now," he adds. "Since then we've about doubled our hi-rel business the last two years." However, Catrambone declined to comment on specific numbers.
Leaders of International Rectifier in El Segundo, Calif., began their shopping spree in 2000 with the acquisition of Zing Technologies, which owned Omnirel in Leominster, in an effort to expand their presence in high-reliability power ICs, Catrambone says. Catrambone was the founder of Omnirel in 1986. International Rectifier then moved all the company's radiation-hardened products and those targeted for government and space under a Hi-Rel group in Leominster, which is under Catrambone's direction.
International Rectifier is a longtime designer and manufacturer of power semiconductors such as the MOSFET — or metal oxide semiconductor field effect transistor, which is the company's best-known product. The purchase of Omnirel helped solidify their hi-rel business and start the growth, Catrambone says.
"The first two major acquisitions we made after 2000 were in the DC-DC high-density converter market with Magnitude 3 and Lambda Advanced Analog, both in Santa-Clara, Calif.," he says.
Advanced Analog and Magnitude-3 supply benchmark power-management systems for satellites, rockets, commercial and military aircraft, and other high-reliability applications. International Rectifier paid approximately $24 million for the two companies, which have annual revenues of about $28 million, company officials say.
The Hi-Rel group manufactures all its products in Leominster, except the DC-DC converter lines, which Advanced Analog manufactures in Santa Clara, Catrambone says.
In May International Rectifier acquired the hi-rel military and space-related discrete power MOSFET line from Fairchild Semiconductor in Portland, Maine, Catrambone says. The hi-rel military and aerospace sector was a core focus area for Fairchild and International Rectifier was looking to expand their presence in hi-rel, so it was a good fit, he adds.
"The product line we've sold to International Rectifier was a small part of the portfolio we acquired when we purchased Intersil's Discrete Power Business division in March of last year," says Kirk Pond, Fairchild's president, chief executive officer, and chairman of the board.
"Since Fairchild's end-market focus has never concentrated on defense and aerospace applications, it made sense to sell this line to a mainstream defense component supplier like International Rectifier," Pond continues. International Rectifier purchased the line for approximately $29.6 million cash, company officials say.
One new product type at the Hi-Rel group is the IGBT, or insulated gate bipolar transistor, Catrambone says. IGBTs are voltage-controlled power transistors that have higher current densities than equivalent high-voltage power MOSFETs. They are faster and offer superior drive and output characteristics than power bipolar transistors. IGBTs are therefore a more cost-effective solution in almost all high-voltage high-current, moderate frequency applications, International Rectifier officials say.
Most applications in the Hi-Rel group are in the defense, commercial satellites, and commercial aircraft, Catrambone says. There has been a slowdown in the satellite business, but a definite pickup in the replacement of older designs, he continues. The same can be said of the commercial aircraft business, which is still reeling from the 9/11 attacks — but there are still purchase orders coming in for new designs, just not in the volume of previous years, Catrambone adds.
"We're still shopping and continuing to look at promising opportunities," Catrambone continues. "Our U.S. market is still the strongest, but we are seeing strong growth in Asia and Europe and are also open to making acquisitions there to grow our business."
The Hi-Rel group's growth over the last two years "has made us pretty dominant in what we do," Catrambone says. There are still a number of competitors, mostly in the form of small companies, "but for the most part people follow what we do," he adds.
For more information about International Rectifier's Hi-Rel group contact the company on the World Wide Web at http://www.internationalrectifier.com.
---
BAE Systems designs real-time operating system for safety-critical applications
by John McHale
JOHNSON CITY, N.Y. — Engineers at BAE Systems Controls in Johnson City, N.Y., are jumping into the real-time software operating system (RTOS) business with CsLEOS, an FAA-RTCA/DO-178B-certified commercial RTOS designed specifically for aircraft and other safety-critical applications.
CsLEOS has three main advantages, BAE officials say:
it is the only commercial RTOS designed by an electronic systems company;
and it is designed from a blank piece of paper to be DO-178 B Level-A certified:
and it is based on an open-systems standard — ARINC 653.
Green Hills Software in Santa Barbara, Calif., and Wind River Systems in Alameda, Calif., spent large amounts of money to certify their RTOSs while BAE Systems designed CsLEOS to be certified from the ground up, says Leo Cotnoir, CsLEOS marketing manager at BAE Systems Controls.
Officials of the Federal Aviation Administration (FAA) in Washington require software in airborne systems and equipment to be certified under RTCA/DO-178B. RTCA Inc., the Radio Technical Commission for Aeronautics in Washington, develops consensus-based recommendations regarding communications, navigation, surveillance, and air traffic management system issues.
DO-178B has five software levels (A through E) with A being most critical and E least critical.
Military prime contractors say complying with DO-178B is important because of increasing numbers of military aircraft that fly over civil population centers, and because of the growing use of military avionics subsystems in commercial aircraft.
CsLEOS is a commercial-off-the-shelf system employing brick-wall time and space partitioning to operate several different systems independently of each other, such that if one system experiences a failure, the others are unaffected.
null
The system's ARINC 653-compliant applications programming interface ensures that routine software tasks do not adversely influence crucial and high-security tasks.
The security provisions of CsLEOS are similar to those in Integrity from Green Hills and VxWorks AE 653 from Wind River, says Bill Barnes, technical lead for CsLEOS at BAE Systems Controls. Each task has a specific amount of time and memory and partitioned from the rest of the system so that malicious code or a faulty application will not infect it, he explains.
CsLEOS can run a task or application certified to Level A concurrently with a task certified to Level C without the Level C task interfering with the Level A function, explains Leo Cotnoir, CsLEOS marketing manager at BAE Systems Controls.
CsLEOS creates a virtual central processor that can manage electronic warfare suites and flight controls, says Milan Dedek, CsLEOS product manager.
The system is part of the Northrop Grumman Pegasus unmanned combat air vehicle, Dedek says. A version certifiable to DO-178B Level A, will be available later this year. Company officials also say they plan to market the system for emerging safety- and security-critical applications outside of aerospace and defense applications.
For more information on CsLEOS and BAE Systems Controls contact Leo Cotnoir by phone at 607-770-3082, by fax at 607-770-5771, by mail at 600 Main Street, Johnson City, N.Y. 13790, or on the World Wide Web at http://www.baesystemscontrols.com/.
---
Army heads DOD biometric effort, defining system architecture with COTS
by John Rhea
WASHINGTON — Officials of the U.S. Department of Defense (DOD) are launching a biometrics program to strengthen intra-departmental security through use of common access cards (CACs) for all civilian and uniformed personnel. The U.S. Army is the project's executive agent.
The program, as described at last month's Association of the U.S. Army annual meeting in Washington, is under the direction of the Biometrics Management Office (BMO) in Arlington, Va., and has its own research center, the Biometrics Fusion Center (BFC) in Bridgeport, W.Va. Linda Dean is the director of the BMO, and Army Maj. Steve Ferrell is director of the BFC.
The organization's budget, according to BMO officials, was $33.1 million for the past fiscal year and is expected to be $41 million in the federal fiscal year that began Oct. 1.
They will be looking for commercial off-the-shelf (COTS) solutions, officials say. BMO experts are defining the system architecture and expect to begin conducting technology demonstrations by next May.
This program parallels another program that was described by the Federal Aviation Administration at the last Military and Aerospace Electronics Conference, including COTSCON, last May in Baltimore.
The new program's schedule calls for initial operational capability (IOC) of the complete system, including the information collection and storage systems and the CACs to be issued to personnel, by October 2004 with total operational status set for January 2005.
Although BMO was established in July 2000 and the BFC laboratory in October of that year, the DOD is still coordinating the biometric program with the individual services and in early October launched the first meeting of its coordinating group to work out the details. The group, the Biometrics Senior Coordinating Group, chaired by David Borland, Army deputy chief information office, is expected to meet monthly at the Pentagon.
In the meantime, BMO has begun selecting contractors, and among those on board are support service contractors BRTRC Inc. in Fairfax, Va., and ISS Inc. of Bethesda, Md.
Also in parallel with the FAA effort, BMO is examining the entire spectrum of biometric identifiers, such as fingerprints and retinal scans. Unlike the FAA system, however, the DOD biometric network will be limited to military personnel. The FAA plan is to cover all transportation workers initially and then make the biometric cards available to the traveling public.
Using what is described as an enterprise architecture, BMO will stress a network-centric approach, says Maj. Gen. Steven Boutelle, the Army's director of information operations, space, and networks. To achieve the 2005 operational date, Boutelle says, the Army will have to use the optical fiber network known as the Global Information Grid, which is to be completed in 2004.
BMO officials also plan to expand the office's laboratory in West Virginia, which is adjacent to the FBI fingerprint database in Clarksburg, W.Va. Also, one of the proposed locations for the embryonic Department of Homeland Security is Martinsburg, W.Va., which houses a major concentration of federal facilities promoted by Sen. Robert Byrd (D-W.Va.), including a National Oceanic and Atmospheric Agency facility and a Veterans Administration hospital.
Based on the use of COTS and an open system architecture that may overlap with other such users as the FAA, the biometrics industry is looking for major growth.
The organization's executive director, Richard Norton, traces that growth from $20 million in 1995 to $200 million this year, up slightly from last year's $170 million. Norton is projecting annual industry sales of $2 billion by 2006.
The BFC lab is evaluating industry offerings for military use and is seeking unsolicited proposals. Potential vendors can call 304-842-0730, ext. 222, for more information or download the guidelines for unsolicited proposals at www.amc.army. mil/amc/ rda/70-8.html. Additional information on the programs are available at the BMO website, www.c3i.osd. mil/biometrics.
---
Actel introduces 1553b core for military, space, and avionics applications
by John McHale
SUNNYVALE, Calif. — Officials at Actel Corp. recently developed a MIL-STD-1553B remote-terminal core for space, avionics, and military applications. The Core1553BRT intellectual property (IP) core is designed for use with Actel's field-programmable gate arrays (FPGAs).
This product has a lot of potential due to the large number people who depend on 1553 technology, says Barry Marsh, vice president of product marketing at Actel. The Core 1553B speeds time to market and reduces design and assembly costs when compared with available fixed-semiconductor 1553B products that require separate board components, he adds.
"Because our core is compliant with legacy 1553B systems, customers can easily upgrade their existing designs without long design cycles and expensive non-recurring engineering costs," says Yankin Tanurhan, senior director of Actel's IP Solutions Group.
Actel's Core1553BRT is MIL-STD-1553B compliant per the remote-terminal validation test plan in MIL-HDBK-1553 Appendix A, passing all protocol, electrical and noise requirements of the 1553B standard, company officials say. It is a dual-redundant remote-terminal bus that can interface to standard external transceivers and legacy systems, enabling designers to replace existing components and easily reuse current software drivers, Actel officials say.
The Core1553BRT supports 10 message types, including RT-to-RT and broadcast BC-to-RT data transfers, and provides low-power operation from either a 12 MHz or 16 MHz clock. Actel officials also plan to offer a verified development board that complies with MIL-STD-1553B to help simplify design execution and test.
Actel officials also announced in September their plans to leverage the company's antifuse-based AX architecture for its next-generation, radiation-tolerant FPGA offerings as part of the company's effort to target satellite payload applications, Marsh says. "We're going after the high-speed applications that require an alternative to expensive ASICs (application-specific integrated circuits) such as low-, mid-, and geosynchronous-earth orbit satellites and deep space missions, he adds.
The FPGAs will offer features such as hardened latches that offer practical single-event upset (SEU) immunity and usable error-corrected onboard RAM memory, Actel officials say. These solutions will meet the density, performance, and radiation-resistance requirements of many payload applications, an area previously dominated by ASICs.
"Traditionally, ASICs have been the only solution to provide the density and performance required by demanding payload applications in space," says John East, president and chief executive officer at Actel. "However, we expect that our new antifuse-based, radiation-tolerant solution will meet these high-density, high-performance requirements while also providing the lower cost, shortened design time, and increased flexibility of FPGAs, thereby offering significant advantages over ASICs. The introductions of Actel's flash-based ProASIC Plus family and antifuse-based Axcelerator FPGAs represent the first two prongs of this strategy."
ASICs are not only more expensive, but much more expensive to produce, because nobody gets an ASIC down the first time and has to reproduce the ASIC masks each time, which can get expensive, Marsh says. However, with FPGAs you are able to reprogram them on the fly without having to redesign the entire circuit, he adds.
For more information on Actel's 1553B product contact the company by phone at 888-992-2835 or on the World Wide Web at http://www.actel.com.
The evaluation board above uses Actel's MIL-STD 1553b remote-terminal core for space and military applications.
---
Analogic uses SKYpack for explosive detection system
by John McHale
CHELMSFORD, Mass. — Engineers at Analogic Corp. in Peabody, Mass., are using SKYpack multiprocessors from their subsidiary Sky Computers Inc. of Chelmsford, Mass., for the Analogic Explosive Assessment Computed Tomography (EXACT) systems.
The Sky Computers SKYpack system is the image reconstruction engine for the EXACT — a multi-slice, dual-energy, helical-cone-beam computed tomography scanner.
SKYpack also is the heart of the first single-unit, second-generation explosive detection system (EDS) certified by the Federal Aviation Administration (FAA) to scan checked luggage for aircraft, Analogic officials say. U.S. Government officials are purchasing certified EDS systems for major U.S. airports as mandated by Congress in the Aviation and Transportation Security Act of November 2001, company officials say.
"Analogic extended their existing CT scanning technology, which has revolutionized medical care, increased its capabilities and performance, and applied it to explosive detection," explains Don Barry, president and chief executive officer of Sky Computers.
"The EXACT system also can be used to detect narcotics and other contraband. We believe Analogic's advanced CT technology combined with Sky's sophisticated image processing systems will become a cornerstone in processing luggage for airport security and the safety of air travel."
The EXACT can examine the entire contents of a bag in one pass, obtaining 10 times more data per bag than the first generation of machines, Analogic officials claim. The EXACT creates multi-slice volumetric scans, making it possible to identify the key characteristics of the contents of a piece of luggage while the system's conveyor belt moves it through the machine's gantry.
In a matter of seconds, the system analyzes data from the scanner's 6,000-channel data acquisition system (DAS) and compares the data to numerical profiles of known explosives.
If the system finds a match, it alerts the operator and highlights the area of concern for further analysis with rotating 3-D images of the potential threat, and then isolates the bag for appropriate action.
Using the advanced SKYpack multiprocessor system for high-speed image processing, the EXACT can provide data for three-dimensional images of all the objects in a bag, company officials say. The EXACT has been certified to process more than 500 bags an hour, Analogic officials say.
The EXACT is the heart of a certified explosives detector that exceeds the FAA's stringent requirements for identifying difficult-to-detect plastic explosives in passenger baggage and for rapid bag throughput with a low false alarm rate, Analogic officials say.
The system provides multiple, simultaneous, and continuous computed tomography images to examine an entire bag in one pass, analyzing 10 times more data per bag than first generation of machines, company officials claim.
For more information on Analogic and Sky Computers contact the companies on the World Wide Web athttp:// www.analogic.com and http://www.skycom.putrs.com.