Show Preview
Nov 1st, 2002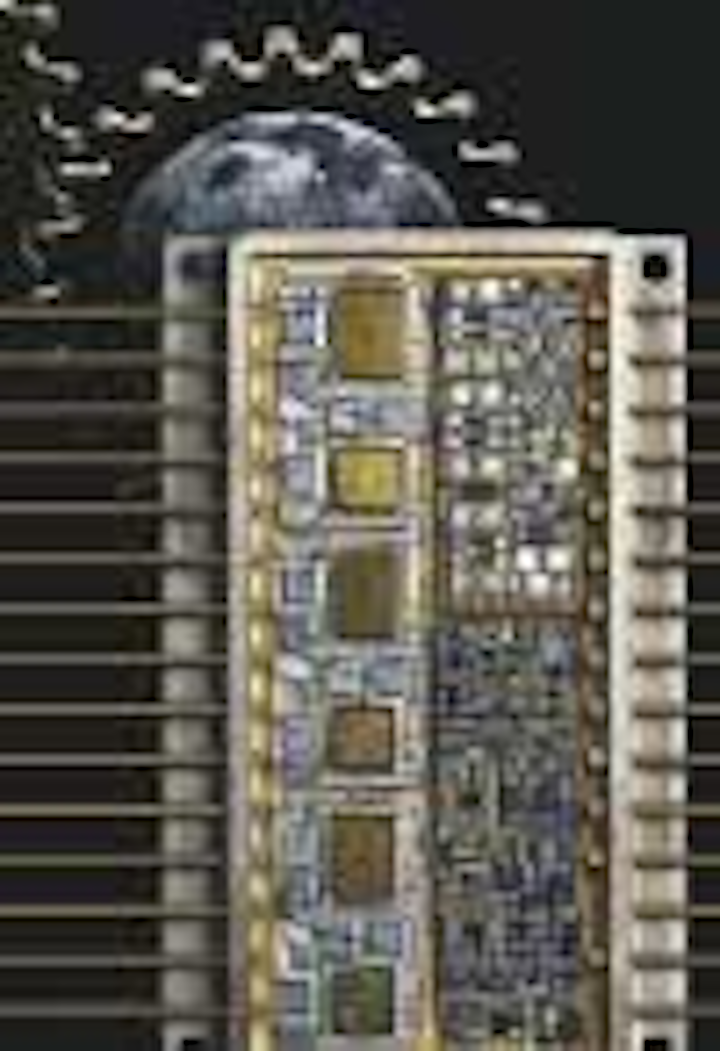 Aeroflex
4350 Centennial Blvd.
Colorado Springs, Colo. 80907
Tel: 719-594-8035
Fax: 719-594-8468
Web: www.aeroflex.com
Booth No. 201
Aeroflex will display their radiation-hardened products for space applications such as motor drivers, muxs, LVDS, memories, databuses, ASICs and logic along with MCMs and circuit card assembly capability. We also provide high-rel products for avionics including databuses, transceivers and memories. Stop by Booth 201 to see our new Motor Driver and Voltage Regulator products.
---
Avvida Systems Inc.
101 Randall Drive,
Waterloo, Ont., Canada
N2V 1C5
Tel: 519-880-8228
Fax: 519-880-8118
Web: www.avvida.com
Booth No. 608
Avvida has over 15 years experience in designing and marketing high performance image processing systems. For the last 10 years we have focused our technology leadership around the flexibility and processing power of emerging FPGA programmable processors in COTS embedded systems. Avvida produces high performance hardware and software for broadcast video, data compression, medical and industrial imaging, internet content processing, as well as the security, military, and aerospace industries.
---
BiTMICRO Networks
45550 Northport Loop East
Fremont, Calif. 94538
Tel: 510-743-3475
Fax: 510-623-2342
Web: www.bitmicro.com
Booth No. 422
BiTMICRO Networks is a supplier of high performance solid-state disk, flash disk, and network storage solutions. BiTMICRO's storage solutions offer ruggedness, performance, data availability, capacity, and manageability. The E-Disks® solutions are offered with SCSI, IDE/ATA or Fibre Channel interfaces in 2.5-inch and 3.5-inch HDD footprints and 19-inch rackmount configurations. The E-Disks can operate even under extreme circumstances.
---
Century Electronics
5701 Lindero Canyon Road, 1-100
Westlake Village, Calif 91362
Tel: 818-706-8224
Fax: 818-706-8226
Web: www.centuryele.com
Booth No. 607
2003 marks Century Electronics' 30thYear in Business as a manufacturer of High Reliability Military, Space, Aerospace and Industrial Applications Power Supplies. Product capabilities include Single/Multiple Outputs, Linears and Switchers with Power Ranges from 5-8000 Watts.
---
Condor Engineering
101 W. Anapamu Street
Santa Barbara, Calif. 93101
Tel: 805-965-8000
Fax: 805-963-9630
Booth No. 313
Condor Engineering's new intellectual property CORE for programmable logic devices (PLD/FPGAs) offers design flexibility for MIL-STD-1553 applications. CORE-1553 is available in individual-function or multi-function versions and provides BC, RT and BM functionality. Condor manufactures MIL-STD-1553 and ARINC 429 avionics databus solutions for test, simulation, maintenance and embedded applications.
---
Corfin Industries LLC
7b Raymond Avenue, Unit 7
Salem, N.H. 03079
Tel: 603-893-9900
Fax: 603-893-6800
Web: www.corfin.com
Booth No. 205
Corfin Industries provides component preparation and kitting services to military electronics manufacturers. Corfin has the experience, automated robotic equipment, and facilities to provide electronic components fully prepared and packaged for assembly. Our greatest skill is understanding our customer's needs and developing value-added, dependable solutions.
---
D.L.S. Electronic Systems, Inc.
1250 Peterson Dr.
Wheeling, Ill. 60090
Tel: 847-537-6400
Fax: 847-537-6488
Web: www.dlsemc.com
Booth No. 409
D.L.S. provides full service EMC testing to Mil-Std 461 A-E and RTCA DO-160D for the military, avionics, and aerospace industries. Accredited by NVLAP, D.L.S. offers 25 on-staff engineers, including 11 NARTE Certified Engineers and a commercial EMC test facility under one roof. Government Supplier —Cage Code #OKP98.
---
DNA Computing Solutions
1220 E. Campbell Road
Richardson, Texas 75081
Tel: 972-671-1972
Fax: 972-671-1581
Web: www.dna-cs.com
Booth No. 301
DNA Computing Solutions is a supplier of high-performance, board-level computing solutions to the defense, industrial and commercial market sectors. Our most recent developments include the VQCG4 a rugged, conduction-cooled implementation of the VQG4 that maintains the architecture, functionality and compatibility providing cost-effective solutions across the spectrum of environmental applications.
---
Data Device Corporation
105 Wilbur Place
Bohemia, N.Y. 11716
Tel: 516-567-5600
Fax: 631-567-7358
Booth No. 306
DDC will be exhibiting a demo on dataSIMS, A PC based professional simulation and analysis system that features comprehensive real-time database that provides extensive engineering unit conversion capabilities. You can view engineering units or raw format and trigger on complex events in your data. dataSIMS also generates versatile reports that can be used by third party spreadsheet or mathematical analysis software.
---
Dawn VME Products
47073 Warm Springs Blvd.
Fremont, Calif. 94539
Tel: 510-657-4444
Fax: 510-657-3274
Booth No. 304
Dawn VME Products designs, manufactures and sells computer chassis and backplanes into real-time and embedded systems markets. Dawn VME Products's hallmark is the manufacture of high-performance computer buses, based on the Versa Module European (VME) architecture, a freeway of signals that connect the various circuit boards in a computer and enable them to communicate to each other. Backplanes are the flagship product line of Dawn VME Products, but the company offers thousands of commercial off-the-shelf (COTS) products. Our diverse product line includes high-performance VMEbus, VME64x, cPCI, SUNbus(tm) backplanes, card cages, tabletop and rack mount chassis, board test extenders, and a full line of chassis and card cage accessories.
---
Excalibur Systems, Inc.
311 Meacham Avenue
Elmont, N.Y. 11003
Tel: 516-327-0000
Fax: 516-327-4645
Web: www.mil-1553.com
Booth No. 606
Excalibur Systems is a recognized world leader in the development of avionics test and simulation equipment that supports avionics data buses. Products that are supported include MIL-STD-1553/1760, ARINC-429, H009, STANAG 3838/3910, as well as, Serial I/O RS-232/422/485. These products are provided on a wide range of platforms including PC, PCI, CompactPCI, PC/104, PCMCIA, PMC, VME, and VXI.
---
International Rectifier
233 Kansas Street
El Segundo, Calif. 90245
Tel: 310-726-8000
Fax: 310-726-8183
Web: http://hirel.irf.com
Booth No. 610
International Rectifier's Hi-Rel Products specializes in the manufacture of power conversion devices optimized for military and space environments. We offer radiation hardened/Standard MOSFETs, Schottky rectifiers, Fast Recovery Diodes, IGBTs, MOSFET Drivers, voltage regulators, power modules, motor controllers and DC/DC converters. Our products are hermetic and offered in a variety of quality levels.
---
Lansdale Semiconductor, Inc.
2412 West Huntington Drive
Tempe, Ariz. 85282-3132
47073 Warm Springs Blvd.
Tel: 602-438-0123
Fax: 602-438-0138
Web: www.lansdale.com
Booth No. 320, 322
Lansdale Semiconductor purchases discontinued and obsolete product lines from major semiconductor manufacturers and continues to supply the products, using the original tooling, to companies that still need the older technologies. Lansdale supports more than 1,000 QML part numbers and more than 2,500 generic integrated circuits.
---
M-Systems, Inc.
8371 Central Avenue
Suite A
Newark, CA 94560
Tel: 510-494-2090
Fax: 510-494-5545
Web: www.m-sys.com
Booth No. 403
M-Systems a manufacturerr of flash-based data storage products. M-Systems' flash disks provide the functionality of a mechanical hard drive in a silicon chip. M-Systems FFD (Fast Flash Disk) is a high performance mass storage Solid State Disk, designed to withstand extreme shocks, vibrations, and harsh environmental conditions.
---
Macrolink, Inc.
1500 North Kellogg Drive
Anaheim, Calif. 92807
Tel: 714-777-8800
Fax: 714-777-8807
Web: www.macrolink.com
Booth No. 310
Macrolink designs and manufactures sophisticated, high-performance, board-level products for VME and CompactPCI systems, industrial and rugged COTS system chassis, conduction/convection cooled ATR chassis, rugged portable workstations and rugged SCSI/Fibre Channel mass-storage systems. Macrolink also offers a full range of expansion products for Concurrent Computer 3200 series super-minicomputers.
---
Micropac Industries, Inc.
905 E. Walnut Street
Garland, Texas 75040
Tel: 972-272-3571
Fax: 972-494-2281
Web: www.micropac.com
Booth No. 407
Micropac Industries, Inc. offers a wide range of off-the-shelf microelectronic components and modules. Standard products include solid-state relays, power op amps, optocouplers, LEDs, LED displays, hall effect devices and standard radiation-tolerant products. Custom designs are also fabricated. Facility qualifications include ISO 9001, MIL-PRF-38534, MIL-PRF-19500, MIL-PRF-28750, and MIL-STD-87157.
---
Mil Comm Engineering & Technical Sales, Inc.
5730 Fanwood Avenue
Lakewood, Calif. 90713
Tel: 562-866-3843
Fax: 866-9843
Web: www.milcomm.net
Booth No. 323
Mil Comm's markets are military and defense. We represent manufacturers like FSI, BIW, Chromatic Technologies, HHT, RBI and Almetek. MilSpec copper and fiber/optic bulk cable, MilSpec connectors, connectorized cable assemblies, ID tags, labels, and signs. We are showcasing our recently qualified 8channel M28876 fiber/optic connector & 29504 termini and SUPER/FLEX M85045 shipboard cable.
---
Modular Devices
1 Roned Road
Shirley, N.Y. 11967
Tel: 631-345-3100
Fax: 631-345-3106
Booth No. 410
Modular Devices Inc. is a manufacturer of high reliability hybrid DC to DC converters for the military, aerospace, and space markets. MDI's technology includes radiation-hardened and proton radiation hardened devices with built in EM filtering. In addition, MDI supplies custom power supplies and power supply assemblies to customer specifications.
---
MPI Software Technology, Inc.
101 South Lafayette Street, Suite 33
Starkville, Miss. 39759
Tel: 662-320-4300
Fax: 662-320-4301
Web: www.mpi-softtech.com
Booth No. 206
MPI Software Technology, Inc., a provider of high-performance middleware and services, offers VSI/Pro libraries that support sig-nal and image processing on VxWorks, LynxOS, Mac OS, and Linux and are Altivec and SSE optimized. MPI/Pro for RACE provides COTS, standards-based message-passing middleware. ChaMPIon/RT offers real time message passing on VxWorks.
---
Newark Electronics
9444 Waples St Suite 480
San Diego Calif. 92121
Tel: 1-800- TEAMGOV
Web: www.newark.com/teamgov
Booth No. 423
Newark Electronics is a distributor of electronic components, stockroom management services and eProcurement solutions in the Americas. With a GSA Contract (#GS-06F-0044M) and presence on GSA Advantage, Newark Electronics is poised to service all federal customers with discounts up to 15 percent, free 2nd day freight, and no minimum orders.
---
North Atlantic Industries
170 Wilbur Place
Bohemia, N.Y. 11716
Tel: 631-567-1100
Fax: 631-567-1823
Web: www.naii.com
Booth No. 319
North Atlantic Industries provides high-functional density with extensive diagnostics. Platforms supported include VME, VXI, cPCI, PCI, PMC, PXI, PC/104, and ISA. Functions supported include A/D, D/A, RS 232,422,485, discrete and digital I/O, synchro, resolver, LVDT, PWM motor control, instruments, high-density AC/DC and DC/DC power supplies from 25 - 500 Watts. Products support airborne, shipboard and ground applications.
---
parvus Corp.
396 W Ironwood Drive
Salt Lake City, Utah 84115
Tel: 801-483-1533
Fax: 801-483-1523
Web: www.parvus.com
Booth No. 412
Formed in 1983, parvus Corp. is an ISO-9001 certified designer, manufacturer, and systems integrator of commercial-off-the-shelf (COTS) PC/104 products for embedded control environments. Its rugged, compact circuit boards and enclosure systems offer feature-rich, low-cost design solutions for military and commercial applications. For more information, visit www.parvus.com or call 801-483-1533.
---
Phoenix International
812 W. Southern Avenue
Orange, Calif. 92865
Tel: 800-203-4800
Fax: 714-283-1169
Web: www.phenxint.com
Booth No. 400
Phoenix International is an ISO 9000 certified manufacturer of rugged COTS mass storage systems that plug and play with any host operating system or network. Systems range in size and application from multi-terabyte RAID, NAS and Array configurations to plug-in VME and Compact PCI storage modules.
---
Primagraphics Ltd.
New Cambridge House
Litlington, Royston
Herts, SG8 0SS, United Kingdom
Tel: +44-1763-852222
Fax: +44-1763-853324
Web: www.primagraphics.net
Booth No. 309
Primagraphics is a supplier of rugged radar, sonar, and video processing and display systems for the military market. Its systems combine high-performance graphics with processed sensor data to provide sensor fusion displays. The equipment is commercial-off-the-shelf manufactured by Primagraphics and supports a wide range of display resolutions as high as 2048 x 2048.
---
Red Rock Technologies, Inc.
14429 N. 73rd Street
Scottsdale, Ariz. 85260
Tel: 800-808-7837
Web: www.redrocktech.com
Booth No. 303
Since 1993 Red Rock Technologies has been providing high-performance plug-in mass storage modules. Form factors include VMEbus and CompactPCI for use in demanding military, telephony and industrial applications. Media includes hard drive, flash drive, floppy, 4mm DAT Tape, AIT Tape, CDROM, CD-RW, DVD, and others.
---
Red River
797 North Grove Road
Suite 101
Richardson, Texas 75081
Tel: 972-671-9570
Fax: 972-671-9572
Web: www.red-river.com
Booth No. 300
Red River supplies products and services to the high-performance signal processing ..and data communication markets. The company specializes in wireless applications with product offerings in RF converters, digital transceivers, and complete software defined radios. Custom circuit card and FPGA/PLD design services are available to meet application specific hardware requirements.
---
SEAKR Engineering, Incorporated
6221 South Racine Circle
Centennial, Colo. 80111-6427
Tel: 303-790-8499
Fax: 303-790-8720
Web: www.seakr.com
Booth No. 308
Since 1982, SEAKR Engineering, Incorporated, has been developing Solid State Storage Solutions, offering higher performance and greater reliability for the user community. In 1997, SEAKR entered the "other than space" market. Offering a wide variety of solutions for processing and storage applications. For More information, Stop by our booth 308.
---
TÜV America Inc.
Product Service Division
1775 Old Highway 8 NW
New Brighton, Minn. 55112
Tel: 1-866-EMC-AERO
Fax: 651-638-0285
Web: www.TUVamerica.com
Booth No. 312
TÜV America Inc. provides comprehensive testing services for the military and aerospace industries, including Electromagnetic Compatibility (EMC) testing to MIL-STD-461E/462D, RTCA/DO-160D, HIRF testing up to 3600 V/m, COTS certification, and multiple burst and multiple stroke lightning.
---
VMIC
12090 South Memorial Parkway
Huntsville, Ala. 35803
Tel: 256-880-0444
Fax: 256-882-0859
Web: www.vmic.com
Booth No. 204
VMIC, a GE Fanuc company, is a supplier of open architecture, embedded computer products and systems for VME, PCI, CompactPCI, PC/104, and PMC. VMIC's extensive product line includes Intel-based single-board computers, data acquisition and control products, and communications/networking products that are used in a wide variety of markets.
---
Zyfer, Inc.
1585 S. Manchester Ave.
Anaheim, Calif. 92802
Tel: 714-780-7685
Fax: 714-780-7649
Web: www.zyfer.com
Booth No. 406
Zyfer manufactures Global Positioning System timing and synchronization systems. Products include NTPSync XL Network Time Server, NanoSync Synchronization Engine, GSync 1U High Time/Frequency System for tactical applications, and CommSync II Modular Time/Frequency System. Zyfer is the JPO approved provider of P(Y) SAASM technology for time/frequency applications.
---