Product Applications
Enabling technologies for military and aerospace electronics designers
Jun 1st, 2002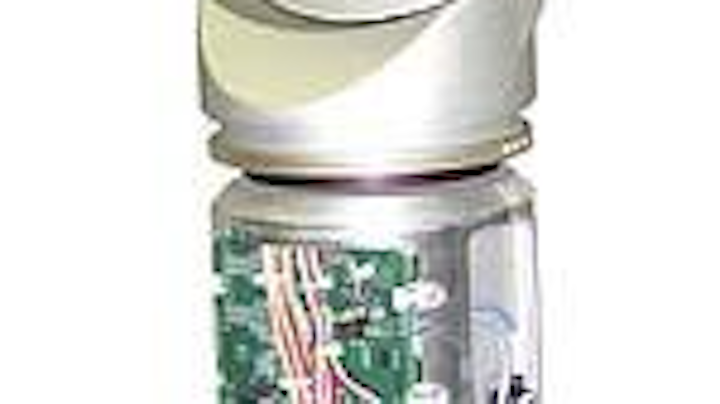 Enabling technologies for military and aerospace electronics designers
Communications equipment
Engineers choose Bustronic backplanes for NASA's Ranger Telerobotic Shuttle Experiment
Systems designers at the University of Maryland's Space Systems Laboratory in Greenbelt, Md., needed custom backplanes for the NASA Ranger Telerobotic Shuttle Experiment, a four-manipulator robot designed the shuttle's cargo bay. They found their solution from Bustronic Corp. in Fremont, Calif.
The lab chose Bustronic for the job because of their expertise and reputation in complex custom backplanes. "One of our contractors used Bustronic before, and had only said great things about the company" says Jean-Marc Henriette, the Embedded Systems Lead for the NASA Ranger project.
The Ranger experiment is nearing its final stages and anticipates a Space Shuttle launch in 2004.
Each manipulator with several different sensors, actuators, and cameras enables operators in the shuttle, or even on Earth, to grab objects, make repairs, and perform other tasks, Bustronic officials say. The backplane is from Bustronic's custom-design services.

The Ranger uses a proprietary architecture to handle a complex array of power and signals, Bustronic officials say. The motors and sensors communicate with the motor drivers and central processor through the backplanes.

The robotic arm uses three, 3U-high backplane designs — one each for the shoulder, elbow, and wrist. The wrist backplane is the most complex, company officials say. It requires eight slots for all wrist functions.

The analog-to-digital converters, computer, and power-conditioning cards take three slots, and the remaining five slots hold motor drivers that control the actuators. With fewer actuators to control, the shoulder backplane is six slots wide and the elbow five slots. The elbow backplane helps control the ankle, knee, and hip of the positioning leg.
The motors in the actuators can draw heavy currents from the backplane — as much as 10 amps per motor at 48 volts. The wrist backplane must withstand a possible 50-amp power draw. Bustronic's Ranger backplane design was also heavily space constrained, and used as few layers as possible.
The Bustronic solution takes advantage of the FutureBus Plus connector, with its combined ruggedness, speed capability, and market availability. Because the connector also has power blade options, Bustronic maximized the density of the backplanes with both the power and signals on the same FutureBus connector slots.
For more information, contact Bustronic by phone at 510-490-7388, by fax at 510-490-1853, by post at 44350 Grimmer Blvd., Fremont, Calif. 94538, or on the World Wide Web at www.bustronic.com. More information on the Ranger Telerobotic Shuttle Experiment is available at http://rtsx.ssl.umd.edu.
---
Board products
DRS to provide circuit board manufacturing for F/A-18 fighter-bomber subsystems
Systems integrators at Smiths Aerospace in Grand Rapids, Mich., needed printed circuit boards and component testing for the stores management systems aboard U.S. Navy F/A-18E/F Super Hornet jet fighter-bombers and Canadian CF-18A/B strike fighter aircraft. They found their solution from the DRS Flight Safety and Communications unit in Carleton Place, Ontario, Canada.
Smiths awarded DRS two contracts with a combined worth of about $24 million. For these awards, DRS will provide a variety of manufacturing products and services, including circuit card assemblies and testing for the housing, wire harnesses, and power supplies for the Stores Management System (SMS) on board these aircraft.
Installed within the airframe, the SMS generates commands from pilots and other systems to arm, pre-condition, release, and jettison stores carried by the aircraft, including fuel, tanks, missiles, and other weapons.
The contracts are part of upgrades to 80 Canadian Forces CF-18 Hornets and the production of more than 220 F/A-18E/F Super Hornets for the U.S. Navy. The Boeing Co. in St. Louis builds both versions of tactical aircraft.
The company's DRS Flight Safety and Communications unit in Carleton Place, Ontario, Canada will perform work associated with these awards. Deliveries for products and services are expected to extend through 2006.
For more information contact DRS Flight Safety and Communications by phone at 613-253-3020, by fax at 613-253-3033, by post at 115 Emily St., Carleton Place, Ontario, K7C 4J5, or on the World Wide Web at http://www.drs.com.
---
Displays
SGI technology to power U.S. Navy battlespace management system
Officials at General Dynamics Advanced Information Systems, a unit of General Dynamics, recently selected computing and visualization systems from SGI in Mountain View, Calif., to power the U.S. Navy's new Area Air Defense Commander (AADC) Capability system.
The AADC Capability program is a battlespace management system that will help the military services plan and coordinate joint theater air and missile defenses against ballistic and tactical missile attacks by providing the Joint Forces Commander with a fully integrated air defense capability, SGI officials say. The system uses SGI technology to provide an integrated picture of the battlespace so that a Joint Forces Commander can quickly gather data on air and missile attacks and develop an air defense plan that recommends tactical placement of air defense assets from land and sea, company officials say.
The latest delivery of SGI systems to General Dynamics, under the AADC Capability program, includes a 32-processor SGI Origin 3400 server, four SGI Onyx 3000 series high-performance graphics systems, eight Silicon Graphics Octane2 visualization workstations and a Silicon Graphics O2+ graphics workstation. These systems will be used to power General Dynamics' AADC Capability integrated testing facility in Greensboro, N.C., to aid shipboard AADC Capability installations.
AADC Capability units have already been installed and fielded aboard the U.S. Navy's command and control ship USS Mount Whitney and the Aegis cruiser USS Shiloh. The Navy has identified 17 other sites for AADC Capability installations including other command and control ships, Aegis-class cruisers, and other facilities.
AADC Capability's near real-time collaboration and war-gaming capability is embedded, so that every potential course of action and outcome is demonstrated before it is executed. Once a course of action is selected, a commander can monitor events as they unfold, reacting to new threats and changing situations as they arise, SGI officials say.
The General Dynamics Advanced Information Systems AADC Capability team is working closely with the Johns Hopkins University Applied Physics Laboratory in Laurel, Md. The Johns Hopkins lab developed the initial AADC prototype, which was also powered by SGI servers and visualization systems, company officials say. The General Dynamics AADC Capability solution features an open systems architecture that is expandable to meet the Navy's current and future operational requirements.
For more information on SGI computing and visualization systems contact the company by phone at 650-960-1980, by post at 1600 Amphitheatre Parkway, Mountain View, Calif. 94043, or on the World Wide Web at http://www.sgi.com.
---
Test and measurement
Gulfstream avionics experts choose DPI's Fly-Away Kit for cabin systems maintenance
Maintenance engineers at Gulfstream Aerospace in Savannah, Ga., needed test and measurement equipment to diagnose problems in aircraft cabin management systems. The Fly-Away Kit from DPI Labs in LaVerne, Calif., met their needs. Gulfstream builds and maintains business jets.
The DPI Fly-Away Kit enables maintenance experts to test, verify, and diagnose aircraft cabin systems from the data bus and relays to shipside wiring and individual components, company officials say. Users can conduct live-system tests to identify problems by component, and eliminate mis-wiring and mis-pinning mistakes.
"Just plug the Fly-Away Kit with a laptop into the aircraft's data bus to see what's wrong, reconfigure software, or repair hardware," says David Perez, an experienced Gulfstream Aerospace Avionics Electrical Systems Lead.
"Testing is non-intrusive, so there's no need to disassemble the aircraft," Perez says. "It can save weeks or even months in misdiagnosed repair time and eliminate the expense of many service calls. The kit will save me hundreds of hours a year in troubleshooting time that I won't have to spend on the phone with manufacturers' tech reps."
Used with a standard laptop PC, the Fly-Away Kit can update aircraft configuration software, or get online troubleshooting help from DPI via the Internet. The Fly-Away Kit can replace control panels to operate any cabin-control amenity aircraft wide from lighting and air gaspers to audio, DVD, and display panels, DPI officials say.
The Fly-Away Kit includes: a shipside bus tester, a shipside tester SL-1955, a light dimmer pulse-width modulation), a relay control module light dimmer, a switch panel simulator, and a dialogue module.
Each tester comes in a non-metallic, hand-held enclosure to assure electrical isolation. The Smart-Link III (SL-III) Cabin Management Operating System integrates reading/cabin lighting, in-flight entertainment and air gasper controls, as well as attendant call functions in a centrally managed control panel.
A directional bus and SL-III "smart packs," each has an embedded microprocessor and dedicated central processor that routes and processes information independently. If a SL-III component fails, the remaining "smart packs" continue operating without interruption.
For more information contact DPI Labs by phone at 909-392-5777, by fax at 909-392-0277, by post at 1350 Arrow Highway, LaVerne, Calif. 91750, or on the World Wide Web at http://www.dpilabs.com.
---
Software
Joint Strike Fighter program to use EDS software
Officials at EDS sold the first round of collaborative software solutions to members of the Joint Strike Fighter (JSF) program, a group of global military aircraft manufacturers. Through its PLM Solutions business, EDS officials will provide the company's Teamcenter software and related services for JSF program members such as Lockheed Martin, Northrop Grumman, and BAE Systems.
Teamcenter will enable the JSF virtual global enterprise — the 10,000-person team of Lockheed Martin, BAE Systems, Northrop Grumman, and an estimated 27 other partners and suppliers — to create a secure, immediately accessible web-based environment to collaboratively design, build, test, deploy, and support the JSF global fleet, EDS officials say.
"The JSF team is uniquely positioned to achieve unprecedented productivity improvements with the Teamcenter collaborative solution," says Tim Nichols, vice president and general manager of the JSF program at EDS PLM Solutions.
"As this virtual global enterprise expands across all members of the JSF Consortium, new performance standards in design, development, and manufacturing cycle time will be realized and product lifecycle costs will be positively impacted with the seamless use of the same, highly disciplined product data management system."
With Teamcenter, Lockheed Martin and its team will integrate all aspects of the JSF program, from design through fabrication and assembly, to in-service support by creating a secure and immediately accessible information database, complete with all design requirements, design results, and bill of materials, company officials say. This database will be available via local and wide area networks and the Internet, enabling tens of thousands of designers, engineers, and production specialists to collaborate continuously and seamlessly around the world, EDS officials say.
For more information on Teamcenter and EDS contact the company by phone at 972-604-6000, by e-mail at info@eds.com, by post at 5400 Legacy Drive, Plano, Texas 75024-3199, or on the World Wide Web at http://www.plmsol-eds.com/teamcenter/index.shtml.
---
Computer peripherals
DRS Technologies to produce recorders for Spanish navy P-3 aircraft
Officials of the Sociedad Anonima de Electronica Submarina in Spain selected DRS Technologies Inc. to produce AN/AQH-13 Acoustic Data Recorder (ADR) systems and analysis equipment for the Spanish Navy's P-3 Orion long-range, maritime patrol aircraft modernization program.
The commercial-off-the-shelf recorders, which are military-qualified, are configured to NATO Standard Agreement (STANAG) format. The ADR systems are a form, fit, and function upgrade designed to be a plug-compatible replacement for two existing systems installed on each aircraft, DRS officials say. The DRS systems provide improved performance, lower operating costs, and reduced weight, company officials claim.
This award is the first direct sale that extends the application of these new recorders to international allied military forces, DRS officials say. Work for the program will be done at the company's DRS Precision Echo unit in Oakland, N.J. Product deliveries are expected to continue through April 2005. Under separately awarded contracts, DRS also provides ADR systems for the upgrade of the U.S. Navy's P-3C maritime patrol squadrons and is developing digital interface kits for that program, company officials say.
The AN/AQH-13 Acoustic Data Recorder system is designed to record 32 channels of acoustic information from sonobuoys dropped into the sea plus other annotation data used to support P-3 aircraft missions, DRS officials say. The device is designed to be a lightweight plug-compatible replacement for two DRS-developed 16-channel recorders currently operating throughout the U.S. Navy's fleet and those of other navies. The modular design of the AN/AQH-13 is based on the commercial industry standard Digital Tape Format for recording and storing large quantities of data, company officials say.
The system's open architecture is designed to be compatible with other COTS interfaces and can be implemented readily for other applications as future recording requirements evolve, DRS officials say. The AN/AQH-13 is built and tested to standards and is qualified to withstand the hostile environments encountered by patrol aircraft at sea, company officials say.
For more information about the DRS AN/AQH-13 Acoustic Data Recorder or DRS Technologies, contact the company on the World Wide Web at http://www.drs.com.