Military test and measurement tools show flexibility
Designers of test and measurement instruments are finding that their military customers want more flexibility and ease of use to help combat obsolescence and handle more complex tasks.
Jun 1st, 2002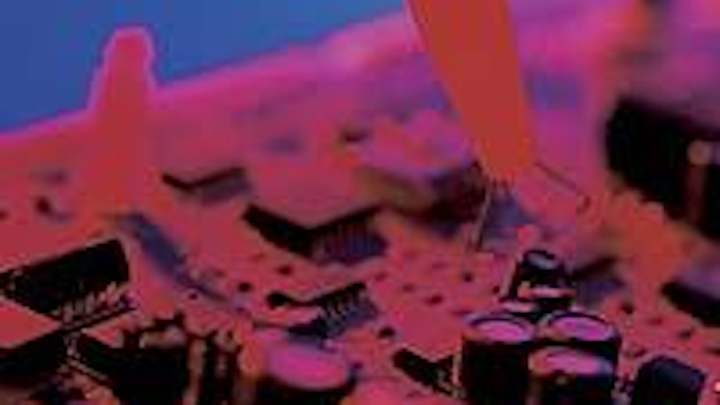 Designers of test and measurement instruments are finding that their military customers want more flexibility and ease of use to help combat obsolescence and handle more complex tasks. Meanwhile testing companies that have a strong stake in military applications are finding it easier to handle the economic downturn.
By John McHale
The testing of military electronics has evolved over the years from large racks of equipment to commercial-off-the-shelf (COTS) technology that comes in increasingly small and portable devices. The increased use of COTS technology combined with the need to test today's complex systems is forcing test and measurement instrument designers to create systems that are easy to use, can handle several different tasks, and have clear upgrade paths.

One of the biggest problems facing test and measurement designers right now is obsolescence, says Carl Rosenblatt, business unit manager for the military and aerospace test solutions unit at Teradyne's Assembly Test unit in North Reading, Mass. When program managers purchase test equipment for a military system that may take five or more years to develop, and deployed systems often can be obsolete, he explains.
To combat this problem, experts at the U.S. Department of Defense (DOD) have come up with a standard called NxTest that promotes modularity in instrument design to facilitate upgrades when components go obsolete, Rosenblatt says. Automatic Test experts at DOD recognized that commodity test technology needed "a set of standards and implementations for a common architecture across the services to cover common issues and most importantly reduce total cost of ownership related to legacy and obsolescence," says Andy Hutchinson, marketing manager at Teradyne.
NxTest will enable the services to cooperate in how they manage purchases of new automated test systems (ATS) that will support several different platforms across many levels of maintenance. Cooperative management also could achieve warfighting flexibility with interoperable ATS functions, DOD officials say.
The alternative is for each service either to build another test suite from scratch, or go to the difficulty and expense of upgrading individual obsolete components in non-modular systems, he continues.
The modular NxTest concept is similar to a person who replaces the engine in his car, Rosenblatt says. The new engine can come from a manufacturer different from the original, but work just as well, because the car's parts are modular and independent of each other.
There is also a push toward modularity in software, Rosenblatt says. An integrated modular software environment can reduce costs and make testing equipment easier to use, he says.
Teradyne's M9-Series DTI, which consists of versatile C-size VXI instruments for high-performance digital testing, fall under the NxTest concept, Rosenblatt says. With a VXI plug-and-play software driver and hardware that complies with VXI interface standards, M9-Series instruments integrate easily with other instruments in VXI-based test systems.
Techniques for fault detection and diagnosis offer higher accuracy and better resolution than other implementations, as they prevent repair loops and keep repair time to a minimum, Teradyne officials say. M9-Series diagnostics include boundary-scan diagnostics, an intelligent guided probe algorithm to trace faults back to the failing electrical node, high-resolution fault-dictionary and integrated guided-probe, and fault-dictionary diagnostics to provide maximum resolution with a minimum number of probe points, company officials say.
Flexibility and ease-of-use
Military electronics systems are getting more complicated every year, so test instruments must be powerful, easy to use, and work across multiple platforms, says Orion Wood, an aerospace and defense marketing manager at Agilent Technologies in Santa Clara, Calif.
The key to making test instrument flexibility is the software, Wood says. It will enable a user to work on a fast Fourier transform analysis one minute and something else the next, he adds.
Placing the tools in a common software environment such as Windows NT or Windows 2000 can help train technicians to use the instruments, Wood continues. People easily can port their work into word-processing or spreadsheet applications such as Microsoft Word or Excel, he adds.

Test systems used to run on all kinds of proprietary operating systems and old software languages such as the Hewlett-Packard Rocky Mountain Basic. This made it difficult to train new people and find people who knew the languages or the codes, Wood says.
Rocky Mountain Basic was the language that Hewlett Packard programmers used by on their 68000-based computers. The language controls and contains many mathematical and matrix functions and has about 600 commands. Typical applications include automatic test stations. Agilent used to be part of Hewlett Packard.
The next step will involve reconfiguring systems on the fly through the use of field programmable gate arrays (FPGAs), Wood says. Users will be able to use their software to reprogram the FPGA for whatever task they need, he continues. Instead of waiting months for upgrades to equipment, users will eventually be able to download updates off the World Wide Web or get a CD in the mail, Wood says.
Agilent experts recently released two new flexible Performance Spectrum Analyzers, the E4448A and the E4446A for engineers in aerospace/defense, emerging communications, and cellular communications.
The two devices measure complex RF, microwave, and millimeter wave signals.
The new analyzers are code compatible with the company's 8566 and 8568 spectrum analyzers, which could significantly reduce replacement costs because code rewrite is kept to a minimum, company officials say. Code compatibility also helps protect the original investment and makes the new products the least expensive alternative for updating legacy systems, Agilent officials say. Agilent is offering a 25 percent credit on trade-ins of the 8566B and 8568B spectrum analyzers.
The Agilent E4448A enables users to design and test integrated systems and perform depot-level testing at frequencies as fast as 50 GHz, Agilent officials claim. The Agilent E4446A is a 44 GHz spectrum analyzer with an intuitive interface and one-button measurement capability that enables engineers to obtain results easily and quickly, company officials claim.
"Agilent's new 44 GHz and 50 GHz spectrum analyzers will help engineers dramatically reduce their test times," says Dennis Handlon, product manager for performance spectrum analyzers at Agilent. "For example, spur searches that previously took up to 200 seconds now can be performed in 11. The PSA family, and particularly the instruments introduced today, show that we are constantly adding new capabilities to meet evolving technical needs."
Kevin Christian, customer services marketing manager at Ballard Technology in Everett, Wash., says that flexibility and easy-to-use graphical user interfaces (GUIs) are the key components of test systems today. Ballard engineers specialize in the hardware and software interfaces that enable users to test avionics equipment with personal computers.
Ballard experts also have a GUI tool called CoPilot for their 1553 and ARINC 429 applications, Christian says. CoPilot 1553 is a Windows-based software program designed to simplify the simulation and testing of a MIL-STD-1553 databus, he says. Using CoPilot and Ballard's USB (BUSBox), PCMCIA (CM1553-1 and CM1553-3), ISA (PC1553-3), PCI (LP1553-3), and CompactPCI (LC1553-3) family of boards, users can set up and run Bus Controller schedules, simulate RTs or engage the bus monitor with a few clicks of the mouse. Then, while the bus is running, they can observe and change data, Ballard officials say.
The tools and filters built into the CoPilot help users monitor, trace, and analyze bus activity. With CoPilot there is no need to write software programs to access the capabilities built into Ballard's new generation of 1553 boards, Ballard officials say.
The need for easy-to-use software is the reason that so many testing manufacturers design their software to work in a Windows environment, Christian says. Most people are familiar with it and it is inexpensive, which is the real driver behind the need for flexibility — money or the saving there of, he explains.
Engineers at Condor Engineering in Santa Barbara, Calif., are helping reduce costs with their VME/VXI solution for ARINC 429, which is by having multiple protocols all running on the same board, says Bill Weil, Condor's vice president. It is a modular product that comes in 6U VME and C-size VXI solutions with as many as 32 Rx and 32 Tx ARINC 429 channels.
Condor also offers a software solution, called BusTools/1553 for military avionics applications. The tool has extended features for high-level system integration and maintenance and can simultaneously control, log, and display data from one Windows XP, 2000, Me, NT, 98, or 95 based program on PCI, CompactPCI, PC/AT, and PCMCIA.
Condor also provides board support of operating system to operating system (OS) at no charge to the customer, Weil says. In the past, customers paid for switching from one OS platform to another, he adds.
Strong military market
Military and aerospace demand for test and measurement continues to be strong, Teradyne's Rosenblatt says. Partly because of the global war on terrorism and partly because it has always been a strong steady growth market, he adds.
The commercial aircraft business has seen a downturn since 9/11, but Ballard's military business continues to grow especially in units for testing unmanned aerial vehicles, which are seeing extensive action in Operation Enduring Freedom in Afghanistan, Ballard's Christian says.
Many of the big companies in the commercial aircraft business such as Boeing, Rockwell, and Honeywell have put a freeze on buying until the market picks up, Christian says. So the commercial market is not going away, he adds.
In the past most of Condor's business was commercial, but that has changed recently, Condor's Weil says. It is a combination of the downturn in the economy affecting the commercial side and the surge in the military market following 9/11, he explains. The military business will always be reliably strong, Agilent's Wood says. "It's like the bond part of your portfolio."
Radiation testing
Unlike most military and commercial electronics test and measurement, the testing of integrated circuits for radiation effects has not changed much in 25 years, says Michael Gauthier, president of ICS Radiation Technologies Inc., a firm in Downey, Calif., that specializes in radiation testing for space applications.
COTS and plastic parts were used back then, Gauthier says. There were even plastic parts on NASA's Voyager and Galileo spacecraft, he adds. Whether the parts are plastic or ceramic, the testing methods pretty much remain the same, Gauthier says.
What has changed is the industry's approach to the test process. Now, instead of maintaining complete in-house facilities, more companies are going to outside vendors like ICS, Gauthier says. Portable equipment has become available that enables testing companies to take their test gear onto customer sites, where customers can rent it by the hour. The end product is test results on CD ROMs.
Gauthier claims that his firm can test systems more quickly, accurately, and inexpensively than the in-house facilities of the prime contractors. His company, in fact, will even rent time at government laboratories to get the job done, he says.
There are not any firms like ICS anymore Gauthier claims. Most were bought up or went out of business, he says. Although many of the big companies like Lockheed Martin have their own test facilities, there are not any independently owned shops like ICS left, Gauthier says.
ICS experts will typically test five to ten out of a batch of 500 parts, mostly to levels of about 10 to 100 kilorads of total-dose radiation. Chip fabs must package these devices first because ICS cannot test bare chips.
One trend that is occurring is an increase in low-does rate testing, because it has been found that some parts are more susceptible to radiation at low dose rates, Gauthier says.
The ICS customer base also spans the specialized integrated circuit manufacturers — hybrid companies that buy chips and package them — as well as aerospace subcontractors without their own in-house test capability, Gauthier says. ICS also offers on their Web site a listing of all parts tested going back years and pertinent information relating to those tests, he adds.
---
Teradyne delivers systems for Boeing C-17 test program
Officials at Teradyne, in North Reading, Mass., recently delivered two C-17 Modern Intermediate Level Test Stations (MILTS) to Boeing as part of its contract with the Boeing C-17 test program.
The C-17 MILTS, based upon Teradyne's commercial-off-the-shelf Spectrum 9100 Series VXI test platform, performs a full range of avionics testing of Line Replaceable Units (LRU) for Boeing's C-17 Globemaster III military cargo aircraft, Teradyne officials say.
"The MILTS ATE is a key element in the Boeing Automatic Test System replacement strategy," says John Allen, Boeing's Support Equipment program manager. "Its capabilities provide a straightforward, low-risk migration path from the C-17 legacy system to this high-performance tester."
To fulfill Option One of the Teradyne-Boeing contract, Teradyne will provide Boeing with a total of eight C-17 MILTS. In addition to hardware, Teradyne also supplies expert program management and technical support, including on-site engineering resources and programming assistance, Teradyne officials say.
"Teradyne is confident that this program demonstrates the best that Teradyne has to offer its customers in the military and aerospace markets," says Chuck Schwarz, Teradyne's C-17 program manager. "Within ten months of receiving a contract, we've delivered two systems and Boeing has proven its re-host concept by migrating an existing TPS to the new C-17 MILTS equipment. To turn around a project of this scale within such a short timeframe says a lot about the capabilities of our test equipment and our personnel, not to mention the superb expertise and teamwork from our colleagues at Boeing."
The Assembly Test Division, serves electronics manufacturers with capabilities in test and inspection. These test instruments and systems are used in commercial environments and in military/aerospace applications.
---
TestMart launches DOD-sponsored marketplace
Officials at the U.S. Department of Defense (DOD) Naval Inventory Control Point (NAVICP) are relying on the expertise of TestMart in San Bruno, Calif., to create an e-commerce marketplace at http://www. navicpmart.com to electronically process general-purpose electronic test equipment orders.
Authorized buyers can purchase from a catalog of high-demand products from more than 30 key test and measurement suppliers such as Agilent, Tektronix, and Fluke at savings as high as 60 percent off of list price, TestMart officials say. All products in the catalog have been negotiated under contract by NAVICP and comply with the Competition in Contracting Act, company officials add.
"The e-marketplace allows us to be more customer responsive by giving our users 24 by 7 access to the catalog of products we offer at substantial discount while simplifying the purchasing processes," says Neil Hanniford, program manager for NAVICP. "By deploying this Web site, we expect to improve our supply chain management while reducing overall costs to the taxpayers."
By reducing the cost of equipment purchased and the time required to complete the order, NAVICP expects the new marketplace to drive new efficiencies and return significant savings to the Navy and the entire DOD, during the five-year agreement with TestMart, company officials claim.
NAVICPmart integrates Web tools to find, research, compare, and configure products in the catalog, enabling authorized users to purchase the appropriate test and measurement equipment quickly and in accordance with Federal Acquisition Regulations. Authorized purchasers include personnel in the armed services, employees of government agencies such as the Federal Aviation Administration, and government contractors performing to authorized contracts, TestMart officials say.
Using the new Web site these users can order equipment and track purchases against a set of substantially discounted products under contracts pre-negotiated for federal government and DOD customers, TestMart officials say. Authorized users have a choice of payment methods including government purchase cards, government or commercial checks, commercial credit cards, and online electronic versions of the more traditional MILSTRIP (Military Standard Requisition and Issue Procedures) forms, company officials say.
"This site provides further proof of the Navy's technological advances," says Shekar Gopalan, director of consulting at Frost & Sullivan, a consulting company in New York, N.Y. "By partnering with TestMart, a company with domain expertise in test and measurement equipment and a proven track record in electronic marketplaces, NAVICP is able to offer the best products at the best prices using a Web-based platform that saves money and time. This test marketplace paves the way for increased and improved outside procurement and more efficient supply chain management within the DOD."
The mission of the Naval Inventory Control Point (NAVICP) is to provide program and supply support for the weapons systems that keep Naval forces mission ready, TestMart officials say. This mission is carried out by a single command organization operating as a tenant activity of the Naval Support Activities in Philadelphia and Mechanicsburg, Pa. The activity UIC for NAVICP Mechanicsburg is N00104 and the activity UIC for NAVICP Philadelphia is N00383.
TestMart provides Web-based marketplaces for organizations that buy test equipment and other precision instruments.
---
Maxwell releases test systems for wireless semiconductor components
Engineers at Maxwell Technologies Inc. in San Diego released a new line of Automated Accelerated Reliability Test Systems (AARTS) for advanced wireless semiconductor components.
The systems can perform accelerated aging performance characterization tests on discrete transistors, monolithic microwave integrated circuits (MMICs), hybrid microwave integrated circuits (HMICs), and RF/microwave module assemblies, ranging from DC to 18GHz, and four to 96 channels, Maxwell officials say.
"This state-of-the-art test equipment is designed to provide an accurate measurement, in a close simulation of actual use, of the parameters that affect device reliability," says Roland Shaw, director of Maxwell's Instrument Products line, which makes the AARTS testers. "We know our customers desire the highest level of confidence in the reliability of their RF technology and products, and that's what these systems are all about. Indeed, they are knowledge-generators for RF performance-degradation reliability.
"These comprehensive testing systems are now available and have, in fact, been installed for several of our customers, including Motorola, Filtronics, and Alpha Industries," Shaw adds.
By conducting accelerated reliability life testing of components, dynamic information is collected concerning critical failure rates, Maxwell officials say. This data collection is of value when designing products for high-reliability applications such as satellites and wireless networks.
Device failure can result in an aborted mission, costing the manufacturer or service provider millions of dollars. Component failure in a non-mission-critical application, such as cellular phones, is equally painful because it results in increased technical-support cost and customer dissatisfaction that ultimately affect profit margins and company image, company officials say.
The product family supports four, eight, 16, and 32 channels of capacity with full RF, DC, and temperature stress capabilities, Maxwell officials say. The test system consists of hardware and software used to initiate, supervise, and record temperature, electrical, and RF performance parameters automatically throughout the test duration. The devices-under-test (DUTs) mount in individual test fixtures that allow independent bias, temperature, and RF control, company officials say.
The AARTS operates through proprietary "Life Test" system software installed on a personal computer (PC), Maxwell officials say. A Windows 2000-based graphical user interface provides user-friendly control of the system configuration. Automated program functions include test setup, monitoring, event sequencing, data storage and presentation, supervision, and networking.
The PC controls equipment and other subsystem circuitry through a General Purpose Interface Bus (GPIB), which supports future expansion and options. The test station can support the testing of various modulation signals (such as CDMA), inter-modulation characterization testing, and multi-tone RF input signals, company officials say. It can also be equipped with a Semiconductor Parametric Analyzer for I-V characterization.
Maxwell's AARTS represents the fourth generation architecture in this family of RF and DC reliability "life" testers, says to Fred Puglisi, director of sales for the Instrument Products line. This tester evolved from a semi-automatic reliability tester called PAARTS (Power Amplifier Automated Reliability Tester), which Shason Microwave developed for NASA's Jet Propulsion Laboratory in Pasadena, Calif. Shason Microwave then evolved the PAARTS into the next generation reliability AARTS test system before being purchased by Maxwell Technologies in mid-year 2000.
"We believe that the modularity residing in our enhanced present day family of RF/DC reliability life testers will allow us to accommodate the needs for the life testing and design characterization of today's devices and for future devices using millimeter wave frequencies," Puglisi adds.
---
Company information
Aero Nav Laboratories Inc.
College Point, N.Y.
http://www.aeronavlabs.com/

Agilent Technologies
Burlington, Mass.
http://www.agilent.com

Ballard Technology Inc.
Everett, Wash.
http://www.ballardtech.com/

Bell Technologies Testing Division
Orlando, Fla.
http://www.belltechinc.com/

Condor Engineering
Santa Barbara, Calif.
http://www.condoreng.com

CPU Technology Inc.
Pleasanton, Calif.
http://www.cputech.com

Dynamic Instruments Inc.
San Diego
http://www.dynamicinst.com/

Excalibur Systems Inc.
Elmont, N.Y.
http://www.mil-1553.com/

Fluke Corp.
Everett, Wash.
http://www.fluke.com/

Geotest Marvin Test Systems Inc.
Irvine, Calif.
http://www.geotestinc.com/

ICS Radiation Technologies Inc.
Downey, Calif.
http://www.icsrad.com

IFR Systems Inc.
Wichita, Kan.
http://www.ifrinternational.com/

ISE Labs Inc.
San Jose, Calif.
http://www.iselabs.com

Integra Technologies LLC (formerly Lucent)
Wichita, Kan.
http://www.cetc.com/body.html

Lockheed Martin Information Systems
Orlando, Fla.
http://www.lockheedmartin.com/lmis/

ManTech Test Systems Inc.
Chantilly, Va.
http://www.mantechtestsystems.com/

Maxwell Technologies
San Diego
http://www.maxwell.com

McCabe & Associates
Columbia, Md.
http://www.mccabe.com/main.htm

National Instruments
Austin, Texas
http://www.ni.com/

Perkin Elmer Optoelectronics
Santa Clara, Calif.
http://opto.perkinelmer.com/index.asp

Pikes Peak Test Labs Inc.
Colorado Springs, Colo.
http://www.pptli.com

Retlif Testing Laboratories
Ronkonkoma, N.Y.
http://www.retlif.com/

Sentel Corp.
Alexandria, Va.
http://www.sentel.com/sentel/index.html

Spectral Dynamics Inc.
San Jose, Calif.
http://www.sd-corp.com/

Technology Service Corp.
Los Angeles
http://www.tsc.com

Tektronix Inc.
Beaverton, Ore.
http://www.tek.com/

Teradyne Inc.
Boston
http://www.teradyne.com

TestMart
San Bruno, Calif.
http://www.testmart.com

Wyle Laboratories
El Segundo, Calif.
http://www.wylelabs.com/ad.html