COTS enables Navy to use single family of test systems for avionics testing on carriers and assault ships
The U.S. Naval Air Systems Command at Patuxent River Naval Air Station, Md., has ordered 12 more automated test program sets.
Jun 1st, 2002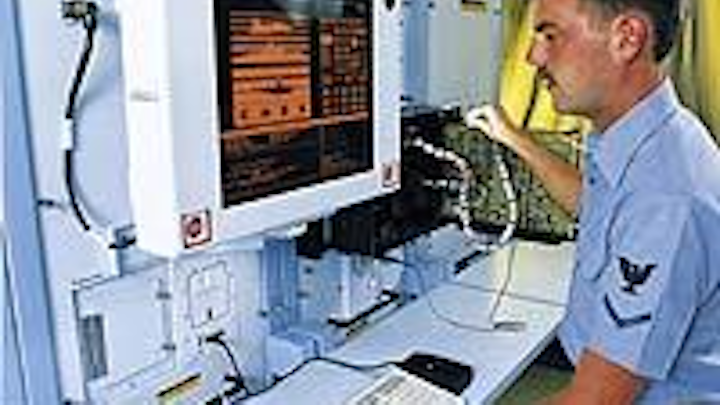 by John Rhea
PATUXENT RIVER NAS, Md. — The U.S. Naval Air Systems Command at Patuxent River Naval Air Station, Md., has ordered 12 more automated test program sets, or TPSs, based on commercial off-the-shelf (COTS) hardware and software from Lockheed Martin Information Systems, Orlando, Fla.
The TPS units are part of the Consolidated Automated Support System, or CASS, which has been in production since 1990 to replace specialized avionics testers at sea. The latest contract totals $84 million, of which $42.3 million is for 16 radio frequency (RF) station kits and 12 CASS test systems and $41.7 million is for development and first article test units of 124 additional TPS test kits.

To date, 553 of the CASS mainframes have been installed, says Marie Greening, the program manager at NavAir. The CASS mainframes cost about $1 million each.
The open-systems architecture testers detect and isolate faults in avionics equipment on such carrier-based aircraft as the E-2C radar surveillance turboprop, EA-6B electronic warfare jet, F-14 jet fighter, F/A-18 fighter-bomber, AV-8B jump jet, S-3 surveillance jet, and SH-60 helicopter.
Prior to CASS this function required 25 separate old testers — and now can be done with the single one-size-fits-all CASS system, says Greening's deputy, Bill Ross.
The systems at sea are installed on all the Navy's aircraft carriers and most amphibious assault ships. CASS units are also used in all Navy and Marine Corps air stations. A variant known as Reconfigurable Transportable CASS (RTCASS) housed in portable shelters is designed to be sufficiently mobile for use by the Marine Corps in helicopter avionics testing.
The total CASS program consists of 742 units. In addition to the 553 mainframes, there are 130 of the RTCASS configuration, 19 for U.S. Navy depots, 10 more for other shore facilities such as the Naval Underwater Center locations and for civilian use by the National Oceanic and Atmospheric Agency, and 30 foreign military sales to Malaysia, Switzerland, Spain, Kuwait, Australia, Finland, Taiwan, Italy, and Canada.

NavAir officials have begun exploring the use of CASS for the new F-35 Joint Strike Fighter currently in development, Greening notes.
Lockheed Martin produces the CASS units at an assembly facility in Americus, Ga., and supports the program out of a TPS integration facility in Orlando, which was opened last year.
Examples of COTS hardware cited by Ross include the venerable VAX family of militarized computers originally produced by Digital Equipment Corp., Maynard, Mass., and commercially available RF and digital instrumentation.