JTRS program developing common system architecture for spectrum of tactical communications needs
A single family of software-defined tactical radios currently being developed under the U.S. Department of Defense's Joint Tactical Radio System (JTRS) program will amount to a $9 billion market over the next 20 years
Jul 1st, 2002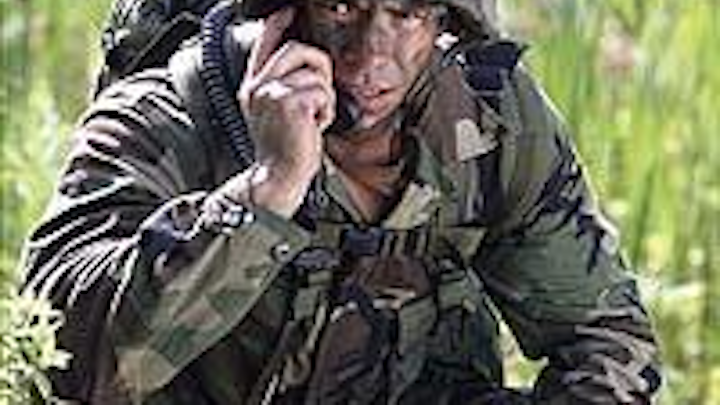 by John Rhea
WASHINGTON — A single family of software-defined tactical radios currently being developed under the U.S. Department of Defense's Joint Tactical Radio System (JTRS) program will amount to a $9 billion market over the next 20 years, according to Mark Turner, director of multiband radio engineering at the Harris Corp. RF Communications Division in Rochester, N.Y.
Moreover, Turner adds, the one-size-fits-all system architecture will enable the military services to replace 750,000 of today's old radios, such as the Single Channel Ground and Airborne Radio System (SINCGARS), with just 250,000 multipurpose radios. The services currently employ more than 25 families of tactical radios, each tailored to specific tasks.

JTRS program officials envision four groups of applications, known as clusters, covering the 30-512 MHz frequency range. The first cluster, for ground vehicles and helicopters, was to be defined last month.

Following this will be the second cluster, manpack and handheld tactical radios, and then the third cluster, maritime and fixed site applications. The final cluster is for fixed wing aircraft. The JTRS joint program office in Arlington, Va., initiated the effort with a system architecture definition phase in 1999.
Turner spoke at a Harris news briefing at last month's AFCEA TechNet Conference in Washington. He stressed the inherent advantages of interoperability, particularly in light of the services' increasing focus on network-centric warfare, and the logistics advantages of trimming 25 families to one universal system architecture.
Turner notes that the suppliers to this military market over the next 20 years will be heavily dependent on commercial standards since these suppliers no longer have the clout with semiconductor producers that they once had. He said Harris designers would be particularly watching technology trends in low-power devices, microprocessors, and field-programmable gate arrays over the 20-year program life.
The underlying idea of JTRS is:
first, define the system architecture, using available software; and
second, implement the finished units with future hardware as it becomes available.
Designers are to use software in innovative ways, such as turning off the radios when they are not in use in order to extend battery life, a critical consideration in battlefield operations.
Turner likens this approach to today's personal computers, programmable digital assistants (PDAs), and smart cell phones, especially in the second cluster of handheld devices, in which a universal form, fit, and function is transparent to the users.
His remarks echo those of Andrew Girson, president of InHand Electronics of Rockville, Md., who spoke in May at the Military and Aerospace Electronics Conference (including COTSCON) at the Baltimore Convention Center, and also stressed the need for a common system architecture to leverage off of technological advances in the commercial semiconductor industry.
Girson described the military handheld and wireless market as a relatively small vertical segment of the much larger commercial market. He cited a study by the market research firm International Data Corp. that anticipated a worldwide market for smart handheld devices of all types at 63.4 million units — valued at $26.3 billion — in 2004.
The largest segment of the market (estimated at 57 percent in that year) will be handheld companions, such as today's Palm computers and other PDAs, followed by smart phones (38 percent). A new category (projected at 8 percent) is a family Girson called vertical applications devices, or VADs, that will be used across a spectrum of commercial and military functions, including health care, test and measurement, and the emerging military requirement for network-centric warfare.
Girson also elaborated on the competition for the dominant operating system — principally Palm OS and Microsoft Windows CE, with Linux waiting in the wings. The computer architecture, he says, is standardizing on Intel Corp.'s StrongARM, a 206 MHz processor also being produced by Texas Instruments and Motorola.
The overall market is also sorting itself out in terms of life cycles, according to Girson, with commercial markets proceeding at what he calls a "breakneck" pace but with limited standards. Commercial product life cycles typically run three to six months. At the other end of the spectrum, military and industrial product life cycles are measured in years.