Surprise: internally developed General Dynamics board becomes hot stand-alone seller for vetronics
Officials at General Dynamics Canada find their boards are becoming part of numerous U.S. Army vehicular and airborne applications
Jul 1st, 2002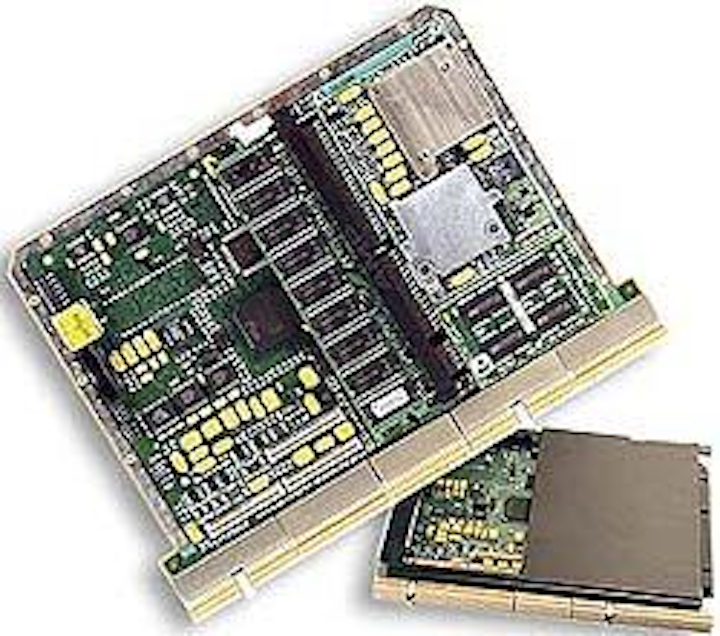 By John McHale
OTTAWA — Officials at General Dynamics Canada, not a traditional supplier of single-board computers, find their boards are becoming part of numerous U.S. Army vehicular and airborne applications — most recently the Army M1A2 SEP Abrams Main Battle Tank.
"We developed them for our own internal usage, but have since found considerable demand for them as an individual product," says Christopher Chance, manager of business development for Vetronic systems at General Dynamics Canada in Ottawa, formerly Computing Devices Canada. "System integrators are using these to run FBCB2 in tanks and helicopters and we use them for fire control, situational awareness, command and control, and surveillance."
FBCB2, or Force-21 Battle Command Brigade and Below (FBCB2), is the Army's next-generation battlefield digitization program. TRW in Redondo Beach, Calif., is the prime contractor.

Riding on the Abrams Tank is the latest single-board computer from General Dynamics Canada, the PC6010, as well as the company's PSC6100 single-board power supply unit (PSU) card, Chance says. Both products are Compact PCI, 6U form factor circuit card assemblies that are conduction-cooled, he says. The 6100 board is also on the Army's SH-60 Black Hawk helicopter, Chance adds. General Dynamics Land Systems integrated the boards into the M1A1 SEP tank, he says.
Originally the Army leaders wanted to use the Applique+ V4 ruggedized computers in the M1A1 SEP, but there was not enough room, Chance says. Applique+ V4 is the standard computer for FBCB2 applications. Army experts then looked at using a VME PowerPC board running VxWorks, but were unsuccessful, he says.
Apparently the PowerPC board did work well with TRW's FBCB2 software, which is written for Intel microprocessors, says Marc Biotte, program manager for single-board computer products at General Dynamics Canada. The Army then determined that they needed a conduction-cooled Compact PCI board with a Pentium processor, he says.
To bridge Compact PCI to PCI it takes only one simple $30 chip, while bridging PCI to VME can be more complicated and about 10 times as expensive, Biotte explains. Also, Compact PCI was mandated as the form factor for FBCB2, he adds. "Compact PCI is really catching on," Chance says.
General Dynamics Canada turned out to have the only available conduction-cooled Compact PCI using a Pentium chip, Chance says. The other advantage that Chance's company brings are its ability to design and manufacture the boards in house, which makes it easier to combat obsolescence and manage life cycle costs, he explains.
The PC6010 board is a drop-in single slot solution with an extended-temperature range of -46 to 85 degrees Celsius, a Pentium III running at 850 MHz, 512 megabytes of SDRAM, and a wide SCSI I/O, he adds. Operating systems supported include VxWorks; QNX; SCO Server 5; Solaris x86 2.x; Linux, and Windows 9x, ME, 2000, NT, NTE, and XP.
The PSC6100 PSU provides a drop-in single solution and is also rugged and versatile, Chance says. Features include , 28 volt DC power operation, a provision for as much as 140 watts of power, and four power rails at -3.3 volt, 5 volt, -12 volt, and 12 volt respectively, he adds.

Other Army applications where General Dynamics Canada's boards come into play include the M1A1 Abrams main battle tank, the M1A3 Bradley Fighting Vehicle, the M109A6 Paladin self-propelled howitzer, and the XM 777 towed howitzer digital fire control system, Chance says.
For more information on the company's boards contact Christopher Chance by phone at 613-596-7231, by mail at Vetronic Systems, General Dynamics Canada, Ottawa, Ontario, K2H 5B7, by e-mail at chris.chance @gdcanada.com, or on the World Wide Web at http://www.gdcanada.com.