DNA Computing Solutions provides replacement boards for Global Hawk
Texas — Experts at Raytheon Co. needed replacement high-performance digital signal processor boards for quick use on U.S. Air Force Global Hawk missions in support of Operation Enduring Freedom.
Aug 1st, 2002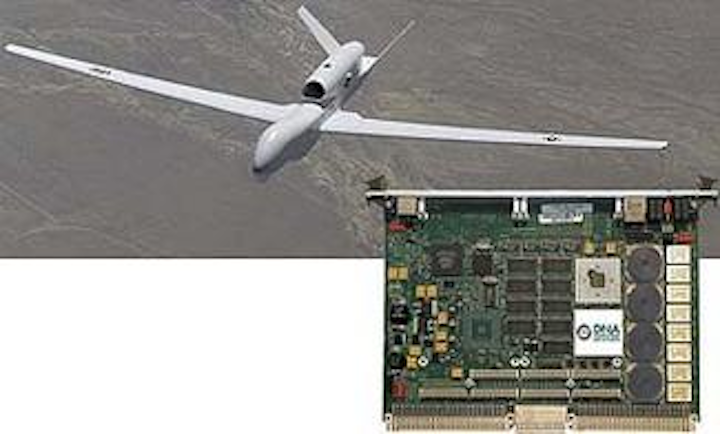 by John McHale
RICHARDSON, Texas — Experts at Raytheon Co. in Lexington, Mass., needed replacement high-performance digital signal processor boards for quick use on U.S. Air Force Global Hawk unmanned aerial vehicle (UAV) missions in support of Operation Enduring Freedom. They were able to find quick turnaround solution from DNA Computing Solutions Inc. of Richardson, Texas.
The demand for these products became acute in the latter part of 2001 as the Air Force sought to accelerate deliveries of additional sensors for the Global Hawk, says Matt Muzzin, DNA's director of sales and marketing. DNA supplied five single-board computers that use the discontinued Texas Instruments TMS320C80 digital signal processor (DSP) chip, he adds.
This was an example of one of the major challenges with the U.S. Department of Defense's (DOD) commercial-off-the-shelf (COTS) initiative — obsolescence, Muzzin says. The original board was a Mizar board, which is obsolete as well as the TI 'C80 chip, he continues.
"Raytheon came to us with the problem, we searched around for the boards and provided them with a solution in four months," Muzzin says. "The actual production time was even less," he adds.
"The boards that we are sourcing from DNA Computing Solutions for Global Hawk constitute a critical element in meeting the needs of the Air Force," says Jack Conrad, Raytheon program manager. "DNA is the only source for the technology that meets the immediate needs of the program. Their products have been very solid and the company's performance on the program has been stellar. DNA's responsiveness in delivering critical hardware while providing technical support to our staff on-site has been key in ensuring the program is poised to meet its commitments."
Says Dr. Winthrop Smith, DNA's general manager, "This program has high visibility within the DOD and I am happy to be able to count this among our active COTS programs. This represents an aggressive technology insertion initiative on which we have worked very effectively with Raytheon to meet some demanding technological and schedule challenges."
The work with Raytheon is a one-time contract, because the Global Hawk is due for an upgrade with new technology, but not soon enough to replace the 'C-80 boards, Muzzin says.
The fact that the work was critical to the war on terrorism "really had the DNA engineers pumped up", Muzzin says. "They felt like they were contributing to the country's defense and really cranked out the product."
The Northrop Grumman Global Hawk is the DOD's high-altitude, high-endurance, unmanned, jet-propelled aircraft and integrated sensor system that provides intelligence, surveillance, and reconnaissance capability. It is designed to provide military field commanders with high-resolution, real-time imagery of large geographic areas.
Air operation of Global Hawk is essentially autonomous using fail-safe programs with the capability of being reprogrammed in flight. Raytheon produces an integrated sensor suite for Global Hawk that provides high-resolution radar along with optical and infrared imagery, DNA officials say.
DNA Computing Solutions is a supplier of high-performance, board-level computing solutions to the defense, industrial, and commercial market sectors. DNA offers an array of standard VME products based on Motorola/IBM PowerPC RISC processors, including the new AltiVec. In addition, DNA supplies products based on Texas Instruments' DSPs in VME, PCI and custom configurations.
For more information on DNA products contact Matt Muzzin by phone at 469-330-4742, by fax at 972-671-1581, by mail at 1220 E. Campbell road, Richardson, Texas 75081, by email at mmuzzin@dna-cs.com, or on the World Wide Web at http://www.dna-cs.com.