Secure data storage helps deliver mission-critical information to defense and aerospace personnel
TECHNOLOGY FOCUS, 28 Nov. 2011. Battles increasingly are fought with information -- with bits and bytes, rather than with bullets. Competitive advantages are gained by the abilities not only to tap into the stored data of adversaries, but also to defend and protect one's own data storage. In this new kind of information warfare, offensive tactics most often are classified, yet defensive approaches are the subjects of much discussion, debate, and attention. Defense and aerospace organizations must secure data in transit (DIT), that which is being transmitted or communicated, and data at rest (DAR), which is being stored.
Nov 28th, 2011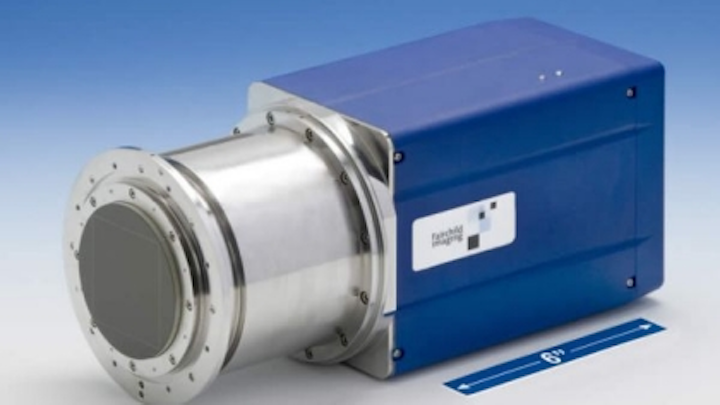 Posted by Courtney HowardTECHNOLOGY FOCUS, 28 Nov. 2011. Battles increasingly are fought with information -- with bits and bytes, rather than with bullets. Competitive advantages are gained by the abilities not only to tap into the data storage of adversaries, but also to defend and protect one's own stored data. In this new kind of information warfare, offensive tactics most often are classified, yet defensive approaches are the subjects of much discussion, debate, and attention.Data at restDefense and aerospace organizations must secure data in transit (DIT), that which is being transmitted or communicated, and data at rest (DAR), which is being stored. "The solution for protecting classified data at rest is a complex issue," admits Shubhagat Gangopadhyay, director of business development at Curtiss Wright Controls in New Brighton, Minn."Broadly speaking, there are really two ways to secure data storage: either by removing the memory from its unsecure environment [where it is being used] to a secure location [such as under lock and key[, or encrypting the data such that risk of compromise is vanishingly zero," Gangopadhyay continues. "In situations where there are potentially hundreds of memory devices to be managed -- think tactical deployment by the U.S. Army -- the burden of physically securing every bit of unencrypted classified data is logistically cumbersome, thus increasing the risk of compromise."
Encryption of data in transit has been around for decades, but the application of encryption technology for data at rest is relatively new and "has been brought on by the huge capacities that can no longer be destroyed or wiped in a timely manner," notes Thomas Bohman, senior product manager at Curtiss-Wright Controls Electronic Systems in Santa Clarita, Calif.
"Within the past year, there has been a significant increase in demand for mil-aero systems with data storage encryption, as well as rugged, high-speed, high-capacity characteristics," Bohman adds. "With encryption, only the very small key and authentication data needs to be purged in order to render the data useless to adversaries that might capture the storage device."
Encryption explained
Developing and certifying the technology and policies for encryption of U.S. Department of Defense (DOD) classified data is managed by the National Security Agency (NSA), Gangopadhyay explains.
The NSA, in the National Information Assurance Glossary (CNSSI No. 4009), defines and certifies four levels of encryption products and keys: Type 1, Type 2, Type 3, and Type 4. Type 1 encryption products are: "cryptographic equipment, assembly or component classified or certified by NSA for encrypting and decrypting classified and sensitive national security information when appropriately keyed; developed using established NSA business processes and containing NSA approved algorithms; and used to protect systems requiring the most stringent protection mechanisms."
"For large deployments, the cost of such encrypted devices makes it cost-prohibitive," Gangopadhyay laments. "Additionally, the certification process can be quite long, sometimes resulting in the underlying technology becoming obsolete prior to the completion of certification." In fact, Type 1 certification is considered a rigorous process in which myriad elements -- cryptographic security, functional security, tamper resistance, emissions security (EMSEC/TEMPEST), and security of product manufacturing and distribution processes -- are tested and formally analyzed.
NSA officials also define two suites of security algorithms: Suite A and Suite B. Suite A encryption, used for highly sensitive, national-security related information, refers to "a specific set of classified cryptographic algorithms used for the protection of some categories of restricted mission-critical information," according to the National Information Assurance Glossary. Suite B, applied to a majority of data and devices, is "a specific set of cryptographic algorithms suitable for protecting both classified and unclassified national security systems and information throughout the U.S. government and to support interoperability with allies and coalition partners."
These and other strict security guidelines, procedures, and certifications help secure stored defense data and information at virtually all classification levels. Yet, the growing implementation of commercial off-the-shelf (COTS) devices and systems in mil-aero applications is exacerbating the secure data storage challenge.
COTS conundrum
Defense organizations, at the urging of DOD officials, are increasingly adopting COTS solutions -- including computer tablets, USB drives, and portable MP3 players with hard disk drives -- in mil-aero applications and environments. Increased COTS adoption is driving the need for a layered approach to securing stored information.
"In the current environment of DOD fiscal austerity, and for devices where technology is experiencing rapid technological change, such as solid-state memory, we see a trend toward using commercial solutions for tactical classified data," Gangopadhyay affirms, "especially if the data gets stale in a relatively short time and the encryption technology is based on Suite B cryptography. By using a layered approach toward securing the memory, such technologies can be used for data up to Secret."
"In the commercial world, several schemes have been developed and are available to meet data security requirements," Gangopadhyay describes. For example, Seagate Technology in Cupertino, Calif., offers several lines of self-encrypting hard drives.
The general trend is that for high-volume and lower-level security needs, techniques based on commercial technology are deemed "good enough," Gangopadhyay explains. For applications on aircraft or spacecraft, where there is a threat of falling into an enemy's territory or the data is of high value, more robust techniques will be used. "Therefore, the trend going forward is to split the data storage security into two realms: the lower level based on commercial solutions but with certain additional augmentations, and a higher level.
"The 'good enough' solution for securing classified data is an interesting challenge," Gangopadhyay admits. The encryption part is often straightforward, given that most commercial solutions use a SATA controller with built-in, 256-bit AES (Advanced Encryption Standard) encryption (AES-256), he says. "The real work is to figure out the key management aspect of deployment, including authentication and key recovery -- features that are not always available in a commercial solution. The other part is to put in one or more additional layers of security beyond what are available commercially, thus making the solution suitable for data up to the Secret level."
Solving security challenges
The increased use of COTS devices capable of information storage in mil-aero applications and environments has driven the need for increased security considerations and measures. In response to this need, officials at the NSA/CSS (Central Security Service) have launched the NSA/CSS Commercial Solutions Center (NCSC). The NCSC is designed to address "the strategic needs of NSA/CSS and the national security community by harnessing the power of U.S. commercial technology," says a representative.
Concurrently, officials at the National Institute of Standards & Technology (NIST) Computer Security Division manage "the certification of solutions for securing less sensitive data via the Federal Information Processing Standards (FIPS) certification process," Gangopadhyay says.
Four major defense and aerospace programs have adopted data-at-rest products from Curtiss-Wright Controls Electronic Systems. Among them are the company's 3U VPX Flash Storage Module and half-ATR Compact Network Storage (CNS) rugged file server for airborne and ground vehicle DAR applications. "Critical to these programs was the NIST FIPS 140-2 certified encryption technology," Bohman explains.
"Devices such as tablets and tactically deployed computers in Army vehicles -- which will be enormous in number -- can use [FIPS] techniques. However, for handling of data at a classification beyond Secret, or for data that needs to be secured for a longer time, more traditional Type 1 methods will continue to be used."
Airborne applications
Lockheed Martin Aeronautics personnel in Marietta, Ga., have selected Vortex Compact Network Storage (CNS) subsystems from Curtiss-Wright Controls for the C-130J Super Hercules airlifter program. The initial order, placed last month, is valued at $800,000, with a potential lifetime contract value of roughly $7.5 million.
Curtiss-Wright's Vortex CNS will serve as the network file server in the U.S. Air Force Air Combat Command's MC-130J special mission aircraft, as well as the Air Force Special Operations Command's HC-130J personnel recovery aircraft. The new HC/MC-130J Super Hercules extended-range transport aircraft are designed for special missions, including search and rescue (SAR) and combat search and rescue (CSAR).
The rugged, conduction-cooled Vortex CNS network attached storage device enables critical data to be shared over the aircraft's internal network. The solution, designed to optimize file sharing in military platforms deployed in harsh environments, stores data securely on solid-state memory encrypted with the AES-256 algorithm.
Staff at Curtiss-Wright Controls Electronic Systems are designing the CNS in Dayton, Ohio, and manufacturing the subsystems in Littleton, Mass.
Expense at issue
"In today's environment of defense budget cuts, we do see a trend to lower security requirements," Gangopadhyay relays. "Further, there are not many low-cost solutions for data storage security that will also satisfy DOD needs.
"The situation is temporary and, in the longer term as more 'good enough' solutions are developed, every data storage device -- even for unclassified sensitive data -- will be secured via encryption," Gangopadhyay continues. Already, in the unclassified laptops of military and DOD contract personnel, as well as those of some commercial companies, the hard drives are software-encrypted to protect sensitive data, he adds.
As encryption technology is increasingly applied to data at rest protection problems, new, better, and faster products will emerge, predicts Bohman. "As important, the market will become much more educated on all the issues involved and, hence, will make better decisions about the cryptographic characteristics required to protect sensitive information from compromise, and yet not interfere with the performance of the mission."
In the cloud
With military organizations under extreme pressure to do more with less, secure data storage in cloud computing are becoming more and more popular, observes Pete Stoneberg, deputy chief information officer, Government Cloud, RightNow Technologies in Bozeman, Mont. (Oracle Corp. in Santa Clara, Calif. is expected to finalize its acquisition of RightNow Technologies by early 2012.)
"Cloud-based knowledge management systems not only reduce costs for the Department of Defense at a time where they are experiencing severe budget cuts, but they ensure consistency of information, increase uptime and system availability, and enable shorter implementation times and exceptional scalability," Stoneberg continues. "For military organizations, meeting security requirements and accreditation standards are essential to providing usable information storage solutions."
RightNow's defense-ready hosting capabilities conform to DOD security requirements and enable the DOD to reap the cost-saving benefits of a secure cloud. The RightNow Secure Government Cloud uses the DOD Information Technology Security Certification and Accreditation Process and the DOD Information Assurance Certification and Accreditation Process to ensure compliance with DOD Instruction 8500.2; meets U.S. Federal security standard Federal Information Security Management Act (FISMA) NIST 800-53; and includes an around-the-clock dedicated security and information assurance team.
U.S. Air Force Personnel Center (AFPC) managers sought to improve the accessibility and consistency, while also maintaining the security, of personnel information for members of the Air Force. They found their solution at RightNow Technologies. AFPC officials decided to employ multiple components of the company's RightNow CX suite and convert the implementation from an on-premise solution to a hosted, Software as a Service (SaaS) model using RightNow's secure Department of Defense Cloud.
Military organizations can capitalize on the Defense Information Systems Agency (DISA) Defense Enterprise Computing Center (DECC), DISA's private cloud solution, Stoneberg says. The DECC allows defense organizations and contractors to securely leverage Software as a Service (SaaS) solutions.
"For the more than 1.5 million active-duty military personnel serving overseas, defending our nation is a 24/7 job. To serve these customers, the DOD will need to increasingly implement multi-channel contact center and Web self-service solutions that allow warfighters and their families to promptly access accurate information at any time of day, from anywhere in the world," Stoneberg explains. "We see secure software solutions becoming more prevalent for federal government and military agencies alike."
RightNow CX replaced AFPC's previous case and knowledge management systems, which were described as old, outmoded, and poorly integrated. The initial priority of the AFPC CRM Operations team was to create a secure Web environment with a user-friendly interface. Recent and significant staff reductions also drove the need for a more efficient system.
"Given the lack of functional personnel in the field due to recent reductions, we needed to get more efficient, and the web quickly became a critical component in our strategy," says Captain Michelle Richards, AFPC customer relationship management operations chief.
The AFPC, using RightNow CX from RightNow Technologies, reduced the average customer inquiry time from 20 minutes to two minutes, while increasing utilization of the Web knowledge base from 180,000 to 2 million hits per week. The system modernization enables Air Force personnel to dedicate more time to accomplishing missions, rather than spend time hunting for personnel data or performing in-person personnel actions.
Security without sacrifice
Performance is paramount in defense and aerospace applications, and as important as security. Mil-aero personnel, applications, and budgets increasingly require robust systems that meet strict size, weight, power, and cost (SWaP-C) limitations. Robert Day, vice president of marketing at LynuxWorks Inc. in Santa Barbara, Calif., sees "more consolidation, more security requirements, more mobile devices, and more multi-use systems using more standard hardware and software solutions to reduce costs and increase performance." Day and his LynuxWorks colleagues offer LynxSecure, the company's Type 1 embedded hypervisor and separation kernel, to enable this next generation of system without compromising performance or security.
"Taking advantage of modern multi-core hardware with secure virtualization, like LynxSecure, allows tactical systems to consolidate from multiple physical systems to multiple secure virtual systems," Day explains. It saves size, weight, and power for deployed systems without compromising security, as well as allows for the redeployment of multiple legacy software systems onto new hardware platforms without compromising security, he says.
Day is witnessing the requirement to use "standard" hardware and operating systems in tactical deployments, such as Google Android-based smartphones on the battlefield, and Microsoft Windows- and Linux-based systems on standard laptop or desktop systems. "Using secure virtualization, these commodity hardware and software solutions can be used, but with protection for both sensitive data and applications, as they can be isolated from one another," he says.
Consolidation and COTS adoption, as well the growing use of encryption to protect data stored on mobile computers, are all recent trends that call for "extra security without compromising on the performance or usability of systems," Day affirms. Secure information storage challenges typically associated with legacy systems, the use of commercial systems, and the hosting data and personnel having different security levels and clearances on a single system can be met by using high-performance, secure software virtualization combined with modern multi-core hardware, he continues.
Engineers from LynuxWorks and Wave Systems Corp. in Lee, Mass., are collaborating on the use of a self-encrypting drive (SED) with the LynxSecure separation kernel and hypervisor for running multiple operating systems simultaneously on a single endpoint. The solution links individual encrypted disk bands to different secure virtual domains provided by LynxSecure running on a single device.
Portable and mobile
The use of portable and mobile endpoints increase the risk of data compromise; yet, the collaborative use of SEDs and secure virtualization on an endpoint offers protection, according to a LynuxWorks representative. "SEDs are a better option than traditional software encryption for protecting data when using virtualization on an endpoint, given that the encryption is 'built in' to the drive itself. Multi-banded SEDs feature separate bands on the disk, with each band separately encrypted that can be used for storing data with separate levels of security or sensitivity on a single system."
At the same time, an end-point device linked to secure virtualization enables multiple virtual machines on a single physical machine, enabling different operating systems and applications to run simultaneously. The LynxSecure secure separation kernel and hypervisor maintains each virtual machine in its own secure partition, effectively splitting an endpoint device into multiple secure systems.
"Each OS and application set is held in their own secure partition, and the data for each is protected using encrypted drive bands with different encryption keys per partition," Day explains. "This provides a true secure multi-use/ multi security level system housed in an industry standard endpoint."
Separation kernel technology is one of the fundamental building blocks used by the defense industry for running multiple security levels on a single system, the company representative adds. "Secure virtualization can effectively separate traditionally unsecure environments from sensitive applications and data that are housed on the same endpoint."
"Our collaboration with LynuxWorks and the LynxSecure separation kernel and hypervisor is helping to bring new levels of protection to sensitive data held on portable endpoint devices," says Robert Thibadeau, chief scientist and senior vice president at Wave Corp.
The secure information storage needs of defense and aerospace organizations and end users are unlikely to subside as time wears on; rather, mil-aero professionals will likely require greater access to larger amounts of data at an increasingly rapid pace on more robust, more compact systems. Engineers and executives at mil-aero technology firms, thankfully, are hard at work to deliver on anticipated needs and demands.
Company information
Aitech Defense Systems
www.rugged.com
Barracuda Networks
www.barracudanetworks.com
Cavium Networks
Cavium Networks www.caviumnetworks.com
Crystal Group
www.crystalrugged.com
Conduant
www.conduant.com
Curtiss-Wright Controls Electronic Systems
www.cwcelectronicsystems.com
Curtiss-Wright Controls Embedded Computing
www.cwcembedded.com
DRS Technologies
www.drs.com
Elma Electronic
www.elmasystems.com
Emphase
www.emphase.com
Extreme Engineering Solutions
www.x-es.com
Falcon Electronics
www.falconelec.com
Galaxy Data Storage Inc.
www.galaxystor.com
General Micro Systems
www.gms4sbc.com
Germane Systems
www.germane.com
Green Hills Software
www.ghs.com
Intel
www.intel.com
Kontron
www.kontron.com
L-3 Communications Targa Systems
www.targasystems.com
LynuxWorks
www.lynuxworks.com
Mentor Graphics
www.mentor.com
Nexsan
www.nexsan.com
Phoenix International
www.phenxint.com
RightNow Technologies
www.rightnow.com
SANBlaze Technology
www.sanblaze.com
Symantec
www.symantec.com
Themis Computer
www.themis.com
Vanguard Rugged Storage
www.vanguard-rugged.com
VersaLogic Corp.
www.versalogic.com
Western Digital
www.wdc.com
Wind River
www.windriver.com