Navy looks to 3 Phoenix to provide data-fusion sonar signal processing for submarines and ships
WASHINGTON, 21 April 2014. U.S. Navy sonar experts needed data-fusion technology to blend information from several different towed-array sensors to improve target detection and tracking. They found their solution from 3 Phoenix Inc. in Chantilly, Va.
Apr 21st, 2014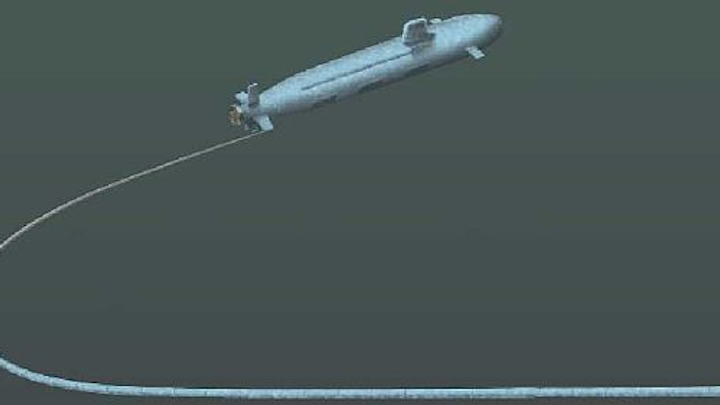 WASHINGTON, 21 April 2014. U.S. Navy sonar experts needed data-fusion technology to blend information from several different towed-array sensors to improve target detection and tracking. They found their solution from 3 Phoenix Inc. in Chantilly, Va.
Officials of the Naval Sea Systems Command in Washington awarded 3 Phoenix a $7.3 million contract modification Friday for two TB-29A submarine sonar inverted Passive Electrical Network (iPEN) towed array production-representative units, spare parts, and test equipment.
The iPEN is a low power, open architecture data fusion system that distributes, merges, and totals sonar information on a tactical network while maintaining close synchronization.
The iPEN system capitalizes on technology that 3 Phoenix developed as part of a small business innovation research contract the company won in May 2013 called Real-time Data Fusion and Visualization Interface for Environmental Research Data.
Related: Navy awards sonar processing contract to General Dynamics; readies for next phase of A-RCI
That contract called for 3 Phoenix to develop software and integrate hardware for open-architecture and network-centric operations aboard Navy Virginia-class attack submarines, as well as on surface warships. The project aims at developing low-power electronics, advanced algorithms, and open software and hardware applications.
For the contract awarded Friday 3 Phoenix engineers will develop deployable iPEN systems. The TB-29 submarine thin-line towed array is for fast-attack submarines and works with the AN/BQQ-5E sonar and Combat Control System (CCS) Mk 2. It is a coaxial wire that trails behind submarines for as long as 1.6 miles.
Telemetry data from the iPEN system acts as a data fusion point for integrating sonar data from towed arrays on Navy submarines and surface ships. Navy experts say iPEN technology will reliability and operational availability of TB-29A towed arrays.
The iPEN system accepts inputs from independent analog, digital, or smart sensors, synchronizes the data to a common time standard, combines the signals, compresses the data, and shares the information with data analysts over radio channels or on Internet protocol-based networks.
Related: NATO minehunting UUV relies on GPU-based embedded processor from GE for imaging sonar
The TB-29's location away from the submarine, its nuclear reactor, and other noise-making machinery enables the sonar sensor to be extremely sensitive, and the array's long length enables it to provide reasonably accurate location, speed, and bearing information on potentially hostile submarines, surface ships, and other marine targets.
The iPEN, a companion to the 3 Phoenix inverted Passive Electrical Network (iPON) reduces the power necessary to obtain data from sensors distributed over wide areas. The technology fuses and synchronizes data from different sensors in different formats, and supports bi-directional communications links.
Deployed analog and digital sonar sensors often produce data at several different data rates using different protocols. The iPEN system samples sensor data synchronously and controls the timing of data deterministically to fuse the data for Navy analysts, 3 Phoenix officials explain.
The 3 Phoenix iPON and iPEN are based on telecommunications and digital cable service technologies that offer the Navy low power, high computational density and communications on existing Navy tactical networks. The iPEN system can handle signal processing and control technologies at line rates well into the gigabit-per-second range.
Related: Lockheed Martin to make COTS upgrades to submarine sonars in $29.4 million contract
The Navy's program office for submarines and the Office of Naval Research use iPEN technology in towed array telemetry for submarines, surface ships, as well as for machinery monitoring-and-damage-control sensor applications.
Access to the voice and data streams is transparent to optical and wire-based local area networks like fast Ethernet, Gigabit Ethernet (GE), and SONET OC-3-OC-12.
3 Phoenix has expertise in real-time system architectures; passive and active sonar signal processing; telecommunications and embedded design; open-architecture computing environment practices; program management; and financial management.
3 Phoenix was acquired last February by Ultra Electronics Holdings plc in Greenford, England, outside London, and operates as part of the Ultra Electronics Tactical & Sonar Systems segment.
On the most recent contract, 3 Phoenix will do the work in Wake Forest, N.C.; Houston; Hanover, Md.; and Chantilly, Va., and should be finished by August 2015.
For more information contact 3 Phoenix online at http://3phoenix.com, or Naval Sea Systems Command at www.navsea.navy.mil.