Military designers follow the commercial world in storage technology
The increasingly complex digital battlefield is creating a need for military and aerospace designers to store as much data as possible in the smallest possible spaces while maintaining a high level of ruggedness.
Dec 1st, 1999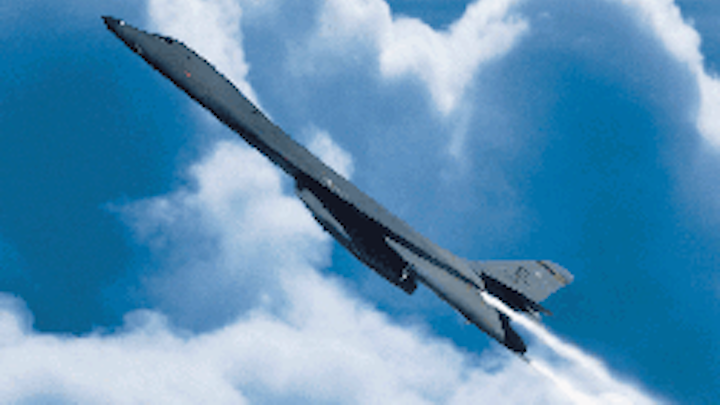 Military designers follow the commercial world in storage technology
By John McHale
The increasingly complex digital battlefield is creating a need for military and aerospace designers to store as much data as possible in the smallest possible spaces while maintaining a high level of ruggedness.
The continued drop in price per megabyte for commercial-off-the-shelf (COTS) solid-state devices is giving designers more flexibility in their budgets to use this non-mechanical technology.
Industry experts expect the decline in prices for solid-state devices to continue, even though an earthquake earlier this year in Taiwan brought the prices back up slightly. Many solid-state companies have fabrication facilities in the Asian country.
At the same time, however, military designers recognize the commercial success of Redundant Array of Inexpensive Disks (RAID) devices. Designers continue to seek out such devices, where they make sense, in rugged packages because they cost less than solid state.
Meanwhile, the old reliable tape medium continues to be just that, and tape storage manufacturers see themselves in a strong niche as the least expensive type of storage.
Solid-state memory
The primary commercial attraction of solid-state devices traditionally has been their high reliability, lack of moving parts, and declining prices. These devices are bringing these advantages to military platforms on the air, land, and sea. Solid-state memory manufacturers base their technology on a transistor circuit. The devices record data by turning the circuit on or off.
Military program managers usually follow what commercial designers do, points out Jay Balakirsky, senior director of business development at the Fairchild Defense division of Orbital Sciences Corp. in Germantown, Md. Military systems engineers like the declining prices and low-failure rate of the solid-state technology, he continues.
The high price of solid-state memory may be daunting at first, but engineers can offset the effects of its price with its low maintenance and small size, says Randolph Twogood, director of military electronics at SEAKR Engineering Inc. in Englewood, Colo. For designers of high-performance aircraft, for example, solid-state technology is a step above the rest because it is a non-mechanical system, Twogood says. The lack of moving parts makes solid-state memory inherently rugged. It does not need the added size and weight of a rugged package, he explains.
An industry debate is brewing on whether solid state memory ever will match rotating disk in price per megabyte. To this question, solid-state manufacturers say solid state eventually will match rotating disk, while disk experts say it will not, says Floyd Baranello, a marketing manager at the Raymond Engineering operations of Kaman Aerospace Corp. in Middletown, Conn. "It is too crystal ballish" to predict right now, he says, but if it happens it will not be for a long, long time, he adds.
U.S. Army leaders are starting to take solid-state technology perhaps more seriously today than they ever have before, Fairchild`s Balakirsky claims. It seems the Army has a lot of high-shock and -vibration applications and needs smaller, more inherently rugged devices than rotating disks, he explains.
Balakirsky and his engineers are working on a technology called wear leveling to extend the life of individual memory devices, he says. Instead of writing each bit of data to one location on the device, the data is spread out so that the memory does not wear out, thereby increasing reliability, he explains.
Fairchild experts are also developing a solid-state video recorder as a rugged alternative to DVD or CD-ROM, Balakirsky says. A solid-state video recorder would lend itself well to map applications that traditionally go to DVD and CD-ROM in benign environments because of their speed.
Fairchild`s Fibre Channel Data Transfer Equipment is flying on the U.S. Air Force B-1 bomber. The system is designed to operate on two 1.062-gigabit Fibre Channel arbitrated loop-compliant nodes, a device which supports sustained read and write rates in excess of 13 megabytes per second. Fairchild`s product also provides a dual-redundant MIL-STD-1553 bus for use with older avionics not yet possessing a high speed Fibre Channel interface. Currently the B-1 uses 1553, but Fairchild`s device brings it a Fibre Channel interface for future upgrades, Balakirsky says.
Fairchild engineers also offer the HSSR with as much as 54 Gigabytes capacity —over 200 Gigabytes in the same size by the year 2000 — 240 Megabits per second I/O, removable non-volatile flash cartridges.
SEAKR engineers have developed three types of approaches to solid-state storage and removal, Twogood says.
The first is to declassify all data while on the airframe, then remove the media from the airframe, and the second is to create a removable memory unit (RMU), Twogood says. SEAKR`s third option is a data transfer system (DTS). The RMU is popular with the U.S. Navy, while the U.S. Air Force is partial to the DTS, he adds.
Twogood`s company offers an RMU box with 12 to 48 gigabytes of storage capacity in a single enclosure that has the same footprint no matter the amount of storage capacity, he explains. SEAKR is introducing a double-capacity unit next year with as much as 96 gigabytes of storage, he says. Operators can add memory without any software changes, he says.
The U.S. Navy is a big user of RMUs because of the its changing environments — shore and shipboard, Twogood says. DTS, meanwhile, is a self-contained system, Twogood continues. A ground crew goes to the airframe, plugs the DTS into the solid-state recorder, and uses low-voltage differential signaling (LVDS) to move the data from the solid-state recorder to the DTS, he explains.
The DTS powers the solid-state recorder, not the airplane, Twogood says. The operator uses a touch panel, rather than a keyboard, to choose what to download, he explains. The LVDS technology pumps the data out at "a sustained rate of 100 megabytes per second and can complete a full download of 48 gigabytes of memory in 10 minutes," Twogood claims.
Unmanned aerial vehicles — better known as UAVs — are another application that lends itself to solid state, Twogood says. A high-altitude, long-endurance UAV needs a small and very rugged storage device, he explains.
For such applications SEAKR offers a 35-pound device that is 12.84 inches long, 8 inches high, and 9 inches wide, he says. The volume of the entire unit is less than one cubic foot, Twogood says.
Experts at Smiths Industries Aerospace in Grand Rapids, Mich., offer a Data Transfer System that not only performs standard mission data loading and retrieval, but also that initializes global positioning systems, missile guidance systems, and the voice controlled interactive device. It also records and downloads maintenance data.
The Smiths Data Transfer System consists of a data transfer module, an aircraft receptacle for insertion and removal of the data transfer module, and a mission data ground terminal and data transfer module ground interface.
MemTech experts in Sunnyvale, Calif., offer the AT1810, the smallest in their Mighty series of IDE-compatible solid-state flash drives. The AT1810 comes in a standard 1.8-inch drive. Being 100 percent IDE compatible, no special drivers or flash file managers are necessary. It is a virtual drop-in replacement for standard rotating media.
The AT1810 employs sector-erasable flash to deliver as much as 128 megabytes of uncompressed non-volatile solid-state storage. The fast access time permits thousands of transactions to occur per second, which is critical in server and high I/O applications. Raw data throughput is also very fast at a sustained 3.5 megabytes per second.
RAID
Military and aerospace designers are taking an interest in RAID technology, says Phil Loudin, president of Vanguard Rugged Storage in Boulder, Colo. "I have gotten five or six customers in the last few months asking about it," he adds.
The technology has been commercially available for about eight to 10 years and has proven itself and its strong price performance, Loudin explains.
During the late 1980s experts in the semiconductor industry said disks would be replaced by solid-state technology, says Martin Bock, president of Storage Concepts in Irvine, Calif. That has not taken place because the experts did not account for the density of disks, which enables the storage capacity of RAID to double every eight months, Bock explains. RAM just cannot keep up, he adds.
Mostly RAID is for real-time data acquisition in satellite and radar applications, Bock says. Designers use RAID for image data storage because of the transfer rate required — 600 megabytes per second, Bock explains.
Storage Concepts engineers offer the SentryRAID, a high-performance, real-time, ruggedized RAID storage system with removable disk storage, designed for military and aerospace applications. It provides a Fibre Channel RAID solution interface running at 400 megabytes per second.
Many new military and aerospace systems are requiring a Fibre Channel connection because of its high speed, Bock says.
All of the disks in SentryRAID are in an easily removable shuttle, which offers users the convenience of tape cartridges such as media multi-insertion, removal, transportability, and interoperability. Users may remove the SentryRAID and store it in a safe each night.
One of the key features of SentryRAID is the RAIDShuttle; a complete RAID set of drives mounted in a removable module. The feature encloses five high-performance LVD SCSI disks in a 4+1 "RAID Set" configuration. The RAIDShuttle mating connector to the SentryRAID chassis is designed for more than 5000 insertions.
While solid state is coming down in price, it still cannot compete with the price of RAID technology in a ruggedized chassis, says Amos Deacon, chief executive officer of Phoenix International Systems in Orange, Calif.
No two systems are the same, he says. Each one of Phoenix`s customers has different requirements for ruggedization, Deacon adds. "We build erector sets," he says. Deacon`s engineers can deliver 1.2 terabytes per second with a RAID system in a 21-inch panel height, that weighs less than 150 pounds, he says.
Phoenix International has all the mass storage bays on the Air Force Joint Surveillance Target Attack Radar system (Joint-STARS). The mass-storage bays each have a 19-inch rack.
Phoenix International`s engineers also produce the PDR 550 Phalanx RAID system. It has a 4-Host RAID controller, five SCSI channels, 512-megabyte max cache (16 megabyte Cache Standard), 120-watt power supplies or DC-DC converters, and keylock "soft" power hot swap device carrier/receivers.
The PDR 550 is also plug compatible with any workstation, server, or platform (including PCs and VME), and has simultaneous multiple RAID level operation with RAID interfaced directly to host or net.
The key, first, is to cram as much memory as possible in the 3.5-inch cartridge. Then designers protect it from moisture, humidity, and other factors so personnel on airplanes can use it at altitudes as high as 50,000 feet, says Bob Pollman, business development manager for airborne C4I and mass storage at General Dynamics Information Systems in Bloomington, Minn.
Pollman and his engineers offer a new device, the RMS-1648, which has isolators on the inside of the memory device instead of on the outside frame. Pollman says this protects the memory unit in case it drops when not in its frame. It also makes the frame smaller, giving it more sway space.
The General Dynamics RMS-1910 9-gigabyte removable hard drive is flying on the Air Force E-3 Airborne Warning and Control System — AWACS — aircraft in different subsystems. The RMS-1910 is an environmentally sealed disk with an internal heater for extended-temperature operations.
Engineers at Signatec in Corona, Calif., offer the DSU1000, a data storage unit using PAID — parallel array of inexpensive disks — technology. The PAID architecture, which Signatec engineers designed, provides ultra-high sustained transfer rates for very long files, as opposed to RAID products, which specify high data transfer rates for short duration, Signatec officials claim.
The DSU1000 consists of one to four system interface modules, a disk control module, and multiple disk storage modules installed in a VME-like chassis. Each disk storage module has a transfer rate capability of at least 40 megabytes per second. Users can add disk storage modules to increase the storage capacity of the unit.
Engineers at DRS Rugged Systems Inc. in Longmont, Colo., offer the 960RD rugged mass storage expansion unit. In situations requiring large amounts of peripheral equipment, the 960RD will support as many as four removable peripherals with industry-compatible interfaces. This expansion unit meets MIL-STD-810 for shock and vibration, and MIL-STD-461 for EMI.
Engineers at Ciprico in Plymouth, Minn., offer the ruggedized 7000 Fibre Channel RAID Disk Array. The device has a 100-megabyte-per-second host interface and can achieve sustained data transfer rates of as fast as 95 percent of the interface bandwidth. Multiple units can deliver hundreds of megabytes per second of sustainable performance, Ciprico officials claim.
The Ciprico device works with standard disk drives with one unit array capacity of as much as 400 gigabytes. With Fibre Channel`s arbitrated loop topology, total capacities can grow to 2.8 terabytes with only seven arrays and one host connection.
The MIDAS single-board computer data recorder from Vmetro Inc. in Huntsville, Ala., is using Ciprico`s 7000 RAID tech-nology on the U.S. Air Force U-2 reconnaissance plane. The Vmetro device offers terabytes of real-time permanent recording of digital data at continuous rates of as fast as 100 megabytes per second.
Tape storage
"My view is that tape is not going away in military and aerospace applications anytime soon," Vanguard`s Loudin says. Tape is actually a growth area he claims. "It is a very different technology from stolid state" and can record a larger volume of data, Loudin continues.
If a program requires large amounts of storage at an initial and lifetime low-cost without random accessing, nothing can beat tape, Loudin says.
The Department of Defense loves to record things on tape, Loudin says. Simulation training is becoming common as military commanders try to increase combat effectiveness on a digital battlefield and they record these simulations with tape, he explains.
SEAKR`s Twogood echoes Loudin. "I like the idea of tape," he says. There currently is not a cheaper way to store vast amounts of information, he says.
No matter what medium a platform may have for recording data — solid state, RAID, or DVD — they still have to put on tape for archiving, says Don Downing, field program manager at Ampex Corp. in Redwood City, Calif.
The question is one of price performance for mass storage, Downing says, and tape is the best solution. It is also easy to change the tape — just pull one out and put a new one in, he says.
Many systems in the future will have multiple forms of storage and use tape for archival purposes, he says.
Ampex engineers offer the DCRsi 240 rack-mount and modular ruggedized tape systems, which are one-inch, transverse scan, rotary digital recorders capable of recording and reproducing at any user data rate from 0 to 30 megabytes per second.
Designers accomplish this transfer rate by increasing the number of record/playback heads from six to 12 and adding a second data channel, while retaining the single-channel I/O architecture. The device records or plays back data with two heads simultaneously.
Ampex engineers used improved integrated circuit density and proprietary ASICs to make the DCRsi 240 system smaller and lighter with less power consumption than the previous DCRsi systems. The DCRsi 240 has an integrated internal 72-megabyte memory buffer that provides total isolation between the user interface and the instantaneous timing demands of the tape transport. Ampex devices use helical tape.
There is a concept being developed in the industry for a version of tape that uses random access — AIT or advanced intelligent tape — Loudin says. "It is an 8 millimeter tape, but is not good for rugged applications because it has so many tiny parts that it tends to sound like a child`s rattle when vibrated, he explains.
Most tape devices in the market are helical or digital linear tape, Loudin says. However there is a new push in the industry toward linear tape open (LTO) technology, he says. Vanguard engineers plan to offer a rugged version of LTO, Loudin says.
LTO is faster and has an increased density, giving it a larger capacity than DLT or helical tape, Loudin claims. LTO is also thinner and can fit more tape in a single cartridge, he adds.
A tape technology called digital audiotape (DAT) is also hitting the market and it takes up less space than other offerings, Twogood says. Currently it can take a warehouse just to hold the amount of tape for one government project, Twogood says.
Mountain Optec engineers in Boulder, Colo., offer a 4-millimeter and 8-millimeter DAT. Tape drives are available as internal or external, commercial or ruggedized drives. Their SE-series, severe-environment drives, can be ruggedized for temperature, altitude, attitude, shock and vibration, salt fog, and other harsh environmental situations.
Tape drives can be configured as stand-alone data storage devices, or used together in a rack-mounted unit with other types of drives. And with removable media, they offer virtually unlimited storage capacities, Mountain Optec officials claim.
The V80-ABF Hi-8-millimeter airborne video tape recorder from the TEAC America Inc. Data Storage Products Division in Montebello, Calif., is flying on the U.S. Air Force F-117A stealth fighter. The units are in a modified rack for a form, fit, and function replacement of the original 3/4-inch U-matic tape deck of the aircraft.
The V-80-ABF has a field-proven mean-time-between-failure rate greater than 2,000 hours. The units increase the F-117A`s recording time from 30 minutes to 120 minutes, require only five minutes to install, and use commercially available Hi-8-millimeter cassettes, which require no special playback equipment.
Who`s who in military and aerospace rugged data storage
Ampex
Redwood City, Calif.
650-367-2011
www.ampex.com
Ciprico
Plymouth, Minn.
612-551-4000
www.ciprico.com
DRS Rugged Systems
Longmont, Colo.
303-776-0472
www.drsruggedysytems.com
Fairchild Defense
Germantown, Md.
301-428-6477
www.orbital.com
General Dynamics Information Systems
Bloomington, Minn.
612-921-6706
www.gd-is.com
Memtech
Sunnyvale, Calif.
408-745-1600
www.memtech.com
Mountain Optec
Boulder, Colo.
303-444-2851
www.mt-optec.com
Phoenix International Systems
Orange, Calif.
714-283-4800
www.phenxint.com
Raymond Engineering Operations
Middletown, Conn.
860-632-1000
www.raymondengrg.com
SanDisk Corp.
Sunnyvale, Calif.
408-562-0500
www.sandisk.com
SEAKR Engineering
Englewood, Colo.
303-790-8499
www.seakr.com
Signatec
Corona, Calif.
909-734-3001
www.signatec.com
Smiths Industries Aerospace
Grand Rapids, Mich.
616-241-7000
www.smithsind-aerospace.com
Storage Concepts
Irvine, Calif., 949-852-8511
www.storageconcepts.com
TEAC America
Montebello, Calif.
213-726-0303
www.teac.com
Vanguard Rugged Storage
Boulder, Colo.
303-412-2455
www.vanguard-rugged.com
The Fibre Channel Data Transfer device from the Fairchild Defense division of Orbital Sciences is flying on the U.S. Air Force B-1 bomber.
The DCRsi 240 rack mount and modular ruggedized tape system from Ampex is capable of recording and reproducing at any user data rate from 0 to 30 megabytes per second (0-240 megabits per second).