BAE Systems unveils new helmet-mounted display technology
Engineers at BAE Systems are using unconventional optics in the new Q-Sight helmet-mounted display technology to create a reduced-weight helmet for combat aircraft pilots.
Nov 1st, 2007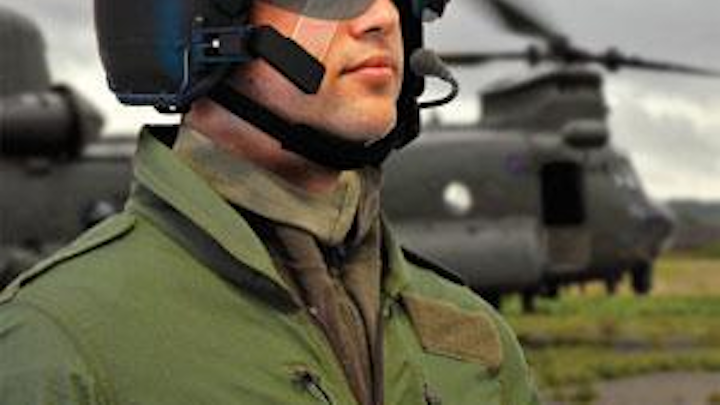 By John McHale
WASHINGTON - Engineers at BAE Systems are using unconventional optics in the new Q-Sight helmet-mounted display technology to create a reduced-weight helmet for combat aircraft pilots.
The Q-Sight technology also provides for enhanced situational awareness, says George Lim, business development director of helmets at BAE Systems Platform Solutions in Johnson City, N.Y. The Q-Sight was developed from the ground-up with custom optics, he adds.
The company unveiled its Q-Sight family of helmet displays and tracking products last month at the Association of the U.S. Army's Annual Symposium and Exhibition in Washington.
The system features a lightweight, ergonomic design and increased visibility, flexibility, and reliability for pilot safety and comfort. Weighing less than four ounces, the miniature display clips to any helmet for plug-and-play ease of use.
Conventional optics for helmet displays use complex and expensive lens groups to move the image from a liquid crystal display to an expensive lens, company officials say. These lens groups introduce distortions, losses, and severe weight penalties.
The unconventional optics are what BAE engineers call their quantum technology, which overcomes the conventional limitations of holography techniques, Lim says. In other words, the output of an LCD device is directly coupled to a credit cardsize combining lens-eliminating the need for any intermediate lenses.
The quantum technology was originally used for the Eurofighter, Lim says. "The Q-sight family provides pilots with 'heads-up, eyes-out' capability," says Clark Freise, vice president of defense avionics for BAE Systems. "It delivers mission-critical situational awareness, exactly where and when it's needed."
Q-Sight technology features bright displays, a large exit pupil for pilot viewing, and seamless transitions between day and night to increase pilot situational awareness and mission capability. The increased visibility and lightweight design minimize eye and neck strain, which are common problems for pilots managing the demands of long missions and increasingly complex rules of engagement.
Additionally, the decreased size and weight of the display allows the pilot complete freedom of movement within the cockpit. Finally the military is addressing concerns such as neck and eye strain through human factors engineering, Lim says.
The sight is placed approximately 25 millimeters from the eye in the day operating mode. The display shows symbology and or video to provide the user with eyes-out operation. In high-ambient light conditions, a dark visor can be deployed to improve the contrast of the imagery.
Q-Sight is compatible with the ANVIS night vision goggle (NVG). Pilots can use the display at night by simply clipping on the NVG and deploying in the normal manner. The sight is located in its own mount and positioned behind the goggle's eyepiece.
The system's modular design allows for the low-cost addition of new mission-specific capabilities as required. It also makes Q-Sight retrofittable and/or upgradeable, as well as compatible with other helmet display technologies. Q-Sight technology can be configured with a number of options, depending on user needs.
The system can be configured to interface via MIL-STD-1553B, ARINC 429, or traditional analog and discrete components. BAE Systems officials are planning a full demonstration of Q-Sight end of 2007 to 2008 for NAVAIR, the U.S. Army Night Vision Laboratory and Program Executive Office Soldier, Lim says.