Military connector buyers stress small size, light weight, and commercial interfaces
When it comes to connectors, military and aerospace systems integrators today want the best of both worlds-the benefits of commercial off-the-shelf (COTS) as well as the durability and reliability that typically come from mil-spec components.
Oct 1st, 2007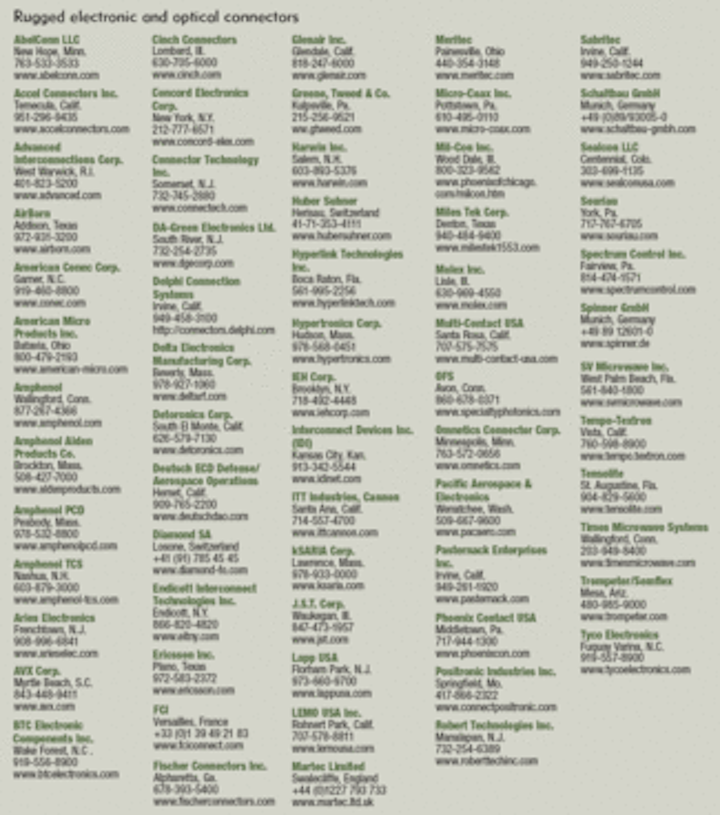 By John Keller
When it comes to connectors, military and aerospace systems integrators today want the best of both worlds-the benefits of commercial off-the-shelf (COTS) as well as the durability and reliability that typically come from mil-spec components.
"Our customers are looking for COTS availability with military performance," says Mike Lobkovich, military and aerospace segment manager at Cinch Connectors USA in Lombard, Ill. "They are not looking for an interconnect solution that will take 16 to 20 weeks to get to them. They also want dual-source and multi-source solutions."
At least partially as a result, demand for military-grade circular connectors may be tapering off as systems integrators increasingly look for rugged connectors for commercial interfaces, such as Ethernet, Fibre Channel, USB, and IEEE 1394 Fire Wire.
The pin configurations of circular military connectors are not always compatible with popular commercial interfaces, which is encouraging military connector suppliers to add ruggedized rectangular connectors that are able to support the commercial interfaces that systems designers need.
"Our customers want commercial telecom and data communications interfaces, but in a ruggedized style of connector," Lobkovich says. "They want to move from a circular to a rectangular connector from a contact-density standpoint."
In addition, demand is increasing for quick-disconnect connectors that function easily with electronic modules and line-replaceable units, so that systems integrators in tier-one manufacturers like Lockheed Martin and Raytheon "can go in and pop out a module and replace it in a short time period," Lobkovich says.
A continuing demand among connector specifiers for military applications is the ability to seal out water, mud, humidity, dust, and other contaminants.
"These things operate in various environments that might be wet, and the connector still needs to work and the signal integrity still needs to be there-even if the connectors are under water for a few minutes, or are in sand or dust," says Dick Bickford, national sales manager at Fischer Connectors Inc. in Alpharetta, Ga. "Any contaminants that are going to corrode, oxidize, or scrape plating will degrade the signal and reduce the life of the connector."
One difficult area of connector design is the ability to control mating forces-or how difficult it is to connect and disconnect the devices. "There is a trend in controlling the mating forces," Bickford says. "If you have a cold environment where the soldier has to wear gloves, it can be very hard to connect and disconnect with gloves on."
At the same time, however, connector manufacturers must offer products that maintain reliable contacts in severe operating environments where shock and vibration are key factors. It is of prime concern to balance these factors.
Fischer Connectors, which has seen broad success in supplying connectors for systems that soldiers wear onto the battlefield, for example, can place strengthening fibers in cables so that stiffly mated connectors do not pose the risk of cable breakage. Company engineers maintain about 15 pounds of mating force on helmet-worn connectors to avoid injury to the soldiers using them.
When all is said and done, however, one of the biggest concerns among connector manufacturers is reducing the size and weight of their products. "The trend is the modernization of the soldier, and there is a push for lighter weight, while still getting the necessary performance out of the electronics," Bickford says.
An important development in this area involves the so-called "nanominiature connectors," as described in the MIL-DTL-32139 specification of the U.S. Defense Supply Center Columbus in Columbus, Ohio. Nanominiature connectors have densely packed connects with 0.025-inch spacing between pin centers in the same row.
"It boils down to market demand; the bulk of our customers on the A-list for defense contractors are perpetually making their systems and subsystems smaller and lighter, so they are looking to cut size and weight, or add signal lines," explains Greg Jones, sales and marketing manager for Omnetics Connector Corp. in Minneapolis.
Nano connectors fill a niche market where size and weight trump the need for low costs, and the majority of applications are in military and aerospace, Jones says. They are inherently rugged because of their small size. "Often the bigger components get wiped off the board amid shocks of 20 to 25 Gs," he explains. "These small-connectors tend to stay in place if they are secured."
For the time being, at least, the connectors are a good business to be in. Jones, Cinch's Lobkovich, and Fischer's Bickford all say business lately is up-and should stay healthy for the foreseeable future.
"Network-centric warfare means more connectors are needed out there," Lobkovich says. "If you look at the Army's Future Combat Systems, the amount of electronics that the warfighter will carry means the number of connectors necessary will go up dramatically."
null