Solid-state memory solutions are meeting today's data demands
Data-storage solutions-once a frequently overlooked part of any workflow-are gaining significant attention in military and aerospace environments.
Apr 1st, 2007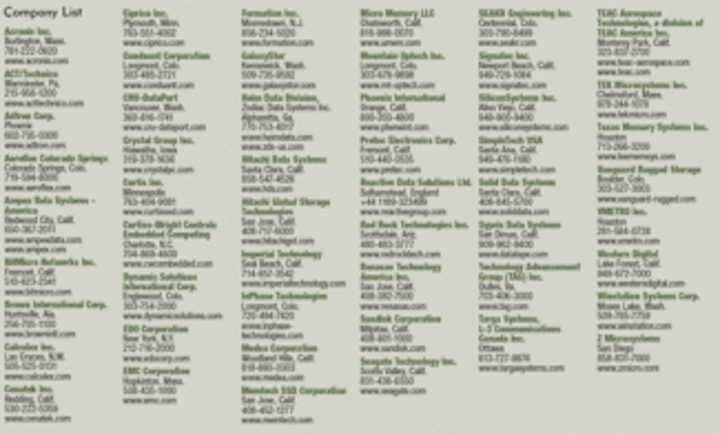 By Courtney E. Howard
Data-storage solutions-once a frequently overlooked part of any workflow-are gaining significant attention in military and aerospace environments. In fact, storage solutions are a vital part of virtually all missions, and personnel throughout the ranks in military, aerospace, and even corporate environments increasingly rely on data-storage devices to capture and protect critical information. After all, the growing quantity and quality of sensor data gathered in the field-whether by warfighters or unmanned craft-must be written to and retrieved from efficient, reliable, and secure storage solutions.
Solid-state devices serve various functions in military and aerospace applications, says Chris Wiltsey, director and San Diego site manager, Curtiss-Wright Controls Embedded Computing (CWCEC) in California. They are used as confidential erasable file systems for software applications, operating-system boot devices, onboard data-storage nodes, rugged data-storage systems in environments too harsh for spinning media, and streaming video storage to house data gleaned from reconnaissance cameras, FLIR devices, and target cameras.
Ofer Tsur, senior director of marketing at the solid-state disk (SSD) segment of SanDisk Corp. in Milpitas, Calif., agrees, noting that solid-state drives are finding a home inside data recorders to provide rugged and reliable data storage in extreme conditions. In fact, he says, SATA SSDs are being used as drop-in hard disk drive replacements in data recorders because they can be moved in cases of emergency, thereby maintaining data integrity without the need to power down the data recorder.
Demand for solid-state data storage is active, burgeoning with rugged and reliable solutions, releasing new offerings annually without fail, and making industry headlines. That is precisely what management at SanDisk did when they acquired maker of embedded Flash drives and USB smart drives, M-Systems Ltd. of Sunnyvale, Calif., in a $1.5 billion transaction. At the same time, systems engineers, communications engineers, embedded system designers, system integrators, and the like are flocking to events centered around data storage, such as the "Making systems mobile, rugged, and fast" program at the Flash Memory Summit (www.flashmemorysummit.com), scheduled to take place in Santa Clara, Calif., in August.
Solid-state products are starting to replace mechanical storage solutions in various military and aerospace applications, as a result of technology advances, increased storage capacities, and price reductions.
"The ongoing trend of decreasing prices for higher capacity solid-state storage has made the solid-state disk the most appropriate media for extremely ruggedized applications," Tsur explains. "The price of solid-state storage has already fallen to a level that promises a lower total cost per recording system, for instance, than the cost of the earlier magnetic-based storage media."
Wiltsey notes that mechanical drives are not suitable for rugged environments unless complicated and more bulky and costly packaging for shock and vibration protection is provided. Conversely, solid-state technology is improving rapidly: becoming less expensive, faster, and denser, and offering shock/vibration and size, weight, and power (SWaP) advantages.
"The consumer computer market is driving the Flash manufacturers to provide smaller footprints with higher density and cheaper prices," Wiltsey says. "Demand is growing for Flash, as laptops and Internet devices trend toward diskless operation. Customers want Flash for use in applications such as battery-powered, low-power backpack deployed platforms, or very low-power devices for use in the equipment bay of a fighter jet."
"With no moving parts, Flash has long been recognized as more reliable than the hard-disk drive," Tsur explains. "The cost efficiencies of the Flash-based solid-state drive combined with its ruggedness, security options, and high data integrity will undoubtedly lead to its greater adoption in the military, aerospace, and telecom."
null