Military turning toward COTS displays
Defense suppliers are turning toward commercial off-the-shelf (COTS) displays for military applications.
Jul 1st, 2008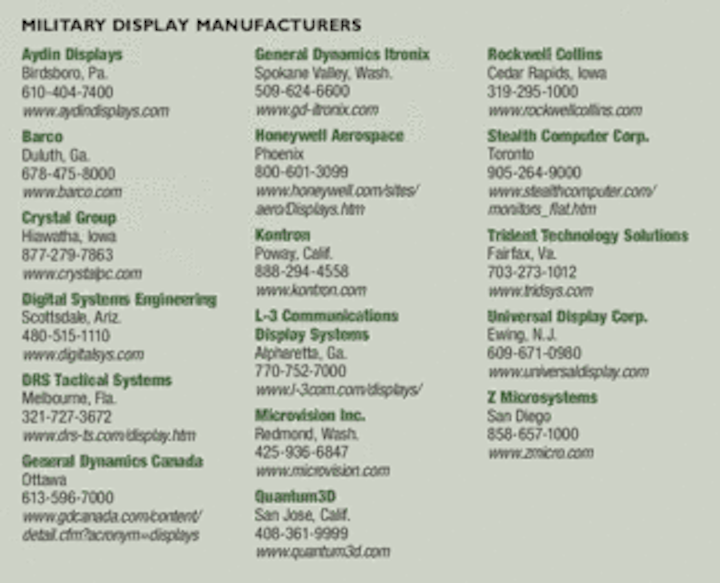 By John McHale
Defense suppliers are turning toward commercial off-the-shelf (COTS) displays for military applications. Military designers are realizing they can reap major performance benefits at half the cost if they start using COTS displays, especially in command-and-control applications, says Jim Shaw, vice president of engineering at the Crystal Group in Hiawatha, Iowa. This is only possible because of the advances in display technology over the last five years.
There is also a demand within command vehicles for displays that can be read in sunlight at low power.
"Our customers are looking for low cost, mil-spec rugged COTS touchscreen displays with reasonable resolution, VGA or higher, that are reliable and readily available for limited and full-scale deployment," says Ross Smith, president and chief executive officer of Quantum3D in San Jose, Calif. " They also want a roadmap for technology insertion down stream (higher resolution, etc.)."
"We are starting to see more man-wearable apps that require handheld and helmet-mounted displays," Smith continues. In many cases, these are for unmanned aerial vehicle/unmanned ground vehicle operator control units, video surveillance, or situational awareness applications.
"As a companion product to our Thermite man-wearable tactical visual computers, we've developed Farsight Tactical Handheld Displays (THDs)," Smith says. "We have a tiny, 3.7-inch display for covert surveillance applications (police and military) and operator control applications, as well as a 6.5-inch display with comprehensive user I/O for unmanned vehicle control applications.
"Both are in pilot stages now, but we have volume customers gearing up for production," Smith adds. "The displays are usable in daylight and we have NVG compatible versions on the way."
Shaw says the key for companies like his is that they can ruggedize these commercial displays in short time to market. Crystal is going from initial design to prototype in 6 weeks.
Crystal's main rugged display is its RD2217 rugged rackmount dual desktop display, designed for shipboard, airborne, and land-based applications. The RD2217 offers dual 17-inch SXGA rugged monitors featuring influence resistant, laminated stack with scratch-resistant, low-reflectance front cover glass.
The low specular reflectance and high-brightness displays yield high ambient contrast, Shaw says. The dual displays, packaged with a micro keyboard with trackball mouse and drop down wrist rest, are configured to lie flat in a 2U space. When extended, both displays sit at the same focal length from the user. The RD2217 is rackmountable with locking slides and is available with HD-15 and DVI interfaces.
The RD2217 is designed and tested to meet MIL-STD 810F, 167-1, 461E, and 901D. Meeting those standards is a natural extension, as Crystal does that for its rugged computer systems, Shaw says.
Engineers at Barco in Duluth, Ga., are also using their state-of-the-art display technology for military applications, especially in avionics. L-3 Communications Integrated Systems in Waco, Texas, selected Barco to supply CDMS-3000 control display units for the C-27J Joint Cargo Aircraft program. Barco's control display units were the preferred choice because of their modular open architecture, as well as the company's earlier experience with the C-27J platform, Barco officials say.
To date, two aircraft are in the order book, with projections for up to 76 additional aircraft over the next 6 years, representing a potential business volume of 156 CDMS for Barco.
The Joint Cargo Aircraft (JCA) program was commissioned by the U.S. Department of Defense to revitalize its aircraft fleet. The airframe will be operated by the Army and the Air Force. The Army will use the JCA to replace its aging C-12 Hurons, C-23 Sherpas, and C-26 Metroliners. In the Air Force cargo fleet, the new airframes will complement the existing C-130 Hercules.
The 78 aircraft to be ordered will have Barco's latest-generation CDMS-3000 Control Display Unit, featuring a 3-by-4-inch active-matrix liquid crystal display (AMLCD) panel with VGA resolution. Equipped with LCD technology, the CDMS-3000 combines high brightness and contrast with compact dimensions, low weight, and excellent energy efficiency. The display is also backward compatible with the units operated on the current C-27J and C-130J fleet.
Researchers at Purdue University are already looking ahead for flexible display technology. They created the first "active matrix" display using a new class of transparent transistors and circuits, a step toward realizing applications such as e-paper, flexible color monitors, and "heads-up" displays in car windshields.
The transistors are made of "nanowires," tiny cylindrical structures that are assembled on glass or thin films of flexible plastic. The researchers used nanowires as small as 20 nanometers—a thousand times thinner than a human hair—to create a display containing organic light emitting diodes, or OLEDS. The OLEDS are devices that rival the brightness of conventional pixels in flat-panel television sets, computer monitors, and displays in consumer electronics.
The technology also could help create antennas that aim microwave and radio signals more precisely than current antennas. Such antennas might improve cell phone reception and make it more difficult to eavesdrop on military transmissions on the battlefield.
"This is a step toward demonstrating the practical potential of nanowire transistors in displays and for other applications," says David Janes, a researcher at Purdue University's Birck Nanotechnology Center and a professor in the School of Electrical and Computer Engineering.
The nanowires were used to create a proof-of-concept active-matrix display similar to those in television sets and computer monitors. An active-matrix display is able to precisely direct the flow of electricity to produce video because each picture element, or pixel, possesses its own control circuitry.
null