Navy modernizing maritime forces
The push for new surface warships, maritime electronics, and technology for global missions is driving U.S. Navy planning for shipboard power through the next decade.
Mar 18th, 2016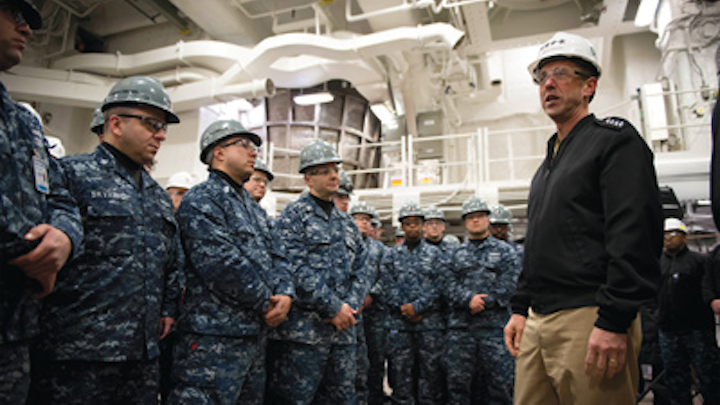 The push for new surface warships, maritime electronics, and technology for global missions is driving U.S. Navy planning for shipboard power through the next decade.
By Edward J. Walsh
The U.S. Navy, while confronting critical funding shortfalls, pressed forward in 2015 with construction of new littoral combat ships (LCS), destroyers, amphibious assault ships, and smaller vessels and combat craft. The service also achieved important milestones for ship combat systems, weapons, sensors, and mine warfare systems for the in-service fleet and ships still being built and under contract.
As in recent years, the overriding challenge for the Navy remains designing and paying for the fleet needed to carry out its traditional forward-presence mission in the Persian Gulf and Indian Ocean, and new contingencies as the U.S. responds to ISIS, other Middle East crises, and Russian military operations in Ukraine.
Chief of Naval Operations Admiral John Richardson, here conducting an all-hands call with the crew of the destroyer Zumwalt (DDG-1000) at the Bath Iron Works shipyard, in his new Strategic Vision, cautions that the U.S. faces multiple threats that require a powerful forward Navy presence.
The Navy supports the Obama Administration's "pivot to Asia," described by then-Secretary of State Hillary Clinton in an October 2011 Foreign Policy article, entitled "America's Pacific Century." The U.S. Department of Defense (DOD) 2014 Quadrennial Defense Review reinforced the Navy's role in the Pacific pivot by calling for continued emphasis on the Asia-Pacific region.
For the DOD, the pivot means strengthening the U.S. Pacific presence to counter China's growing military capabilities. Last March, the Office of Naval Intelligence revealed that China is arming its ships and submarines with a new YJ-18 high-speed, anti-ship missile, which has a reported range of 290 nautical miles. Its predecessor, the YJ-82, has a range of 20 nautical miles.
Last September, IHS Jane's reported that China may be building its first aircraft carrier at a shipyard in northern China.
Chief of Naval Operations (CNO) Adm. John Richardson released his "Design for Maintaining Maritime Superiority," in January. In the report, he said that "for the first time in 25 years, the United States is facing a return to great power competition. Russia and China both have advanced their military capabilities to act as global powers."
Richardson added that North Korea, while trying to strengthen its nuclear arsenal, threatens security in North Asia and beyond. He said Iran's advanced missiles, proxy forces, and other capabilities continue to pose threats, and terrorist groups are a long-term threat to stability and security around the world.
The CNO noted that the Navy budget likely will continue to be under pressure. "We will not be able to 'buy' our way out of the challenges that we face. The budget environment will force tough choices but must also inspire new thinking."
Richardson called for strengthening naval power at and from sea; achieving high-velocity learning at every level; strengthening the Navy team for the future; and expanding and strengthening the U.S. network of partners.
Director of Surface Warfare Rear Adm. Peter Fanta told a Navy conference in January that "the maritime threat is changing. In 1985, the U.S. Navy had the advantage. We now face a multi-axis, multidimensional threat, while our weapons and shipbuilding processes are slower and more complex."
Vice Adm. Thomas Rowden, Commander, Naval Surface Force, in articles and speeches, described the Navy's concept of "distributed lethality" as a "cultural shift" that stresses an increase in individual unit lethality and innovative force packaging to present adversaries with a more complicated combat problem."
Fanta added that "distributed lethality" means "if it floats it fights" by increasing lethality of ships, distributing offensive capability geographically, and enhancing defensive capabilities.
The amphibious ship Makin Island (LHD-8), last of the class, is powered by a hybrid electric drive propulsion system that enables it to achieve huge savings in fuel costs.
Size of the fleet
Navy leaders have told Congress that meeting the requests of combatant commanders for forward naval presence would require as many as 450 ships. A November 2015 Congressional Research Service report on Navy force structure noted that the Navy submitted a plan to Congress in March 2015 calling for 308 ships, based on the Administration's January 2012 strategic guidance and the 2014 QDR.
The 308-ship fleet would include 11 aircraft carriers, 88 cruisers and destroyers, 52 littoral combat ships, 34 amphibious assault ships, 29 combat logistics ships, 10 expeditionary fast transport ships, and 24 other ships. The undersea force would consist of 12 ballistic missile submarines and 48 attack submarines.
The new five-year shipbuilding plan (2016-2020), proposes a total of 48 ships: nine in 2016, 10 each in 2017 and 2018, nine in 2019, and 10 in 2020. The 2016 goal includes two Virginia-class attack submarines, three littoral combat ships, two Arleigh Burke-class (DDG-51) destroyers, one San Antonio-class (LPD-17) amphib, and one TAO(X) oiler. The current 30-year plan calls for construction of 264 ships, or nine per year.
For the long term, the Navy, in its "Report to Congress on the Annual Long-Range Plan for Construction of Naval Vessels" for 2015, said that it plans to build an "affordable follow-on, multimission, mid-sized future surface combatant" to replace the Flight IIA Burke-class destroyers, which will begin reaching the end of their service lives in 2040.
Echoing Congressional concerns about shipbuilding costs, the Congressional Budget Office estimates that the Navy plan would cost 11.5 percent more than the Navy's own estimate. Navy officials have said, moreover, that constraints on funding imposed by the Budget Control Act of 2011 will prevent the service from carrying out missions stipulated in the Pentagon's strategic guidance document.
Still, Navy Secretary Ray Mabus noted in January that since 2010, the Navy has awarded contracts for 84 new ships, compared to 41 between 2002 and 2008.
The Navy's plan faces resistance within the DOD. Late last year, Defense Secretary Ashton Carter, in a widely-cited memorandum, directed Mabus to cut the planned buy of littoral combat ships from 52 to 40 ships and, in the new five-year plan, from 14 to six. The Navy originally hoped to build 55 littoral combat ships, then cut the planned buy of LCS to 32, and designated the remainder as frigates, to be outfitted with heavier weapons.
Zumwalt-class destroyers
A huge end-of-year highlight for ship- building was the start of underway trials in early December for the Navy's newest major surface combatant, the guided missile destroyer USS Zumwalt (DDG 1000) built by General Dynamics Maritime Systems at its Bath, Me., shipyard.
The Navy initially expected to buy 32 ships and end the Burke class with Michael Murphy (DDG-112). In July 2008, Navy leaders announced instead they would build only three Zumwalts and restart the Burke program, saying that the Burke-class destroyers are more suited for area anti-air defense, ballistic missile defense, and open-water, anti-submarine warfare.
The three-ship Zumwalt program has been controversial. The Navy estimates the procurement cost of the first two ships at some $8.7 billion and the third ship at $3.49 billion. The 600-foot Zumwalt displaces nearly 14,500 tons, compared to about 9,600 tons for Ticonderoga-class (CG-47) cruisers and between 8,300 and 9,200 tons for the three flights of Burke destroyers now in service.
Designed to provide naval surface fire support for Marines ashore, the Zumwalt has become a multimission ship, well-armed for surface warfare and air defense. The ship introduces a "tumblehome" hull, a deckhouse built by Huntington Ingalls Industries using fiberglass-type composites, an integrated "fight through" power system, and a BAE Systems-built 155-millimeter gun (two per ship) that fires a guided long-range, land-attack projectile developed by Lockheed Martin to ranges beyond 60 nautical miles.
The ship computing architecture, built by Raytheon, automates many ship systems, enabling the ship to go to sea with only 142 personnel.
The new power system consists of two 36-megawatt Rolls Royce MT-30 and two 3.8-megawatt RR450 gas turbine engines that will power advanced induction motors provided by Converteam to turn the propeller shafts and provide power to ship systems.
The focus on installing and testing the power system caused schedule delays on two Burke destroyers being built at Bath and for the two following Zumwalts, Michael Monsoor and Lyndon Johnson DDGs 1001 and 1002, which were scheduled to reach operational capability in 2018 and 2021, respectively. Labor-management disagreements contributed to the delays, as the company spread the workforce among both programs while trying to cut costs to become more competitive with the Huntington Ingalls Pascagoula, Miss., yard.
The Burke-class destroyer John Paul Jones (CG-53) has been designated the U.S. Navy's test ship for its newest combat systems baseline, which will enable the destruction of approaching high-altitude ballistic missiles and lower-flying anti-ship missiles.
Littoral Combat Ship
The LCS program continued to build ships in two hullform variants, a trimaran and a conventional hull. Six ships (LCS 1 through LCS 6) are in fleet service.
The Austal USA-General Dynamics team, which is building the Independence (LCS 2) trimaran variant, launched Omaha (LCS 12) in November at Austal's Mobile, Ala., yard.
The trimarins, designated by even hull numbers, are 419 feet long and displace about 3,100 tons. The team also is preparing Montgomery (LCS 8) and Gabrielle Giffords (LCS 10) for trials, with Manchester (LCS 14) and Tulsa (LCS 16) in the build yard. The yard delivered Jackson (LCS 6) last August.
Fincantieri Martin Marinette, teamed with Lockheed Martin, is building the conventional-hulled Freedom (LCS 1) variant, 388 feet long and displacing 3,400 tons. Detroit, Little Rock, Sioux City, Wichita, Billings, and Indianapolis (LCS 7, 9, 11, 13, 15, and 17) are in various stages of construction at Martin Marinette's Wisconsin shipyard.
The Navy introduced for the LCS class a concept of interchangeable mission modules for anti-surface, anti-submarine, and mine countermeasures. The modules are being developed separately from the shipbuilding program by prime contractor Northrop Grumman, which is integrating the mission packages of weapons and sensors for each of the modules. The company received a $38.5 million sole-source contract for further mission package work in August 2015.
The modules consist of the mission components and systems - the weapons and sensors and support gear. When the mission personnel and either the MH-60R (surface and ASW) or MH-60S (mine-countermeasures) helicopters are included, the modules become mission "packages."
The modules are in various stages of development, testing, and fielding, with the surface module the most advanced and the submarine warfare module the farthest from delivery.
The LCS program has been criticized for cost overruns, hull cracks, and system failures at sea. The program suffered an embarrassing blow last December when the propulsion system of Milwaukee (LCS 5) failed while the ship was underway in the Atlantic three weeks after its commissioning.
Amphibious assault ships
In late December, Huntington Ingalls won a contract to build LPD-28, the 12th San Antonio class (LPD-17) amphibious assault ship. Originally the class was to end at 11 ships. Congress provided funding for the ship and directed the Navy to build it, based on a 2002 memorandum between the Navy, Bath, and then-Northrop Grumman Ingalls Shipbuilding (now Huntington), that shifted contracts for three LPDs from Bath to Ingalls and for three Burke-class destroyers to Bath. The "hull swap" deal directed that if in the future a 12th LPD was added, Bath would get an additional Burke.
The 12th LPD, some Navy and industry officials say, represents a step to a future amphibious assault ship called LXR. The Navy wants to build 11 LXRs, the first in 2020, to replace the 12 Whidbey Island and Harper's Ferry classes. John Murtha (LPD-26) and Portland (LPD-27) are close to completion at Huntington Ingalls. Last July, General Dynamics NASSCO won a $13 million modification to an earlier contract for LXR preliminary design work.
Huntington also is building Tripoli (LHA-7) the second ship of a new class of amphibs to replace the now-decommissioned, five-ship Tarawa class LHAs. Tripoli and first of class America (LHA-6), now in service, are designed to move landing forces and equipment by air instead of landing craft staged in a welldeck. The ships are built with a larger hangar deck than earlier amphibs, more extensive aviation facilities, and increased aviation fuel capacity.
These ships, 844 feet long and displacing 45,000 tons, will accommodate all Marine Corps aircraft, including the new F-35B vertical-takeoff-and-landing joint strike fighter. However, critics of the shift to all-aviation insertion said that compared to landing craft, aircraft transit is limited in the volume of men, vehicles, and equipment it can move ashore. Without the welldeck, they argued, America is just a small aircraft carrier. In 2012, the Navy and Marine Corps agreed to modify the design for future LHAs to restore the welldeck.
The Ticonderoga-class cruiser Normandy (CG-60) was one of the first CGs to receive the newest Aegis baseline, which provides an integrated air-missile defense capability.
Burke-class destroyers
Burke destroyers now funded and under construction represent the "Flight IIA" design that started with Oscar Austin (DDG-79) and will continue until the start of the Flight III variant.
In November, Bath launched Rafael Peralta (DDG-115) and authenticated the keel for Thomas Hudner (DDG-116); Bath also is building Daniel Inouye (DDG 118).
Huntington Ingalls is building John Finn (DDG-113), the first "restart" ship, Ralph Johnson, Paul Ignatius, and Delbert D. Black (DDGs-114, -117, and -119).
Fast-transport ships
LCS builder Austal also is building 10 expeditionary fast transport (EPF) craft, formerly called joint high-speed vessels, under a $1.6 billion contract awarded in 2008. The EPFs, capable of 35 knots and a 1,200 nautical-mile range with a 600 short-ton capacity, will transport personnel, vehicles, and cargo within operational theaters.
The EPF vessels will provide expeditionary warfare support, humanitarian assistance, disaster relief missions, and potentially special operations, and are fitted for roll-on/roll-off cargo load and operations in shallow-water ports. In October, the company won a $53.4 million award for initial engineering support for the 11th ship.
In late October, Brunswick (EPF-6) completed acceptance trials in the Gulf of Mexico. Three more EPFs are under construction.
LCS to frigates
The Navy has responded to criticism that the littoral combat ships are too lightly armed by redesignating the later ships as frigates and adding more powerful weapons.
In late 2015, the Navy decided to replace, for the surface warfare mission package, the Raytheon-built Griffin IIB missile with the Army's AGM-114L Longbow Hellfire missile, which is used by Army AH-4D Apache attack helicopters to attack armored targets.
The surface package includes a gun mission module with a 30-millimeter naval gun, and an aviation module consisting of the MH-60R helicopter armed with Hellfire missiles and 7.62-millimeter and .50-caliber machine guns.
The ships also are armed with a Mk-110 57-millimeter gun and the SeaRAM missile defense system, which integrates an 11-round anti- ship missile with the radar of the Phalanx 20-millimeter terminal defense gun. The Navy test-fired a RAM (rolling airframe missile) from a SeaRAM launcher aboard Coronado last August.
The Navy has decided to add a 28th San Antonio-class amphib, which will serve as a baseline for a future LXR class. The above photo shows New York (LPD-21) entering New York harbor. The ship was built with seven tons of steel from the World Trade Center.
Mission package progress
Navy officials say the LCS mission packages are moving along. In October, the Navy announced that "increment 2" of the surface warfare mission package went through successful initial operational test and evaluation aboard Coronado.
In 2015, the Navy turned to industry for additional support. In March, Naval Sea Systems Command (NAVSEA) in Washington awarded funding to both LCS team leads, Lockheed Martin and Austal, for new analyses of the program.
In April, the General Dynamics NASSCO unit won a $24 million award to support LCS homeported in San Diego. In May, GD Bath, although it doesn't build the ships, received $11.2 million for maintenance support for the Independence variant, and then in August won another contract for planning yard work for both LCS variants.
In July, CACI Technologies of Chantilly, Va., won a $9.4 million modification to a previous award for program analysis and business support for the LCS Program Executive Office. Computer Sciences Corp. won a $20.3 million award to support LCS fleet introduction and sustainment.
Major system modernization efforts continued, at varied levels, for Burke destroyers and selected Ticonderoga cruisers, which are fitted with the Aegis combat system built by longtime Aegis prime Lockheed Martin Mission Systems and Training (MST). In September, the company won a NAVSEA award that with options over 10 years could be valued at $428 million. The company also is building "Aegis Ashore," a land-based system, with two planned sites, one in Romania and the second in Poland.
The Navy and Congress clashed last year over the Navy's plan to place 11 of the 22 cruisers in a reduced operating status, as some House members suggested that if the Navy did so, those ships would never return to sea.
Under the 2015 defense authorization and appropriations acts, the Navy is modernizing cruisers on a phased 2-4-6 plan: two ships per year, work to take no more than four years, and no more than six ships in the yards at any time. Cowpens (CG-63) and Gettysburg (CG-64) started the phased modernization last September.
In separate reports on the 2016 budget, House and Senate armed services and appropriations urged the Navy to seek more money for cruiser modernization.
Among many new missions, the Navy now is tasked with counter-piracy and maritime security operations in East African waters. Shown above is the Burke destroyer Kidd (DDG-100) intercepting a fishing vessel held by pirates in the Arabian Sea.
Shipboard weapon systems
Despite funding pressures that have cut the number of ships to be included, the Aegis modernization will provide an integrated air and missile defense (IAMD) capability.
Through 2015, the Navy certified performance of a new Aegis program, designated baseline 9, which provides IAMD. Variants are 9A for cruisers, 9.B1 for the two Aegis Ashore sites, and 9.C1, which provides not only IAMD but also a second-generation ballistic missile defense (BMD) 5.0 program.
Cruisers Princeton Normandy and Chancellorsville (CGs-59, -60, and -62) have been fitted with 9A, with Normandy and Chancellorsville already deployed.
Destroyers Barry, John Paul Jones, and Benfold (DDGs-52, -53, and -65) have received 9.C1, and installations on Arleigh Burke and Mitscher (DDGs-51, -57) are nearing completion.
A 9.C2 baseline will be delivered in 2018 and provide a new BMD 5.1 program.
For full-up IAMD capability, the destroyers will have Raytheon's cooperative engagement capability (CEC) and the Naval integrated fire control-counter air (NIFC-CA), which will operate together to consolidate data from multiple surface and airborne sensors.
General Dynamics Advanced Information Systems won a $7.8 million NAVSEA award in December for NIFC-CA development and integration. The cruisers will get NIFC-CA, but not the newest BMD programs.
Raytheon Integrated Defense Systems (IDS) is the longtime prime for CEC, which consolidates target data from ships and E-2D Hawkeye aircraft equipped with a CEC processor and antenna system. Several variants are aboard the carriers, cruisers, destroyers, and San Antonio and Wasp-class amphibs.
The IAMD combat system will be supported by an Aegis common source library, Common Track Manager and Common Track Server software components, Common Processor System, and the Common Display System.
DRS Laurel Technologies builds the CPS and CDS. Originally developed for the Zumwalts and Aegis modernization, the CDS also will go aboard carriers and new amphibs.
Under a series of contracts awarded to Lockheed Martin MST and Raytheon IDS last year, both companies are working on elements of Aegis Advanced Capability Builds (ACBs), now ranging from ACB-12 to ACB-16.
The ACB effort includes concept development, work on the command and decision system, weapons control system, and ship integration and testing. Aegis modernization also encompasses significant upgrades to ship weapons, sensors, and machinery, carried out during shipyard availabilities.
BAE Systems and General Dynamics NASSCO are doing most of the shipyard work, in Norfolk, Mayport, Fla., San Diego, and Honolulu. The IAMD weapons upgrade will include the SM-3 BMD missile and SM-6 anti-air missile, both built by Raytheon.
Other new systems include the evolved Seasparrow missile and Phalanx block 1B terminal defense system, SQQ-89(v) undersea warfare system, and versions of the shipboard electronic warfare (EW) system resulting from a surface EW improvement plan (SEWIP). General Dynamics, Lockheed Martin, and Northrop Grumman all have SEWIP contracts, for Blocks 1, 2, and 3, respectively, in various stages of development and production.
The aircraft carrier Theodore Roosevelt (CVN-71) launches a Rolling Airframe anti-ship missile (RAM) during an Atlantic Ocean exercise. The Navy's littoral combat ships will be armed with SEARAM, a RAM missile that uses the radar of the Phalanx terminal defense system.
Shipboard radar
The centerpiece for future Navy IAMD will be the Raytheon-developed air and missile defense radar (AMDR), designated SPY-6, an "S-band" radar planned for integration with the Aegis system aboard the Flight III Burke-class destroyers. The AMDR, the Navy says, is expected to be 30 times more capable than the current Aegis SPY-1D.
Following a full-system critical design review last May, the company started assembling an engineering development model with a single 14-foot diameter array face, followed by testing at the company's Sudbury, Mass., facility through early 2016. The model will go to the Navy's Hawaii land-based test site for more testing.
Raytheon has produced "interface definition language modules" for developing the Aegis upgrade, now called ACB-20, to support AMDR.
The AMDR planned for the Flight IIIs will be the 14-foot-diameter system which, while considerably more sensitive than the SPY-1 it replaces, will be less capable than a 20-foot-diameter system originally envisioned for a future cruiser or CGX, now canceled.
The AMDR S-band capability provides search, tracking, cueing, missile communication, surveillance for self-defense, and kill assessment. Also required is an X-band capability for horizon and surface search, navigation, and periscope detection and discrimination. The Northrop Grumman SPQ-9B surface-search radar will perform the X-band function for AMDR for initial Flight III ships.
Future weapons
In late 2014, the test bed ship Ponce fired a laser weapon system while on station in the Persian Gulf, engaging small surface targets and an unmanned aerial vehicle. Following the testing, the Navy designated the system as operational.
The laser weapon system, a collaboration of the Office of Naval Research (ONR) and Navy laboratories, along with electromagnetic rail guns or EMRGs that fire superfast hypervelocity projectiles (HVPs), are in various stages of development.
In 2011, the Navy's Maritime Laser Demonstrator used a Northrop Grumman solid-state laser to destroy several small targets. ONR's Solid-State Laser Technology Maturation program has awarded contracts to Northrop Grumman, Raytheon, and Boeing to develop a 100- to 150-kilowatt laser capable of destroying small craft, aimed at demonstrations by 2018.
The Navy also has extensively tested electromagnetic rail guns powered by magnetic force generated by extremely high power levels to launch an HVP up to 5,600 miles per hour. BAE Systems and General Atomics have built prototypes able to reach ranges of 50 to 100 nautical miles.
The Navy now plans to test-fire an EMRG from an expeditionary fast patrol craft in 2016, and has explored mounting one on Lyndon Johnson, the third Zumwalt ship.
Navy officials indicate that the HVP developed for the railgun also could be fired, at lower velocities than from the EMRG, from the 150-millimeter guns aboard the Zumwalt class DDGs and even from the five-inch Mk 45 deck guns aboard the Ticonderogas CGs and Burke-class destroyers.
In April 2015, an HVP was fired from a 62-caliber deck gun at the Navy's Dahlgren, Va., test range. BAE Systems is working under a 2013 ONR contract to produce five-inch and 155-millimeter HVPs.
The Navy planned to demonstrate the operational railgun from an EPF this year. That plan has been reconsidered, Navy officials say, and may be dropped in favor of moving the gun to an operational ship faster.
Ship machinery
For decades, the Navy has sought decisive advances in ship power system performance by shifting power architectures from mechanical drive to what's called integrated electric drive (IED).
An IED system, Navy engineers have long said, would eliminate the "tyranny of the drive shaft" that dictates that hull design be based on the arrangement of engines and power systems along the propeller shaft.
Electric drive, they say, is critical to providing the intense bursts of power needed by the AMDR and laser and electromagnetic weapons, going aboard Flight III Burke-class destroyers and the future surface combatant, also called DDG-51 Flight IV, planned to start construction in 2030.
The DDG-1000 program was originally targeted for IED, but the Navy decided against using the high-torque permanent magnet electric motors originally selected, and opted for a lower-risk intermediate system using advanced induction motors.
Three amphibs - Makin Island (LHD-8), America (LHA-6), and Tripoli (LHA-7, under construction) - are powered by a hybrid electric drive (HED) plant consisting of General Electric LM2500 gas turbine engines and an all-electric auxiliary system, which is more efficient at speeds below 13 knots, enabling the ship to shut down the gas turbines at lower speeds. The Navy said that Makin Island saved of $18,000 per day in fuel costs on its first deployment.
The Navy plans to backfit the HED design to the Flight IIA Burke-class destroyers. L-3 Communications Maritime Systems won an industry competition in 2012 to build two HED prototype systems. In mid-2015, the company was awarded options for production of two systems, which will be installed on Burke-class destroyers Stockdale (DDG-106) and Gravely (DDG-107) this summer. The Navy then hopes to install four systems per year on the Burke-class destroyers.