Defense contractors prepare to rebuild U.S. arsenal
On March 19, U.S. Navy ships and submarines shot 40 Raytheon Tomahawk cruise missiles at Baghdad, beginning Operation Iraqi Freedom.
May 1st, 2003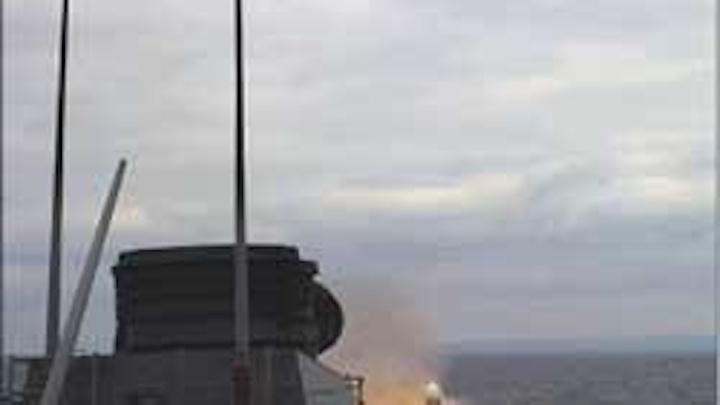 By Ben Ames
WASHINGTON — On March 19, U.S. Navy ships and submarines shot 40 Raytheon Tomahawk cruise missiles at Baghdad, beginning Operation Iraqi Freedom.
By April 15, coalition pilots had flown 41,850 sorties, including 15,825 strike sorties, according to the U.S. Air Force. They had also directed 110 Predator and Global Hawk surveillance, reconnaissance, and strike sorties by April 8. Altogether, those pilots dropped or fired 18,275 guided munitions and 8,975 unguided munitions.
But where does this leave the U.S. military arsenal? No leader would say that the toppling of Saddam statues by giddy Baghdad residents on April 9 marks the end of the war on terror.
With this in mind, military and electronics contractors face the daunting task of rebuilding American weapons stocks. Most suppliers said they would continue filling orders that the U.S. Department of Defense (DOD) had made before the war. But in some cases, Pentagon planners have asked suppliers to accelerate the work.
null
Raytheon Missile Systems in Tucson, Ariz., is in discussion with the U.S. Navy to increase its production of Tomahawk cruise missiles from 38 to 50 per month, says Raytheon spokesman Dave Shea. "And the Navy has elected not to reorder the Block III," which is the current generation of missile, he says. Instead, Raytheon will fill orders with the Block IV — the so-called "Tactical Tomahawk," which is due for delivery in 2004.
The Block IV will be less expensive and more maneuverable than its predecessor, he says. Raytheon has set a $569,000 cost guarantee, compared to an average $1 million per missile for the Block III. The Navy conducted its first technical evaluation flight of the Tactical Tomahawk on April 5 from the deck of the guided-missile destroyer USS Stethem, at the Naval Air Warfare Center Weapons Division Sea Test Range near Point Mugu, Calif.
By comparison, another main precision-guided weapon system deployed in Iraq is the Paveway laser-guided air-to-ground missile, which Raytheon and Lockheed Martin produce. On March 19, Raytheon officials announced their company had won 62 percent of the Air Force's 2003 order for Paveway II laser-guided bomb kits, amounting to a $173 million contract. DOD officials say the Air Force plans to order $2 billion more Paveway kits through 2009, Shea says.
Lockheed Martin, in Bethesda, Md., declined to comment on restocking efforts, since they had not yet had a formal Pentagon briefing, says spokeswoman Joy Sabol of the Lockheed Martin Missiles and Fire Control division.
JDAMs (joint direct attack munitions) were also used extensively in Iraq, but the Pentagon has not changed its order for them in recent weeks, says Doug Kennett, a spokesman for Boeing, in Chicago. "The Department of Defense had asked us to triple our production of JDAMs, but that was well before the war. So now it's just business as usual," he says.
Of course, U.S. forces also deployed hundreds of airplanes, ships, tanks, and armored personnel carriers to Iraq. But those large systems did not suffer many casualties, so do not require much attention in the rebuilding effort, says Peter Keating, a spokesman for General Dynamics Land Systems Division (GDLS) in Sterling Heights, Mich.
Rather, General Dynamics will continue to work on making those systems smarter. "There's a never-ending appetite for faster, better, quicker data capabilities for information flow," he says. "The Army realized they wanted that after Desert Storm in 1991."
For instance, General Dynamics engineers are studying ways to provide better situational awareness and data throughput for troops in combat vehicles. That means an increase in electronics, digitization, processing power, and information displays.
Operation Iraqi Freedom was their first test. "We're seeing the first significant combat of vehicles with electronics that are beginning to approach network-centric situational awareness capabilities," Keating says. That means soldiers or marines in ground combat vehicles could share information about their own positions and enemy positions, receiving that data from other vehicles or aircraft.
Likewise, Pentagon leaders may change their future orders after studying the results of the current war, Keating says. "Then we'll learn if we need to retrofit existing vehicles or continue along the modernization path."
There are also lessons to be learned in terms of ruggedizing that equipment, says Doug Coffey at United Defense Ground Systems in Arlington, Va., which makes the Bradley Fighting Vehicle.
"It's pretty evident the equipment our forces are using is getting a workout. It's getting beat up and abused by the weather and terrain," he says. United Defense has not yet heard specific feedback from the Pentagon. "But I'm sure there will be some need to replace, modernize, and overhaul systems," Coffey says.
Generally, designers at United Defense try to make their products lighter, faster, more deployable, and more lethal, he says.