Connector designers face demands for increased capability, smaller size, and more EMI and lightning protectionBy John Keller
Here's the good news for aerospace and defense connector suppliers: there's a growing need for your products.
Dec 1st, 2009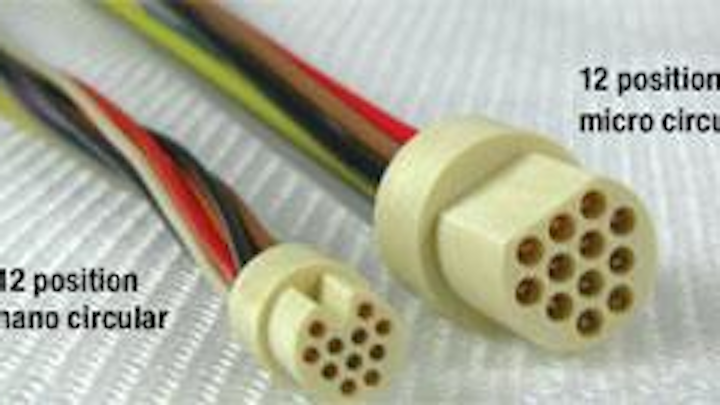 Here's the good news for aerospace and defense connector suppliers: there's a growing need for your products. Here's the bad news: systems integrators want more capability, higher bandwidth, increased ruggedness, more resistance to lightning and electro-magnetic pulse, less risk from materials, yet want connectors that are smaller and lighter than ever before.
That's a tall order, but suppliers of electronic and electro-optical connectors for military and aerospace applications are ready to step into the breech.
"For a long time, in a lot of mil-spec connectors, size was not a concern," explains one official of rugged connector supplier Glenair Inc. in Glendale, Calif., who wishes not to be named. "Now the focus has shifted from reducing the effects of shock and vibration, to how do I make it smaller and lighter so I can put more payload on platforms like unmanned aerial vehicles. It's got to act like a mil-spec connector, but my customers need something smaller."
Connectors have to be rugged like never before. "We are flying higher and hotter," says Robert Stanton, director of technology at Omnetics Connector Corp., in Minneapolis.
"Our requirements used to be -55 to plus 125 degrees Celsius, but today, based on what our customers are telling us, we are all offering products up to 200 C, which used to be only for petroleum," says Stanton.
Temperature extremes are not the only reason that systems designers are ratcheting-up their requirements for ruggedness in connectors.
The digital battlefield and network-centric warfare require infantry soldiers to carry a growing amount of electronic equipment, from sensors to wearable computers, to displays, and that means small, lightweight connectors.
"These guys want to carry more gadgets, and connect them, all on their bodies—global positioning systems (GPS), night-vision goggles, friend or foe equipment—and they want to hook them all together," Stanton explains.
Then what happens at the end of the mission? The exhausted soldier staggers into camp and just wants to disconnect from his equipment as quickly as possible so he can get cleaned up, get a meal, and hit the rack.
"They tug on the connector when they throw the equipment off," Stanton explains. "Our pullout spec is going to have to evolve to be tougher and tougher.
"It's the housewife vacuum cleaner test," Stanton continues. "My wife insists that cord is not for electricity, but for dragging the vacuum cleaner around. It's the same for our soldiers. The pullout test will emerge more and more significantly than it is today."
Val McOmber, product manager for connector supplier LEMO USA Inc. in Rohnert Park, Calif., echoes concerns for ruggedness.
"The request that comes most often is I need to maintain gasketing for water tightness and harsh chemicals, but keep the panel size down," McOmber says. "The trend in miniaturization is continuing, and the connector can be the largest element. If I can shrink the connectors, I can shrink the box size."
One of the primary ways that connector designers reduce weight is to switch from metals to ceramics. The problem with that, however, is the potential for toxic fumes to form in the presence of fire or other extreme environmental conditions.
"If it's not a good material, and we have an alternative, why not get rid of the hazardous material?" says LEMO's McOmber. "This is not yet a requirement, but the ball is definitely rolling in that direction."
Switching from metal in connector designs also has consequences for performance in harsh environments.
"Moving away from an aluminum skin structure to a composite can allow more energy from lighting and EMP to get into the wiring harnesses," McOmber points out. "We're hearing rumblings for more lightning protection in our connectors."
One way to eliminate problems from electromagnetic interference, lighting, and EMP is to move to fiber optics, says the Glenair representative. "It has been a slow trend, but it's a real trend," he says. We are increasingly using more fiber-optic cabling or hybrid fiber and electric cabling, for high-speed, high-bandwidth, EMP, and EMI issues."
More Military & Aerospace Electronics Current Issue Articles
More Military & Aerospace Electronics Archives Issue Articles