Electronic warfare on the ground
U.S. Army cyber warfare experts are rediscovering electronic warfare (EW) for ground operations, as centralized command authorities combine cyber and EW operations into a new discipline known as spectrum warfare.
Feb 1st, 2019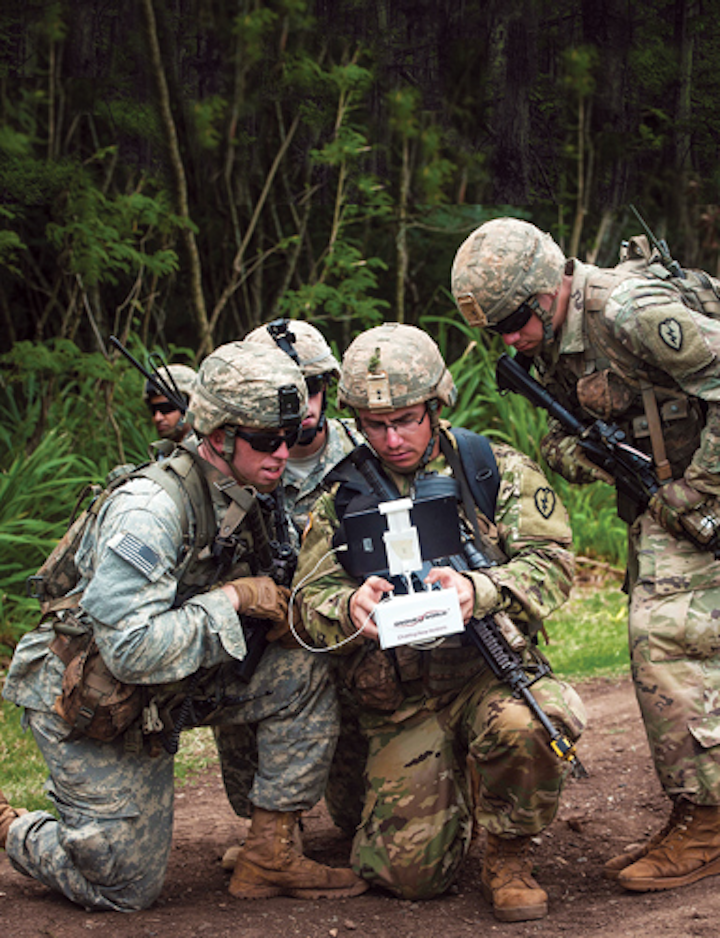 U.S. Army cyber warfare experts are rediscovering electronic warfare (EW) for ground operations, as centralized command authorities combine cyber and EW operations into a new discipline known as spectrum warfare.
By

J.R. Wilson

The Pentagon defines Electronic Warfare (EW) as military action involving the use of electromagnetic energy and directed energy to control the electromagnetic spectrum or to attack the enemy. EW consists of three divisions: electronic attack, electronic protection, and electronic support; EW is employed to create decisive, stand-alone effects or to support military operations by generating various levels of control, detection, denial, deception, disruption, degradation, exploitation, protection, and destruction.

While its early history is debated, the first known use of an EW capability — the interception of wireless communications — occurred in 1904, during the Russo-Japanese War.

EW sometimes is considered to be interchangeable with cyber warfare, which involves the actions by a nation-state or trans-national organization to attack and attempt to damage another nation's computers or information networks using such methods as computer viruses or denial-of-service attacks.

The U.S. Army is the first American armed force to combine the two, merging EW units and specialists scattered throughout service organizations with its Cyber Command — a 21st Century creation within all military branches and, most recently, recognized as a fifth domain of war (along with air, ground, sea and space) with the creation of the U.S. Cyber Command (USCYBERCOM) as the nation's tenth Unified Combatant Command.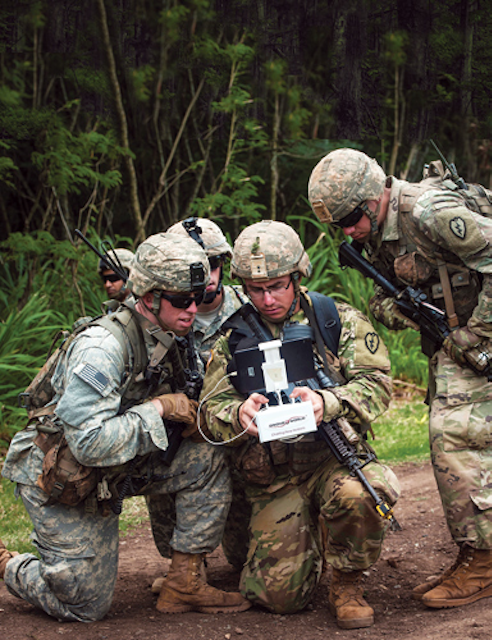 U.S. Army Pacific Soldiers view video feed from a Phantom 4 Quad Copter during the Pacific Manned Unmanned–Initiative at Marine Corps Training Area Bellows, Hawaii.
While those elevated cyber to a level never applied to EW, they did not answer the question of where EW and cyber warfare begin, end and overlap.
As of October 2018, Army leaders sought to resolve that by migrating their EW workforce to the cyber branch. They are going through a series of mobile training teams on how to do planning in the cyber domain as part of the Army's new effort to insert cyber and electromagnetic activities cells organically within brigade combat teams to provide EW/cyber warfare domain planning to commanders.
"The way that we're transforming our electronic warfare professionals is they will become cyber operators," says Maj. Gen. John Morrison, commander of the Cyber Center of Excellence. "They will be the face inside our brigade combat teams and our maneuver formations for cyber operational planning. They're complimentary. You cannot look at EW professionals and cyber operators in isolation." Morrison made his comments in May 2018 at the AFCEA Defensive Cyber Operations symposium in Baltimore.
This new approach and related technologies and warfighter training mark a significant change in the operations of ground maneuver forces that also is likely to see effects on U.S. Marine Corps and Special Operations concepts of operations (CONOPs) and tactics, techniques, and procedures (TTPs).
Crucial time
It comes at a crucial time for the U.S., as Pentagon planning and emphasis moves away from fighting asymmetric wars in Southwest Asia against less advanced enemy states, insurgents, and terrorist organizations. Now military forces are refocusing their attention on potential conflicts with near-peer and peer adversaries in the Pacific and Europe. It also is the first time in some six decades that the United States has not been the unquestioned military technology leader.
Throughout the history of warfare, "boots on the ground" has been the catch phrase for the successful defeat and conquest of an enemy (the atomic bomb-forced surrender of World War II Japan notwithstanding). In the 21st Century, the value of individual warfighter has increased as they have become nodes in the battlespace network — walking sensors and EW/cyber warfare platforms to combat close proximity enemy electronics like robots, radar installations, communications, and precision-guided munitions. Combined with advanced vehicle-mounted EW capabilities, they will be crucial to dominating the electromagnetic spectrum.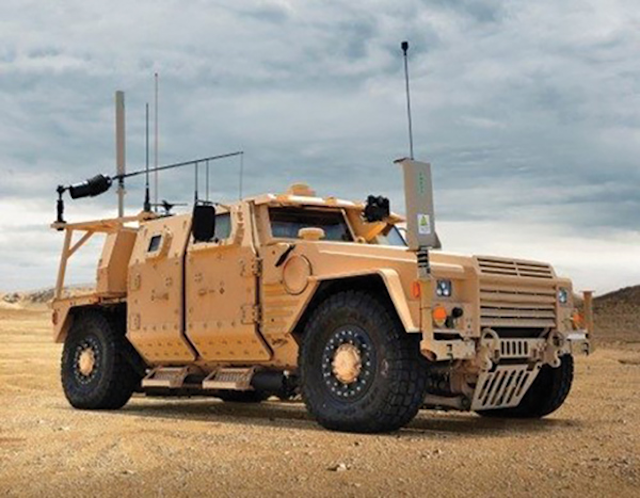 The Lockheed Martin Symphony system is a radio-controlled improvised explosive device (RCIED) defeat system. Symphony provides global ground EW solutions to U.S. forces and partner nations with the ability to defeat current and emerging IED threats and is interoperable with other jamming devices.e at Marine Corps Training Area Bellows, Hawaii.
This expansion of EW capabilities across all ground forces also reflects the convergence of offensive and defensive EW and cyber warfare capabilities and the move toward more software-defined systems, which began with the software-defined radio (SDR), where a single piece of hardware can be repurposed in the field in real-time with software changes.
One of the most important EW initiatives today is the C4ISR/EW Modular Open Suite of Standards (CMOSS), which seeks to converge EW in such a way as to leverage a lot more software-defined radio, says David Jedynak, chief technology officer at the Curtiss-Wright Corp. Defense Solutions Division in Ashburn, Va.
"That means you're not limited to a specific vehicle for transmit and receive type applications, which gives you a lot more flexibility in terms of what hardware and software can be intermingled on a platform," Jedynak says.
"That includes using one type of sensor to cross-cue or provide a larger picture," Jedynak continues. "For example, using a jammer's power amplifier for broadcast communications or, in reverse, using a communications system as a jammer or comm gear, tuned appropriately, as a poor man's SIGINT [signals intelligence] — maybe more of a COMMINT [communications intelligence] — to add more nodes in terms of spectrum warfare."
Tactical electronic warfare
An example of this is the VMAX and VROD Dismounted Electronic Support/Attack system planned for insertion into tactical forces in Europe. VROD, which stands for Versatile Radio Observation and Direction, detects electronic frequencies and creates a virtual map of the electronic environment. VMAX, which stands for VROD Modular Adaptive Transmit, enables soldiers to conduct focused electronic attacks at certain frequencies in the spectrum.
"In the last couple of years, there has been prototyping of VMAX and VROD handheld systems, so there is a desire to create offensive and defensive effects within the peer and near-peer arena," explains Avetis Ioannisyan, director of the BAE Systems Adaptive Sensors Group in Hudson, N.H. "The idea of having warfighters forward-deployed and having EW capabilities is very valid," Ioannisyan says. "Another, more vehicular, is Sabre Fury. These are designed to inform TTP about the value and capabilities of SIGINT for the warfighter."
Those tools were being delivered in late 2017 to the Army 1st Infantry Division's 2nd Armored Brigade Combat Team at Fort Riley, Kan. At that time Army Lt. Gen. Paul Ostrowski, principal military deputy to the Assistant Secretary of the Army for Acquisition, Logistics and Technology (ASAALT), explained their value to the Senate Armed Services Committee.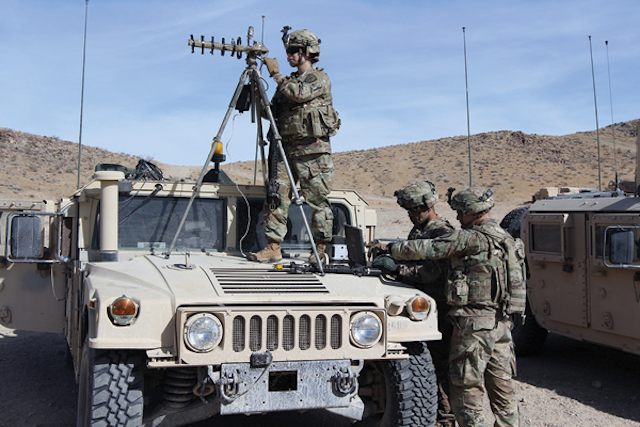 Army cyber operations specialists from the Expeditionary Cyber Support Detachment, 782nd Military Intelligence Battalion (Cyber), from Fort Gordon, Ga., provided offensive cyber operations as part of the Cyber-Electromagnetic Activities (CEMA) Support to Corps and Below (CSCB) program.
"[Commanders now] have the situational understanding of signals of interest in their area," he told the committee. "They then have the opportunity to do two things: either strike that particular capability with respect to indirect fires or to jam it [with] a limited jamming capability."
Spectrum is central to EW and cyber warfare. Because of this, dealing with them as independent efforts in securing military information networks may create cyberspace or electromagnetic spectrum vulnerabilities, Army leaders believe.
The U.S. Army Cyber and Electronic Warfare Operations Field Manual, released in April 2017, outlines the service's thinking: "Employing cyberspace and EW capabilities under a single planning, integration, and synchronization methodology increases the operational commander's ability to understand the environment, project power, and synchronize multiple operations using the same domain and environment."
That has gained emphasis with growing evidence — from operational doctrine and actual implementation — that China and Russia view information operations and electromagnetic spectrum dominance as critical to any future conflict, especially, but not limited to, peer and near-peer.
Cyber and EW
Maj. Gen. Robert M. Dyes Jr., acting director of the Army Capabilities Integration Center at Fort Eustis, Va., wrote a preface to The U.S. Army Concept for Cyberspace and Electronic Warfare Operations 2025-2040, released in January 2018. "Defeating future enemies that possess advanced capabilities calls for land forces operating as part of integrated joint teams that conduct simultaneous and sequential operations across multiple domains," Dyes wrote. "In multi-domain battle, future Army forces will fight and win across all contested spaces to create windows of advantage across multiple domains that enable Joint Force freedom of action to seize, retain and exploit the initiative.
"The Army will operate in and through cyberspace and the electromagnetic spectrum and will fully integrate cyberspace, EW, and electromagnetic spectrum operations as part of joint combined arms operations to meet future operational environment challenges," Dyes continued. "These operations provide commanders the ability to conduct simultaneous, linked maneuver in and through multiple domains and to engage adversaries and populations where they live and operate. They also provide commanders a full range of physical and virtual, as well as kinetic and non-kinetic, capabilities tailored into combinations that enhance the combat power of maneuver elements conducting joint combined operations."
This convergence essentially defines the electromagnetic spectrum, rather than cyber warfare alone, as the real fifth domain of war, as the spectrum becomes more crowded with military and civilian transmissions. In an urban conflict, that greatly expands potential targets and vulnerabilities — especially if the rules of engagement call for as little interference with or damage to civilian systems as possible.
"The future operational environment will be more unpredictable, complex, and potentially dangerous than today," the EW/cyber warfare concept document warns. "The physical structure of cyberspace will be extremely vulnerable to attack by an array of destructive weapons, including high-power microwave munitions and laser systems, which are increasingly effective against digitized, miniaturized and integrated circuits. Because these challenges and changes can occur swiftly, the Army must adopt advanced cyberspace operations capabilities at a more rapid rate than current capability development time lines, even while in a constrained fiscal environment.
"State and non-state actors will invest in capabilities to protect their access to cyberspace and disrupt or deny access to others," the document continues. "Use of these capabilities has the potential to negate current Army combat power and technological overmatch. Less capable adversaries will also use a variety of improvised weapons and technologies, such as global positioning system jammers and radio-frequency weapons, that utilize the electromagnetic spectrum to exploit Army reliance on technology."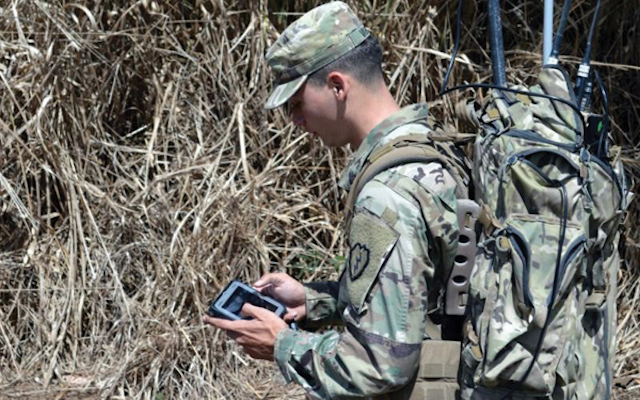 An electronic warfare specialist trains on the Versatile Radio Observation and Direction system at Schofield Barracks, Hawaii.
The role of autonomous systems
The document also addresses the evolution of autonomous systems in the battlespace, from unmanned aerial vehicles (UAVs) to robots, with each generation relying on more and more advanced artificial intelligence (AI) capabilities. While such systems will enhance the offensive and defensive capabilities of ground forces, they also comprise new dangers if compromised by enemy EW/cyber warfare attacks, making fail-safe technologies and software crucial to their control and data integrity.
"We've been investing a tremendous amount of money in machine learning and AI to automatically adapt to the environment," BAE Systems's Ioannisyan notes. "Typically, an EW attack begins with a change in jamming modes; some form of AI is required to do that quickly. Future battles will be fought across multiple domains and we must win the first battle, which will be spectrum. We need SDR's that can conform on the fly while under attack."
"The Army plans to continue to acquire EW to support ground-based attack," Ioannisyan continues. "The leverage will come when you have interoperability between all the airborne and ground robotic systems. The Army already has demonstrated having a forward deployed unmanned platform being controlled from an Apache provides a lot of value to the warfighter; a similar progression is likely on the ground."
The rapid pace of technology advances — from materiel properties and switching architectures to ever-shrinking components and power requirements — have increased the speed and capacity of operations and the number of ways to attack the electromagnetic spectrum.
"If you want to induce an electronic effect on the enemy, jam them without being detected by using smart, low-power effects. You must use synchronous, smart techniques to be protected from counter-EW," Ioannisyan says.
"One enabler is signal fratricide, being able to maintain friendly C2 networks while disrupting the enemy. If you can do force structure, operate in a high signal-dense environment, adapt to enemy actions, have threat agility and electronic protection and mitigate signal fratricide, you will effectively win the first battle for the electromagnetic space."
Dramatic reductions in size, weight and power (SWaP), combined with greater sensor range and sensitivity, have enabled EW/cyber warfare capabilities down to the individual warfighter level, revolutionizing the commander's operational options. Employing them as well on remote, robotic and autonomous systems, including artillery and rocket EW munitions, dramatically expands the conduct of electromagnetic spectrum operations with small signature platforms and minimal risk to Army forces and non-combatants.
Ground-based electronic attack
"Ground-based electronic attack is certainly a critical capability for the future," points out Niraj Srivastava, manager of EW Systems at Raytheon Space and Airborne Systems in Cambridge, Mass. "Tools like EWPMT [Electronic Warfare Planning and Management Tool] Raven Claw will enable operators to manage the entire electromagnetic spectrum. EWPMT Raven Claw can coordinate electronic attack activities across multiple EW assets. It can identify and coordinate a whole host of responses, everything from direction-finding to electronic attack to specific signals of interest."
"A quick reaction capability version of EWPMT, Raven Claw is already deployed in Europe for managing EW systems. It provides electronic warfare officers with a first — the ability to operate in the field without dependency on a host server or external data," Srivastava says. "Now EWOs can be off-network, operating on last-known-data as well as real-time feeds for intelligent, actionable EW. [It] does more than just planning; it remotely controls EW systems [and can] provide RF signal analysis and geolocation capabilities."
While some ground-based EW has been fielded, most advanced prototypes undergoing real-world evaluations, what the future of individual warfighter and small unit EW will look like remains an open question, with the answer in constant flux."
"It's probably too early to tell how future ground EW capabilities will be incorporated into the battlespace. A lot of ground capabilities are in the experimentation stage. If you look at what the Army is doing with their cross-network teams, they are learning how to do an air-ground, multi-service, integrated framework," says BAE Systems's Ioannisyan.
"I think every component has its own pros and cons," he says. "The real question is how does the battlespace network leverage the best of those capabilities to help the ground maneuver units put kinetic fire on their targets. Can the system itself decide if a specific target is better jammed from the air or hit by Hellfire from the air or by kinetic effects from the ground?"
In the past, EW typically has been segmented. The effort by the Army — which is being closely watched by the other services — to converge EW and cyber warfare is changing that.
"We can't continue to have stove-piped systems and we're seeing requirements for systems to do all those and more demanding in terms of open architecture," says Joe Ottaviano, director of EW at the Lockheed Martin Corp. Rotary and Mission Systems segment in Syracuse, N.Y. "Certainly there has been a lot of advancement in hand-held, carryable EW systems, offensive and defensive. Those have come a long way over the years as technology has improved. And as things become smaller and more compact, they've gotten lighter."
"We're seeing the ability to put more capability into smaller footprints, such as jamming, which is giving everybody added flexibility in how they deal with those," Ottaviano continues. "It is all really handled though the convergence of EW and cyber across multiple access points. And, as we deliver these capabilities, systems we're now deploying, because of the way technology is changing, are being used in ways we never imagined."
Multi-use hardware
As hardware is becoming ubiquitous, smaller, and more capable, the Army is requiring an open architecture set of capabilities with EW/cyber warfare built-in, enabling the warfighter to use the same hardware for different mission-based functions. As the warfighter evolves from the concept of "every shooter is a sensor" to every shooter is an EW/cyber warfare node, the need to bring all that new data back to the commander — from the smallest unit to higher headquarters — as useful information to make real-time tactical decisions also increases.
"There are several communications paths that exist already and others coming online that enable this data to be used across the battlespace," Lockheed Martin's Ottaviano says. "As you open the aperture on EW, we're seeing more and more data, so there is a lot of effort going into data fusion, machine learning, AI and such. As you expand your sensors, the number of capabilities, you have to have a way for the system to narrow all that down, without taking away significant data. And each user has a different view on what that should be. We're seeing a priority for it to be tailorable to the level of data required by each user across the battlespace."
Rapid innovation in the commercial world also leads to rapid innovation in EW and other military applications, with ground EW and associated applications expected to see a lot of innovation on which they can move quickly. Commercial technologies, typically based on industry standards, also make it easier to update existing systems and tie all platforms into the battlespace network.
"The overall convergence of assets is the path forward, where ground is not a diverse and separate piece, says Curtiss-Wright's Jedynak. "From a warfare perspective, you're trying to use all your assets together to achieve the goal, so why is EW any different? Ground has a lot of platforms, including individual warfighters, which means a lot of ways to sensibly and intelligently add EW capabilities that are very refreshable because you are leveraging open standards."
"It is critical to understand that EW today may not be the same as EW six months from now, just as the leading cell phone today won't be the leading cell phone in six months," Jedynak says. "EW is shifting into a fast-paced technology area. There may be an advance in a totally different application, such as medicine, that may have applications in EW. You should expect to see developments coming quicker and quicker, especially with the Army Innovation Command saying they want to see new advancements, which is a massive change in government procurement."
Whatever form it may take, it is clear ground-based EW will be a critical part of future military TTPs and CONOPs, not only for U.S. and allied forces, but also for peer and near-peer adversaries, some of whom already may have surpassed the U.S.
"We're seeing EW coming to the forefront," says Lockheed Martin's Ottaviano. "A lot of effort is going into electromagnetic management and it is becoming an extreme priority across the board. Technology is moving extremely quickly and systems must be able to operate in very different environments and produce tactically valuable information."
---
Company List
Abaco Systems
Huntsville, Ala.
www.abaco.com
BAE Systems Adaptive Sensors Group
Hudson, N.H.
www.baesystems.com
Boeing Defense, Space & Security segment
St. Louis
www.boeing.com/company/about-bds
Comtech PST Corp.
Melville, N.Y.
www.comtechpst.com
Crane Keltec
Fort Walton Beach, Fla.
www.craneae.com
Curtiss-Wright Corp. Defense Solutions Division
Ashburn, Va.
www.curtisswrightds.com
General Dynamics Corp. Mission Systems segment
Fairfax, Va.
https://gdmissionsystems.com
Harris Corp. Electronic Systems segment
Clifton, N.J.
www.harris.com/es
Leidos
Reston, Va.
www.leidos.com
Lockheed Martin Corp. Rotary and Mission Systems segment
Syracuse, N.Y.
www.lockheedmartin.com
Mercury Defense Systems
Cypress, Calif.
www.mrcy.com/markets/electronic-warfare
Northrop Grumman Corp. Mission Systems segment
Baltimore
www.northropgrumman.com
Raytheon Space and Airborne Systems
El Segundo, Calif.
www.raytheon.com/capabilities/ew
U.S. Army Cyber Center of Excellence
Fort Gordon, Ga.
https://cybercoe.army.mil/home.html