Navy pushes for more ships, technology breakthroughs
Last September, the Navy, Marine Corps, and Lockheed Martin Rotary and Mission Systems showed how to shoot down fast-flying enemy missiles by using data from the new F-35B Lightning II Joint Strike Fighter to the Navy's Aegis combat system, which directed the SM-6 missile defense missile to destroy the target.
Mar 1st, 2017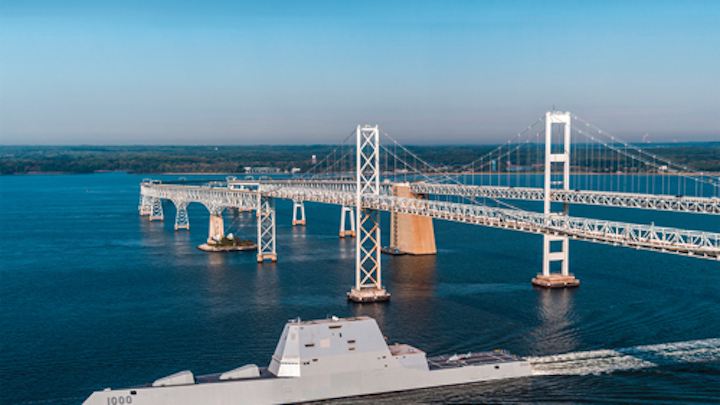 BY Edward J. Walsh
Last September, the Navy, Marine Corps, and Lockheed Martin Rotary and Mission Systems showed how to shoot down fast-flying enemy missiles by using data from the new F-35B Lightning II Joint Strike Fighter to the Navy's Aegis combat system, which directed the SM-6 missile defense missile to destroy the target.
Navy and Lockheed Martin officials say the demonstration at White Sands Missile Range in New Mexico showcased the effectiveness of the Aegis Baseline 9 program to enable weapons to engage long-range targets, a capability required for the Navy's "Distributed Lethality" vision pioneered by Vice Adm. Thomas Rowden, commander of Naval Surface Forces.
The destroyer USS Zumwalt (DDG-1000) is heavily armed for land attack, surface warfare, and anti-air warfare. (Navy photo)
Rowden, speaking at the Surface Navy Association national symposium in January, said "Distributed Lethality requires an offensive mindset that enables the goal of sea control by increasing offensive firepower, improving battlespace awareness, and supporting the Navy's 2018 shipbuilding plan."
The Distributed Lethality vision adds urgency to Navy efforts to design and build the right types of ships in the right numbers to support dramatic shifts in the U.S. defense strategy. Today, the Navy has 273 deployable "battle-force" ships.
Shipbuilding
Navy leaders laid their cards on the table last December in a new Force Structure Assessment (FSA) - the first since 2012 (updated in 2014). It calls for increasing the nation's fleet of surface ships and submarines by nearly one-third. The assessment calls for a fleet of 355 ships, including 12 aircraft carriers, 104 large surface combatants, 52 small surface combatants, 38 amphibious ships, 66 attack submarines, 12 ballistic missile submarines, and 71 logistics, transport, and support ships.
Navy officials say the FSA will be an input in the 2018 30-year shipbuilding plan, but was "not constrained by Budget Control Act funding levels."
Meanwhile, the Navy has moved to engineering development of the strategic ballistic missile submarine (SSBN) replacement of the Ohio class, which leaders say is the nation's top defense priority. This program aims at a construction start date of October 2020 for the first vessel, Columbia (SSBN-826). The Navy wants Columbia on patrol by 2031.
The Navy proposal to build more ships responds in part to the need to maintain a strong presence in the Pacific to counter the growth of China's navy. In late December in the South China Sea, a Chinese ship picked up a U.S. Navy unmanned undersea vehicle conducting an unclassified oceanographic research mission, underlining the tensions between the Pacific superpowers.
The Navy's controversial class of littoral combat ships will represent the bulk of the "small surface combatants" in the future fleet. Here, USS Independence (LCS-2), the first of the "trimaran" variant, steams off the southern California coast. (Navy photo)
Also in December the Chinese navy conducted the first live-fire drills from its one aircraft carrier, Liaoning, a 60,000-ton former heavy cruiser acquired from Russia in 1998. After extensive refitting and addition of a ski-jump flight deck, China commissioned the ship in 2012.
The Center for Strategic and International Studies (CSIS) notes that the ship may be capable of 20-knot speed and could deploy an airwing of 24 J-15 fighters.
While less capable than the U.S. Navy's 98,000-ton Nimitz-class carriers, the Chinese ship is larger than the Indian navy's 45,000-ton Vikramaditya and Japan's Izumo, a 27,000-ton helicopter carrier.
Naval experts believe that carrier operations will extend China's reach in regional waters, enabling it to intimidate its neighbors. CSIS reports that China is building a second carrier using an entirely Chinese design.
In the Med, increased Russian naval activity resulting from its annexation of the Crimea, aggression in Ukraine, and involvement in the Syrian civil war underlines the U.S. Navy's mission there.
Navy, U.S. Department of Defense (DOD), and private studies in recent years have proposed a Navy of between 308 and 350 ships. A National Defense Panel report in 2014 called for 346 ships.
All these studies recommend different numbers of submarines, surface combatants, carriers, and amphibious ships. The totals would affect the Navy's long-term planning and raise the question of whether larger numbers would be affordable.
Attack submarines
Attack submarines (SSNs), which the FSA increases from 48 to 66 boats, have been a Navy success story in recent years.
Program Executive Officer for Submarines Rear Adm. Michael Jabaley says that building more SSNs would require adding capacity and expanding the workforce at shipbuilder General Dynamics Electric Boat in Groton, Conn., which also built the Ohio-class SSBNs.
The Navy now is taking delivery of two Virginia-class boats per year. In October, the Navy commissioned Illinois (SSN-786), the 13th Virginia-class attack boat and the ninth consecutive ship to be delivered early by Electric Boat.
Illinois, the third of eight Block III Virginia-class SSNs, has a redesigned bow and replaces 12 torpedo tubes with two tubes capable of launching six Tomahawk cruise missiles. The Navy also has 39 Los Angeles (SSN-688) and three Seawolf-class (SSN-21) SSNs.
Supporting both attack and ballistic missile submarines is the Navy's hugely successful acoustic rapid commercial off-the-shelf insertion (ARCI) program.
ARCI sonar processing
The Navy commenced the ARCI initiative the mid-1990s to slash the cost and time needed to upgrade submarine sonars with new digital signal processing technology to counter the fielding of extremely quiet diesel-powered submarines by potential foes.
ARCI introduces general-purpose processors, field-programmable gate arrays, embedded servers, and other components for hull-mounted sonar arrays, towed arrays, and other sensors. The ARCI upgrades are accomplished through biennial technical insertions (TIs) of hardware, like servers and storage devices, during odd-numbered years, and software revisions, also biennial, called advanced process builds (APBs), in even-numbered years.
A Marine Corps F-35B Lightning II Joint Strike Fighter acted as a "data provider" to help the Marine Corps and Navy integrate targeting data for the latest version of the Aegis combat system. (Marine Corps photo)
The ARCI program is run by the Submarine Acoustic Systems program office, with the Program Executive Office for Integrated Warfare Systems (PEO IWS) in charge of software development.
Officials say that risks of these complex TI and APB upgrades are reduced by leveraging them against fielded systems. PEO IWS introduced APB-15 software using the already tested TI-14 hardware. The Acoustics Systems office developed TI-16 hardware using the APB-15 software.
Lockheed Martin has been the key player in ARCI. In December 2016, the company's Manassas group won a $13.2 million Navy award for BVY-1 integrated submarine imaging systems; and in November, the group won a $125 million modification to an earlier award for ARCI system engineering and production work.
Zumwalt class
The year's highlight for the surface Navy was the October commissioning of Zumwalt (DDG-1000), the first of a new three-ship class of 610-foot-long 15,600-ton destroyers (Arleigh Burke destroyers displace 9,700 tons) built by General Dynamics Bath Iron Works, originally to provide fire support to land forces.
The Zumwalt class, with its futuristic design intended to reduce radar cross-signature dramatically and "tumblehome" bow, has been controversial and expensive. The Navy's FY 2017 budget submission identified the cost of the three-ship class at $12.73 billion, or more than $4 billion per ship. Research and development bring the total program cost to about $22.5 billion.
The Zumwalts are armed with two advanced gun systems and vertical launch tubes for launching Tomahawk cruise missiles, evolved Seasparrow and Standard SM-2 air-defense missiles, and vertical-launch, anti-submarine rockets. Primary radar is a Raytheon-developed S- and X-band multifunction radar.
The Zumwalts are powered by an integrated fight-through power system that distributes power for propulsion and ship systems from four Rolls-Royce gas turbines generating 78 megawatts of power to advanced induction motors developed by Converteam (bought by GE in 2011), which turn the drive shafts.
Zumwalt suffered an engine casualty enroute from its commissioning in Baltimore to San Diego while transiting the Panama Canal. Navy officials said the port shaft lost power, caused by water leakage through bearings that link the advanced induction motors. The casualty follows earlier engine problems off Norfolk, Va., and Florida after commissioning.
The two remaining ships, Michael Monsoor and Lyndon B. Johnson (DDGs-1001 and -1002) are under construction at Bath.
Littoral Combat Ship
The Littoral Combat Ship (LCS) program has been roiled by controversy. Growing costs and engine breakdowns with ships underway led then-Defense Secretary Ashton Carter in December 2015 to direct the Navy to restrict the class to 40 ships, down from the 52 planned.
The December FSA stands by 52, dubbed small surface combatants, but the Navy is now modifying the LCS design for the last 12 by adding armor and weapons and designating those ships as frigates.
The LCS program, the Navy's solution to replacing the Oliver Hazard Perry-class (FFG-7) frigates and two classes of minehunters, has been blasted by critics. In testimony before the Senate Armed Services Committee in early December, Paul Francis, managing director of acquisition and sourcing management of the Government Accountability Office, said that the ships' costs have doubled from $220 million to $478 million and the 12 LCS-derived frigates planned could cost $14 billion.
Responding to critics, Vice Admiral Rowden and Sean Stackley, Assistant Secretary of the Navy for Research, Development & Acquisition, told Congress that "the LCS program is on budget and below the Congressional cap."
The LCS comes in two variants: the traditional-hulled Freedom-class (LCS-1), with odd hull numbers, is built by Fincantieri Marinette Marine in Marinette, Wis., with Lockheed Martin as combat systems integrator. Austal USA, Mobile, Ala., builds the even-numbered Independence (LCS-2) three-hulled trimaran, with systems integration by General Dynamics Advanced Information Systems.
Arleigh Burke class (DDG-51) destroyers will receive the Aegis combat system Baseline 9, which enables them to conduct integrated air and ballistic missile defense. (Navy photo)
In late December, the Navy took delivery of its ninth LCS and fifth trimaran, Gabrielle Giffords (LCS-10). Eighteen more ships are under construction or under contract.
The LCSs will embark mission modules for anti-submarine and anti-surface warfare and mine countermeasures in littoral, or coastal, waters. The modules, when integrated with mission personnel and either the MH-60R (for ASW and anti-surface) or the MH-60S (mine countermeasures) helicopters, are called mission "packages."
Northrop Grumman is developing the modules, in separate increments, separately from the shipbuilding program. The surface warfare module has been employed operationally by Fort Worth (LCS-3), and the first two increments have achieved initial operational capability (IOC), with full operational capability planned for 2020. The mine warfare and ASW modules still are at varying stages of development and testing.
Five LCSs experienced serious propulsion system failures in 2016, prompting the Navy, in July, to stand down operations for a comprehensive review of procedures and additional training. As a result, the Navy last September dramatically reorganized the program, designating the first four ships as test ships and merging the crews of following ships with the module crews.
Stackley and Rowden pointed out that of the five propulsion casualties, two were due to non-compliance with procedures, one was design-related, and two were caused by construction shortcomings.
Navy officials said also that "the Navy has taken a consistent and rigorous approach in assessing and addressing root causes of equipment casualties in LCS," adding that "there is still work to be done in increasing the operational availability of the ships in service."
In 2014 then-Secretary of Defense Chuck Hagel told the Navy to come up with a new design for a ship at least as survivable as the rugged Perry-class frigates.
A small surface combatant task force developed concepts for an LCS-derivative frigate armed with an over-the-horizon missile like the long-range, anti-ship missile (LRASM), the SeaRAM defensive missile system, Longbow Hellfire missile, already test-fired from an LCS, and an ASW sonar.
A draft request for proposals for the new frigate was set for release early this year, with a "clean design" expected this summer, a formal request for proposal (RFP) by year end, and construction award by late 2018. The Navy would downselect to one shipbuilder for the frigate program. Twelve ships are planned, with first delivery in 2023.
Aegis modernization
A good-news Navy story for 2016 has been the modernization of the Ticonderoga-class cruisers and Arleigh Burke-class destroyers.
The modernization adds the Navy integrated fire control − counter-air (NIFC-CA) capability, a new SPQ-9B surface search radar, new RAM terminal defense missile, and other upgrades. The centerpiece of the effort is the insertion of the Baseline 9 Aegis combat system program used for the F-35B demo at White Sands.
The cruisers are getting an upgraded version of Baseline 9 that provides enhanced anti-air warfare capability built around the Aegis SPY-1 radar. However, the cruisers won't get the more advanced version of Baseline 9, which provides integrated air and ballistic missile defense (BMD). That program is going only to in-service and future Burkes, and to the two Aegis Ashore sites, one in service in Romania and a second in Poland, set to stand up this year.
The Burke-class ships are built in "flights" based on the evolution of capabilities. Flight I ships are the first-of-class Arleigh Burke (DDG-51) though DDG-71. Flight II ships are DDGs-72 through -78; Flight IIA includes hulls -79 through at least -122, but possibly -123 or -124, depending on which ship becomes the first of 13 planned for Flight III.
Lockheed Martin now is refining Baseline 9 to provide the advanced BMD for in-service destroyers and those under construction. The Flight III Burkes will get a new Raytheon-built SPY-6 air-missile defense radar, still integrated with Aegis and running still-newer Baseline 10 software with the new BMD program.
Jim Sheridan, Lockheed Martin's vice president for Naval Combat & Missile Defense Systems, says that the company supports accelerating a Navy-Missile Defense Agency initiative to refurbish the Aegis SPY-1 phased array radar for earlier Burkes by installing low-noise amplifiers and upgrading their combat systems.
The Navy's 22 Ticonderoga class cruisers are going through a bow-to-stern modernization including a range of new combat and sensor systems. Here, USS Shiloh (CG-67) and Chancellorsville (CG-62) transit the Pacific to join the Navy's Seventh Fleet. (Navy photo)
Sheridan also recommends installation of a solid-state SPY-1 radar for all the destroyers designated Flight IIA (Oscar Austin DDG-79 up to the first Flight III ship). The Flight IIAs, he notes, will be the core of the Burke class into the 2040s.
The new SPY would use the S-band, solid-state gallium nitride technology developed for a long-range discrimination radar the company is building for the Missile Defense Agency to be based in Clear, Alaska, for ballistic missile defense.
The Burkes are built by General Dynamics Bath and Huntington Ingalls Shipyards in Pascagoula, Miss. Huntington Ingalls delivered John Finn (DDG-113) on 7 Dec. 2016. By coincidence, the ship is named after Lt. John Finn who, while a petty officer, was awarded the Medal of Honor for bravery during the Pearl Harbor attack.
Rafael Peralta (DDG-115), the 65th Burke, was scheduled to deliver in February. Bath is set to build the first Flight III ship, to be the third ship funded in FY 2016, planned for delivery in 2023.
Aircraft carriers
The Navy now has 10 Nimitz-class carriers, CVNs 68 through 77 (George H.W. Bush, commissioned in January 2009). The Navy is supposed to have 11 CVNs and 10 carrier air wings, but Enterprise (CVN-65) was decommissioned in late 2012. When it enters service, Gerald R. Ford (CVN-78) lead ship of the four-carrier Ford class, will become the 11th flattop, with a 50-year service life.
Huntington Ingalls Industries, the Navy's only carrier builder, continues work on John F. Kennedy (CVN-79).
Navy officials say that design innovations for the Ford class will enable it to go to sea with 700 fewer personnel than the Nimitz-class ships. Ford introduces a new type of nuclear reactor, an electromagnetic aircraft launch system, advanced arresting gear (AAG), and dual-band SPY-3 radar built by Raytheon.
These and other design upgrades, the Navy says, will enable a 33 percent increase in aircraft sorties. Ford was scheduled to be delivered to the Navy late last year, but failure of voltage regulators in two main turbine generators last summer pushed delivery to next month.
General Atomics, builder of the electromagnetic aircraft launching system (EMALS) and the AAG, announced in December that the system achieved the first-ever recovery of a Navy F/A-18E Super Hornet fighter/attack aircraft.
Kennedy is set for delivery in June 2022. Huntington officials say the program is intensively focused on reducing costs experienced in construction of Ford, which is estimated to cost nearly $12.9 billion. The next two Ford-class ships, Enterprise (CVN-80) and CVN-81, will be ordered in 2018 and 2023, respectively.
Amphibious assault ships
Navy and Marine Corps leaders say they need 38 amphibious ships, but now are getting 34: eight Wasp (LHD-1) and three America-class (LHA-6) "big decks," 12 San Antonio- class (LPD-17) ships, and 11 ships of a new class now called the LX, which will replace eight Whidbey Island (LSD-41) and four Harper's Ferry-class (LSD-49) dock landing ships.
The eight Wasp LHDs and two follow-on, America-class LHAs are built to support helicopters and V-22 Osprey aircraft. LHA-8 will restore a welldeck for use by landing craft. The San Antonios, built by Huntington Ingalls, and the LSDs launch landing craft to carry war-fighters and equipment shoreward.
In August, the General Dynamics NASSCO yard won a $24.3 million award for LHX design. The Navy plans to award an LX construction contract in 2019.
Technology
Navy technology leapt forward in 2016. Critical to the success of the White Sands demonstration in September, says Lockheed Martin's Sheridan, is an Aegis common source library, a permanent repository of components for all Aegis program code, technical specifications, test parameters, and other components.
The common source library, Navy-owned but maintained by the company, is the source of all Aegis capabilities. The Navy and the five international navies that use Aegis are able to configure their own systems by selecting programs from the common source library based on their own requirements.
The Navy moved forward in hull, mechanical, and electrical technology with the production of hybrid electric drive propulsion systems, including electric motors, motor drives, control software, and other components for installation on 36 Burke-class destroyers.
L-3 Communications Maritime Systems won a 2012 contract for two prototype systems for testing, with options for follow-on production of two shipsets, exercised by the Navy in 2015.
The hybrid electric drive uses electric drive motors fixed to the propeller shaft reduction gears and powered by the generators that power the non-propulsion systems. At low speeds, the system is considerably more efficient than the gas turbines used at higher speeds.
The Navy fielded a hybrid electric drive system aboard Makin Island (LHD-8), the only LHD powered by gas turbines (others use diesels), and America (LHA-6). Tripoli (LHA-7) will get hybrid electric drive during construction.
Navy and industry officials say that hybrid electric drive represents a step toward full-up integrated electric drive (IED), a decades-long goal of the surface community. The Navy initially planned a full integrated power system for the Zumwalt destroyers, using a high-torque permanent magnet motor, but instead selected the more conventional GE advanced induction motor.
Raytheon Missile Systems introduced upgrades to an active seeker array for the Tomahawk Block IV cruise missile that will enable it to hit mobile and sea-based targets. The company tested the new seeker against land-based mobile targets and against Navy Third Fleet ships off San Diego.
Raytheon says the processor uses a modular design that is common to many weapon systems. The Navy is funding more work this year.
In a huge breakthrough for unmanned systems, in April the Navy christened a 132-foot-long, 145-ton unmanned ship named Sea Hunter, developed by Leidos Inc., funded by the Defense Advanced Research Projects Agency through DARPA's antisubmarine warfare continuous trail unmanned vessel initiative. The vessel is required to deploy 60 to 90 days without maintenance or human control. DARPA approved the Leidos design in 2014.
Sea Hunter is powered by twin MTU diesel engines and twin Caterpillar diesel generators, for a maximum speed of 26 knots.
During testing, the ship transited the 35 miles between Biloxi and Pascagoula, Miss., using only its autonomous navigation system. The Office of Naval Research took over management of the program from DARPA in January.
Speaking at the Sea Hunter christening in April, then-Deputy Defense Secretary Robert Work said, "how often can you be at the christening of a robot warship... you're going to look back at this day like when the Nautilus was christened... and say, 'I was part of history.'"