Future flying car lends itself to a host of mature electronic technologies
In the wake of World War I, private aviation boomed in America as barnstorming pilots, most of them ex-military, took to the skies to introduce many of their countrymen to the airplane. It was about that same time a dream was born — that someday anyone who wanted one could own an airplane.
Apr 1st, 2001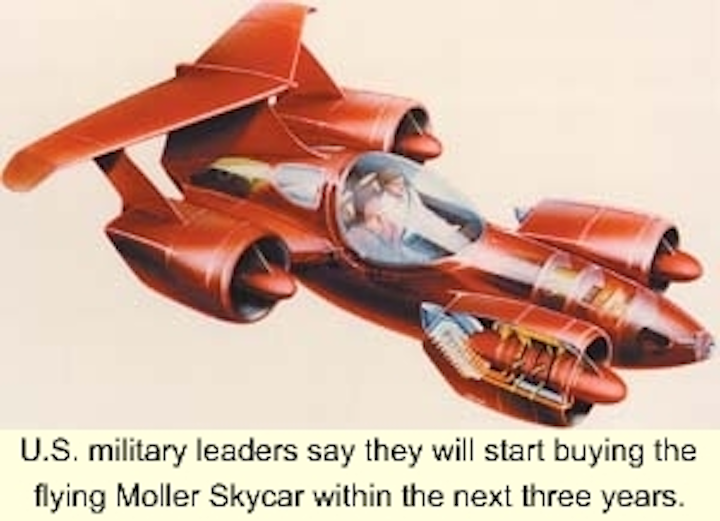 By J.R. Wilson
DAVIS, Calif. — In the wake of World War I, private aviation boomed in America as barnstorming pilots, most of them ex-military, took to the skies to introduce many of their countrymen to the airplane. It was about that same time a dream was born — that someday anyone who wanted one could own an airplane. Now the flying car may be closer than we think.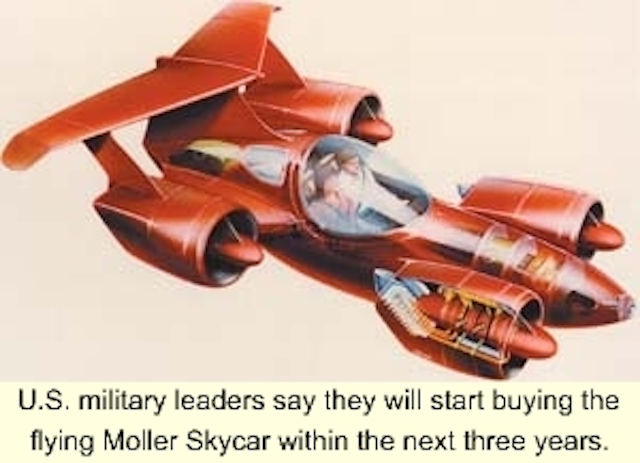 U.S. military leaders say they will start buying the flying Moller Skycar within the next three years.
Click here to enlarge image
After World War II that dream began to take a new shape as private automobiles made the U.S. the most mobile society in history — a society in which aviation emerged as a vital component. It was only natural that cars and planes merged in the minds of futurists, who predicted the coming of a new form of transport — the personal flying car. Yet like so many of the concepts born of science fiction and techno-optimists during the 20th Century, the flying car failed to materialize.
As the 21st Century dawns, most people, no doubt, would be surprised to learn that the notion of a flying car not only lives on, but is the thrust of a serious joint program by the National Aeronautics and Space Administration and the Federal Aviation Administration. This program seeks to set guidelines for certifying flying cars and the technologies and regulations needed to make it a reality before the new millennium has completed its first quarter century.
More importantly, especially in light of where most technological progress has emerged in recent years, private industry is far ahead of even the dreams of the government. In fact, leaders of at least one company — Moller International of Davis, Calif. — plan to begin test flying their M400 Skycar this year.
Company founder Paul Moller, who has been pursuing this particular dream since his teens in Canada, built his first full-scale prototype "ground effects vehicle" in 1964. He is convinced his Skycar will become a part of the U.S. military's battlefield fleet within three years and private transportation before the end of the decade. The primary barrier to the latter, he says, is not technology, but government certification and regulations.
Which is where the NASA/FAA Small Aircraft Transportation System (SATS) comes into play, a five-year study effort, first funded by a sometimes-skeptical Congress for 2001 to the tune of $9 million.
"In a nutshell, in five years what we want to do is set the stage and get all the pieces in place so SATS is ready to meet the transportation challenges of this country in this coming decade," says Dave Hahne, SATS program planning lead at NASA's Langley Research Center in Hampton, Va. "It will take some time for it to grow into adulthood. The national airspace is big and complex and it is difficult — if not impossible — to make sweeping changes overnight.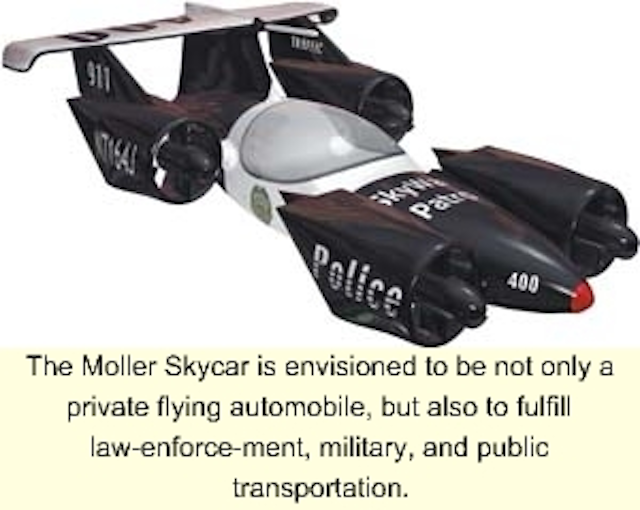 The Moller Skycar is envisioned to be not only a private flying automobile, but also to fulfill law-enforce-ment, military, and public transportation.
Click here to enlarge image
The first thing that FAA officials must do is make sure it is at least as safe as what they have today, Hahne says. Meanwhile, Bruce Holmes, manager of NASA's General Aviation Program Office at Langley, spent a good portion of 2000 trying to convince members of Congress — and especially those in the House, who initially rejected the idea — to authorize money for SATS.

By government standards — and considering the sea change a successful SATS implementation would bring to transportation and society — the five-year plan might be considered a bargain at an estimated $69 million.
"Future demand cannot be satisfied through planned national investments in the maturing aircraft hub-and-spoke and automobile highway systems," Holmes said in launching the SATS concept in July 1999. "We have a goal to enable doorstep-to-destination travel at four times the speed of highways throughout suburban, rural and remote communities served by public use airports." NASA and the FAA, however, predict it will take an additional 25 years of research, technology innovation and implementation, certification and regulation, and writing and demonstrations of viability before the ultimate dream of personal air transport comes to pass.
Not everyone agrees with such a long and drawn-out timetable.
Moller insists the technologies already are available to create a new system of private air transportation that is fully automated from the beginning. Moller has been working since 1965 what he calls a "volanter" — defined as "a vertical takeoff and landing aircraft that is capable of flying in a quick, nimble and agile manner [Lat. volare, to fly; Fr. volant, to move in a nimble and agile manner]". But only now have all the necessary pieces come together.
"I'm very dependent on technology — computers, software, engines, composites, all have added to the potential for success. We were way out there back in the Sixties without all those," he says.
Those advances are not limited to the vehicle itself, but also apply to what the SATS people call the "e-frastructure".
"In FAA parlance, infrastructure also means communications and surveillance systems; we've been trying this e-frastructure term to talk about the communications and surveillance aspects of SATS to separate that from the brick and mortar concept. There are some electronic investments that will have to be made," Hahne explains.
"One of our objectives in the five-year program is to identify how much of this e-frastructure can be onboard the aircraft and what makes more sense to have on the ground." he says. "The approach we're taking is everything can be done aboard the aircraft and aircraft-to-aircraft, recognizing that assumption will be proved wrong in some quarters." In setting the goal so high, he says, SATS is following the Apollo moon program path, which forces those involved to stretch, to exceed their grasp and thus look at technology solutions they might not otherwise consider.
"In some respects, it is an evolution in terms of how it is adopted," Hahne says. "We are just at the beginning of the lifecycle of this system in terms of getting the technologies in place and showing how they integrate into a system."
Among those technological concepts Hahne and Moller see as keys to SATS are collaborative sequencing — vehicle-to-vehicle communication enabling self-separation — GPS-based precision navigation and a clean glass control panel. This approach would use all the elements of NASA's "highway in the sky" (HITS) initiative and the FAA's "free flight" concept, which enables pilots to choose their own routes, speeds, and altitudes to work together with air traffic controllers.
"This 'highway in the sky' operating environment allows you to achieve lower minimums at minimally equipped airports in a way that also is intuitive and easy to fly," Hahne says.
HITS relies on an ergonomically designed flight situation display developed as part of NASA's revolutionary Advanced General Aviation Transportation Experiment (AGATE) affordable glass cockpit. The HITS display will project a pre-planned course or "highway" for the pilot to follow, negating the need to interpret information from a maze of gauges, dials and maps, then create a mental picture of the airplane's location and flight path. The graphical display system includes a two-panel display of GPS-determined position and attitude, course, weather depiction, and aircraft track and performance. Simulations have shown the resulting display makes it possible for even an untrained 12-year-old to fly safely from one point to another.
"A lot of the technology we now have, when you come right down to it, already does a lot of what is needed," Hahne says. "Look at a cruise missile — it is programmed to fly from point A to point B. The challenges just being addressed are frequency and separation issues and how to do that. ADS-B [automatic dependent surveillance-broadcast] essentially provides one of the mechanisms for at least generating the data inputs necessary for the software inputs necessary to do that separation." SATS mimics AGATE in forging a public/private alliance that involves industry as well as state and local governments, which must approve of private aircars operating in their jurisdictions.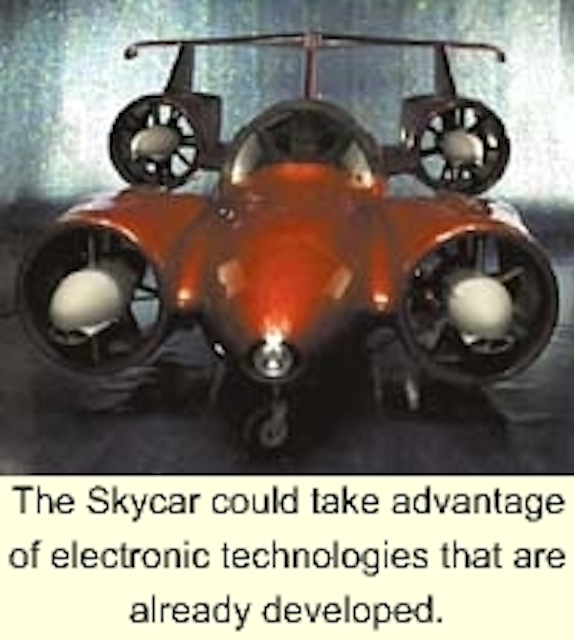 The Skycar could take advantage of electronic technologies that are already developed.
Click here to enlarge image
"We don't want to be mired in just doing things the way we'd always done it," Hahne says. "At NASA, that often meant developing a technology and hoping someone would like it and apply it. By having all these partners together, the FAA is getting educated on what is coming along technologically and we can work with them on certification issues and where new regulations are needed. And the rest of us learn what data we need from the development process that is useful to the certification process. By having the manufacturers and end users involved, you get the technology transfer over a shorter time frame and generate a customer base at the same time."

Even so, federal government officials are looking at decades while Moller is looking at years, before flying cars could be commonplace. These diverging opinions on how to proceed begs the question: is this realm of aviation technology advancing more quickly than government can respond to it? This conundrum manifests itself with increasing frequency in all large organizations, including private industry.
"Anywhere technology meets paper, it is hard to keep up. Look at Moore's Law, as an example," Hahne points out. "Technology is moving almost faster than people can comprehend, sometimes faster than they can come up with uses for it. Is there a potential for technology to outpace regulation and certification in this area? Probably. We hope to match these things up a little better by the environment we are creating."
Could the private sector be more innovative than the public sector? Undoubtedly the answer is yes, Hahne says. Still, it does not do private innovators any good to develop a technology the FAA is not ready — or perhaps not even able — to certify, he says.
"What we hope to do with the five-year SATS effort is create an environment that will allow private industry to exercise some of their innovative talents, Hahne explains. "That may be difficult because those have been suppressed, given the regulatory environment in which they have been operating. We hope, in doing this, we will unleash a new wave of innovation in the aviation industry."
The military's role
While accepting that nothing will lead to FAA certification in less than three years, Moller says he hopes making the technology available now will unleash a new wave of innovation in the regulatory community. He sees the military, being free of FAA certification requirements, playing a significant role in that effort.
The M400 Skycar is a middle-ground vehicle with enough size to carry essential payloads to front-line troops faster than truck convoys or traditional airlifter could, Moller maintains. The Skycar also offers military advantages in autonomous medevac or rescuing downed pilots.
In the civilian world, Moller predicts the Skycar could open vast remote areas of the world to air transportation. "Computer software and hardware is cheap compared to concrete," he says. But the most important difference between Moller's vision and that of NASA and the FAA is how — and how soon — aircars will come into their own.
Pilotless air taxis
"Most of these vehicles are likely to be unpiloted air taxis," Moller predicts. "You won't really be a pilot; this will be a largely automated vehicle." The idea, he says, is for users to telephone for a skycar the same way they would phone for a taxi. In a few minutes, a pilotless skycar would land at curbside and whisk the user to his destination. Among the chief obstacles to making this vision into reality is user confidence, Moller points out.
"Once people accept this as a safe means of transportation, getting into a vehicle that does not have a pilot that will take me from my doorstep to my destination gives me a much greater feeling of privacy," he says. "I think it will be much more acceptable."
Moller acknowledges there will be some hesitancy by many people to hand their lives over to an unpiloted flying machine. But, he notes, today's commercial jetliners and advanced military aircraft are capable of taking off, flying to a preset destination — or even changing destination in flight, if so instructed — and landing without hands-on human involvement. Designing a private transport air vehicle with those and emerging technologies will make the aircar safer, faster, more reliable, and less expensive than any current form of transport, especially the family car. And, he adds, it will succeed where ground transportation has and will continue to fail in creating an automated highway.
"The problem today is they are trying to push a two-dimensional world into a one-dimensional environment," he says. "If you took every car on the road in America at any given moment and put them in the sky, you would look up and only see a few vehicles. And computers would control those. All vehicles would be flying the same speed, precisely spaced. There would be no drunk drivers. Basically, we can do much more easily in the air what they have been talking about doing with the automated highway, which I don't really see happening anyway."
Also, he adds, a rotary engine-driven aircar would create less pollution with greater fuel economy than automobiles or traditional aircraft.
"We can maintain more than 100 passenger miles per gallon, whether it is a one-passenger or six-passenger vehicle. And that's more efficient than a car, given the speed involved; if a car tried to move as fast as an aircraft, it would need about 20,000 horsepower," Moller says.
Economy is a big part of the Skycar's appeal, Moller says. "A Skycar would be cheaper than a private aircraft, but fewer people would own a personal Skycar than own automobiles, although more would use them than use airplanes," he predicts.
Henry Lahore is a Boeing engineer who hopes to see Skycar use for urban medical transport. Lahore estimates an unpiloted air taxi could charge passengers as little as 12-cents per mile and deliver them to their destinations at 10 times the speed of surface vehicles. Such vehicles also could replace regional airliners and provide service to areas too remote or lightly traveled for scheduled airline service. In that application, ticket costs are estimated to be about 18 cents per passenger mile for a 200-mile trip, compared to up to 35-cents per passenger mile for conventional aircraft. Perhaps more importantly, Skycars could provide service on demand, with the aircar arriving and departing on the passenger's schedule rather than the other way around.
Moller says a large share of the Skycar's efficiency revolves around its Rotopower engine, which his company also is licensing to others for a variety of unrelated applications. The rotary engine offers small size and little vibration. "With our patented design, you could literally breathe the exhaust from our engine when it is running at a constant speed," Moller claims. "Another nice characteristic is that it tends to be octane insensitive, so you can use alcohol or natural gas or diesel or hydrogen — there's really nothing that won't function. We've been very efficient running 50 percent water, 50 percent gas. What makes this vehicle promising from an economic point of view is it can cost less than $25 per horsepower produced compared to a turbine, which is ten times that."
The M400 Skycar is a "powered lift" vehicle with four pairs of rotary engines — each pair facing each other with counter-rotating ducted fans producing 1,200 horsepower and 2,800 pounds of thrust from the four nacelles. Initial vertical flight at takeoff comes from vectored thrust that uses moveable vanes mounted behind the engines. The Skycar switches quickly to traditional horizontal thrust once it is airborne.
It is designed to maintain cruising speed at altitudes below 10,000 feet using only four of the eight engines operating at less than two-thirds capacity. This ability greatly reduces the possibility of failed engines causing the aircraft to crash. The Skycar also will have two ballistic parachutes on the airframe. With a 9-to-1 glide slope provided by its aerodynamic body, it could make a parachute-assisted emergency "soft" landing at an airport or open area.
If it is forced to land in water, it will float. In fact, the engineers believe the Skycar may even be able to land and take off from water.
According to NASA requirements, the Skycar must "prove SATS works"; specifically, to validate four concept hypotheses:
the public can safely operate a SATS vehicle in three dimensions, in near-all-weather, including abnormal operations;
the public can afford to travel by SATS;
SATS infrastructure is an affordable option for national transportation system investments; and
SATS benefits all suburban, rural, and remote communities in terms of accessibility, mobility, economic opportunity, environment, and quality of life.
An integrated technology demonstration will blend three capabilities to prove these hypotheses:
virtual visual meteorological conditions (VMC) for routine instrument meteorological conditions (IMC) operations;
high-density operations; and
automotive synergies.
"Part of the challenge of this program is it covers a wide waterfront of technologies, everywhere from satellite and digital communications to display hardware and computer networking architectures to computer programming and software reliability," Hahne says. "There is a lot to be integrated, a lot of technology that exists, a lot of technology we will be leveraging off of, some we have to develop, almost all of it we need to integrate into a system geared for smaller aircraft and smaller airports.
Vehicle automation
A significant part of that work will center on automation — what is the appropriate level of automation in such a vehicle, given both available technologies and rapidly escalating computer capabilities that will enhance the abilities of automation to handle unforeseen problems.
"Developing the technologies and operating capabilities we want to demonstrate in this five-year effort does not, a priori, preclude the concept of full automation," Hahne says. "What we are talking about can be adapted to full automation. Because of the feedback we get from our stakeholders — Congress and, to some extent, the local and state governments — and working with the FAA and understanding more and more how they operate and what it takes to make changes and develop regulations and procedures, we think the likely adoption method will not be to go to full automation right away.
Among the chief considerations behind the cautious approach to automation is safety. "The primary reason we aren't diving headfirst into that end of the pool is because of the unknown unknowns," Hahne says. "It is difficult to program for those. The human brain may be an analog computer, but for some tasks it is still superior to the most sophisticated digital computer in the world. Its ability to form a solution that it wasn't programmed for doesn't have a set response to, is incredible. In some respects, it is still the ultimate responsive mode to failure, whether on land, air or sea. You don't want to give up that capability too lightly."
Moller says he believes using a military version, which does not require FAA certification, to prove the viability of a fully automatic aircar will telescope the certification and regulatory timeline. Hahne, on the other hand, does not see that as part of his agenda. "Fortunately, we are working with the FAA and that is their charter," he says. "What we do is make them aware of technologies possibly sooner than they might otherwise become aware of them and help them think through how, in the 21st Century, is the appropriate way to certify new technology."
Moller says he does not expect to go into mass production himself, but rather to license production to companies that already have the experience and capability. While he has no such partner on board as yet, in late February he was invited to brief Ford Motor Company's top executives from around the world at a meeting in Switzerland.
"Ford is leading the effort to look at alternatives such as the Skycar — and this is the first time an automotive company has come to me," Moller says. "They are efficient manufacturers of low-cost vehicles, so they will play a major role in this." In the near term, Ford executives say they will build 10 vehicles in 2002, at a price of about $995,000 each, then ramp up to 200 vehicles per year by 2005 as the price falls to about $350,000. Eventually, Moller and the SATS team want to see aircars priced in line with premium automobiles, roughly $50,000 to $100,000, depending on passenger capacity.
It is the military involvement Moller expects to lay the real foundation for making the aircar concept "fly" with the public and elected officials. Once that is done, he believes, serious attention will be paid to the benefits such a vehicle could bring to society as a whole.
"For most cases, even for transcontinental flights, a Skycar would be practical. And nearly 80 percent of all air trips are within the 900-mile range of the Skycar," he says. In addition, more than 85 percent of all automobile trips are 50 miles or more, also within the economic use of an aircar. "These things will be so controllable, you can send them wherever you want whenever you want." Henry Ford predicted the eventual merger of the automobile and airplane in 1940, Moller says — and six decades later, the time has come to prove him right.
"If nothing else, SATS will happen some day through attrition and our kids will think nothing of using it," Hahne predicts. "And our grandchildren will think nothing of getting into a vehicle they just have to talk to tell it where to go while they sit back and read a book." Whether it happens tomorrow or in one more generation, both industry and government — including the military — seem to agree technology finally has made it possible.
Moller M400 Skycar specifications
Passengers: 4
Cruise speed: 350 miles per hour
Top speed: 390 miles per hour
Maximum rate of climb: 7,800 feet per minute
Maximum range: 900 miles
Payload with maximum fuel: 740 pounds
Fuel consumption: 15 miles per gallon
Operational ceiling: 30,000 feet
Gross weight: 2,400 pounds
Engine power (eight 120-horsepowerengines): 960 horsepower
Dimensions: 18 by 9 by 6 feet
Takeoff and landing area: 35 feet diagonal
Noise level at 500 feet: 65 decibels