Rugged computer makers embrace the COTS world
The choices of rugged computers are broadening every year as the old military suppliers design to COTS guidelines, and commercial suppliers toughen their off-the-shelf offerings. The industry consensus, as always, is you get what you pay for.
Jan 1st, 2001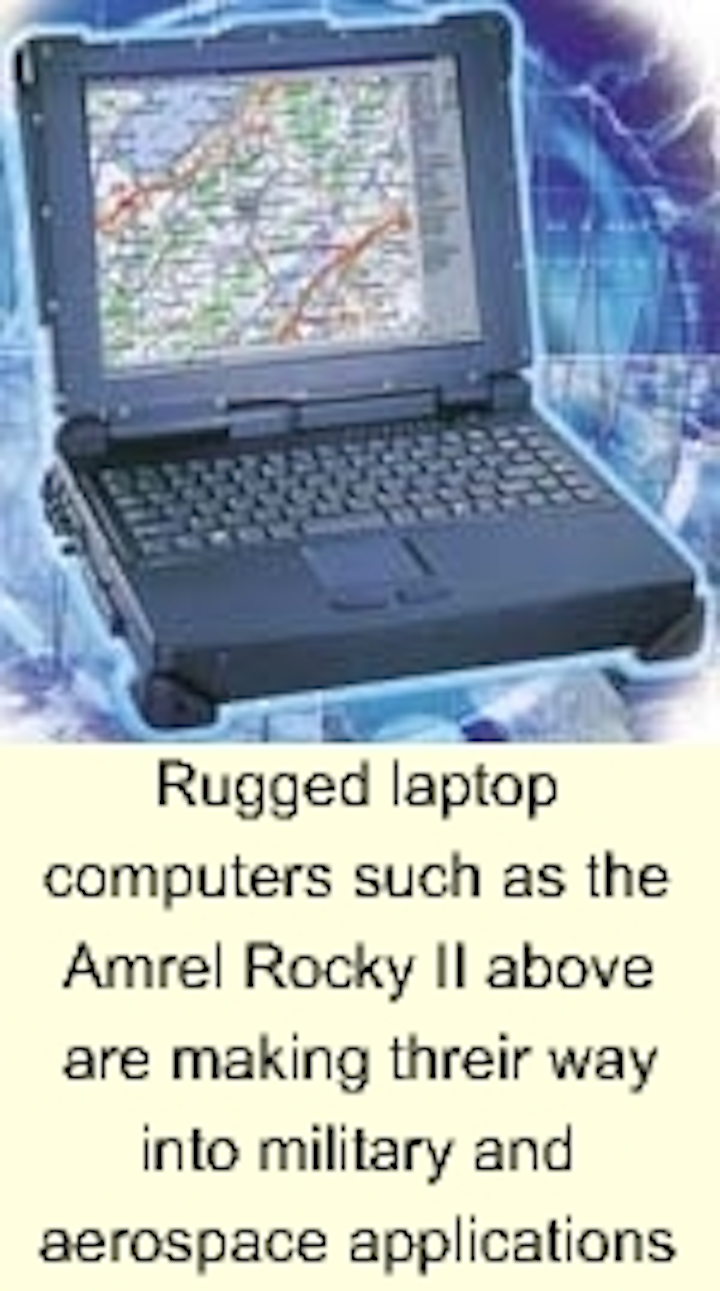 The choices of rugged computers are broadening every year as the old military suppliers design to COTS guidelines, and commercial suppliers toughen their off-the-shelf offerings. The industry consensus, as always, is you get what you pay for.

By John Keller

Rugged notebook computers from commercial suppliers are perhaps more important to today's military than ever before. Military forces, as they enter the 21st century, put a premium on speed, mobility, and the rapid flow of digital information. To achieve these objectives, lightweight and inexpensive computers that can take a beating are in the forefront of the military's technological needs.

Tough "green box" computers custom-built to military specifications have been around for decades. What is new is today's industry lineup of ruggedized notebook computers, which are perfect examples of commercial off-the-shelf equipment, or COTS. The latest crop of commercial rugged computers, epitomized by companies such as Panasonic Personal Computer Co., Getac Inc., Dolch, FieldWorks, and Paravant often are ready to be ordered right off the assembly line — sometimes even over the Internet with a credit card or government contract number.
There is an extremely broad selection of ruggedized notebook computers available for military, space, and commercial aviation users. They range from the extremely expensive and virtually indestructible, to the surprisingly affordable and slightly tougher than the average laptop.
The COTS movement, where U.S. military officials seek to use as much commercially developed equipment as possible, can help programs save money, but it also confronts program managers with difficult decisions. Although program officials prefer the affordability of commercially developed computers, they also are reluctant to abandon the military specifications and standards that they have relied on for so many years.

"The military market has changed dramatically over the last 10 years," says Chris Revay, director of sales and marketing at Cyberchron Corp. of Cold Spring, N.Y. Cyberchron provides a rugged laptop computer as well as rugged portable computer servers. "They are getting away from mil-spec, to military rugged, and are trying to apply a commercial unit to a military application," Revay continues. "They are trying to use as much as possible what is out there already, but they don't know how far they can push it."

Industry experts generally agree — you get what you pay for when it comes to ruggedized notebook computers. Machines priced on the low end of the range generally cannot be altered easily to meet unique mission requirements, and cannot stand up for long to severe battlefield conditions. Those on the high end of the cost range generally can stand up to the most demanding battlefield conditions — including resistance to nuclear, biological, and chemical warfare — and are readily customizable to a wide variety of user and mission needs.
Another powerful economic consideration where rugged notebooks are concerned revolves around the cost of upgrade and replacement. On the one hand, users can pay a lot up front to buy an extremely rugged and readily upgradable laptop that they will be able to use for years to come, industry experts point out. But on the other hand, they must also consider replacing a low-end notebook computer once or even twice for the same cost as buying a high-end machine. "Sometimes for the same cost, if it fails, they can replace it for the same price as if they bought an extremely rugged unit from the start," says Kimberly Revak, sales and marketing manager at Cyberchron.
Often company leaders cite their longevity in the rugged computer business — particularly how often they have dealt specifically with military customers — as a primary selling point. Leaders of companies that have sold ruggedized computers to the military for years contend that their experience gives them a strong leg up against competitors whose experiences are primarily in the commercial market.
Experience also is what separates today's ruggedized computer manufacturers into two camps. One group began as military computer providers and branched out into commercial offerings. The other began as commercial-grade manufacturers and branched into military and aerospace applications, experts say. "There are some suppliers from the old-style mil-spec approach that are downgrading, and some industrial rugged suppliers that are moving into the field from the bottom," explains Cyberchron's Revay.
Ruggedized notebook computer designers roughly follow developments in desktop computers and workstations — although notebook makers often must lag behind desktop technology for a variety of reasons. This is especially true of rugged laptop designers.
"The Intel chip now runs so hot no one can put it into a [rugged laptop] system without its overheating," explains Lisa Baker, director of the government division at rugged computer maker FieldWorks Inc. in Eden Prairie, Minn. "Intel will release a new chip for the commercial desktop end of the market where heat is not an issue," she says. "When we get into the rugged spectrum, we have to wait until Intel or Motorola is ready to release a cooler chip, or build in engineering capability such as fans and reduce the heat inside a sealed unit."
Rugged notebook makers also must wait for other technologies to emerge from desktop computer manufacturers before they can begin to ruggedize them for environmentally demanding applications. "There is not a huge amount of new innovation in rugged computers today," says Myles Kelvin, executive director of marketing at Dolch Computer Systems in Fremont, Calif. "We are waiting for some of the new technological innovation so we can package them well."
For example, Kelvin says, rugged computer manufacturers are waiting for new display technology to emerge from the desktop market so they can find innovative and cost-effective ways to ruggedize it. Of particular interest, he says are transflective displays, which uses a mirror to reflect light passing through the display to make them easily readable in low-light or direct-sunlight conditions. "We are waiting for transflective displays from the OEMs," he says. "The other technologies we have used are very bright backlights, which have disadvantages of heat and heat dissipation, which is also an issue with battery power."
The rugged computer community has a large number of suppliers, many of which could not be mentioned in this article because of space constraints. For more information on rugged computer suppliers, please see the "who's who" listing on page 20. Military & Aerospace Electronics endeavors to provide the names and contract information of as many suppliers as possible, but we do not claim this to be an exhaustive list of rugged computer manufacturers.
Off-the-shelf rugged
One of the most notable off-the-shelf rugged computers is the ToughBook from Panasonic Personal Computer Co. of Secaucus, N.J. ToughBook designers use MIL-STD 810E to ruggedize their machines against the effects of drop shock, vibration, moisture, heat, cold, dust, and altitude, company officials say. Panasonic engineers also dropped selected ToughBooks from 3 feet, shook them, and doused them with water, without causing them to malfunction, officials say.
U.S. Air Force personnel are using ToughBooks for flight mission planning and flight line maintenance work where the computers are subject to heat and cold, as well as to rain and humidity, says Melissa Payton, federal marketing manager at Panasonic Personal Computer Co.

The company's two most rugged models are the ToughBook 27, which weighs 8 pounds and costs from $4,000 to $5,000, and the ToughBook 17/34, which weighs 3.8 pounds and costs as little as $3,000 depending on options. Both these models meet MIL-STD 810E ruggedization guidelines and have magnesium cases, shock-mounted hard disk drives, as well as sealed ports and chassis. "Our customers really wanted this. [The ToughBooks] can operate in the field and can take dust, heat, and cold," Payton says.

The Panasonic ToughBook generally is not for applications as demanding as on board tracked combat vehicles where shock and vibration is extreme, but may be acceptable for field services and sales, some military applications, law enforcement, transportation, field communications, maintenance and repair, global positioning system tracking, and claims processing, industry experts say.
Panasonic also offers less-rugged versions, the ToughBook 47, 71, and 37 "to sell to the average mobile user," Payton says. These machines have shock-mounted hard drives and magnesium cases around the liquid crystal displays. While Panasonic uses the ToughBook 27 and 17/34 to compete against companies such as Dolch and Getac, the company uses the less-rugged models to compete against other laptop computer providers such as Compaq and Toshiba, she says.
The ToughBook line is part of several federal government contracts such as Army Portable 3 and Navy TAC. A funny thing about the ToughBook, however; it typically sets an informal industry standard to which competing manufacturers compare their own products in their claims of technological superiority.
Experts at Getac Inc. of Lake Forest, Calif., serve the industry with their CA, A, B, N, and I-series rugged computers. The A-Series, which costs around $4,500, is the company's most popular line, particularly among military and public service users, says Jay Cheng, the Getac sales director.
The Intel Pentium-based Getac A-320, for example, weighs 12 pounds and comes in a sealed magnesium alloy die-cast chassis. It meets guidelines of MIL-STD 810E in that it operates in temperatures between 0 and 50 Celsius (with -20 to 50 C optional), at altitudes as high as 15,000 feet, can operate through a 15-g shock, and survive a 3-foot drop onto concrete, company officials say.
The Getac A-series is the company's most popular and most "off-the-shelf" model, Cheng explains. The Getac N and I-series machines not only are more rugged and expensive than the A-series, but also are more readily customizable to specific customer needs, he says. "We offer customization, and this is one of our strengths," Cheng says. Military personnel use Getac rugged notebook computers aboard U.S. Air Force V-22 and C-17 aircraft, he says.
In a similar class is the Rough Rider family of rugged notebook computers from Ruggednotebooks.com of Fullerton, Calif. Five machines in this line — the Rough Rider I, Rough Rider I Plus, Rough Rider III, Rough Rider N Series, and Rough Rider II Plus — are built to the guidelines of MIL-STD 810E, and range in price between about $4,000 and $11,000 apiece. All are Intel Pentium-based with features such as sunlight-readable flat-panel displays, internal 12-channel global positioning system receiver, and touch-screen/pen-based user interfaces.
Among the ruggednotebooks.com customers are the U.S. Air Force, Navy, and Coast Guard in a variety of shipboard and helicopter-based applications, company officials say. These machines are designed to withstand extremes in shock and vibration, temperature, humidity, driving rain, and water spray. The company offers other ruggedized notebook computers and computer tablets for a variety of industrial, law enforcement, construction, and fire-fighting applications.
Another player among military ruggedized notebook computers is the Rocky II Plus from Amrel Systems Inc. of Arcadia, Calif. Like its competitors, the Rocky II Plus is built to MIL-STD 810E ruggedization guidelines. Company leaders build it for a minimum life cycle of five years, which is considerably longer than other field computers that have life spans of one to two years, Amrel officials say.
The Rocky II Plus is part of the U.S. Army Battle Command Training Program (BCTP), says Linda Talcott, Amrel's director of marketing. BCTP is a mobile Army combat training center to provide realistic and stressful joint, interservice, and combined arms training according to U.S. Army doctrine to improve unit proficiency on realistic training battlefields.
The Amrel Rocky II Plus has a Pentium III microprocessor, 64 megabytes of solid-state memory upgradable to 256 megabytes, removable hard disk drives, an optional DVD drive, sunlight-readable display, and 100 Base-T network card. The machine, which retails for $5,745, also is designed into law enforcement, fire fighting, and construction applications, company officials say.
More rugged notebooks
Dolch engineers offer a broad range of price and ruggedization in efforts to capture as many military and industrial rugged applications as possible. The company's rugged computer line includes rugged portables with slots and rugged displays. "We have products that are outdoor proof, and some that are not, and both are in use by the military depending on the environment," says Dolch's Kelvin.
Although Kelvin admits that Dolch designers don not make a "front-line green-box computer" for extremely rugged military applications, "we have plenty of military customers; it all depends on the types of things they actually want to do." Dolch engineers built their reputation, in part, by designing their TransPAC computer for the Boeing Co. for use in the C-17 airlifter at the cargo master's station.

Perhaps the flagship of the Dolch line of rugged notebook computers is the NotePAC ultra-rugged, all-metal computer with its cast-magnesium case and shock-mounted components, which is designed to survive rough handling and extreme environmental conditions. The system is sealed from water, salt laden air, and dust. Built to MIL-STD 810E guidelines, it can withstand a 15 g operating shock load and a 30 g non-operating shock load, and can operate continuously in high-vibration environments such as helicopters and off-road vehicles.

The NotePAC has an Intel Mobile Pentium II microprocessor and 64 megabytes of system memory. It has an 87-key, sealed rubber keyboard with integrated pointing device, as well as infrared I/O ports. A peripheral bay houses either the removable floppy drive or an optional CD-ROM or DVD drive.

The range of rugged portable computer offerings does not come close to ending here. Another provider is FieldWorks, which has a history of providing vehicular-mount computers to the U.S. Army for border patrol applications in Bosnia.
Among the FieldWorks rugged notebook computer offerings are the Model 5000 Series II and the Model 8000 series. The Model 5000 Series II meets MIL-STD 810E standards for shock, weighs 11.6 pounds, comes in a rigid lightweight magnesium alloy chassis with internal rubber shock mounting. These machines, which offer the Pentium microprocessor at 233 MHz, 20-0 MHz, or 166 MHz speeds, operate in temperatures from -15 to 50 C.
The FieldWorks Model 8000 series, meanwhile, meets MIL-STD 810C shock and vibration guidelines, weighs 15.8 pounds, has a magnesium chassis with rubber component shock mounting, and operates in temperatures from -15 to 50 C. The Model 8000 features the 366 MHz Intel Pentium II microprocessor.
"We are very much a COTS solution," FieldWorks's Baker says. "There is a spectrum in rugged computers where at one end is the commercial computer world with no rugged features. The other end is the mil-spec, non-COTS, unique world. We sit in the middle."
Designers at FieldWorks, she says, use a proprietary component shock-mounting system that enables users to make small repairs without destroying the integrity of the system. "We do rate to an M-1 tank mil spec," she says. "We make it so it is not impossible to repair in the field, because most of our customers want to be able to do the first level of repair."
Notebook computers with moderate levels of ruggedization often can be fine for most outdoor "rough-and-tumble" applications, yet may not be adequate for uses that involve known punishing conditions. U.S. Army officials at the Aberdeen Proving Ground in Aberdeen, Md., needed a rugged notebook computer that was able to function reliably in and near shelters where explosives are tested. They chose the Pro3000 and Pro9000 rugged notebooks from Promark Technology in Annapolis Junction, Md.
"One of our units is in the explosives-proof enclosure out where they test the ordnance," says Clifford Drye, product and sales manager for the rugged portables division, at Promark. "Sensors inside the enclosure are attached to the laptop to measure impact and other variables. One of the reasons they use our unit because every other laptop they tried to put in there it would reboot the system, but it doesn't reboot ours. The drives are extremely shock mounted to withstand 15 Gs."
The Promark Pro3000 is a sealed, waterproof notebook computer that not only meets the guidelines of MIL-STD 810E, but also those of NEMA 12 of the National Electrical Manufacturers Association (NEMA) in Arlington, Va. (http://www.nema.org/). The Promark Pro9000 is similar to the Pro3000 except it has additional capabilities.
Rugged portable computers
Among the choices of rugged computers for harsh military conditions are the so-called "rugged portables" that realistically are too large and heavy to be called rugged notebook computers. These machines, nevertheless, are easily man-portable and often are even tougher and powerful than the rugged notebooks.
In this category are the CPC-5200i, the CPC-5000s, and the CPC-5600i from Cyberchron, which "sells the large, high-powered machines and servers," says Cyberchron's Revay. "We do mass production, but we also offer a lot of customized services, custom units, and customized standard products."

Cyberchron's computers meet environmental guidelines of MIL-STD 810E, as well as the electronic emissions standards of MIL-STD 461C, points out Cyberchron's Revak. The CPC-5200i and CPC 5600i are the company's low-end and high-end Intel Pentium computers, respectively, and the CPC-5500s is based on the Sun UltraSPARC I or II 400 MHz microprocessor. Cyberchron does offer a rugged laptop, the CPC5000i, based on the Intel Pentium 133 and 233 MHz MMX microprocessors.
The tough reputation of these machines has helped move them into a wide variety of military and aerospace applications, company officials say. "We have served just about every one of the prime contractors from one time or another — and all the services," Revay says. Among Cyberchron's latest military jobs is the U.S. Air Force and joint-service Small Tactical Terminal, for which Cyberchron provides computers to STT contractor Harris Corp. of Melbourne, Fla., Revay says.
Some rugged portables are so beefy and sturdy that their manufacturers affectionately refer to them as "luggable" computers rather than portable computers. One manufacturer in this category is Greco Systems of El Cajon, Calif. Greco's core product line consists of the GRCS 9000 and GRCS 10000, says Mark Costantino, manufacturing engineer at Greco.
The GRCS 9000 features custom configurations, detachable built-in keyboard with optional trackball, PC cards locked into chassis with patented retainers, is designed to MIL-STD 810, offers Windows, MS-DOS, and Unix-compatible software, and has a front-panel door to protect drive bays. The machine has all-aluminum construction and is available with shock-mounted monochrome liquid crystal display (LCD), passive color LCD, active color LCD, or electroluminescent display. A touch screen is also available. Greco's GRCS 10000 is similar to the 9000, except it features TEMPEST shielding of electronic emissions, Costantino says.
Experts at Tadpole-RDI of Carlsbad, Calif., have sold their ruggedized portable computer servers for use in global field operations for command, control, and communications for the U.S. Marine Corps. Marine officials chose the Tadpole-RDI VoyagerIIi portable rugged Sun workstation. The VoyagerIIi servers are binary compatible with Sun desktop and office servers, feature the UltraSPARCIIi processor, and run on the Solaris 7 operating system.

Marine Corps leaders purchased the Tadpole-RDI portable servers under terms of a $1.4 million contract Nov. 27 from Tadpole-RDI reseller GTSI Corp. Inc. of Chantilly, Va. Tadpole-RDI also provides ruggedized portable Sun and Hewlett-Packard workstations.

Also in the rugged portable class is the ST-2000 rugged computer from IBI Systems Inc. of Fort Lauderdale, Fla. The ST-2000 has a passive ISA, PCI, or PICMG backplane, Pentium II or Pentium III microprocessor, and rugged integrated keyboard and trackball. This machine, which operates in temperatures between -25 and 60 C, was literally run over by a truck after falling from another vehicle, according to company officials. The noticeably dented machine booted up and ran immediately after the accident.

Another tough portable machine is the Python Rugged Workstation from Macrolink Inc. of Anaheim, Calif. Macrolink engineers, who specialize in VME-based custom rugged workstations for aircraft, ground vehicles, and surface ships, applied their modular VME designs to create the VME-based Python. "This is what we call a laptop for lack of a better name," says Don Murray, manager of systems and storage products at Macrolink. "It is about the size of a normal standard briefcase where the application has to be smaller, where the application is weight constrained but still must be robust."
The Python contains a 6U VME Hewlett Packard 743i 100 MHz processor with 32 megabytes of RAM, expandable to 256 megabytes, a 13-inch 1,280-by-1,024-pixel active matrix liquid crystal display, and optional removable disk drive in 2- or 4-gigabyte configurations. In the future, users may be able to take advantage of the next generation Hewlett-Packard processors as well as other 6U VME processors such as SPARC and Power PC, Macrolink officials say.
A company that manufacturers some of the most rugged notebook and laptop computers available is Paravant Computer Systems Inc. of Melbourne, Fla. The company's notebook computer is the RNB-520, and its rugged laptops are the Model C, Model D, and Model F. All these machines are sealed, conduction cooled, meet MIL-STD 810E environmental guidelines with options to meet MIL-STD-461D electronic emissions standards, and feature military-grade connectors.
Paravant officials call the RNB notebook computer a "lower-cost alternative for users requiring environmentally sealed systems." It comes in a dip-brazed aluminum case with a 133 MHz Pentium microprocessor, four PCMCIA card slots, and operates in temperatures between -20 and 50 C.
The Model C, meanwhile, comes with a 133 MHz or 166 MHz Pentium, has two PCMCIA card drives and two PC/104 card drives, has a sealed keyboard, and operates in temperatures between -20 and 60 C. the Model D has a 133 MHz or 166 MHz Pentium, three PC/104 slots or two full-size PC slots and one PC/104 slot, as well as two PCMCIA card drives. The Paravant Model F has a 266 MHz Pentium, two PCMCIA card drives and two PC/104 expansion slots.
Paravant is a relative old-timer in supplying rugged computers to the military. "We developed a rugged laptop, and that was our bread and butter until this past year," says Paravant President Rick McNeight. Paravant's original rugged laptop, fielded with the U.S. Marine Corps, U.S. Navy, and U.S. Air Force, were based on the old Intel 8088 microprocessor and were used with Raytheon radar systems linked over combat radios for situational awareness, McNeight says. One of the company's latest military projects involves the receive portion of the tri-service Global Broadcast Service, McNeight says.
Paravant also is supplying vehicle- and rack-mount rugged computers for the U.S. Army Applique program, which seeks to help separate friends from enemies on a rapidly changing battlefield. "A Panasonic ToughBook would not survive two seconds in this environment," McNeight claims. Experts at Litton Data Systems in San Diego are also supplying rugged computers for the Applique program.
Another player in the super-rugged mobile computer category is Phoenix Group Inc. of Hauppauge, N.Y. The company's line of rugged portables includes the ToughPad and Condor Applique+. The Pentium-based ToughPad is waterproof and can be supplied with MIL-C-38999 connectors or sealed industry standard PC connectors. The unit has two or four PCMCIA card slots and one or two Nickel Metal Hydride batteries. The modular-design Condor Applique+, meanwhile, is a waterproof Pentium Pro 200 MHz computer with dual symmetric multi processing. Its modular architecture facilitates upgrades through technology insertion.
The ToughPad is used aboard U.S. Army AH-64 Apache attack helicopters, and the Condor is aboard the U.S. Army M1 Abrams main battle tank, the M2 Bradley Fighting Vehicle, as well as aboard Humvee utility vehicles, says Sal Lorio, marketing services director at Phoenix.
---
Military continues its demand for rugged rack- and vehicular-mounted computers
Rugged notebook computer manufacturers certainly are finding a growing number of users in the military and aerospace world, yet military users still ask for extremely rugged vehicular- and rack-mount computers for demanding applications.
The class of rugged computers designed for vehicles and racks often are vastly more rugged than notebook computers and often must meet even more stringent environmental guidelines than MIL-STD 810E.
Among the manufacturers of rack- and vehicle-mount rugged computers is AP Labs of San Diego, which recently won a $3.2 million contract from the U.S. Navy Space and Naval Warfare Systems Command in San Diego to provide 85 rugged computers for the Navy's Extremely High Frequency Communications Controller/Time Division Multiple Access Interface Processor Program, better known as NECC/TIP.
These computers, each of which consist of three independent VME Subsystems and peripherals in one rack mount enclosure, will go on submarines, surface ships, and at shore installations. The AP Labs computers are qualified to MIL-STD-901D Grade A and MIL-STD-167/1 shock and vibration guidelines, as well as to MIL-STD-461E guidelines regulating electronic interference.
"It's a good number of years we have been in this business, and our ability to engineer for cooling is a big one," says Simon Parrett, marketing manager at AP Labs. "If you look at a spec and say it's easy, but do not have the experience to understand what the spec is saying, you're going to get into trouble."
Another well-known provider of ultra-rugged rack- and vehicular-mount computers is the DRS Technologies Electronic Systems Group in Columbia, Md. DRS designers often concentrate on military applications where the operating environment is so severe that typical COTS computers simply cannot stand the punishment. "The architecture of an inexpensive computer needed in large numbers on a digital battlefield typically is different from that of a high-value signal processing workstation used on a warship," explains Bill Watson, director of rugged products at DRS.
Watson's company supplies several different rugged computer architectures, including one based on the ATX circuit card form factor that goes into the DRS Explorer MP workstations on the U.S. Army and Marine Corps Advanced Field Artillery Tactical Data System. DRS designers also use the ISA/PCI architecture on their Genesis line of rugged computers aboard the U.S. Air Force WC-130 hurricane-hunting aircraft. DRS experts also look to VME for their Series 700 rugged computers aboard the U.S. Navy P-3 maritime patrol aircraft, and the AN/UYQ-70 family of shipboard tactical workstations.
Designing rack- and vehicular-mount rugged computers can require more engineering expertise and finesse than COTS rugged notebook computers do because of the custom nature of these applications. "We learned that you need to develop a close relationship with your COTS suppliers as well as your prime," says Gordy Kranz, chief technologist for the General Dynamics Information Systems Tactical Avionics Business Unit in Bloomington, Minn. "We learned that the open-systems approach works best if you select industry-supported commercial standards, such as VME, PCI, Posix, and CORBA. Not only is there an independent agency responsible for the standards, but there are multiple products available that meet that standard."
Often companies that build rugged rack- and vehicular-mount computers pride themselves on their expertise at custom engineering to fit these machines into tight and difficult-to-access spaces. One of these companies is Macrolink Inc. of Anaheim, Calif. Rugged computer customers "all believe they get COTS, but in reality that doesn't happen because they have a special packaging requirement," admits George Hendershot, manager of Macrolink's ATR business unit. "They ask for what is available, but not in the package they need," Hendershot says. "That is where you get the custom engineering. In the actual packaging, they want you to meet certain requirements, such as crash safety."
This ability to do custom packaging can be a big factor in choosing a rugged rack- or vehicular-mounted computer. "On our rack mount platforms in general, we can tailor the motherboards to fit what they need to, no more no less," says George Perrine, president of DuraSys Corp. in Dover, N.H. DuraSys provides the 9-pound RC-1400T passive backplane portable computer. The RC-1400T comes in an 8.25-by-4.37-by 16.5-inch aluminum case with optional handle, has a PCI Industrial Computer Manufacturers Group (PICMIG)-certified industrial single-board computer with the Intel 100 MHz chipset, and the Socket 370 for Intel Pentium III Coppermine or Celeron processors.
Engineers at Argon Corp. of Great Neck, N.Y., meanwhile, design what they call a "modular piggyback system" that can house several different computers in one box linked by a network, says Moshe Albaum, Argon's sales engineer. Company experts provide this computer to the U.S. Navy for use aboard the aircraft carrier USS George Washington, Albaum says. Aboard the carrier, the Argon computer helps naval personnel recover aircraft. Argon's most rugged computers can operate in temperatures between -28 and 55 C, and withstand shock and vibration for mission-critical Navy shipboard applications, he says.
"Our main advantage is modularity," Albaum says. "Obsolescence is the biggest issue today. The way we fight obsolescence is two ways: one is the piggyback module that fits on back of the monitor. But a year later your requirements change to require much more host power in your box or a different operating system. Now you unclick the box and buy another one. It is much cheaper than buying a whole new system."
Leaders of rugged computer maker Azonix Corp. of Billerica, Mass., say their market advantage comes in a different way — by custom panel mounting the computer, display, interfaces, and control stations in a ruggedized panel. This approach, which company officials call ProPanel, is ruggedized against shock and vibration, shielded from electromagnetic interference, has isolated circuitry, metal enclosures, no outside air exchange, and resists water. Recently Azonix received U.S. Navy certification to use ProPanel aboard ship bridges for use in engine room telegraphy applications, as well as weather monitoring and other communications applications, officials say.
Custom packaging also is the forte of Daisy Data Inc. of York Haven, Pa., company officials say. Daisy, is providing a ruggedized thin-client networked computer Unix terminal, flat-panel display, and touch-screen interface for the AN/UYQ-70 shipboard computer terminals aboard U.S. Navy Ticonderoga-class Aegis cruisers, says Matt Miller, Daisy's director of marketing. "Customers come to us because of our experience in providing ruggedized X-terminals and flat panel displays," he says. "We really have one of the longest reputations in X terminals and flat panel displays for rugged environments. We started this back in the 1987." — J.K.
---
DOD's CHS-2 rugged computer program sets the standard for the digital battlefield
One of the most visible rugged computer programs in the U.S. Department of Defense (DOD) is the Common Hardware Software-2 program — better known as CHS-2. Conceived to supply computers and software for U.S. Army command and control systems, the CHS-2 is becoming a joint-services program and focal point for rugged computer technology.
In charge of CHS-2 is the General Dynamics (GD) Communications Systems division in Taunton, Mass., says Chris Marzilli, vice president and general manager of commercial hardware systems at GD Communications. The company's primary technology partners in CHS-2 include Sun Microsystems of Mountain View, Calif., and Cisco Systems Inc. of San Jose, Calif., Marzilli says. Other primary CHS-2 suppliers are DRS Technologies Electronic Systems Group in Columbia, Md. and Litton Data Systems of San Diego.

The CHS-2 family of rugged computers revolves around the Sun Ultra and SPARCstation desktop workstations and servers. Hardware comes in three grades of ruggedization commercial grade (V1); ruggedized grade (V2), and extreme weapons-grade ruggedization (V3). In charge of much workstation ruggedization are experts at DRS.
"The large majority of the equipment is in the V-2 space," Marzilli says. "The high end is ungodly expensive, so V-2 strikes that cost-conscious pose between in-the-mud rugged and out-of-the-box commercial. Affordability is very important. We are significantly less expensive than two times commercial price for V-2 equipment."
CHS-2 was intended originally to be the common computers for nodes of what has been known as the Army Tactical Command and Control System — or ATCCS. These nodes consist of the Maneuver Control System (MCS); Advanced Field Artillery Tactical Data System (AFATDS); All Source Analysis System (ASAS); Combat Service Support Control System (CSSCS); and Air and Missile Defense WorkStation (AMDWS).
At the core of the CHS-2 equipment are the Versatile Computer Unit SPARC and Pentium workstations (VCU); the High-Capacity Computer Unit-2 (HCU-2); Compact Computer Unit-2 (CCU-2); UltraSPARC Computer Unit; and Litton's Handheld Terminal Unit (HTU).
The VCU includes 12-inch sunlight-readable XGA display, or 18-inch SXGA touchscreen display. It enables users to mount the central processing unit remotely from the keyboard and display. It weighs between 30 and 50 pounds depending on capability, and can operate in temperatures between 0 and 120 degrees Fahrenheit, and can handle three drops on each face from three feet.
The 45-pound HCU-2 has a 440 MHz 64-bit UltraSPARC-IIi microprocessor, as much as 1 gigabyte of solid-state memory, is mountable in a 19-inch rack, operates in temperatures between 0 and 120 F, and survives three drops from three feet. The 56-pound CCU-2 has an UltraSPARC AXi microprocessor, as much as 1 gigabyte of solid-state memory, operates between 0 and 120 F, and can survive three 3-foot drops. The 40-pound UltraSPARC Computer Unit uses the 64-bit UltraSPARC processor, operates between 0 and 120 F., and also can survive three 3-foot drops. Litton's 5-pound HTU has the Pentium 133 MHz microprocessor, 7.8-inch color display, two PCMCIA slots, operates in temperatures between -35 and 49 degrees Celsius, and can survive a 36-foot drop as per MIL-STD 810E.
The CHS-2 project also includes the "CommandView" V2 modular tiled display array, which consists of individual display panels that interlock with one another to provide multiple battlefield displays, or one large display. — J.K.