Tactical airborne laser weapons: where are we now, and how far do we have to go to get there?
THE MIL & AERO COMMENTARY – Laser weapons have been one of the most important topics of discussion in the Pentagon at least for the past five years, and several weapons programs involving high-energy lasers are in advanced development.
Apr 18th, 2017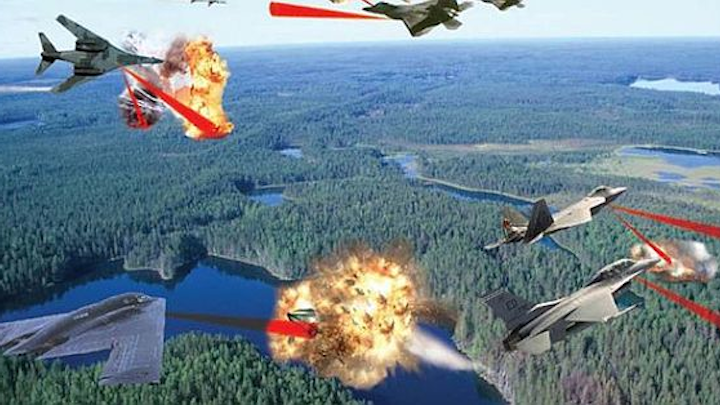 THE MIL & AERO COMMENTARY –Laser weapons have been one of the most important topics of discussion in the Pentagon at least for the past five years, and several weapons programs involving high-energy lasers are in advanced development.
There's the U.S. Navy's shipboard Laser Weapon System (LaWS) which was deployed for operational tests aboard the amphibious transport dock USS Ponce. Then there's the Boeing truck-mounted High Energy Laser Mobile Demonstrator (HEL MD) for use against air and ground targets.
One of the most important potential future applications of tactical airborne laser weapons are jet fighter aircraft and combat helicopters, which confront the designer with some difficult problems.
First, airborne lasers on jet aircraft and helicopters must be small enough not to overwhelm the airframes, and powerful enough to shoot down enemy aircraft and missiles, as well as take out ground targets like combat vehicles, radar installations, and missile launchers.
Separate military agencies have several projects in the work to develop airborne laser weapons for tactical aircraft, yet Air Force systems integrators evidently believe it's time to take stock of what's been developed, and what kind of work still needs to be done before tactical airborne laser weapons can become reality.
Related: Air Force surveys industry for best companies to develop next-generation airborne laser weapons
The Air Force Life Cycle Management Center at Eglin Air Force Base, Fla., issued a source-sought notice (FA8656-17-R-0005) last week in the form of the Airborne Tactical Laser Technology request for information. This RFI seeks to help determine today's state of the art in airborne laser weapons technology, and the companies best able to provide it.
The notice to industry is asking for industry opinions on laser weapons technologies suitable for near-term applications on a prototype airborne tactical laser weapon. Translated, this sounds like the Air Force for the time being has had enough of sandbox laser weapons research, and is ready to demonstrate the best of what we have today on a working prototype.
Talk about putting your money where your mouth is.
The Air Force wants more information about what's available in laser sources, electrical power, thermal management, beam control, battle management, and any other subsystems necessary to develop a working tactical airborne laser prototype.
Related: Laser tail gunners: DARPA seeks to use laser weapons to defend aircraft from rearward attack
There's been no lack of tactical laser weapons research projects in recent years. In 2013 there was the Aero-Adaptive/Aero-Optic Beam Control (ABC) program of the U.S. Defense Advanced Research Projects Agency (DARPA) to user laser weapons to protect combat aircraft against attacks from the rear.
The Lockheed Martin Corp. Space Systems segment in Sunnyvale, Calif. won a $9.5 million contract that year to flight-test an active flow control turret mounted on a business jet to validate turret requirements, design, and predicted performance of previously developed ABC technology.
By late 2014 Lockheed Martin experts had demonstrated the airworthiness of a beam-control turret being developed for DARPA ABC program to give 360-degree coverage for high-energy laser weapons operating on military aircraft.
About three years later laser weapons experts at Northrop Grumman Corp. Aerospace Systems segment in Redondo Beach, Calif., started working with the U.S. Air Force to develop beam-control technology to protect current and future fighter aircraft with directed-energy systems.
Related: Northrop Grumman to build beam control for laser weapons designed to protect fighter aircraft
That project is called the Self-Protect High Energy Laser Demonstrator (SHiELD) advanced technology demonstration (ATD) program of the Air Force Research Laboratory at Kirtland Air Force Base, N.M. Northrop Grumman is using a laser housed in a pod attached to a fighter-sized aircraft, and will test it at supersonic speeds by 2019.
DARPA hired Northrop Grumman and Lockheed Martin in late 2013 for Project Endurance to develop laser weapons to defend aircraft from missiles. This initiative involved pod-mounted laser weapons to protect manned aircraft and unmanned aerial vehicles (UAVs) from electro-optical and infrared (EO/IR)-guided surface-to-air missiles. Project Endurance focused on miniaturizing component technologies, developing high-precision target tracking, identification, and lightweight agile beam control to support target engagement. The program also focuses on the phenomenology of laser-target interactions and related threat vulnerabilities. Ultimately the program seeks to develop pod-mounted lasers for drones and planes.
Earlier this year DARPA got involved again in tactical airborne laser weapons development with the Efficient Ultra-Compact Laser Integrated Devices (EUCLID) project to develop compact, fiber laser diode modules suitable for pumping high power fiber laser weapons on a variety of manned and unmanned combat aircraft and tactical land vehicles.
Related: Northrop Grumman, Lockheed Martin to develop pod-mounted aircraft and UAV laser defenses
The goal of the EUCLID project is to reduce the size and weight of high-energy laser (HEL) technology, which until now has been too big and heavy for wide deployment on most tactical military aircraft, land vehicles, and small boats.
For these kinds of military platforms fiber laser arrays are leading candidates to provide capabilities like silent engagement, deep magazine, scalable effects, and reduced logistics burdens.
This is far from an exhaustive list of military technology-development efforts that aim at tactical airborne laser weapons. There's a lot of energy, plenty of money, and a considerable amount of enthusiasm headed in this direction. Much of the effort thus far has focused on defensive tactical airborne laser weapons. Now it's time for the big stuff -- powerful offensive tactical airborne laser weapons.
Perhaps now is a good time to take a breath, see what's out there, and plan for the difficult technology development necessary in the future to bring about fieldable laser weapons for tactical jets and helicopters.
Learn more: search the Aerospace & Defense Buyer's Guide for companies, new products, press releases, and videos