Extreme Environment Sensors project seeks flight control instruments for hypersonic aircraft and missiles
DARPA's goal is to develop harsh-environment sensors and instruments rugged enough to stand up to the heat, shock, and vibration of hypersonic flight.
Jun 11th, 2019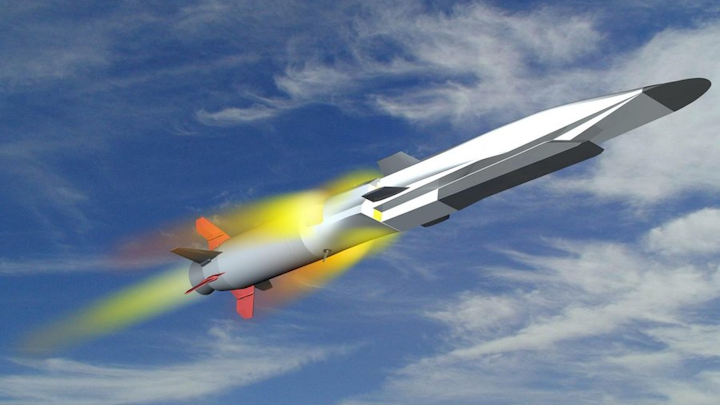 ARLINGTON, Va. – U.S. military researchers are asking industry to develop flight-control instruments and sensors able to withstand the extreme heat, shock, and vibration of hypersonic missiles and aircraft.
Officials of the U.S. Defense Advanced Research Projects Agency (DARPA) in Arlington, Va., issued a solicitation on Monday (HR001119S0035-01) for the Extreme Environment Sensors project.
The goal is to develop and validate the performance of robust distributed instrumentation in air-platform extreme environments of combined thermal, mechanical, and acoustic loading. Future hypersonic missiles will fly at several times the speed of sound -- often in excess of Mach 5.
Future turbine-based combined cycle (TBCC) hypersonic missiles and aircraft will fly in conditions that subject their propulsion systems to harsh environments not previously seen by reusable aircraft, DARPA researchers explain.
Related: The emerging world of hypersonic weapons technology
Improvements in advanced instrumentation is necessary for control systems in hypersonic and other high-speed systems. This will require extensive ground testing, as well as advanced instrumentation to monitor test vehicles.
Flight control test instruments must be rugged enough to survive repeated testing and simulation that involves aerodynamics, boundary layer transition, thermal protection system performance, ablative properties, material effects, and scramjet engine operation.
Conventional instruments suffer from an inability to survive extreme environments and do not provide reliable, distributed data such as pressure, temperature, heat flux, shear, displacement, flow velocity, Mach, equivalence ratio, and core flow properties, researchers say.
Developing small, robust, reliable, and easy to replace is vital to enabling next-generation manned and unmanned aircraft, as well as high-speed weapons.
Related: Barrier is high for developing enabling technologies for hypersonic weapons and missile defense
DARPA researchers are asking industry to develop prototype distributed instrumentation systems, including sensor, wiring, and signal processor, to advance testing capabilities that could lead to next-generation hypersonic aircraft and missiles.
The project is in two phases: develop a distributed instrumentation system design for hypersonic propulsion; and complete the instrumentation system for ground- and flight-testing.
The first phase involves instrument design and fabrication; system-level modeling; and plans for demonstration. Designs should advance hypersonic vehicle research and article testing. The second phase involves validating the system in the harsh environment of hypersonic flight; collecting performance data and demonstrating the system's utility for hypersonic systems.
Companies interested should submit full proposals no later than 6 Aug. 2019 to the DoD SBIR/STTR Proposal Submission website at https://sbir.defensebusiness.org. Email questions or concerns to HR001119S0035@darpa.mil, with BAA HR001119S0035-01 in the subject line.