Army surveys industry for high-resolution infrared and color cameras to enhance night vision vehicle driving
Monochrome infrared and color night vision cameras should have resolution of 1920 by 1200 pixels, wide field of view, and have mil-spec shock and vibe.
Jun 20th, 2019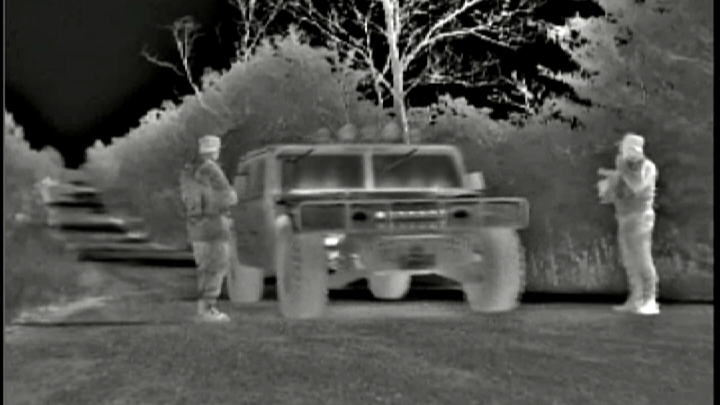 FORT BELVOIR, Va. – U.S. Army night vision experts are surveying industry for high-resolution and wide-field-of-view longwave infrared sensors to replace or augment the Army's fielded Driver's Vision Enhancer (DVE) to help warfighters operate their vehicles safely at night and in degraded-visibility conditions.
Officials of the Army Contracting Command-Aberdeen Proving Ground Belvoir division at Fort Belvoir, Va., issued a request for information (RFI) on Wednesday (W909MY-19-R-A018) for the Advanced Sensor System for 360 degree Local Situational Awareness (LSA) on Ground Vehicles project.
Army officials are trying to identify electro-optics companies able to provide affordable and mature uncooled long-wave IR sensors with wide field of view (FOV), capable of providing high-definition video to support driving a military vehicle.
These sensors must be suitable for integration on Army ground combat vehicles while observing typical space and operational requirements. The RFI is issued on behalf of the Army Command, Control, Computers, Communications, Cyber, Intelligence, Surveillance and Reconnaissance (C5ISR) Center Night Vision and Electronic Sensors Directorate (NVESD) at Fort Belvoir, Va.
Related: Army looking for electro-optics companies to build 10,000 drivers night vision systems
Long-wave IR sensors have become an integral part of the warfighter's vehicle capabilities, researchers say because these kinds of sensors enable warfighters to continue their mission, with minimized loss of efficiency during day and at night.
The current infrared Driver's Vision Enhancer (DVE) has a 640-by-480-pixel sensor and 40-by-30-degree field of view -- much lower resolution than today's state-of-the-art uncooled LWIR cameras that have resolutions as fine as 1920 by 1200 pixels.
Instead, Army researchers are trying to develop 360-degree situational awareness using high-definition long-wave IR cameras with resolutions of at least 1920 by 1200 pixels. The proposed sensors should at least meet technology readiness level (TRL) 6, and must also have a plan for qualification testing within a year of order.
In addition to uncooled IR sensors, this RFI seeks to find providers of color visible and near-infrared cameras operating in the 400-to-700-nanometer spectral bands with field of view coverage matching those of the infrared sensors.
Army officials want to determine feasibility of delivering at least one uncooled IR and one color visible/near-IR sensor within six months of order. These sensors must be able to enable a driver, commander, and squad in open- and closed-hatch vehicles to visualize their immediate surroundings while stationary and on the move, day and night.
Related: Panoramic thermal-imaging driving system for military vehicles introduced by Senso Optics
In addition, these sensors must cover at least 120-degree horizontal and 36-degree vertical, with sensor latency 16 to 25 microseconds with long-wave IR and a combination of color visible-light cameras and near-IR sensors. Both sensors must have resolutions of at least 1920 by 1200 pixels.
Cameras must have 28-volt DC power input, Camera Link or Gigabit Ethernet digital video output; raw imagery output; 30 Hz frame rate or faster; operate in temperatures from -40 to 50 degrees Celsius; and meet MIL-STD-810 for shock, vibration, humidity, and altitude.
Companies interested should email responses no later than 19 July 2019 to Contract Specialist Hanh Dinh at hanh.t.dinh.civ@mail.mil, with a copy to Contracting Officer Rosetta Wisdom-Russell at rosetta.wisdom-russell.civ@mail.mil.
More information is online at https://www.fbo.gov/notices/33ff7f472a30693dfc55ece72bc26199.