NASA delivers electro-optical test instruments for future European Euclid dark energy space exploration
European deep-space mission will use Near Infrared Spectrometer and Photometer (NISP) sensor instrument as well as a visible-light imaging camera.
Jul 24th, 2019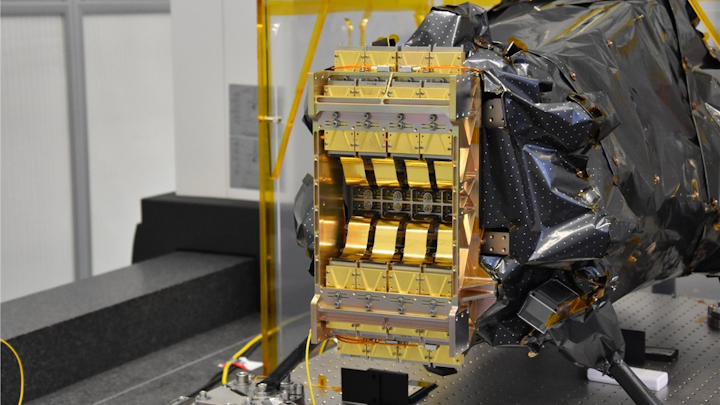 PASADENA, Calif. – The European Space Agency (ESA) Euclid space mission, set to launch in 2022, will investigate two of the biggest mysteries in modern astronomy: dark matter and dark energy. ASDNews reports. Continue reading original article
The Military & Aerospace Electronics take:
24 July 2019 -- A team of NASA engineers recently delivered critical hardware for one of the electro-optical instruments that will fly on Euclid and probe these cosmic puzzles.
Based at NASA's Jet Propulsion Laboratory in Pasadena, Calif., and the Goddard Space Flight Center in Greenbelt, Md., the engineers designed, fabricated, and tested 20 pieces of sensor-chip electronics (SCEs) hardware for Euclid -- 16 for the flight instrument and four backups.
These parts, which operate at minus 213 degrees Fahrenheit (minus 136 degrees Celsius), are responsible for precisely amplifying and digitizing the tiny signals from the light detectors in Euclid's Near Infrared Spectrometer and Photometer (NISP) test instrument. The Euclid observatory also will carry a visible-light imaging instrument.
Related: NASA taps Teledyne for space-qualified electro-optical sensor for WFIRST space telescope
Related: Raytheon to build radiation-hardened electro-optical space sensors for demanding strategic applications
Related: L-3 to design rapidly steerable electro-optics infrared telescope for small reconnaissance satellites
John Keller, chief editor
Military & Aerospace Electronics