Military eyes mobile nuclear reactor with semiautonomous operation for rapidly deployable atomic power
ARLINGTON, Va. – U.S. military researchers are surveying industry to find companies able to develop a small mobile nuclear reactor for forward-deployed fighting forces on land and at sea.
Jan 21st, 2019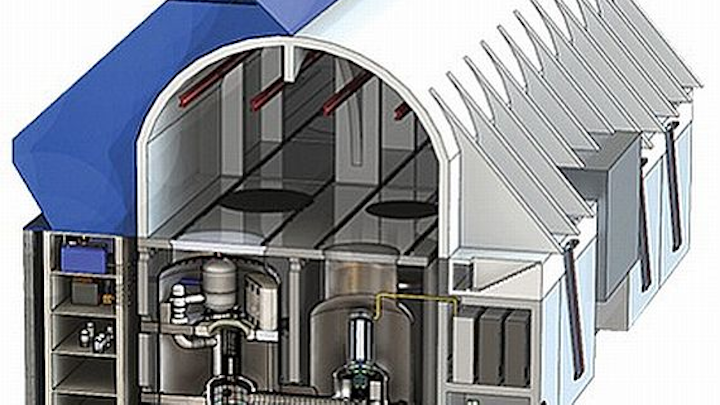 ARLINGTON, Va. – U.S. military researchers are surveying industry to find companies able to develop a small mobile nuclear reactor for forward-deployed fighting forces on land and at sea.
Officials of the Washington Headquarters Services acquisition directorate in Arlington, Va., issued a request for information (RFI) on Friday (RFI-01182019-RD-WHS019) for the Small Mobile Nuclear Reactor project.
The Washington Headquarters Services is issuing this RFI on behalf of the U.S. Office of the Under Secretary of Defense for Research and Engineering, OUSD(R&E).
This deployable atomic power plant should produce from 1 to 10 megawatts of electricity; weight no more than 40 tons; de deployable by truck, ship, or C-17 cargo aircraft; use passive air cooling; and be inherently safe such that a core meltdown is impossible in power and cooling is lost.
Related: Portable power supports the digital battlefield
This portable nuclear power plant should take no longer than three days to set up; should operate for more than three years without refueling; and take no longer than seven days to shut down and remove. It should offer semiautonomous operations with no manned control, and run on high-assay low enriched uranium (HALEU) advance gas reactor (AGR) tristructural isotropic (TRISO) fuel.
Energy is a critical enabling component of military operations, and demand for it will continue to increase over time, researchers say. Today's military operations has amplified the need for alternative energy sources to enable mobility in forward land-based and maritime military operations.
To meet anticipated power needs, military researchers are asking industry for innovative technologies and approaches to enable a future demonstration of a small mobile nuclear reactor prototype design for a safe, reliable, and nearly unlimited resource in military rapid-response scenarios.
Small mobile nuclear reactors could make the U.S. military domestic infrastructure resilient to an electrical grid attack and fundamentally change the logistics of forward operating bases by making more energy available and by drastically simplifying complex fuel logistical lines, which rely primarily on diesel-powered generators.
Related: Marines look to QinetiQ to provide portable power for battery charging in the field
Companies like General Atomics in San Diego and NuScale Power LLC in Portland, Ore., already are working on portable nuclear power for industrial and humanitarian efforts.
Comments from industry will help Pentagon officials decide whether to scrap the notion of a portable nuclear power plant, or proceed with a multi-phase prototype project for a small mobile nuclear reactor in support of Project Dilithium.
The Pentagon may fund as many as three different reactor designs during a project's yearlong first phase. The project's second phase would downselect to one design. Pentagon researchers could make a decision on whether or not to pursue a deployable nuclear power plan by as early as this spring.
Companies interested should email five-page capability statements no later than 8 Feb. 2019 to SCO_NUCE@sco.mil. Researchers would like to hear from universities, university-affiliated research centers, federally funded research centers, private or public companies, and government research laboratories.
Email questions to SCO_NUCE@sco.mil. More information is online at https://www.fbo.gov/spg/ODA/WHS/REF/RFI-01182019-RD-WHS019/listing.html.
Ready to make a purchase? Search the Military & Aerospace Electronics Buyer's Guide for companies, new products, press releases, and videos