Army plans extensive training and simulation infrastructure for Future Combat System
The transformation of the U.S. Army from a 20th Century heavy mechanized force to a 21st Century "light" network-centric force represents one of the most sweeping changes ever attempted by a major power.
Apr 1st, 2007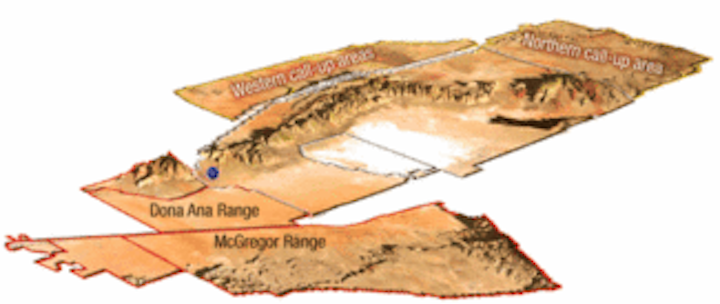 By J.R. Wilson
FORT BLISS, Texas - The transformation of the U.S. Army from a 20th Century heavy mechanized force to a 21st Century "light" network-centric force represents one of the most sweeping changes ever attempted by a major power. To accomplish that task quickly while involved in a war will require an unprecedented level of assurance in the new systems from the first day they enter service.
To achieve that, the Army has created a unique special unit at Fort Bliss, Texas-the Evaluation Brigade Combat Team (EBCT)- to test and evaluate every component of the new Future Combat System (FCS) before fielding. Part of that effort also will be at a new Army Test Operation Complex at the adjacent White Sands Missile Range in New Mexico.
When it officially stands up in March 2007, the EBCT will comprise 968 soldiers drawn from throughout the Army, with many of the officers and senior enlisted members coming straight out of combat in Southwest Asia. Designated the 1st Brigade of the 1st Armored Division (which is relocating from Germany to Fort Bliss), it will grow to about 4,000 members by the end of 2009, and then become a fully equipped heavy brigade combat team.
"I'm not aware of any such dedicated unit having been stood up before to do a system of systems (SOS) transformational approach," says Col. Jon Maddux, integration director of the EBCT. "The current plan is for EBCT to become the first FCS-equipped brigade combat team and to stay the EBCT throughout the FCS test and evaluation program for core and spin-out, but given we are at war with soldiers rotating overseas, that could be modified."
Part of the new Army Capabilities Integration Center, the FFID synchronizes preparation, evaluation, and delivery of all FCS components for the EBCT and future brigade combat teams, as well as accelerating spin-outs of individual FCS capabilities to the current force as they become available. Rather than attempting a single, massive switch-over, the spin-out approach allows the Army to put the latest technologies into combat as upgrades and enhancements to the existing force. That also is expected to simplify and speed the ultimate transition to FCS as the soldiers involved already will be familiar with some elements.
The FCS lead systems integrator team-Boeing Integrated Defense Systems in St. Louis and SAIC in San Diego-also is heavily involved with new Army organizations, adds Jack Schmitt, director of FFID/EBCT operations for Boeing.
The lead systems integrator, EBCT, and FFID will work together on the entire process for Army transformation. In addition to Fort Bliss and White Sands, major elements of that will be at Boeing's SOS laboratory in Huntington Beach, Calif., and a new integration facility in El Paso, Texas near Fort Bliss for spin-out and core system work and program management.
Maddux says the FCS One Team-the lead systems integrator, the Army, and all FCS industry partners-working in a fully integrated, collaborative mode with clearly designated individual responsibilities, represents "a paradigm shift to a more focused, integrated, and streamlined acquisition process."
To better evaluate FCS main program initiatives and production decisions, the EBCT will put each FCS component into the hands of regular soldiers to use in daily operations and combat exercises. In addition to identifying potential flaws or improvements before fielding to the rest of the force, they also will help develop and evaluate the tactics, techniques, and procedures future FCS combatant commanders will employ.
"The EBCT will use an aggressive and realistic months-long training schedule, from receiving equipment to training on individual through brigade-level collective tasks," Maddux says of the unit's first year, leading to its turnover of command to the Army Training & Doctrine Command at the start of 2008 as certified unit capable of fighting current- and future- force doctrine and organization.
The FFID will exercise tactical control over the EBCT, with responsibility for developing leadership and organizational doctrine and training and ensuring that lessons learned from the EBCT-and later in feedback reports from the field-are properly applied and systems, doctrine, training and techniques, and procedures updated accordingly.
"Soldier feedback is a key component of FCS experimentation and testing. At FFID, we are developing a feedback process with Experiment 1.1," Maddux says. "For example, if they are in MOP4 (chemical protection gear) and a component can't be switched on easily, that would start the feedback process to adjudicate the issue.
"That is one of the great natures of the FFID. We are maximizing soldier feedback and, for the first time, have a process in place where the materiel and user are in the same unit to facilitate feedback and implement change."
Experiment 1.1 is a three-phase combination of lab tests and field exercises. The first phase, completed at the SOS lab in September 2006, focused on hardware and software integration and systems interoperability. Phase 2, completed last December, moved to the Army Test Operation Complex, with an initial component of 36 EBCT soldiers observing network communications and distributed fusion management across platforms and sensors. Phase 3, set for this past January to February, was to involve the first use of those integrated systems by soldiers in a realistic field environment. Its goal is to demonstrate the integration of FCS and existing Army systems is moving toward target maturity levels.
The network element for each FCS component and version will be tested, cross-tested, and retested as it moves through the EBCT evaluation process. That includes ensuring component electronics work properly with and as a part of existing systems. To accomplish that, the EBCT will have its own existing platforms-Humvees, Abrams tanks, Bradley fighting vehicles, etc.-as well as interfacing with a significant simulation and modeling center.
"Simulation plays a pretty large role in the program. Systems modeling, analysis, requirements and test will continually do modeling and simulation from a broader perspective, providing a framework around the actual hardware in the systems themselves," Boeing's Schmitt says. "In Spin Out 1 testing, the focus will be at the platoon and company level, with real soldiers and real current force equipment with Spin Out systems and capabilities integrated into them, but with a simulation wraparound focusing on battalion and brigade activities so the user can continue to learn about doctrine-organization-training-materiel-leadership-personnel-facilities and the material developer can learn about risk reduction and continue to refine, design, and develop future spin-outs and future iterations of the hardware and software."
An FCS simulation environment is being stood up to offset software development as the program moves forward, using simulation to augment test events and develop the core program. At each new stage, real operational code is balanced with a simulated environment, which continues to fill in the gaps as the operational code grows.
"We also are using simulation from Army Training & Doctrine Command requirements and analysis perspective, to ensure we are building the right numbers of network components needed to validate our development process. We're upgrading the training base to the Spin Out capabilities as they evolve, so the simulated environment we will be in will include the manned ground vehicles as they mature," Maddux adds. "A modeling and simulation cell is being stood up at the FFID, focused primarily on Spin Out training in conjunction with the Army modeling and simulation already at Fort Bliss. The Close Combat Tactical Trainer will be upgraded with Spin Out 1 software to give the first look-touch-feel from a training perspective prior to hands-on training with the real systems.
"We also have developmental simulation in Southern California, which will be extended to a combined arms battalion at White Sands, with soldiers in the loop working on the core program, and a smaller unit dedicated for core at the EBCT," Maddux continues. "The Army does major collective training at the division level at Fort Hood (Texas) and Fort Leavenworth (Kansas), which also is tied into the FFID simulation center."
The FCS network consists of five layers-standards, communication/transport, middleware (a system of systems combinational environment that directs and drives all network activities), application layer, systems layer.
"As the program grows over time, we'll continue to improve upon the SOS common operating environment software, battle command and distributed fusion management, battle command distribution-all the applications that allow the network and the warfighter to fight," Schmitt explains. "In Spin Out 1, for example, we are only going to provide limited aspects of the FCS network [for the five systems involved-Non-Line-of-Sight Launch System, Unmanned Ground Sensors, Class I unmanned aerial vehicle, Intelligent Munitions Systems and Networked Battle Command].
"Spin Outs 2, 3, and 4 will be additive and improve upon that networking system. We want to get feedback from the soldiers on how this network develops over time through all five layers, focusing on the transport and up. By the end of Integrated Phase 3, around 2012, we expect to have all the firm functionality that is expected to be fielded with the FCS combat team."
Maddux says the EBCT and FFID represent a quantum change in how the Army is approaching FCS transformation.
"The network is integrated into the 18 platforms to include the soldier. That integration is the heart of our SOS approach, integrating into the avionics and vetronics of the platform, into its heart and nerve system," he says. "We consider the big picture at a system-of-systems level and how we can achieve the maximum capability at the SOS level with the five-layer network rather than just a communications box."
The first spin-out of the Intelligent Munitions Systems, Non-Line-Of-Sight cannon, and unmanned ground sensors (tactical and urban) into the current force will be integrated into existing Humvee, Abrams, and Bradley platforms, with subkits for the network integrated into them. That will be the first substantiation of the network on those current force platforms, according to Maddux, which then are tied, through the network, to the Spin Out element being fielded, each of which will incorporate the same ground mobile radio.
With each spin-out throughout the program, the network is an inherent part of the total testing process, which includes tactical drills every six months to synchronize test events and ensure performance, schedule, training, and fielding are all in place and progressing smoothly.
"No FCS technology will enter full-scale production until first validated by soldiers and Army testers in a real world environment-the same process successfully employed for Stryker, which is now in theater," Maddux says. "FCS is much more integrated at the SOS approach (than Stryker), maximizing simulation-with experimentation on top of that-then normal technical field tests and technical field test and evaluation and initial operational test and evaluation. Each spin-out is structured that way and the network components, from an SOS perspective, are all tested as part of the platforms as they move forward."
To help ensure the validity of the test and evaluation effort, the EBCT will not be allowed to become an isolated unit operating in a world of its own. Current soldier skills will be maintained at all levels, from individual to battalion, through the same training exercises provided to any battle-ready combat team, including the use of opposing force units at national training centers.
As the FCS test and evaluation effort at Fort Bliss/White Sands evolves, the EBCT's ongoing combat training and the field testing of FCS components will begin to merge.
"Whenever we do any test and evaluation, there will always be a representative threat, so we get a real look at how this organization would fight against the opposing environment, the threat of that day and time," Schmitt explains. "Most of our activities will focus on 2012 and beyond in terms of the threat force, so there will always be the right type of threat played against the EBCT."