Researchers eye linking artificial limbs with implantable devices for touch and muscle memory
ARLINGTON, Va., 1 May 2014. U.S. military researchers are reaching out to industry for technologies that could help provide injured warfighters with artificial limbs that feel and function like natural limbs.
May 1st, 2014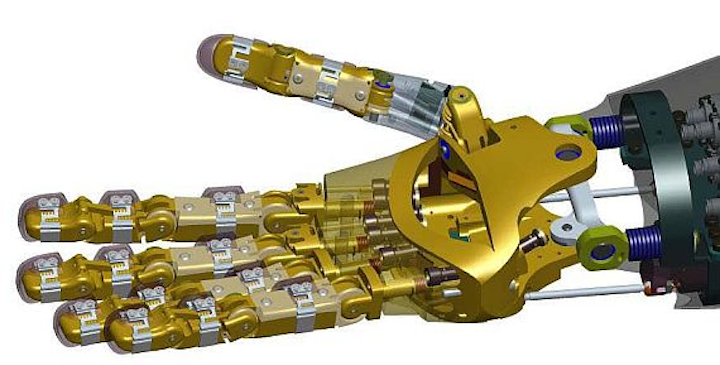 ARLINGTON, Va., 1 May 2014. U.S. military researchers are reaching out to industry for technologies that could help provide injured warfighters with artificial limbs that feel and function like natural limbs.
Officials of the Defense Advanced Research Projects Agency (DARPA) in Arlington, Va., are releasing a broad agency announcement (DARPA-BAA-14-30) for the Hand Proprioception and Touch Interfaces (HAPTIX) program that aims at developing touch-sensitive prosthetic arms and legs for warfighters who lose limbs in battle.
The HAPTIX program seeks to develop new science and technology to achieve closed-loop control of dexterous mechatronic prostheses that include implantable devices that provide artificial limbs with a sense of touch and muscle-memory movement that ease training and use of artificial arms and legs.
The program will focus on implantable peripheral interfaces for volitional motor recording and sensory feedback signals; implantable electronic systems to transfer information between these interfaces and the prosthesis; and sophisticated encoding and decoding algorithms to transform recorded volitional motor control signals into limb movements and patterned stimulation into naturalistic touch and proprioceptive sensations, DARPA officials say.
Related: Prosthetics meet robotics
While U.S. soldier fatalities have dropped in recent years, the prevalence of powerful explosives on the battlefield has resulted in a large number of veterans suffering from upper limb amputations, researchers explain.
Although advances have been made in dexterous mechatronic prostheses, no clinical treatment yet exists to provide naturalistic control of these prostheses or to convey tactile and proprioceptive feedback to the user.
As a result, prosthetic control remains un-intuitive, relies on lengthy training, requires taxing levels of visual concentration for operation, is unable to provide reflexive reaction, and ultimately limits prosthesis performance and the sense of embodiment.
The HAPTIX program has four thrusts: electrodes and algorithms; electronics and packaging; human use testing; and cutting-edge science and technology to support next-generation HAPTIX systems.
Related: Will human sight be the worst casualty of future optical warfare?
Electrodes and algorithms involve implantable, human-ready, multi-channel interfaces for monitoring or modulating activity in muscles and nerves, as well as algorithms for decoding volitional control signals and encoding naturalistic touch and proprioceptive signals.
Electronics and packaging involves implanted components packaged hermetically for bioelectric signal acquisition, neural stimulation, power transfer, and bidirectional telemetry between implanted nerve and muscle interfaces and external electronics for communicating with the prosthesis.
Human use and testing involves trials of the HAPTIX prosthesis system in humans for motor and sensory function, psychology, pain, and quality of life.
The first phase of the program will involve as many as 15 contractors, with a downselect in the second phase. Total program funding will be about $40 million.
Related: Is robotics revolution the first glimpse of a fundamental change in human evolution?
The first phase involves component-level development and should run from November 2014 to April 2016. The second phase involves system-level integration and safety testing, and should run from spring 2016 to fall 2018. The third phase involves human trials and will run from fall 2018 to late 2019.
Companies interested should send abstracts no later than 27 May 2014, proposals by 19 June 2014, and proposals for advanced studies by 10 Sept. 2014. Email questions or concerns to the HAPTIX program manager, Douglas Weber, at DARPA-BAA-14-30@darpa.mil.
More information is online at https://www.fbo.gov/spg/ODA/DARPA/CMO/DARPA-BAA-14-30/listing.html.