Sensitive and tireless: High-endurance UAVs sense what men cannot
Sensors for unmanned aircraft are evolving in efficiency and capability as payload designers look for every possible edge in surveillance, combat, and collision avoidance.
Apr 1st, 2007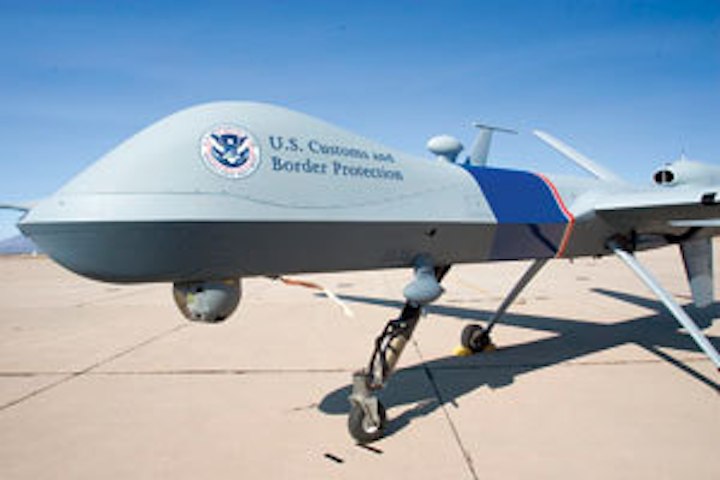 Sensors for unmanned aircraft are evolving in efficiency and capability as payload designers look for every possible edge in surveillance, combat, and collision avoidance.
By John McHale
The first applications for U.S. military unmanned aerial vehicles (UAVs) was surveillance, to be the eyes in the sky in operations where it was too dangerous to send manned aircraft or just too expensive.
Now UAVs use the most sophisticated electro-optic and electronic sensors available on the battlefield for reconnaissance and combat, for homeland security to monitor borders and other crisis points, and for monitoring civil disasters and crises such as forest fires.
The aircraft also have the advantage of eliminating human fatigue, says Frost & Sullivan Research Analyst Sivam Sabesan in Palo Alto, Calif. Illustrating this, UAV operators on long flights can simply hand over control to other operators-something impossible on surveillance aircraft such as the U.S. Air Force U2 spy plane, he adds.
The latest advances at the sensor level include hyperspectral imaging, synthetic aperture radar, uncooled infrared technology for thermal sensing, as well as developments in integrating the sensor data for improved situational awareness on the battlefield.
Sensor advances
Notable advances in aerial surveillance include an automatic high-resolution remote sensor, developed by researchers at the computer science department of University of Massachusetts (UMass) in Amherst, Mass., Sabesan says. This high-resolution, automatic and 3-D mapping system is reputed to be more cost-effective and simplistic compared to traditional airborne remote-sensing techniques. Not much technical knowledge is required to operate the UMass model, which enables installation portability because it simply bolts on the aircraft, a feature rarely seen in other airborne remote-sensing systems, he adds.
Moreover, hyperspectral imaging has emerged as a powerful means to sample broad intervals of the spectrum continuously, Sabesan says. Inherent characteristics of hyperspectral imaging, such as superior characterization and identification of targets, come from hyperspectral sensors on aircraft and satellites, he continues. These sensors not only capture the reflected radiation from the object using the spectral detecting system consisting of charge-coupled devices, but they also produce spectral signatures with no wavelength omissions.
UAVs and synthetic-aperture radar
Engineers from the Lockheed Martin Tactical Systems segment in Eagan, Minn., have developed what they say is a first for unmanned aerial systems (UAS)-demonstrating how they can use a UAS to deliver high-resolution, broad-area imaging from a miniaturized synthetic aperture radar (MiniSAR) into the hands of tactical-unit commanders-regardless of smoke, dust, heavy rain, or nighttime conditions.
The next-generation battlefield will require "small unmanned systems that meet emerging mission requirements for agility, endurance, affordability, and generation of resolution accuracy," says Rick Udicious, vice president and general manager of Lockheed Martin Tactical Systems.
During a field exercise late last year at the Camp Ripley test facility of the Minnesota National Guard in Little Falls, Minn., Lockheed Martin's small SkySpirit UAS-with a Sandia National Laboratories-developed MiniSAR sensor-soared to nearly 3,000 feet and, in near real-time, became the first UAS to transmit four-inch-resolution SAR imagery, company officials say. During four different missions, the SkySpirit transmitted MiniSAR images in two operational modes-focused area circle-mapping and broad area strip-mapping. Several imaging passes were post-processed to demonstrate coherent change detection used to identify changes over time.
This demonstration was the first time that an autonomous flight of a small tactical UAS has captured SAR data of this type and resolution. The use of a MiniSAR, which is being produced by Rockwell Collins in Cedar Rapids, Iowa, could greatly enhance a ground unit's surveillance capabilities with a UAS, delivering high-resolution images to ground units in all weather, day or night conditions, as well as operating in various modes, including ground moving-target indicator and coherent change detection.
In its current configuration, Lockheed Martin's SkySpirit UAS has a gross take-off weight of 180 pounds and a payload capacity of 75 pounds. It is designed to allow flexible payload and fuel-weight combinations, as well as extended endurance profiles and persistent surveillance capabilities.
Future Combat Systems
Another area where weight is crucial is in the unmanned element of the Army's Future Combat Systems program.
Engineers at DRS Technologies in Parsippany, N.J., are producing one of these payloads. Their lightweight electro-optical/infrared (EO/IR) sensor systems are for the U.S. Army's Future Combat System (FCS) program Class I Unmanned Aerial Vehicles (UAVs).
"DRS is providing a best-value solution by leveraging the common components of the Forward Looking Infrared (FLIR) sensor in the Thermal Weapon Sights (TWS) and Driver Vision Enhancers (DVE) we produce for the U.S. Army," says James M. Baird, president of DRS's Reconnaissance, Surveillance & Target Acquisition (RSTA) segment. "The successful completion of the system development phase on this program will place the company in a solid position as the supplier of choice for full rate production."
The sensors will provide imagery during reconnaissance, surveillance, and target-acquisition (RSTA) missions and enhanced reconnaissance and security/early-warning capabilities, which will increase situational awareness. They also will provide common operating picture information to aid line-of-sight (LOS), non-LOS, and beyond LOS targeting.
The contract was awarded to DRS by Northrop Grumman Electronic Systems sector's California Microwave Systems unit in Belcamp, Md. Northrop Grumman is the aerial sensor integrator on the Boeing/SAIC-led FCS program.
DRS experts will develop and provide emulators and prototypes of an EO/IR system that meets the RSTA requirements of the FCS Class I UAV. Work will be accomplished by the company's DRS Sensors & Targeting Systems unit, California division, in Cypress, Calif., and will continue through September 2008.
DRS's sensor system provides commonality with manned and unmanned ground operations. The company's sensor and imaging technology also supports other U.S. Army, Navy, and Air Force mission applications and can be used to support emerging RSTA missions on multiple platforms for multiple applications.
Situational awareness
Sensing capability only begins with the sensors on the aircraft, it also involves sophisticated computers to process the information, data links to transmit the data, sophisticated software to integrate all the data into one picture on a commander's display, truly aiding or creating situational awareness not only for military leadership but for the individual warfighter as well.
Mercury Computer systems in Chelmsford, Mass., and IntelliTech MicroSystems in Bowie, Md., have partnered on an airborne intelligence UAV application that integrates all of these electronics.
Mercury's VistaNav-SSR (Smart Surveillance & Reconnaissance) Unmanned Aircraft System (UAS), which is composed of a ground station, integrated VistaNav synthetic vision system, a small unmanned aerial vehicle (UAV), and various electronic sensor systems, is designed to improve operational mission capabilities for airborne intelligence applications at an affordable cost.
"Building on the success of our VistaNav general aviation synthetic vision system, we are extending the benefits of 3-D situational awareness to small unmanned aircraft systems," says Philippe Roy, director and general manager of the Navigation & Simulation Systems Group at Mercury. "VistaNav-SSR is an affordable, easy-to-use system that will enable customers to perform very high-performance missions while significantly minimizing human error and, more importantly, human fatalities in hazardous but necessary applications."
The VistaNav-SSR is based on the Vector-LRE airframe from IntelliTech Microsystems a developer and manufacturer of autonomous vehicle technologies for sea, air, and space applications.
The Vector-LRE is a small UAV capable of either remote-control operation or fully autonomous flight, and of performing a wide range of day and night scientific and surveillance missions including oil and gas pipeline monitoring, forest fire detection and monitoring, oil and gas magnetic surveying, precision agriculture, and more. As a tactical-class UAV, the Vector-LRE provides a payload-to-weight ratio that enables the integration of multiple payload, navigation, collision avoidance, and communication subsystems onboard.
The VistaNav-SSR includes Mercury ACIP (Airborne Component Integration Processor) technology, which allows the integration of highly optimized airborne electronics and associated functions into a small, unmanned airframe. Some of the VistaNav-SSR functionality was demonstrated last June with IntelliTech Microsystems, in a live fire detection and monitoring application sponsored by NASA and the U.S. Forest Service at Fort Hunter Liggett Army Garrison, Calif., Roy says.
The VistaNav software is also for synthetic vision applications, Roy says.
Mercury's ACIP technology enables plug-and-play integration of a variety of payload sensors, avionics, and data-link subsystems into small-form-factor, low- weight, and low-power UAVs. Because of the high level of integration and miniaturization possible, ACIP enables an integration of functions such as video stabilization, compression, meta-data generation, collision avoidance, and flight management, as well as anomaly detection, in a flexible configuration package, Roy says.
The core electronics include small embedded computers based on the PC/104 board standard, which also meet the appropriate DO160 standards for temperature, Roy says.
The key technology that pulls all of this together is the VistaNav software, Roy notes. The Mercury VistaNav-UAV 1.5 software, also included in the VistaNav-SSR system, powers a range of ground control stations and integrates UAV control and monitoring with data- fusion and dissemination functions.
At the demo sponsored by the Forest Service and NASA at Fort Hunter Liggett, the IntelliTech Microsystems and Mercury collaboration demonstrated a live fire-monitoring solution, flying day and night missions over controlled fires set at distant locations on the grounds of the 165,000-acre site.
The garrison's fire department set a series of test fires as part of a program to minimize the risk of runaway wildfires.
Carrying standard and thermal infrared video cameras, the Vector P UAV autonomously sought out fires set at locations five miles from the airport. Live video and telemetry data were transmitted from the Vector P to the Mercury VistaNav ground station.
For this demo, the Vector P carried two cameras. The first was an uncooled, long-wave infrared camera with 320-by-240-pixel resolution. Utilizing a focal-plane array operating at a 60 Hz frame rate, the IR camera provided NTSC-format analog video output, with 12-bit digital video available. The Vector P also carried a visible-wavelength NTSC video imager. Both cameras were integrated into a dual-axis gimbal assembly that was mounted under the nose of the aircraft. The two cameras shared a single video downlink to the VistaNav ground station. The gimbal was also controlled from the ground station.
Predator
The U.S. Customs & Border Protection (CBP) Office of Air and Marine is using the Predator B midsize UAV from General Atomics Aeronautical Systems Inc. in San Diego to provide situational awareness along the Arizona-Mexico border.
"This second Predator B aircraft, along with current orders for two additional systems and no doubt more to follow, will not only permit full operations along the southwest border, but will also offer the flexibility to support other border regions as well," says Thomas J. Cassidy Jr., president of the General Atomics aircraft systems group. "This will provide CBP with a dramatic increase in its existing border domain awareness capability."
Featuring an enhanced electro-optical/infrared (EO/IR) camera system and Ku-band satellite equipment, CBP-104 will begin operating from Libby AAF in support of border security operations along the Arizona border with Mexico in November. By early 2007, operation of the aircraft was to transfer to CBP's Air and Marine Operations Center (AMOC) in Riverside, Calif., which will fly the aircraft remotely via satellite communications.
"Our frontline agents deserve proven, effective technology that equips them to secure our borders and to prevent terrorism," says W. Ralph Basham, commissioner of Customs and Border Protection. "This unmanned aircraft system provides us with the situational awareness we need to more effectively deny illegal entry to our nation's borders."
Collision avoidance
The Predator B is designed to fly in the National Air Space System (NAS) under supervision of air-traffic controllers, just like manned aircraft. It incorporates the redundant avionics and communications necessary to operate with air traffic control and other aircraft. This capability, together with sophisticated sensors and long endurance, enables the aircraft to provide persistent operational awareness, making it a tremendous force multiplier for CBP.
The Predator B, however, is one of the few with this capability, as older UAV platforms still need FAA approval. Other unmanned aircraft like the U.S. Air Force Global Hawk, which flies around the world, needs to adopt equipment that interface with air-traffic controllers in the U.S.
Those are among the problems that members of the RTCA Special Committee 203/Minimum Performance Standards for Unmanned Aircraft Systems and Unmanned Aircraft (SC-203) are addressing. The group is chartered with providing recommendations to help ensure that the DOD's Unmanned Air System (UAS) operations are safe and compatible with other elements of the national airspace architecture.
Experts on the committee say that UAVs will need to do more than just adopt TCAS or traffic collision-avoidance systems.
"It really is separation assurance and collision avoidance, mixing UAVs and manned aircraft in a controlled environment, with control towers giving instructions; a TCAS resolution advisory is either climb or descend," says aviation consultant John Walker, president of JSWalker Group/Aviation Solutions in Lancaster, Pa., and chair of SC-203. "What we are looking at in the committee and at DOD [the U.S. Department of Defense] goes well above any system we now have. I believe the technology is here for a hybrid of TCAS and ADS-B [Automatic Dependent Surveillance-Broadcast], as well as other technological advances-an innovative process that could blend in new avionics."
Mercury is developing active collision avoidance for its VistaNav applications, Roy says. It will be designed to include noncollaborative targets-in other words, aircraft that do not transmit any signal warning other aircraft that they are near, he explains. FAA officials will be observing the development and testing to the collision-avoidance system, Roy adds.
---
Boeing ScanEagle Team achieves compliance with NATO UAV interoperability standard
The Boeing and Insitu Inc., ScanEagle team has gained compliance with the North Atlantic Treaty Organization's (NATO) unmanned aerial vehicle (UAV) interoperability standard. The standard, also known as Standardization Agreement (STANAG) 4586, establishes specifications for a common ground station system for UAVs used by NATO military forces.
Compliance with STANAG 4586 allows NATO member nations to jointly support military operations using their own UAVs and ground control station equipment. This increases interoperability and allows data and information processed by member nation UAVs to be shared real-time through a common ground interface.
Using a ScanEagle Vehicle Specific Module and an Insitu Multiple UAV Software Environment ground station with an "Army One" ground-control station Common UAV Control Software package developed by CDL Systems Ltd., the team flew a three-hour simulated mission to demonstrate various functions and levels of STANAG 4586 specifications. The test also included numerous flight route and payload functions and the collection of video and still imagery of multiple targets.
"We were impressed with how quickly the Boeing team was able to implement a Vehicle Specific Module for the ScanEagle air vehicle," says Albert Sulmistras, Business Development manager, CDL Systems Ltd. "This reflects favorably on the maturity of the STANAG 4586 standard as a key enabler to UAV interoperability."
NATO maintains STANAG processes and procedures for military and technical equipment as well as procedures commonly used by member nations. STANAG was established so that one nation's military can access and use the procedures and equipment of another through common interfaces.
STANAG 4586, formally ratified by NATO in 2002, defines the following five levels of UAV interoperability:
Level 1 - indirect receipt/transmission of UAV-related payload data;
Level 2 - direct receipt of intelligence, surveillance, and reconnaissance (ISR) data where "direct" covers reception of the UAV payload data by the unmanned control system when it has direct communication with the UAV;
Level 3 - control and monitoring of the UAV payload in addition to direct receipt of ISR and other data;
Level 4 - control and monitoring of the UAV, less launch and recovery; and
Level 5 - control and monitoring of the UAV, plus launch and recovery.
During the test flight, the ScanEagle team achieved Level 2 for the UAV and sensor system; Level 3 for the onboard electro-optical camera and sensor system; and Level 4 for the UAV and payload control.
STANAG compliance will enable existing and future deployed ScanEagles to be utilized by current STANAG ground-control stations such as Army One, as well as other member nation ground-control station systems. The ScanEagle team soon will begin the next test phase using multiple ScanEagles and ground- control stations to validate various autonomous functions.
---
Lockheed Martin tests new centralized controller for unmanned air, ground systems
Lockheed Martin engineers in Dallas have tested a new centralized controller device for unmanned air and ground vehicles. During these tests, Lockheed Martin demonstrated control of four different unmanned systems from one centralized control device.
The prototype centralized controller consisted of a touch screen laptop computer with a customized hand controller. The unit Lockheed Martin developed allows users to control multiple systems via a hand controller and a touch screen, depending on the needs and requirements of the specific system.
"This is a very important step in risk reduction for the Army's Future Combat System Centralized Controller Device," says Gene Holleque, director of Combat Maneuver Systems at Lockheed Martin Missiles and Fire Control. This test helps resolve "the issues involved with controlling several disparate unmanned systems from a single centralized controller. It also gives us an opportunity to experiment with human factors early in the process to ensure we can deliver an effective and soldier-friendly controller to the warfighter."
The unmanned systems tested included Honeywell's Micro Air Vehicle Unmanned Air Vehicle (UAV); Lockheed Martin's Silver Fox UAV and Roll Based Operations Architecture (RBOA) robot; and a Lockheed Martin Unmanned Ground Vehicle (UGV) demonstrator. Lockheed Martin is currently experimenting with control of the iRobot Corp.'s PackBot from the same centralized controller. The unmanned systems controlled represent the spectrum of small to medium UGVs, to vertical take-off and landing UAVs, as well as fixed-wing UAVs.
Additionally, several different radio links were demonstrated in conjunction with the centralized controller, including UHF, L-band, and wireless broadband. The demonstration also utilized the Joint Architecture for Unmanned Systems message protocol to communicate with the Lockheed Martin UGV. The company experimented with its "Combat Maneuver Mission Route Planner" (CMMRP) automated route planning software and utilized its Human Robotic Interface software when controlling the UGV. The test also demonstrated the centralized controller's ability to execute both preplanned autonomous operation and manual-user tele-operation of the UGV, the Micro Air Vehicle, and the Silver Fox UAV.
---
U.S. Navy buys two additional Northrop Grumman Fire Scouts to help refine concept of operations
The U.S. Navy has awarded Northrop Grumman Corp. in San Diego $16 million for two more MQ-8B Fire Scout Vertical takeoff and landing Tactical Unmanned Air Vehicles (VTUAV) and to assist the Navy in refining the Fire Scout concept of operations. Including this award, the Navy has a total of nine Fire Scouts on contract with Northrop Grumman.
"With the addition of these two air vehicles, we will be able to complete operational test and evaluation as well as some spiral development preparations and test of future payloads," says Cmdr. Rob Murphy, the Navy's VTUAV Fire Scout program manager.
During concept of operations development, Northrop Grumman will work closely with the Navy to refine the system description, including core capabilities, and anticipated deployment and employment for the VTUAV system and other aviation assets aboard the Littoral Combat Ship. Operational requirements may include real-time video imagery collection, intelligence gathering, communications-relay capability, precision targeting, and battle damage assessment.
System design work on the Fire Scout is performed at the Unmanned Systems Development Center in San Diego. The Fire Scout is assembled at the Unmanned Systems Center in Moss Point, Miss. Fire Scout is based on a commercial-off-the-shelf Schweizer 333 manned helicopter manufactured in Horseheads, N.Y.
The MQ-8B completed the first series of autonomous flight testing the third week of December at Naval Air Station Patuxent River. The next two years of planned activity on this program include entering low-rate initial production, operational evaluation on a Littoral Combat Ship and operational capability in 2008.
On board the Littoral Combat Ship sailors will operate manned and unmanned helicopters to support operational requirements. These include real-time video imagery, intelligence gathering, communications-relay capability, precision targeting and battle damage assessment.
The MQ-8B Fire Scout offers a significant capability increase over the first generation RQ-8A Fire Scout. The addition of a fourth rotor blade, and other enhancements, give the MQ-8B greater payload carrying capacity-as much as 600 pounds for future sensors, equipment pods, and possible weapons.
The Fire Scout's endurance has also been increased to more than eight hours. The MQ-8B has a greater fuel capacity than the RQ-8A and, with a standard payload, can stay on station for six hours at 110 miles from launch site.