From counter-sub to surface warfare: Navy builds two new large unmanned ships for surface attack
WASHINGTON – The U.S. Navy is building two new large unmanned ships to coordinate synchronized attacks, perform command and control across fleets of surface drones, and conduct high-risk maritime missions such as anti-submarine operations, mine countermeasures, surface warfare, and forward-deployed surveillance. Warrior Maven reports.
Feb 12th, 2019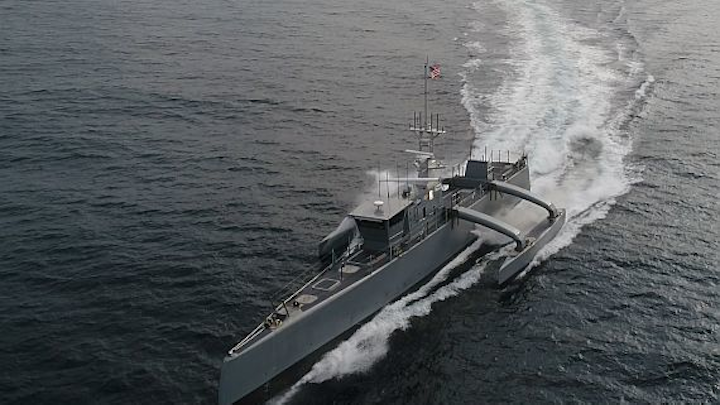 12 Feb 2019 -- The new vessels, now in conceptual development, are to operate manned and unmanned while networked to a smaller fleet of multi-mission unmanned surface vessels (USVs), says Capt. Pete Small, program manager of unmanned maritime systems at Naval Sea Systems Command in Washington.
"We are integrating Large USVs (LUSV) and Medium USVs (MUSV) into the architecture, as a large part of a future surface combatant force. We are developing a single integrated combat system shared across the entire combat portfolio," Small says.
While the Navy is exploring arming maritime drones with weapons, Small says the initial focus for the new larger surface drones will be autonomy, endurance, precision navigation, and command and control.
Related: Not just for the Navy: unmanned surface vessels (USVs) in wide use for surveillance at NOAA
Related: Navy moves forward with unmanned surface vessel with embedded computer for counter-mine warfare
Related: Royal Navy uses networked unmanned surface vessels (USVs) for detecting and tracking submarines
John Keller, chief editor
Military & Aerospace Electronics
Ready to make a purchase? Search the Military & Aerospace Electronics Buyer's Guide for companies, new products, press releases, and videos