Army reaches out to industry for companies able to provide new mission computer for Stryker combat vehicle
Army vetronics experts are trying to replace obsolescent video display terminals in Stryker combat vehicles with new COTS mission computer hardware.
May 31st, 2019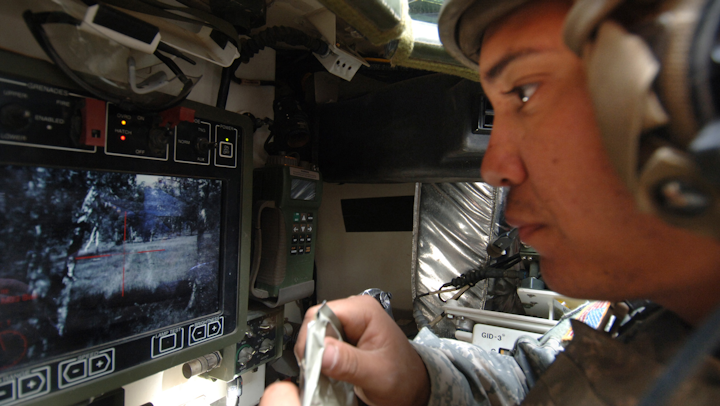 WARREN, Mich. – U.S. Army vetronics experts are surveying industry to find companies able to design a new mission computer, based on commercial off-the-shelf (COTS) technologies, for the for the Stryker ECP armored combat vehicle.
Officials of the U.S. Army Contracting Command-Warren in Warren, Mich., issued a request for information (RFI) on Thursday (W56HZV_IVN-2_Hardware_SMC) for the IVN-2 Hardware: SMC project.
The Stryker ECP's video display terminal (VDT) and its replacement video display electronic terminal (VDET) are approaching obsolescence, Army officials say. Secure classification separation has also become a concern. Army vetronics experts say they could save money by replacing the Stryker's VDT and VDET with COTS discrete computer hardware.
Earlier this month the Army released a similar RFI (W56HZV-MissionComputerNetworkSmartSwitch) to replace The Stryker ECP's VDT and VDET with COTS mission computers and network switches.
Related: Wanted: companies to build vetronics computers for armored combat vehicles
The Army Contracting Command issued each request for information on behalf of the Vehicle Electronics and Architecture branch of the Army Capabilities Development Command's Ground Vehicle Systems Center in Warren, Mich.
story continues below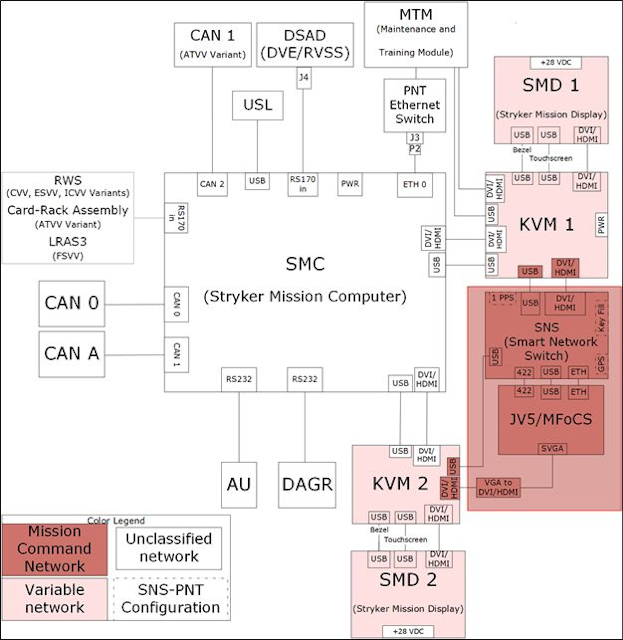 This drawing represents the general architecture of the COTS mission computer that Army vetronics experts want to develop for the Stryker ECP armored combat vehicle.From industry, the Army wants descriptions of candidate Stryker mission computers that detail interfaces, performance specifications, environmental performance, design architecture, size, weight, power, cooling, cost, lead time for initial units, and lead time and delivery schedule for production units.
Stryker is an Army family of eight-wheeled armored fighting vehicles. The Stryker ECP describes upgrades to the original Stryker vehicle to improve space, weight, power, and cooling and power-cooling, and enable the armored combat vehicle to accept the Army's communications network and provide the flexibility to accept unknown future upgrades.
Stryker ECP upgrades have involved improvements to in-vehicle network and electrical power. Electrical power demand on the Stryker platform typically climb each year as new systems have been developed and installed.
Related: Vetronics and vehicle power upgrades to be part of major redesign of Stryker armored vehicle
For this project, the mission computer must be able to drive two independent displays through a digital visual interface (DVI), accept USB commands from the independent displays, and read and write Controller Area Network (CAN) bus and Ethernet messages.
story continues below
The Stryker mission computer must have three physically isolated USB 2.0 and 3.0 interfaces; three CAN interfaces; two RS-170 inputs; two RS-232 interfaces; two DVI interfaces; one 100 baseT Ethernet interface; at least eight gigabytes of RAM; at least 16 gigabytes of data storage; Trusted Platform Module (TPM) 2.0; and a processor capable of a floating point base rate greater than 23 when tested using the SPEC CPU 2017 benchmark package.
From industry, the Army wants to know the availability and cost of providing a mission computer capable of driving two independent crew stations; the target cost for the suggested product in a production quantity of 1, 100, and 300 units per year; and identification of risk areas that inhibit product development.
Related: General Dynamics to refurbish Army Stryker armored combat vehicles in deals worth $2.7 billion
Companies interested should email responses no later than 1 July 2019 to the Army's David DiRoma at david.j.diroma.civ@mail.mil.
For questions or concerns contact David DiRoma by email at david.j.diroma.civ@mail.mil, or by phone at 586-282-4975. Also contact Jenelle Vickberg by email at jenelle.l.vickberg.civ@mail.mil.
More information is online at https://www.fbo.gov/index?s=opportunity&mode=form&tab=core&id=dc37f5445f43ab1997a55efac97d5154.