Development kit for electronic warfare (EW) embedded computing signal processing introduced by Abaco
VP430 development kit includes VPX370 development pre-integrated with a 3U VPX SBC329 single-board computer, and the VP430 Direct RF processing system.
Jul 8th, 2019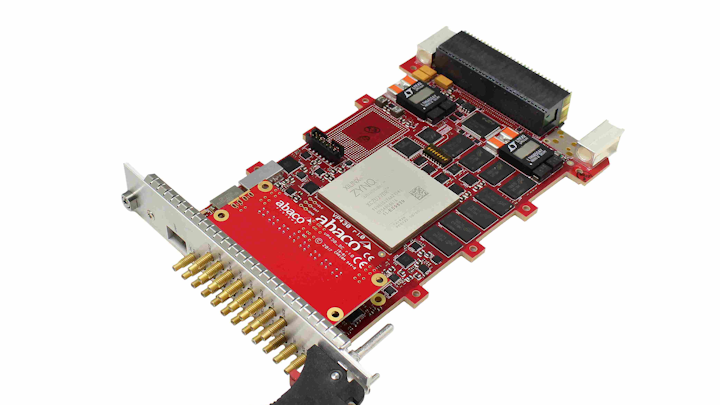 HUNTSVILLE, Ala. – Abaco Systems in Huntsville, Ala., is introducing the VP430 development kit to enable embedded computing applications developers make a fast start on the creation, debugging, and optimization of advanced electronic warfare (EW) applications.
The VP430 development kit includes a VPX370 development platform, pre-integrated with a 3U VPX SBC329 single-board computer, and the VP430 Direct RF processing system.
The VP430 was the first 3U VPX COTS solution to feature the all new Xilinx ZU27DR RF system-on-chip (RFSoC) technology. It also has eight A/D converter and D/A converter synchronized channels, and it can synchronize several boards for large system applications.
Designed for advanced EW applications including multiple input/output (MIMO), beamforming, sensor processing, and radar signal processing, the VP430 enables use of fewer boards and much less power while delivering increased processing throughput.
The VPX370 is a six-slot system for aerospace and defense applications. Its modular architecture enables users to add high-performance FPGA and I/O to the base configuration for digital RF memory (DRFM), synchronous multi-channel MIMO systems, and software defined radio (SDR).
Related: Embedded computing system for sensor processing in electronic warfare (EW) applications introduced by Abaco
The VP430 enables RF digital sampling, and offers simplified integration with RF sampling devices removes the complexity of JESD204B high speed serial interfaces.
The Xilinx embedded computing RFSoC combines field-programmable gate array (FPGA) processing capability, a multi-processor embedded ARM Cortex-A53 application processing unit (APU), an ARM real time processing unit (RPU) and eight input analog-to-digital converter and eight digital-to-analog converter channels.
Additionally, the Zynq Ultrascale+ architecture integrates this with features to enable high security IP protection. The RFSoC brings analog bandwidth with a sustained throughput of 6 gigasamples per second per channel and greater than 12 gigabytes per second per channel digital offload capability.
For more information contact Abaco Systems online at www.abaco.com.