Military uses small, light cards from Cell Computing
Experts at Cell Computing in Santa Clara, Calif., are capitalizing on the desire of military designers for small, lightweight PC cards for embedded applications such as wearable computers.
Jan 1st, 2001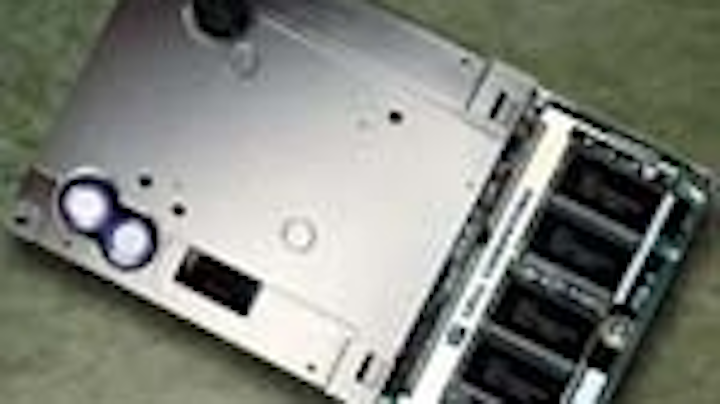 By John McHale
SANTA CLARA, Calif. — Experts at Cell Computing in Santa Clara, Calif., are capitalizing on the desire of military designers for small, lightweight PC cards for embedded applications such as wearable computers.
All three branches of the service favor the features of Cell's Plug-N-Run modules, claims Jim Pierce, director of East Coast sales for Cell Computing. U.S. Navy officials like the modules for wearable designs because the modules are small in size and have excellent thermal properties, he explains. Plus, it wears well on the body and is low power to conserve battery life, Pierce adds.

The devices are currently being evaluated for the U.S. Navy's Landing Craft-Air Cushion — better known as LCAC — and for a mobile application for the U.S. Army's Advanced Amphibious Assault Vehicle, Pierce says.
The modules are ideal for high-stress military applications because they have no moving parts and are therefore very rugged, says Dave Cowan, president of Cell Computing. The small surface area of the module is also a selling point because it makes easier to dissipate heat, he explains.
The thin 3-by-5-inch Plug-N-Run modules use integrated component engineering to achieve an ultra-compact footprint, Cell Computing officials say. The Plug-N-Run provides the functionality of a traditional PC motherboard in a snap-in component.
The modules include Intel mobile Pentium processors, cache, core logic chipset, graphics controller (optional), BIOS, Super I/O, and PCI expansion bus.
As a snap-in component the Plug-N-Run provides a quick-time-to-market computing solution for embedded systems and products, Cell Computing officials claim. The Plug-N-Run product line is based on an Intel mobile Pentium 233 MHz, Pentium II 333 MHz, and Pentium III 500 MHz processor, respectively.
Plug-N-Run applications
Applications for Plug-N-Run include network appliances, storage servers, data and telecommunications equipment, portable test and measurement devices, industrial process controllers, factory robotics, and medical equipment including diagnostic, monitoring and networked systems and other embedded systems running desktop-class operating systems including Microsoft Windows 2000, NT Embedded, Windows 95,98, and CE as well as Linux and other operating systems.
Cell experts also recently released a compact, rugged aluminum enclosure for their NetCARD carrier board platform.
The 4.375-by-6-by-1.75-inch aluminum enclosure is designed to house the company's Plug-N-Run module, a NetCARD carrier board and a 2.5" hard disk drive to create a scalable 333MHz Pentium II or 400MHz Pentium III embedded PC platform that is the size of a paperback book.
"Many of our customers are building exceptionally small, extremely powerful server appliances that are at the cutting edge of their industries," Cowan explains. "By offering an off-the-shelf enclosure for our NetCARD platform, we allow those customers to complete their proof of concept phase more quickly with greatly reduced up front cost. That means they can move more quickly into production."
NetCARD enclosure
The NetCARD enclosure can house a combination of the following components to construct an embedded PC solution: NetCARD carrier board with dual, single, or no-PC Card slots, Plug-N-Run module with Pentium II or Pentium III processor, and as much as 256 megabytes of SDRAM solid-state memory, 2.5-inch hard disk drive, and one IDE Compact Flash or IBM Microdrive.
For more information on the Plug-N-Run contact Jon Barnard by phone at 408-327-1768, by fax at 408-327-1751, by mail at Cell Computing, 3350 Scott Blvd., Bldg. 34 B, Santa Clara, Calif. 95054-3105, by e-mail at jon@celcomputing.com, or on the World Wide Web at http://www.cellcomputing.com.