General Dynamics to provide submarine sonar signal processing for Navy missile and attack boats
WASHINGTON, 29 Nov. 2016. Submarine sonar experts at General Dynamics Corp. will provide rugged commercial off-the-shelf (COTS) computer equipment for sonar signal processing aboard the U.S. Navy's submarine fleet.
Nov 29th, 2016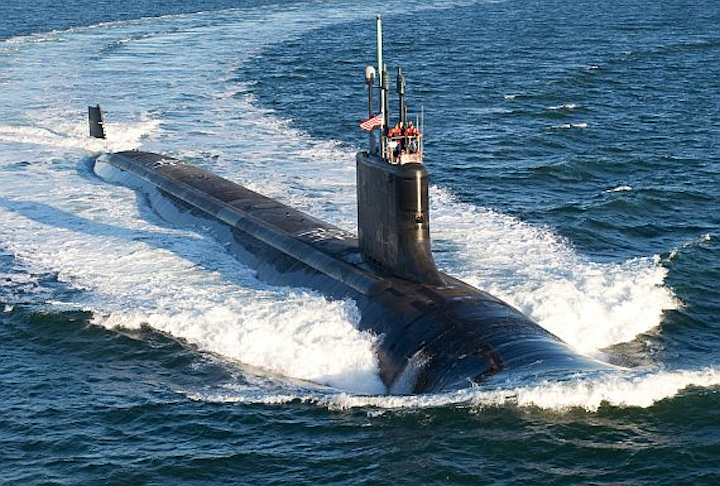 WASHINGTON, 29 Nov. 2016. Submarine sonar experts at General Dynamics Corp. will provide rugged commercial off-the-shelf (COTS) computer equipment for sonarsignal processing aboard the U.S. Navy's submarine fleet.
Officials of the Naval Sea Systems Command in Washington announced a $7.2 million contract modification last week to the General Dynamics Mission Systems segment in Pittsfield, Mass., for Multi-Purpose Processor (MPP) and Total Ship Monitoring System (TSMS) sonar processing equipment for Navy ballistic missile and attack submarines.
Both systems are part of the Navy's longtime Acoustics-Rapid COTS Insertion (A-RCI) program to integrate and improve towed array, hull array, sphere array, and sonar signal processing with COTS hardware and software on Ohio-class missile submarines as well as on Los Angeles-, Seawolf-, and Virginia-class fast attack submarines.
The MPP is a multi-array interface receiver that provides signal conditioning for received array signals; data processing; digital formatting of data; beam formation; and signal processing for A-RCI display data.
The TSMS, meanwhile, monitors and localizes the submarine's own noise sources including transients, so onboard sonar systems can compensate for it and improve its ability to detect and identify sound emissions from other submarines ad surface ships. The TSMS feeds its data to the MPP.
Related: Navy asks Lockheed Martin for COTS-based sonar electronics for nation's submarine fleet
The Navy's order on 21 Nov. is for the Navy's A-RCI technology insertion 16 (TI-16). A-RCI is designed for the quick replacement of commercially developed computer processing equipment for sonar systems to mitigate the effects of technology obsolescence and to take advantage of the latest available equipment.
This technology insertion will be among the last involving the MPP and TSMS. These two sonar processing subsystems soon will be replaced in the A-RCI architecture with the Common Acoustic Cabinet (CAC) and Ownship Monitoring System (OMS).
The CAC is the next generation array-processing cabinet and will replace the MPP. CAC constitutes the next generation of array-processing that provides capability upgrades via rapid insertion of COTS-based hardware and non-developmental item (NDI) technology.
The CAC will upgrade signal processing capability and permit reconfiguration necessary to support processing data from several acoustic and array sensors. CAC will be delivered as government-furnished equipment (GFE) to the A-RCI program for system integration, testing and shipboard installation. The OMS will replace the TSMS with COTS and NDI products. Like the CAC, the OMS will be delivered as GFE to the A-RCI program.
Related: Sonar technology comes to grips with dangerous new era
A-RCI is an open architecture sonar system that Navy officials intend to maintain an advantage in acoustic detection of threat submarines, using legacy sonar sensors. The program regularly refreshes central processors with COTS computer technology and software. A-RCI processors handle data from the submarine's spherical array, hull array, wide aperture array, high-frequency arrays, and towed arrays.
An open-systems architecture makes the most of commercial processing development, and enables submarine signal processing systems to use complex algorithms that Navy-developed sonar systems such as the AN/BSY-1 and AN/BSY-2 systems could not use.
Using COTS technology enables onboard computing power to grow at nearly the same rate as commercial industry, and facilitates regular updates to submarine sonar-processing software and hardware with minimal disruption to submarine scheduling, Navy officials say.
For more information contact General Dynamics Mission Systems online at http://gdmissionsystems.com, or Naval Sea Systems Command at www.navsea.navy.mil.
Learn more: search the Aerospace & Defense Buyer's Guide for companies, new products, press releases, and videos