2017 Technology Innovation Awards announced for aerospace and defense industry
NASHUA, N.H. – Military & Aerospace Electronics and Intelligent Aerospace today announced their 2017 Technology Innovation Awards to recognize companies offering substantial military, aerospace, and avionics design solutions.
Nov 14th, 2017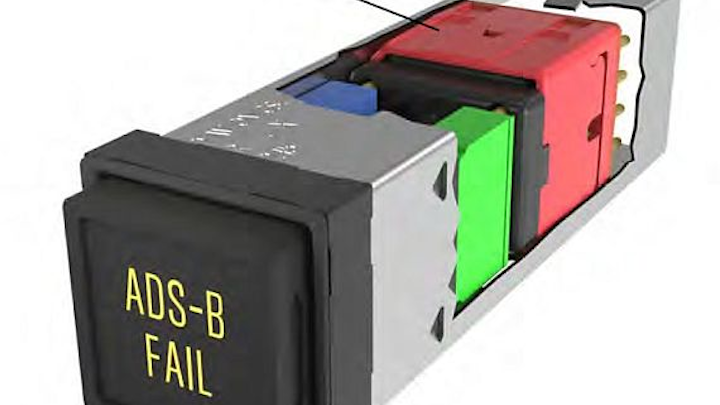 NASHUA, N.H. – Military & Aerospace Electronics and Intelligent Aerospace today announced their 2017 Technology Innovation Awards to recognize companies offering substantial military, aerospace, and avionics design solutions.
Awards in three tiers, ranging from platinum, the highest, to the gold awards, and finally to the silver awards, based on the recommendations of an independent panel of industry judges.
Platinum awards
The SR429/1M ARINC 429 Converter from Applied Avionics Inc. in Fort Worth, Texas, provides avionics databus interfacing capability in a size smaller than one cubic inch. The device is configurable inside a VIVISUN annunciator or push-button switch. This makes it five to eight times smaller than competing black-box signal converters, company officials say.
The CTS-6010 tactical radio series communications test and measurement instrument from Astronics Test Systems in Irvine, Calif., combines 16-plus instruments into one tester. It offers fault detection and operational verification of radio communications at all levels of deployment. The CTS-6000 is for field testing, and can reduce testing time and cost, maintenance, and calibration costs, life cycle ownership costs, and the number of "no fault found" results.
The OpenHPEC Accelerator Suite from the Curtiss-Wright Corp. Defense Solutions Division in Ashburn, Va., is an integrated suite of open standards-based tools. While traditional tools used in embedded computing applications often cannot support the new programming paradigm of next-generation multi-core CPUs and GPUs. Driven by a large user base, the high-performance computing (HPC) community has created a mature set of software development tools that address shared concerns such as floating-point performance, data throughput, communication latency and standard APIs.
The RARe Motheye Fiber from Fiberguide Industries Inc. in Stirling, N.J., is based on a randomized process that creates nanostructures on the fiber surface to create fiber-optic cables with anti-reflective properties. This procedure helps produce fiber optic cables with superior wavelength range, durability, and damage thresholds when compared with commonly used coated thin-film surfaces.
The CWB 150 FlexPack ballistic safe battery from Inventus Power in Woodridge, Ill., is a flexible power-storage system that meets the U.S. Army's requirements. As the demand for power for dismounted troops grows, the U.S. military is looking for new technologies to supply energy and lighten Soldier loads. The proliferation of radios and the introduction of Nett Warrior — an integrated situational awareness and mission control system — are the main reasons for the four-fold increase in power. The extra weight that Soldiers must carry as a result of their battery loads is a concern. Troops often lug upwards of 100 pounds of gear, and an infantry platoon carries about 700 pounds of batteries (17 pounds per Soldier) for a 72-hour mission.
The ASURRE-Stor self-encrypting solid-state drive (SSD) from Mercury Systems in Andover, Mass., blends high-endurance NAND flash with a military-hardened 2.5-inch form factor for the mission-critical storage of classified, secret, and top-secret data in accordance with the Commercial Solutions for Classified (CSfC) program's hardware full disk encryption (HWFDE) standards. The ASURRE-Stor SSD is listed on the NSA's CSfC components list, available to be integrated into a customer's CSfC two-layer security solution.
The UAV Ground Control Station Avionics Display with Multi-Touch and Gesture Control from a team of Core Avionics & Industrial Inc. (CoreAVI) in Tampa, Fla.; Presagis in Montreal; and Wind River Systems Inc., an Intel company in Alameda, Calif., is a gesture-controlled avionics application based on commercial off-the-shelf (COTS) products. Single-touch-based applications have been used in avionics for a while the single-touch is equivalent to a mouse-click. Previously, multi-touch and gestures have been used in electronic flight bags (EFBs), but not those that are installed in aircraft and which require certification.
The TTE-Switch Controller Space from TTTech North America Inc. in Andover, Mass., is an integrated device supporting standard Ethernet, rate-constrained according to ARINC 664 part 7 and time-triggered SAE AS6802 Time-Triggered Ethernet Standard compliant communication. The chip is based on radiation-hardened by design process and packaged in a hermetic housing providing the necessary radiation tolerance for use in harsh space environments.
Gold awards
The RS363S15F rugged 3U server for autonomous vehicles from Crystal Group Inc. in Hiawatha, Iowa, is the result of a partnership between Crystal Group in Intel Corp. to design a robust, rugged, and reliable high-performance embedded computer for autonomous vehicles, as well as for aerospace and defense, government, industrial, and commercial applications. The main goal was to find existing technologies and products that could be adapted quickly. An additional goal was to find a company that was comfortable working in a dynamic environment with changing requirements while still being responsive with high quality solutions.
The DTS1 data transport system from Curtiss-Wright Defense Solutions is a compact network-attached storage (NAS) device that can protect classified mission data to certified standards. It has reduced size, weight, and power consumption (SWaP), offers a hardware layer with full disk encryption using an AES256-bit FIPS-certified ASIC. The use of hardware full disk encryption and software full disk encryption creates a two layer encryption. This layered encryption approach was a critical requirement for National Security Agency (NSA) certification of the storage device.
The Parvus DuraCOR 312 rugged embedded computer from Curtiss-Wright Corp. Defense Solutions integrates the NVIDIA Jetson TX2 SOM module with ruggedization to extend native TX2 operation beyond factory ratings and integrate military and aerospace-specific system capabilities, including avionics databus interface support, 50-millisecond power hold-up, and high-speed PCI Express-based M.2 NVMe storage. This rugged COTS mission computer packs performance with six ARMv8 processor cores and a 256-core Pascal-based GPU. Its NVIDIA CUDA-compatible graphics processor and 64-bit multi-core ARMv8 architecture can satisfy deep learning, parallel processing and high-performance embedded computing (HPEC) demands, while delivering compatibility with modern virtual machine hypervisors, software routers, and target software applications.
The VPX3-687 3U VPX 10-gigabit/40-gigabit backplane Ethernet switch from Curtiss-Wright Defense Solutions is a high-density 3U VPX Ethernet switch able to implement high-performance embedded processing clusters in a small size. It has support for IEEE standards for backplane Ethernet, and delivers as much as 32 ports of 10 Gigabit Ethernet, or eight ports of 40-Gigabit Ethernet. These provide low-latency control plane for coordination between processors, or a high-throughput pipe for transferring massive amounts of sensor data.
The C4ISR Modular Open Suite of Standards (CMOSS) VPX backplane for the U.S. military's Hardware Convergence Initiative from Elma Electronic Inc. in Alameda, Calif., is a 14-slot 3U OpenVPX backplane that supports the defense industry's hardware- and software-convergence initiatives for modular architectures. It is for modules addressing the DoD's CMOSS for systems optimized for performance, reduced SWaP, and low life cycle costs for rapid technology insertion. It enables the development of complex, high-speed signal processing systems with the latest fiber and RF connectivity as well as precision radial network timing plus slot profiles for single-board computers, switches, radial clocks and expansion.
The ISL72813SEH rad-hard 32-channel driver with integrated decoder from Intersil, a Renesas company in Milpitas, Calif., is a radiation-hardened, high-voltage, high-current, driver circuit fabricated using Intersil's proprietary PR40 silicon-on-insulator process technology to mitigate single-event effects. This device integrates 32 driver circuits that feature high-voltage, common emitter, and open-collector outputs with a 42V breakdown voltage and a peak current rating of 600 milliamps.
The 3DS MEMS Inertial Sensor System Platform from MEI Micro Inc. in Addison, Texas, is a single-chip, tactical-grade six-degree-of-freedom inertial measurement unit (IMU) using a proprietary 3D System MEMS fabrication platform. It is scalable to a Navigation Grade IMU, and can scale to include additional sensors to measure physical phenomena other than motion, such as pressure, magnetic field, and sound, enabling up to a 10-degree-of-freedom sensor or an inertial navigation unit on one chip.
The Spatium solid-state power amplifier from the Qorvo Infrastructure and Defense Products business in Greensboro, N.C., works by combining several MMICs to provide high power output in a small package. Spatium is a replacement for legacy TWTAs in a variety of applications. It is a single-stage efficient and broadband combining platform.
The Nanopak i7 from Themis Computer in Fremont, Calif., is an Intel Core i7-based rugged computer that packages an Intel 6th generation Core i7 Skylake processor, 32 gigabytes of DDR4 memory, and 1 terabytes of FLASH storage in a small and lightweight form factor.
The GORE Aerospace Ethernet cables from W.L. Gore & Associates Inc. in Newark, Del., are engineered for the increasing data demands of modern airborne digital networks. They exceed Cat6a electrical requirements and deliver signal integrity with sufficient margin for high-speed data transmission as fast as 10 gigabits per second over long distances. The cables are 24 percent smaller and 25 percent lighter than standard Cat6a cables, and approved on the SAE-AS-6070 Qualified Parts List (QPL).
The VxWorks 653 software-design platform from Wind River Systems offers a multi-core ARINC 653 product that delivers an ARINC 653–compliant platform for integrated modular avionics (IMA) applications. VxWorks 653 3.0 Multi-core Edition complies provides software partitioning in time and space to ensure fault containment in accordance with strict IMA and ARINC 653 requirements. VxWorks 653 Multi-core Edition enables reduced SWaP and reduced bill of materials on advanced aircraft.
Silver awards
The Fortress flight data recorder from Curtiss-Wright Defense Solutions comes as a combined data, voice, datalink, and image recorder, Fortress uses a modular architecture to accommodate custom interfaces quickly with low time, cost, and risk overhead. Optional features include data encryption, wireless download, additional parameter acquisition from ARINC 429, MIL-STD-1553, discrete and analog interfaces.
The VPX56H-6 6U VPX 1000-Watt AC/DC power converter from North Atlantic Industries Inc. in Bohemia, N.Y., is NAI's latest high power, 1000 Watt AC/DC converter accepts either a 30, 115-volt AC L-N, or a 270-volt DC input. It plugs into a standard 6U VPX chassis with a VITA 62 power supply slot. This off-the-shelf solution for VITA 46.0 and VITA 65 systems is compatible with VPX specifications; supports VITA standard I/O, signals, and features; and conforms to the VITA 62 mechanical and electrical requirements for modular power supplies.
The Hyper-Unity from Themis Computer is a purpose-built, enterprise-class, hyper-converged infrastructure platform for the tactical edge. It is a turn-key, MIL Spec, SWaP-optimized, hyper-converged infrastructure platform that delivers all-flash performance for virtualized applications at less than half the cost of traditional storage or other hyper-converged platforms, company officials say.
The RES NT2 from Themis Computer is a rugged computer server designed to bring supercomputing capabilities to users on the tactical edge in a compact, 2U rugged form factor. The RES-NT2-2U system packages two double-width NVIDIA TESLA or GRID GPU accelerators, two Intel E5-2600 v3/v4 series processors with up to eighteen cores per socket, 1 terabyte ECC DDR4 2400 MHz Memory, optional 100 Gigabit Ethernet, and eight removable front-access drives in a 23-inch rugged chassis.
The VectorCAST/Coupling from Vector Software Inc. in East Greenwich, R.I., provides data coupling and control coupling verification for C and C++ software source files -- mandatory for safety-critical avionics software development according to both RTCA DO-178B and DO-178C.
Ready to make a purchase? Search the Military & Aerospace Electronics Buyer's Guide for companies, new products, press releases, and videos