Lockheed Martin to build 165 new open-architecture shipboard electronics displays in $27.4 million order
The TI-16 Common Display System is a water-cooled set of open-architecture three-eyed horizontal displays for installation at shipboard watch stations.
Jul 25th, 2019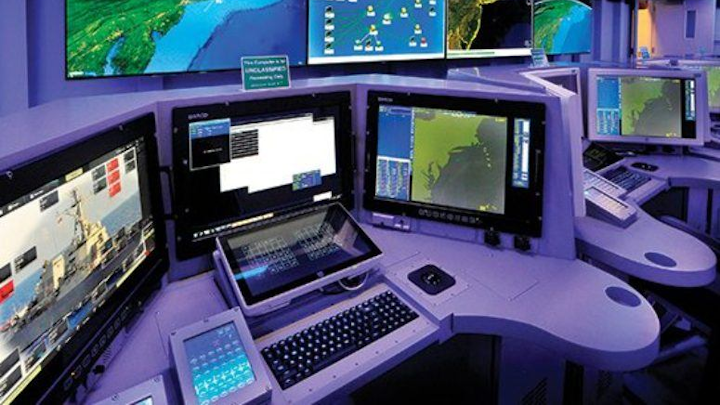 WASHINGTON – U.S. Navy shipboard electronics experts are asking Lockheed Martin Corp. to build 165 open-architecture enterprise displays for Navy surface warships, submarines, and aircraft under terms of a $27.4 million order announced Wednesday.
Officials of the Naval Sea Systems Command in Washington are asking the Lockheed Martin Rotary and Mission Systems segment in Manassas, Va., to provide technical insertion (TI) 16 Common Display System (CDS) variant A water-cooled production consoles.
The TI-16 CDS is a set of open-architecture watch station three-eyed horizontal display consoles. This order is for the U.S. Navy and for the government of Japan.
The CDS family is designed to be compatible with commercially available hardware and software; to conform to open-architecture computers and standards; and to incorporate human systems integration design principles, Navy officials say.
Related: Z Microsystems to provide rugged displays for Navy shipboard UAV control system
Successive technology insertions represent a procurement approach designed to equip Navy vessels, aircraft, and shore installations with the latest technologies at the most reasonable costs. Technology insertions normally involve mature technologies available largely as commercial off-the-shelf (COTS) items.
Navy experts initially developed these shipboard displays for the DDG 1000 Zumwalt-class surface-attack destroyer, as well as for Aegis modernization efforts aboard the Navy's Ticonderoga-class cruisers and Arleigh Burke-class destroyers.
Navy electronics experts have expanded the requirement for CDS to Navy aircraft carriers, amphibious assault ships, dock landing ships, aircraft, and submarines.
On this contract Lockheed Martin will do the work in Johnstown, Pa., and should be finished by March 2020. For more information contact Lockheed Martin Rotary and Mission Systems online at www.lockheedmartin.com/us/rms.html, or Naval Sea Systems Command at www.navsea.navy.mil.