Maximizing Bandwidth Speeds with VPX
VPX is a proven, versatile platform with a connector and backplane infrastructure allowing data transfers well in excess of 1 Gbps per physical channel.  Learn about VPX server-class performance for I/O graphics, and interprocessor communications with reasonable power consumption.
Jan 29th, 2018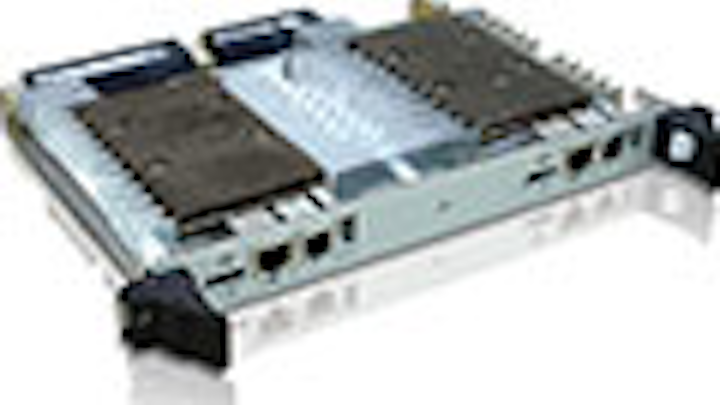 Delivering super-charged, server class interconnect technologies for next-generation systems and upgrades
Author: Mark Littlefield, Defense Vertical Product Manager at Kontron America - an S&T Company
VITA 46, or more commonly known as VPX, is arguably the most popular form factor today for rugged high-performance embedded systems. While a number of things contribute to this success, undoubtedly the most compelling feature of VPX for these demanding deployable applications is the tremendous bandwidths provided by VPX.
Since its introduction in the mid-2000's, VITA 46/VPX has proven itself to be a reliable, versatile platform on which to base high-performance embedded systems. Its industry-standardized connector and backplane infrastructure allows data transfers well in excess of one gigabit per second (Gbps) per physical channel, and since its early days has been soundly embraced by the embedded computing community. Since that time the standards surrounding VPX have continued to evolve – most notably by the adoption of the VITA 65/OpenVPX standard - and VPX adoption continues to grow at double-digit rates.
VX6090 6U VPX Intel® Dual 8-Core Xeon® D Multi-Processing Board
One factor in this rapid adoption is the tremendous growth in commercial system-on-chip (SoC) processors providing on-board, low-power, multi-gigabit per second data links. VPX allows embedded systems to utilize these same state-of-the-art interconnect technologies currently used in high-performance server and PC platforms. Thus, VPX system integrators can benefit from the same high level of performance for input/output, graphics, and interprocessor communications as high-end commercials systems with reasonable power consumption rates.
The challenge for VPX has been, however, to keep up with the latest data rates available in the computer industry. Initial VPX systems implemented PCI Express® (as per VITA 46.4) at 2.5 Gbps or Serial RapidIO (as per VITA 46.3) at up to 3.125 Gbps. Since that time VPX technology has migrated to the 5 G bits/s level for the PCI Express® gen2, and is now widely adopting the higher data rates required by the latest version of two fundamental protocols: PCIe gen3 at 8 Gbps and 10 Gigabit Ethernet. OpenVPX has tracked this trend by including these protocols in the latest revisions of the specification. View the VPX Video.
"VPX allows embedded systems to utilize these same state-of-the-art interconnect technologies currently used in high-performance server and PC platforms."
Maintaining this performance growth curve has not been a trivial task. Kontron's white paper "High Data Rates Over The VPX Infrastructure"outlines some of the challenges that must be overcome to produce commercial off-the-shelf (COTS) VPX components that can reliably perform at these high data rates over the wide environmental ranges that deployed VPX systems must face. One can expect similar challenges as technology moves into the 25, 40, and even 100 Gbps range over the coming years.
Supporting reliable high-speed data links is only the first challenge in creating a successful and sustainable COTS product infrastructure. The definition of the signal pins on boards and backplanes also plays a key role in this. OpenVPX is the standardization vehicle that the community uses to define these signals. OpenVPX defines a set of slot, module, and backplane profiles which suppliers and integrators can use in their product or system designs. These profiles consist of a set of "planes" – utility plane, data plane, expansion plane, and control plane – which establish pin and function (for utility plane) or protocol (for the other planes) definitions. These planes allow products to be combined in a standards-based way to build systems.
However, the rich diversity of applications and solution approaches that VPX enables means that there are quite a number of "standard" slot and module profiles, and many of these profiles have significant numbers of "user defined" pins. This variability allows for innovation and vendor differentiation in a very rapidly-evolving market, but it does cause trouble when system designers are looking to integrate products from different suppliers, or when upgrading systems using the latest generation of products. To address this, the community has formed a series of domain-specific standardization working groups to further refine OpenVPX module, slot, and backplane profiles to meet the needs of their specific application domain. These groups include VICTORY (Vehicular Integration for C4ISR/EW Interoperability – (https://www.victory-standards.org/), MORA (Modular Open Radio Frequency Architecture), FACE (Future Airborne Capability Environment – (http://www.opengroup.org/face), HOST (Hardware Open Systems Technology), and SOSA (Sensor Open Systems Architecture – (http://www.opengroup.org/face/consortium/sosa). The net result of these efforts is expected to be a more tightly defined and coordinated set of OpenVPX profiles specifically tailored for these application spaces.
Looking ahead we can expect that the market will respond to these new technologies and standards activities with a host of new general-purpose single-board computers (SBCs), high-performance SBCs, GPU boards, switches, and various types of specialized I/O boards such as receivers, analog-to-digital and digital-to-analog converters, all even better suited for easy system integration than earlier generations of VPX products. We can also expect VPX to provide many more years of new products and performance growth in both processing densities as well as those critical I/O and interprocessor communications rates.
To learn more about Kontron's VPX products please visit https://www.kontron.com/products/boards-and-standard-form-factors/vpx